My hubby is the BEST! Remember those Flying Biscuit oatmeal pancakes with hot peach topping I've been craving so much lately?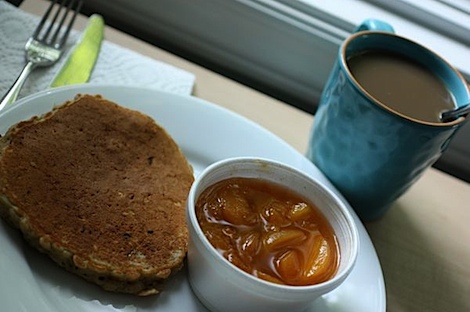 Hubby surprised me with some Flying Biscuit take out this morning, including the famous oatmeal pancakes and peaches!! YUUUUMMMM!!!!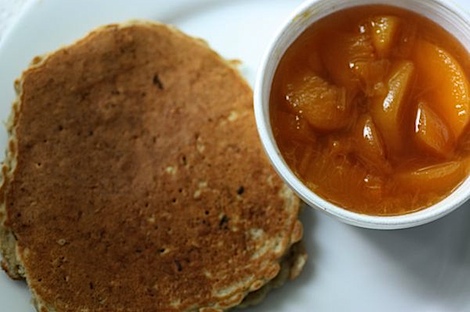 I swear, these things are so good!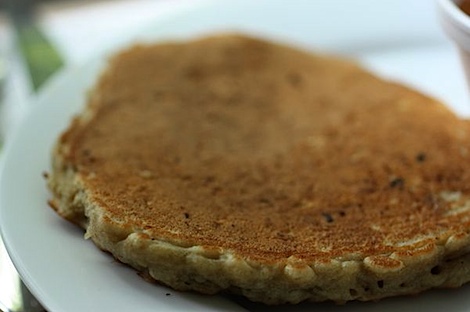 The thick, dense pancakes…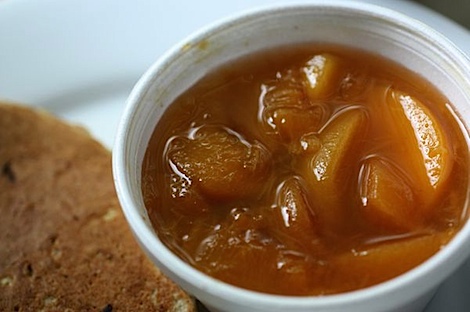 …the warm, not-too-sweet peach topping.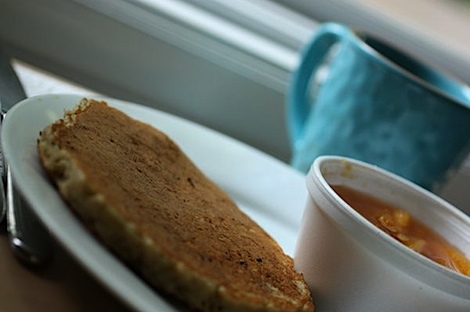 DIVINE!
Thanks hubby!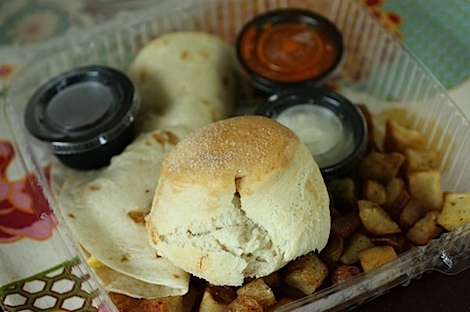 I also got to enjoy a couple bites of hubby's meal – the mexican meal with an egg wrap, potatoes, and biscuit. I may or may not have eaten most of hubby's biscuit. 😉 They are so good with that warm apple butter.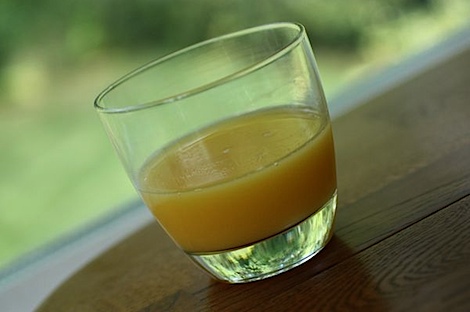 The egg wrap was spiiiiicy! I only had a couple bites but needed something to cool my burning mouth. OJ did the trick. I really enjoy the savory-sweet tastes of OJ with eggs anyways. Not at the same time – usually eggs, chased with OJ.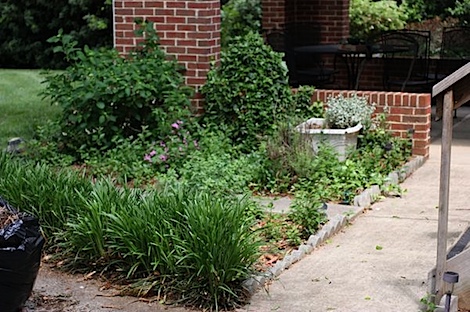 With a fabulous breakfast down, hubby and I turned our attention to our backyard. Our neighbors are total dolls and very helpful to us clueless homeowners. One of our neighbors even came over and took the time to show us which plants were weeds and which were good in our back yard.
With the new knowledge, we tackled a small area close to the house first. We haven't weeded it since we moved in and it has gotten quite overgrown!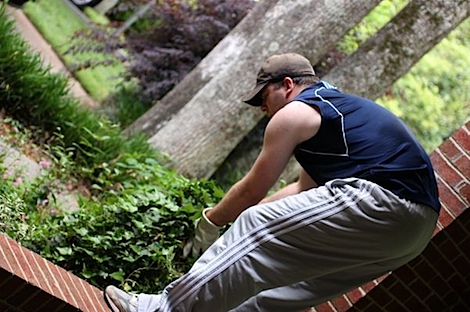 Hubby took out a large growth of ivy. That stuff will really take over if you're not careful, so I thought it best to just remove it. This area is where we're planning to plant herbs anyways so now I have more usable space. Woohoo!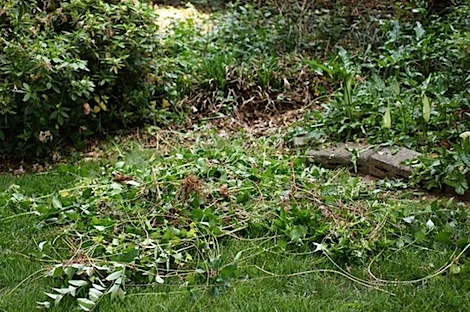 We worked up a sweat, but we got a TON of stuff done! I felt so satisfied with all the work…it was awesome! I guess I even liked the yard work!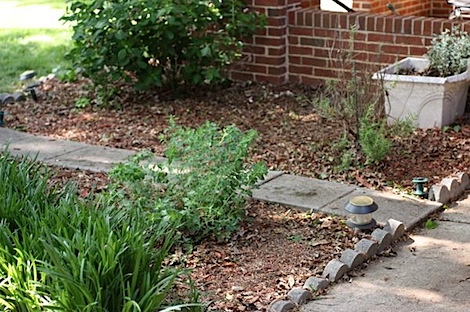 Here's the after. Ta-dah!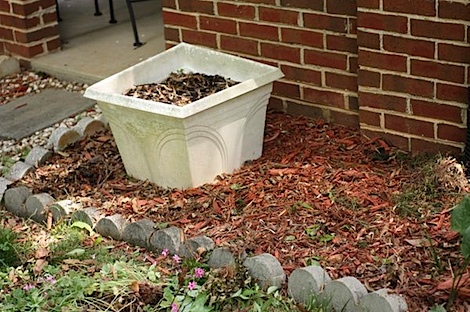 We also worked around to the other side – the back.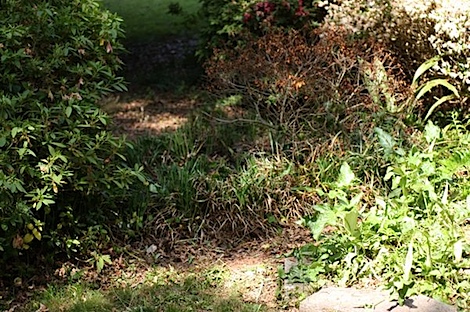 the opposite side.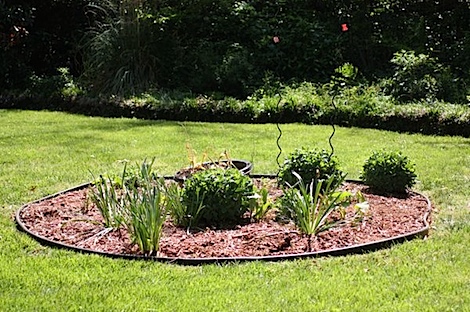 and the center circle area.
After showers we had a quick lunch.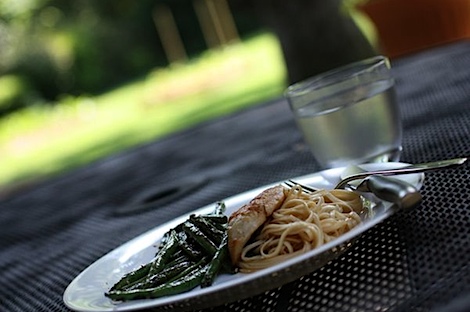 Now that we have fabulous patio furniture, we can finally take advantage of our patio…woohoo! We decided to eat al fresco to enjoy the outside some more. This time with less sweat. 😆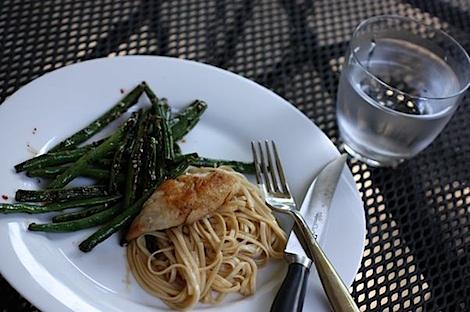 I whipped up a quick lunch of sauteed green beans with soy sauce and sesame seeds, udon noodles and some chicken leftover from last night. It was perfecto.
It was so nice eating outside, enjoying the weather and admiring our hard work's results.
I knew the perfect thing to treat ourselves for a job well done – FROYO! What better to enjoy after working in the hot sun all morning than something sweet and cool. I was reminded that a new frozen yogurt place opened up when I saw it on Kath's blog the other day, so hubby and I made a trip.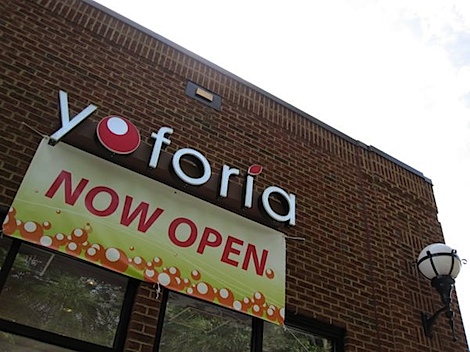 The spot – yoforia. After my most-awesome experience at a frozen yogurt place in San Fran over a year ago, I've been ecstatic with all the frozen yogurt spots opening around town!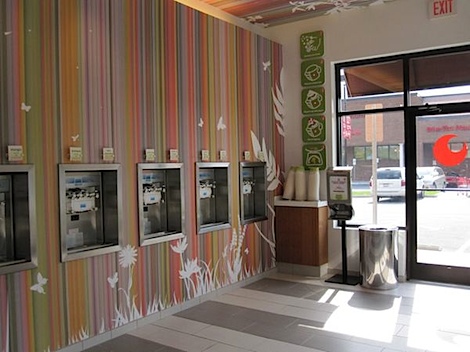 The place was self-serve. Bad for the germiphobe in me but good for the small-bites eater in me. As you may recall, I like small portions of ice cream and not all places let you have small portions. Here, I could pour myself as much or as little as I wanted!
You even get mini cups to sample the flavors.
I sampled 3:
Green Tea – I thought I'd get this one going into it since I adore green tea ice cream, but another flavor caught my attention
Taro (an exotic root) – This had an unexpected fruity flavor that I really liked
Dark Chocolate – nice and rich and not too sweet, if I hadn't been in the mood for a more fruity flavor, I may have gotten this one
My choice – TARO!
I figured it was the most interesting and I really wanted to taste more of it.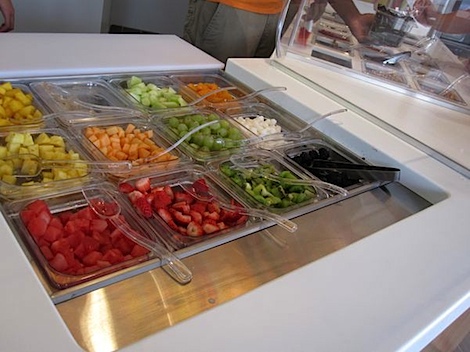 After a visit to the toppings bar, it was time to check out.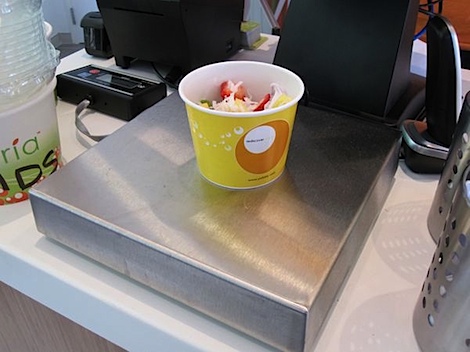 Weigh you cup and pay up. Easy-peesy!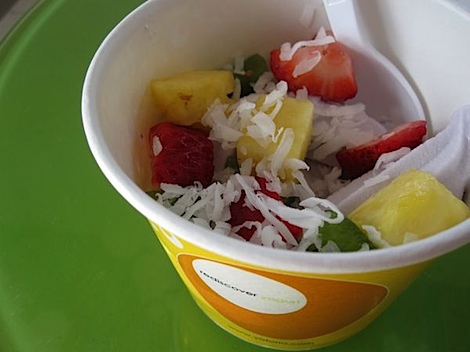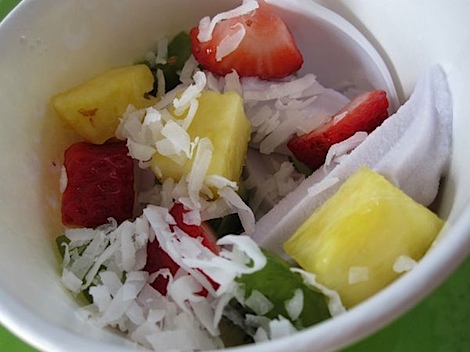 Toppings of choice: kiwi, pineapple, strawberry, coconut.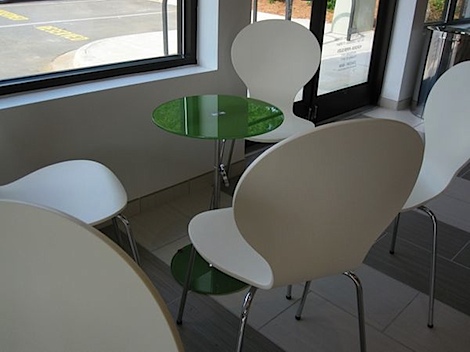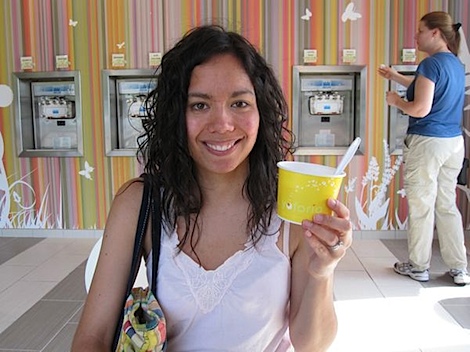 They had some fun seats inside where we sat for a minute.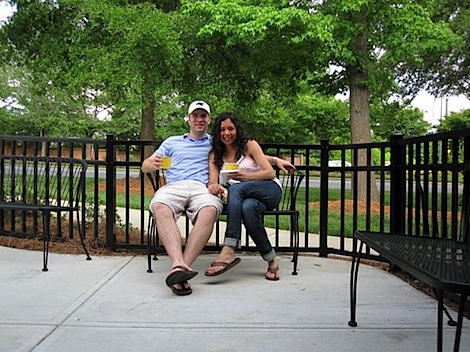 But, once we realized there were seats outside, we headed out to enjoy some fresh air. Ahhh!
A sweet ending to a hard day's work.
0