I stumbled upon the most surprising recipe for delicious and moist chocolate cupcakes when I was searching for the perfect Halloween dessert this year. You may remember these "tombstone" cupcakes I made for Halloween, but did you know they were made with vinegar?!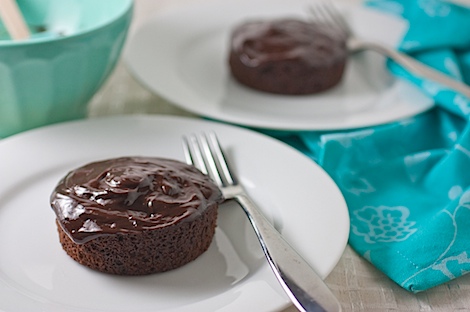 I used this recipe by Simply Recipes to make those tombstone cupcakes. It was one of those recipes where you're mixing things together wondering how on earth the combination will yield something worth eating – water, baking soda, vinegar. No eggs? No butter? Hmm…I read through the reviews on the SR post, which verified the recipe was safe to use, but I also learned that the recipe is basically known as "Depression Cake" (among other interesting names). Basically, the style of cake recipe was commonly made during the Depression (and during wars and other tough times) when butter, milk, and eggs were scarce or very expensive.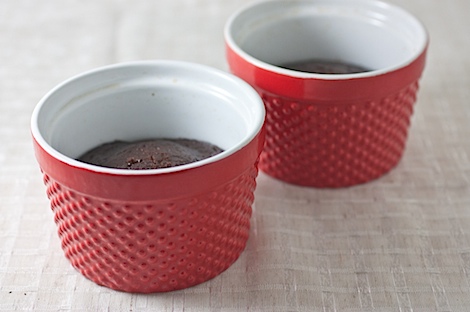 The trick is the combination of baking soda and vinegar, which helps the cake rise. I knew it worked because those cupcakes were moist and delicious. I had a light bulb moment with my cake mini recipe series when I learned about the baking soda and vinegar combination serving as a leavener. Why? Because my cake minis don't really use eggs because of the proportions and I need other ingredients to serve as the leaveners. I've been using baking powder and flaxseed eggs, but vinegar and baking soda seem more common than flaxseeds/flaxseed meal.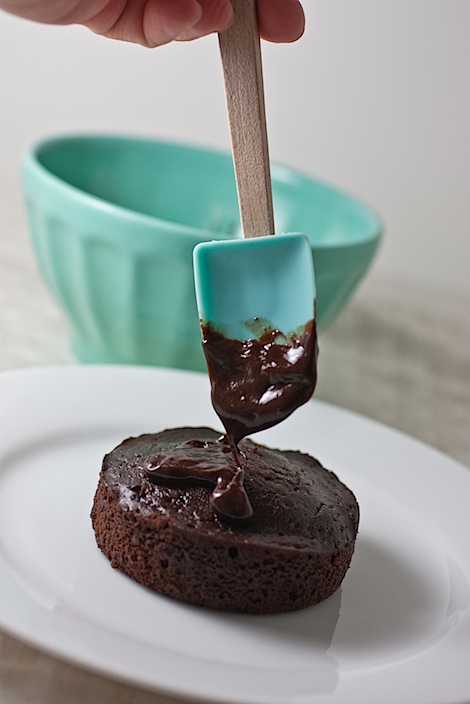 Anywho, I'm hoping to test out this whole vinegar + baking soda trick in other cake and muffin recipes, but my first idea was to apply the new leavener combo to a chocolate cake mini recipe I already had in the works.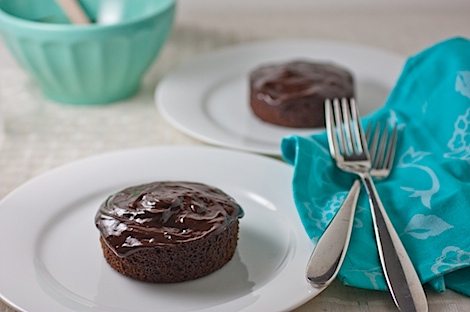 The result – an easy, quick-to-prepare, moist chocolate cake.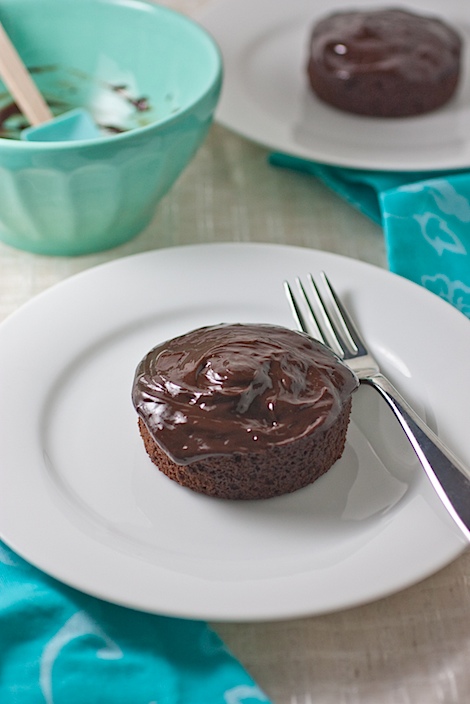 While I love a good buttercream, when you need a chocolate fix fast (and you're feeling lazy), buttercreams seem like too much work.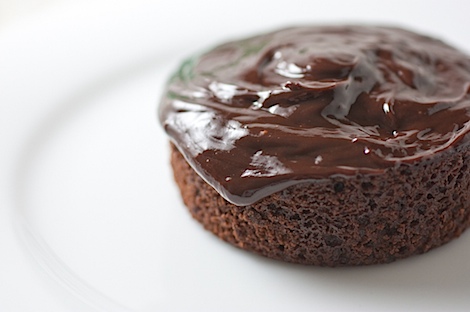 Instead, I did a simple chocolate ganache that takes less than 5 minutes to stir up (and stirring is about all you'll need to do to make it, too!).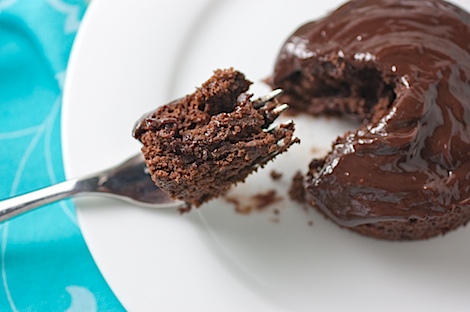 Are you ready for this?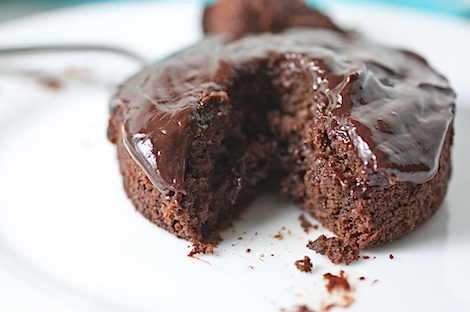 Chocolate Depression Cake Minis (for 2)
These cake minis were inspired by a version of the famous Depression Cake I found online. Why a "depression" cake? No, it's not meant to be eaten when you're sad, though I'm sure it would help pick you up (emergency chocolate anyone?). The recipe was apparently famous during the Depression because it made a moist chocolate cake without expensive ingredients like eggs or butter. The trick is the combination of baking soda and…wait for it…vinegar. The vinegar reacts with the baking soda to help the cake rise and don't worry, you can't taste it at all. Promise, kay?

Be sure to see the directions below for those who need their chocolate fix fast! This recipe could become your go-to!
Adapted from another one of my cake mini recipes with Depression-Cake-style twist inspired by this chocolate cupcake recipe by Simply Recipes
*Vegan*
Makes 2 Cake Minis
Prep Time: 10 minutes cake, 5 minutes ganache
Bake Time: 20-24 minutes
Cool Time: 10-30 minutes, depending on how badly you need a chocolate fix and how patient you are. 10 if you don't mind scooping the cake from the ramekin. 30 if you prefer to eat it cake-style (removed from the ramekin and placed neatly on a plate).
Ingredients:
4 tablespoons flour
3 tablespoons sucanat (or sub sugar, but the cake will be more sweet)
2 tablespoons unsweetened cocoa powder
1/8 teaspoon baking soda
1/8 teaspoon salt
4 tablespoons brewed coffee (or 1/4 teaspoon instant coffee/espresso powder stirred into 4 tablespoons warm water until dissolved)
1 tablespoon canola oil (or other oil of choice)
3/4 teaspoon white vinegar
1/2 teaspoon vanilla
Directions:
Pre-heat oven to 350 degrees F. Prepare two ramekins (3 inch diameter) with non-stick cooking spray.
In a large bowl, whisk together flour, sucanat, cocoa powder, baking soda, and salt until ingredients are well-combined (and cocoa powder lumps are broken up).
In a medium bowl, combine coffee (or water/coffee mixture), canola oil, vinegar, and vanilla and mix well.
Stir wet mixture into dry mixture until just combined (careful that no flour bits remain, but that you also do not over-mix).
Evenly distribute batter into the two ramekins. Bake until cake is cooked through (or a toothpick inserted in the center of the cake comes out clean), about 20-24 minutes (I found this cake mini takes a little longer than some of the previous versions).
Cool cakes to room temperature. Run a knife around the edge of the cake in the ramekin to loosen the cake (circling a couple times until you see the cake loosening from the bottom)
Pour Quick Chocolate Ganache, recipe follows, over cake mini (spread with spatula if you're feeling particularly Type-A) and, if desired, top Cake Minis with a sprinkling of powdered sugar.
Enjoy!
***
Chocolate Ganache
*Vegan option*
Makes enough to top 2 Cake Minis
Prep Time: 5 minutes
Ingredients:
2 tablespoons semi-sweet chocolate chips
1 tablespoons heavy cream (or sub vegan cream/creamer
Directions:
Pour heavy cream into a microwave-safe mug and microwave until very hot/almost boiling.
Add chocolate chips to the mug and stir until chocolate chips melt and are evenly combined with the cream (you may have to zap it in the microwave for just a couple seconds longer.
Optional ganache preparation: If you don't want to use the microwave, you can place the chocolate chips in a heat-proof bowl, heat the cream in a small pot/sauce pan and pour over the chocolate chips. Stir till well-combined.
***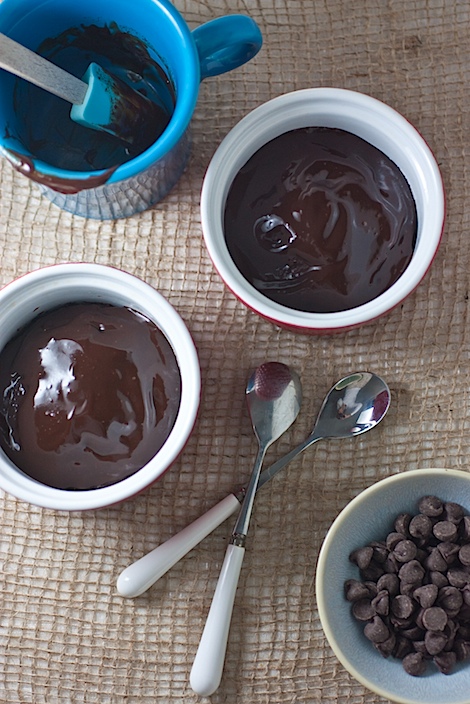 Optional cake preparation if you're in a hurry: cool cake until safe to eat, but leave cake in the ramekin.
Pour chocolate ganache, recipe above, over cake mini and…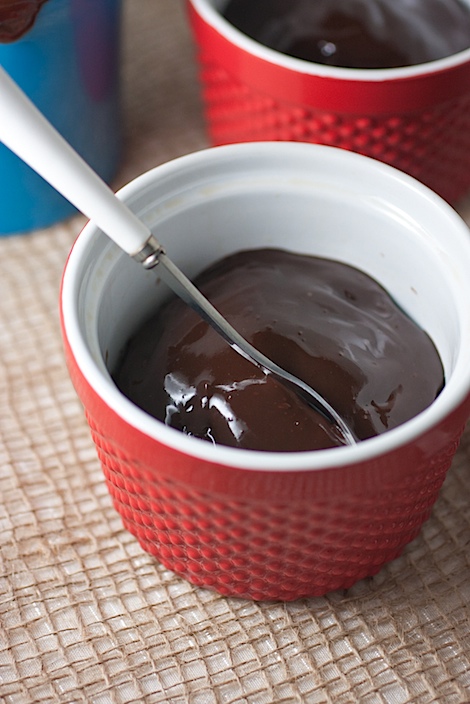 …Use a spoon to enjoy.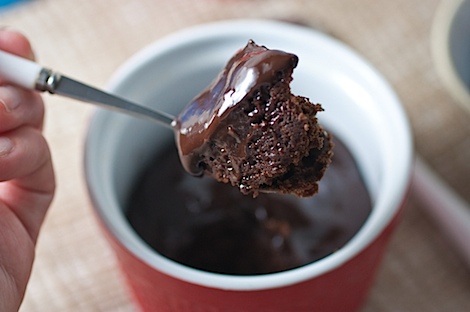 Scoop and savor.
While I love my other cake mini recipes, this one may become my new go-to quick-fix dessert for a couple reasons: ease of preparation, speed, removal of need to let cake cool (I can get to my cake faster, guys!), and did I mention this recipe is faster than most of my other dessert recipes? Yeaaaaaaa!
Happy baking!