I was kicking myself Sunday night at dinner when I realized I left my memory card in my computer. See, after dim sum and shopping, I headed to my hotel to check in. I ended up making plans with my cousin (who is like my brother and basically lives in Atlanta) over the phone and decided to import and edit photos while I waited for him to drive into town. In my haste, I totally left the card in my laptop, even though I managed to bring my giant camera. Doh! It was really too bad, because my cousin took me to a really cool local pub with from-scratch eats and a really fun scene. The place was Ormsby's. I had fish & chips and one of the most unique drinks I've ever had – (from the menu) "Berliner. Weihenstephan Hefewrizen, Raspberry Feamboise, vanilla infused American harvest organic vodka, touch of orange." I was so happy with my entire experience at Ormsby's, I was extra sad at not being able to have pictures to take with me. Not only did I not get photos of my food and drink…I didn't get a photo of my cousin either! #fail
I had an early morning on Monday, starting with meeting one of my teammates for breakfast to touch base before our client-site meetings. We had meetings during the morning, took a quick lunch break at the food court, and worked hard and fast to knock out more deliverables. After a successful day, I started looking forward to dinner.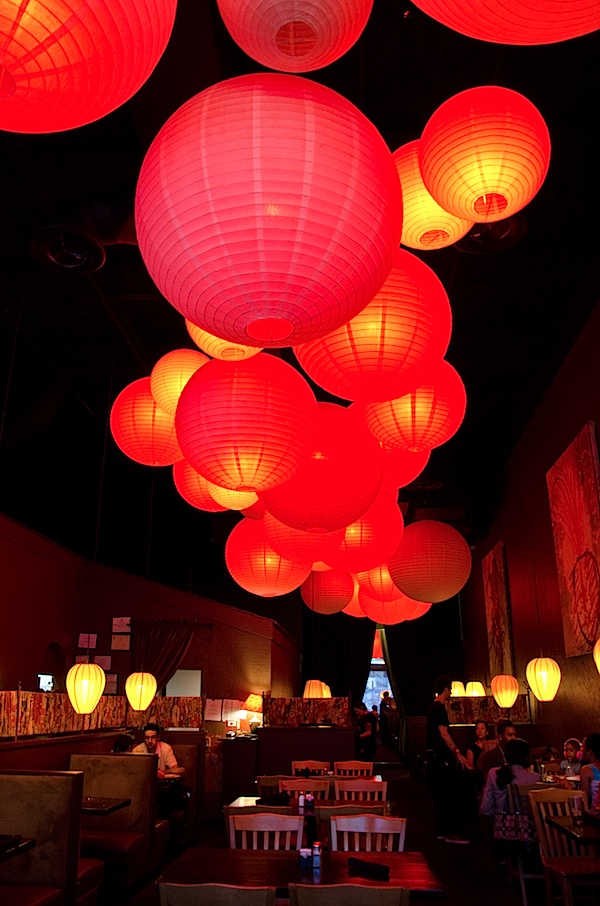 One of the places I wanted to re-visit while I was in town was Cafe Sunflower. My sister and I went there last year and had a delicious vegetarian meal despite neither of us actually being vegetarian. And did I mention the cake? *drool*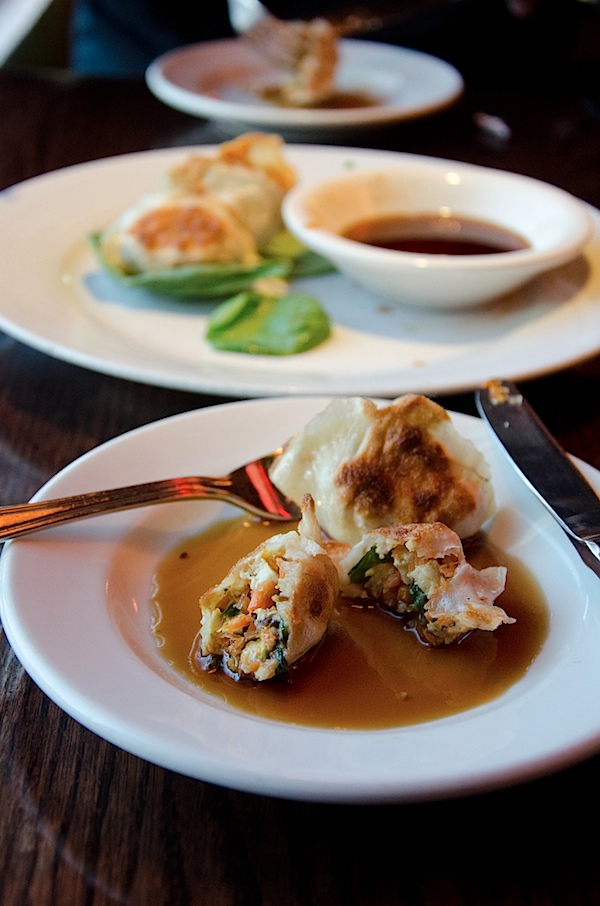 One of my co-workers actually came with me, so I got to share a couple things. First up…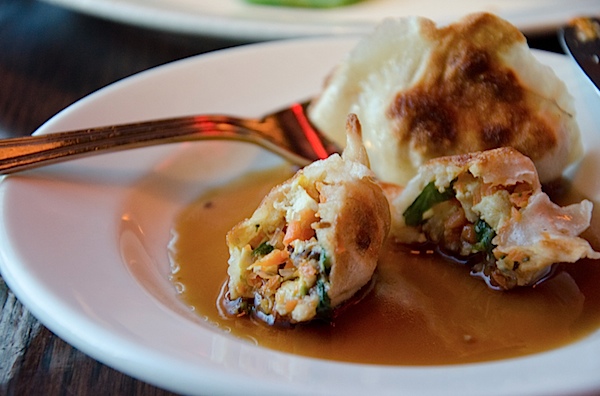 dumplings! Our waiter told us these are steamed and then cooked in a little olive oil to get the crunch factor. I'm going to have to experiment with new pot sticker cooking methods, because the last I cooked dumplings, I don't recall them being nearly this light. I made some from frozen last time, and the directions on the package told me to use so much flippin oil! There's a time and place for oil (like french fries or funnel cakes!), but if I can achieve a better dumpling using less oil, that would be wonderful. They really just don't need it.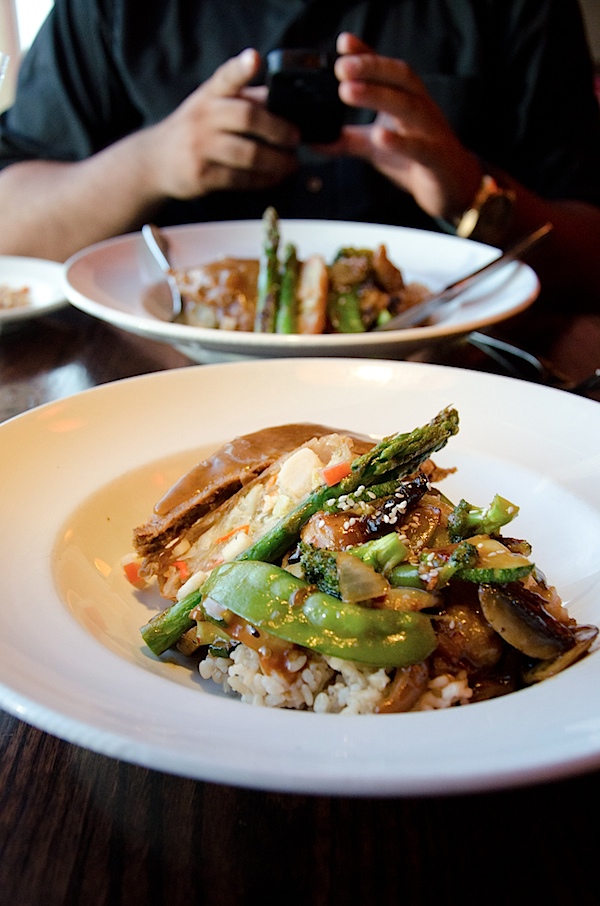 Somehow, I convinced my co-worker to split two entrees, which meant I got to get the dish I really wanted to re-eat (sesame "chicken") and try something new (veggie loaf with chickpea miso gravy).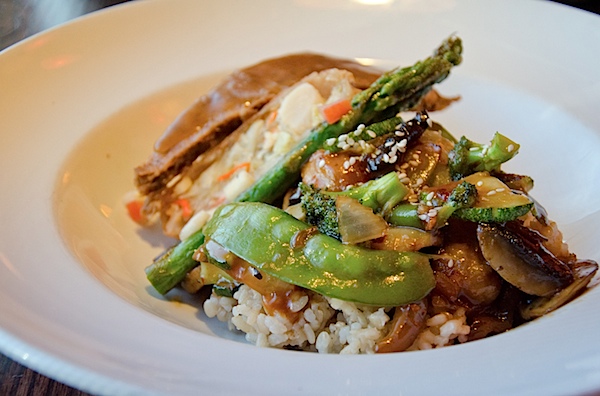 Cafe Sunflower hooked us up and split the dishes for us.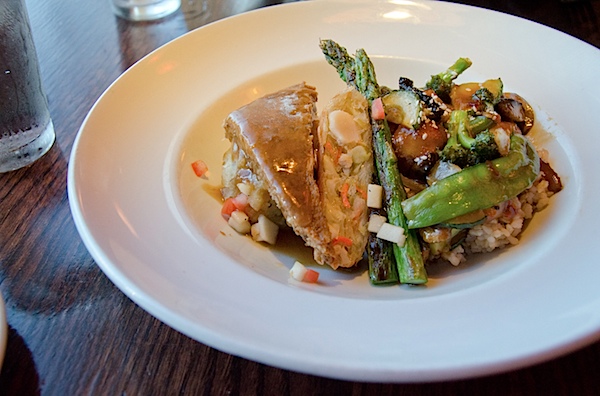 Aren't they cute? I enjoyed eating both of them, but the thing that really stuck out was the little bits of apple served with the veggie loaf. I thought they sounded weird when I read about them on the menu, but they really worked. I loved the light bites of apple against the heartier gravy.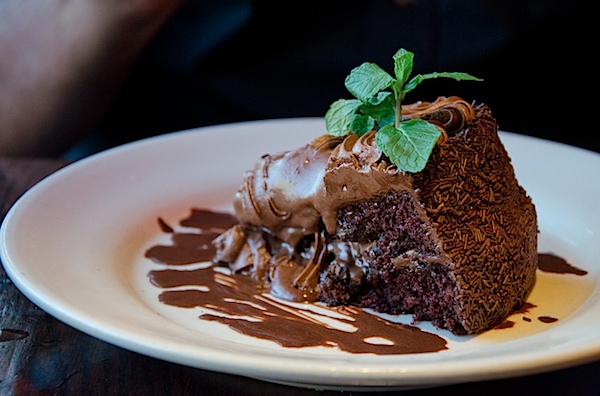 And the best was definitely last. I was definitely getting some cake while I was in Atlanta, even if I had to get it to-go after meetings and eat it in my hotel room. My co-worker had the chocolate cake served warm.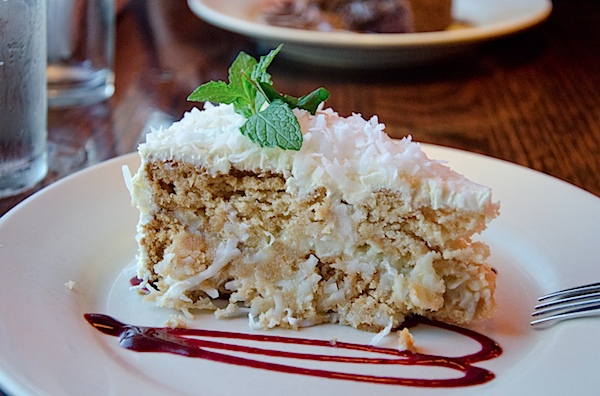 I got what I enjoyed so much last time – the coconut cake.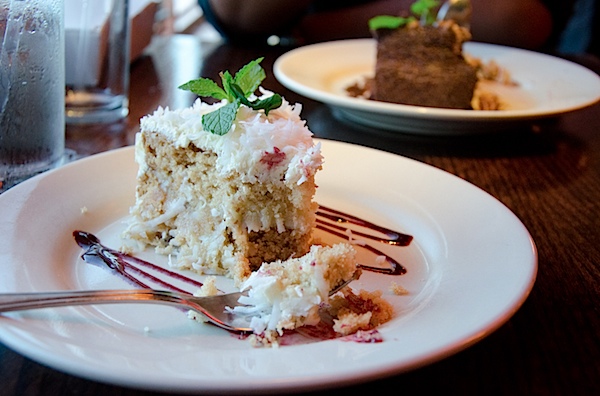 This is the cake that inspired my first cake mini recipe! Click here to check out my Coconut Cream Cake Minis recipe. Anywho, these have to be the best vegan (if not just best regardless) cakes I've ever had.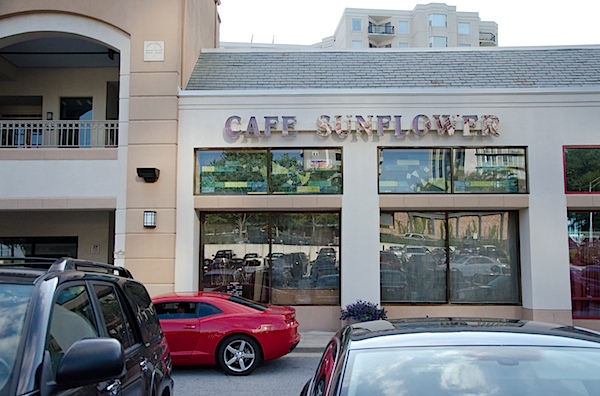 I had another delightful meal at Cafe Sunflower. I really could come here a few more times to try out some of their other entrees since there were so many things on the menu I wanted to order. With another positive experience, this place is solidified as a must-see for me whenever I'm in Atlanta. Between the creative menu and the welcoming environment, this place is a winner and I don't just mean for vegetarians.
0