I love boxed rice pilafs. They make dinners so easy. Saute some chicken, steam some veggies, and all the while let a nice rice pilaf simmer away on the stove. The only catch is that I've been trying to eat more clean, whole foods, and less things processed foods from boxes.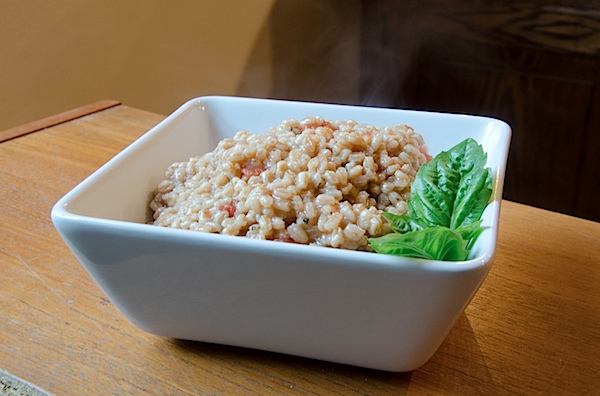 There are some boxed rice pilafs that I still buy, but I'm more discerning about which brands I'll buy. Ultimately, I think from-scratch is always better when you have the time. This farro dish isn't the fastest, but it is simple and tasty. Almost as simple as making a pre-packaged rice pilaf. Almost.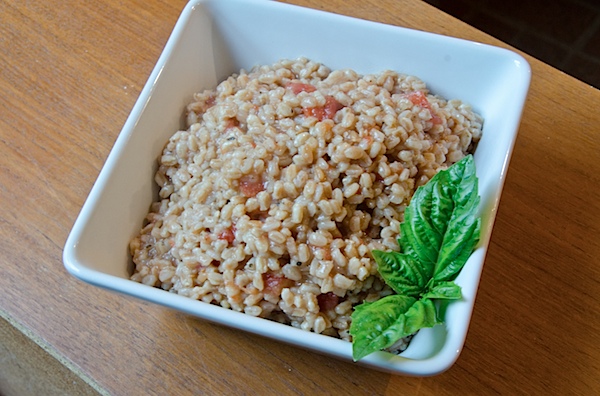 Tomato Basil Farro
I came up with this recipe for my dad during Father's Day weekend since he's a big fan of whole grains but somehow hadn't tried farro yet. I wanted to do something simple without requiring a lot of extra ingredients, and this worked perfectly. I use both dry and fresh basil to get a good mix of basil flavors. Though this isn't the fastest side dish, I like to think it makes up for that by being extra easy and by using few ingredients.
Cook time: 35-45 minutes
Serves: 4-6 as a side dish
*Vegan, Vegetarian*
Ingredients:
2 tablespoons extra virgin olive oil
2-3 cloves garlic, chopped
2 cups farro, rinsed
4 cups broth/stock of choice
1 can diced tomatoes with juice
1/2 t dried basil
1/4 t salt, plus additional to taste
Pepper, to taste
Fresh basil, sliced thin, about 1/4 cup
Directions:
Heat oil in a medium-large pot over medium heat.
Add garlic and saute until fragrant, about 60 seconds.
Add farro, broth/stock, tomatoes, basil, and salt. Stir to combine. Bring to a boil. Reduce heat to simmer and cook until farro is tender to liking, about 30-40 minutes. If needed, season with salt and pepper to your taste preference.
Serve topped with the fresh basil or place the basil in a small bowl next to the farro.
Enjoy!
You may also like other easy farro recipes I've made in the past: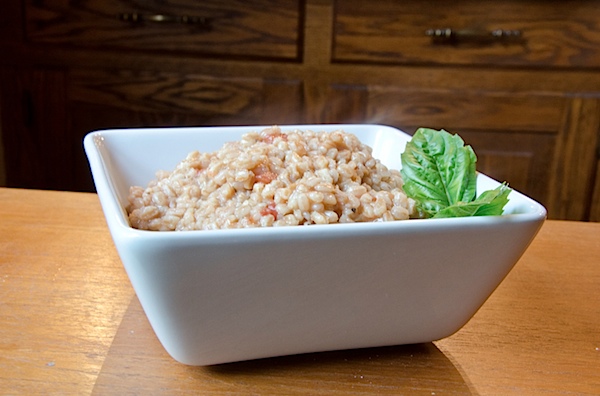 Sis remarked that it was similar to margarita pizza. I guess the only thing missing would be the mozzarella, but that could be a fantastic addition. I may have to try that next time.
***
I posted one of my current favorite Zumba tunes on my Facebook wall today – click here to check it out. This song was stuck in my head all day, which actually made it extra fun when we got to lead it in Zumba class tonight. Too bad class didn't kick it out of my head. I can still hear it going…lol
Also, remember you can get free updates by clicking here
***
Reader question: Do you like boxed rice pilafs? If yes, what's your favorite kind?