Hello everyone! I hope you're having (or have had) a great Halloween this year.
I must take a moment to send out some thoughts on Hurricane Sandy. I've been watching the news and looking at the related photos over and over again, and it's mind-boggling how devastating this storm has been for some parts of the country. My heart goes out to all of you struggling post-Sandy. From those of you who lost power to those of you dealing with flooding or home damage. I hope you all stay safe and strong, and I wish you a speedy recovery.
If you would like to help those recovering from Sandy, TIME wrote a great article with lots of ways you can give and volunteer. Click here to view the article Sandy's Aftermath: How to Help
***
Since it is Halloween, I thought I'd share some of my holiday experience from the week. When I was kid, Halloween was all about the candy. When I was in college, it was all about the party. And now, it's all about…Zumba. I guess it's sort of unexpected, but it works. My dance fitness company decided to celebrate Halloween for a couple days leading up to Halloween, and not just on the holiday, itself. Thusly, I ended up attending two Halloween-themed Zumba classes and hosting one. This required multiple outfits (or the time to do laundry every night, which was unlikely), which was okay for this Halloween-lover.
Here are the three outfits I wore to class. I centered them all on things I could work out in, so they're all exercise-friendly Halloween costumes. Lululemon wunder unders were a staple for me. Not only are they great to work out in, they're easier to work into costumes than Zumba cargo pants.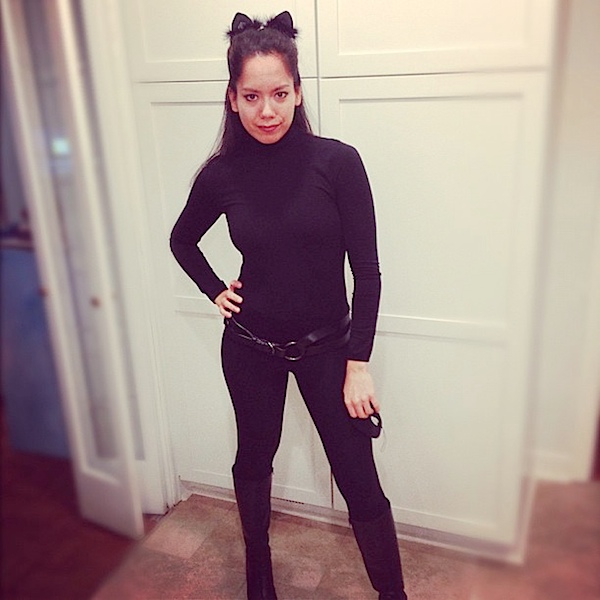 Class #1 – I went as Catwoman à la Anne Hathaway
Everyone thought I was wearing a one-piece body suit, but it was black wunder unders with an old black turtleneck I got from a Victoria's Secret catalog back in college (yeaaa, I used to rock it at the bars back in the day). I added a black leather belt I already had (Vince). And I got some cheap accessories at Party City. The mask was $1.99 and the ears were clip-ins and only $3.99. I wore some black dress boots for the class intro and then changed into black tennis shoes to dance. So, basically, I wore stuff I already had and only had to get about $6 worth of extras. Not too shabby.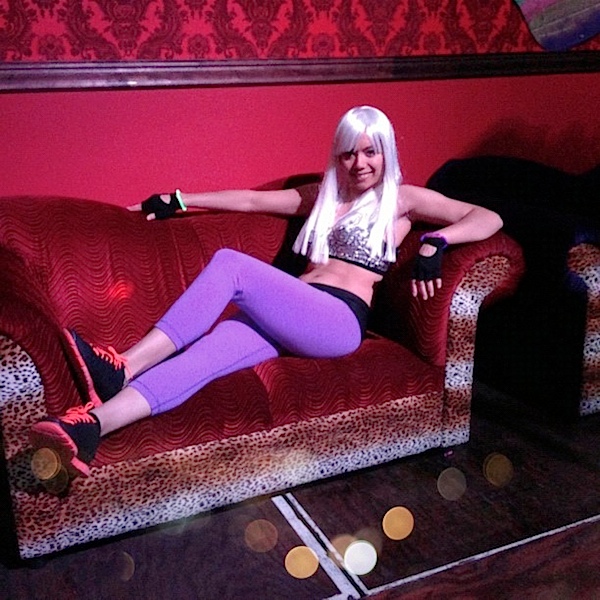 Class #2 – Lady Gaga
I bought this wig for my friend's birthday party earlier this year, and since then, I've tried to wear it as much as possible…basically, any chance I get. I mean, it wasn't cheap! Anywho, this outfit was a combination of my Lady Gaga concert outfit, regular Zumba clothes, and the wig. I wore purple wunder unders, American Apparel shorts, a Zumba sports bra, and a sparkly-sequin bra on top. The sequin-bra is fun, but I wear it over the sports bra for back-up and support. Can you believe I already had all of this crazy stuff? Cost = $0. Oh, and in case you're wondering, I've now worn the wig 3 times!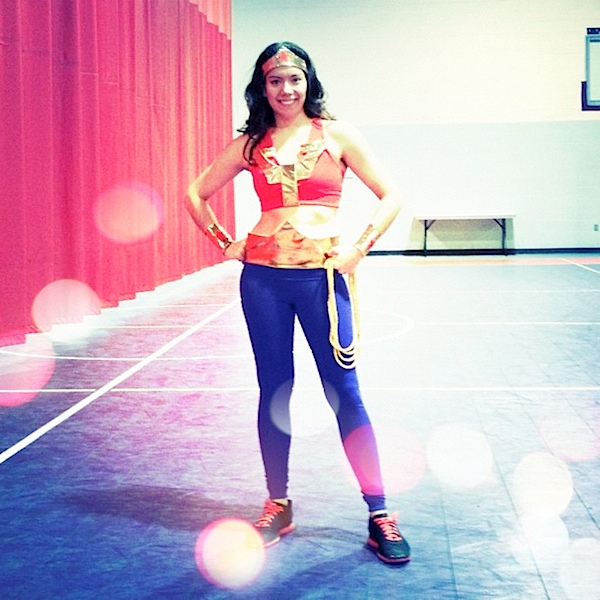 Class #3 was my class! I went as Wonder Woman!
This outfit took by far the most effort. I actually made the gold accessories for this outfit, which I'm planning to blog about separately. But basically, I wore blue wunder unders, a red Margaritawear sports bra, black tennis shoes, plus all the gold, handmade accessories. I'll share more photos of my costume and the class later!
***
Did you like this post? Please consider clicking the Facebook-Like button or check out The Chic Life on Facebook by clicking here. You can also find TCL on twitter here.
Thanks for reading!
***
Reader question: What was your Halloween costume this year?