I whipped this new cake mini recipe up the way I usually come up with most of my cake mini recipes. I wanted dessert, and I wanted it fast. Aaand I want to try a new flavor. The Chocolate "Depression" Cake Minis are often my quick-fix dessert of choice, but sometimes you just want to try something new. For whatever reason, fall has me thinking about using spices and nuts, so I threw them into a basic cake batter to see how it would turn out. To be honest, I didn't think I'd share this recipe because it seemed so simple, but hubby and I really enjoyed them. I thought maybe some of you guys would, too.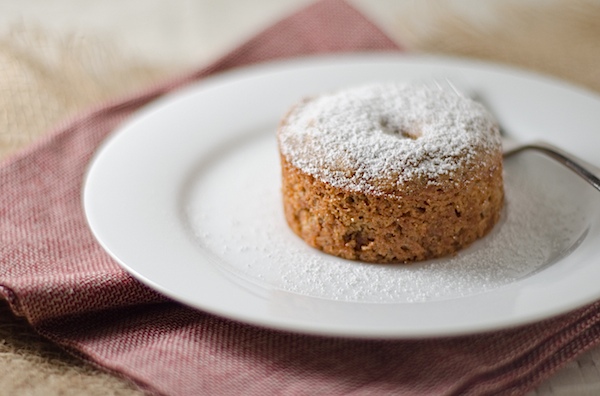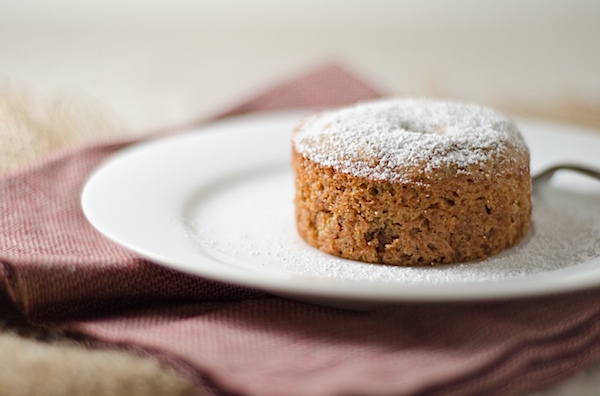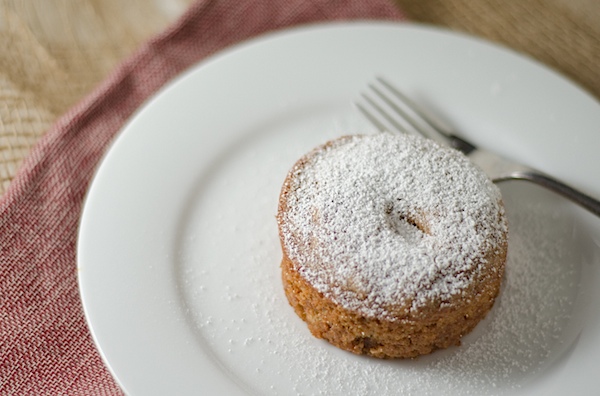 Spiced Pecan Cake Minis
A quick spiced dessert with pecans, cinnamon, and nutmeg, perfect for a cool fall day. The pecans add great texture, and the scent of these cake minis baking away make your house smell like autumn.
Prep Time: 5 minutes
Bake Time: 16-20 minutes
Total Time: 21-25 minutes
Yields: 2 cake minis
*Vegetarian, Vegan options*
Ingredients:
3 teaspoons water
1 teaspoons flaxseed meal / ground flaxseeds
6 tablespoons flour
1/2 teaspoon baking powder
1/4 teaspoon ground cinnamon
dash nutmeg
pinch salt
small handful pecans, chopped (about 2-3 tablespoons)
2 tablespoons canola oil (or sub a similar oil)
2 tablespoons brown sugar
2 tablespoons milk (or vegan milk substitute)
1/2 teaspoon vanilla
powdered sugar, optional
non-stick spray
Directions:
Pre-heat oven to 350 degrees F. Prepare two ramekins (3 inch diameter) with non-stick cooking spray.
Mix flaxseed meal and water together and set aside to bind while you continue with the rest of the recipe.
In a medium bowl, whisk together flour, baking powder, cinnamon, nutmeg, and salt until ingredients are well-combined. Stir in pecans.
In a medium bowl, mix oil and sugar. Stir in flaxseed/water mixture, then milk and vanilla until well-combined.
Stir wet mixture into dry mixture until just combined (careful that no flour bits remain, but that you also do not over-mix).
Evenly distribute batter into the two ramekins. Bake until top is golden brown and cake is cooked through (or a toothpick inserted in the center of the cake comes out clean), about 16-20 minutes.
Cool cakes to room temperature. Run a knife around the edge of the cake in the ramekin to loosen the cake (circling a couple times until you see the cake loosening from the bottom). Place the cake minis on serving plate.
If using, dust the tops of the cakes with powdered sugar and serve. Enjoy!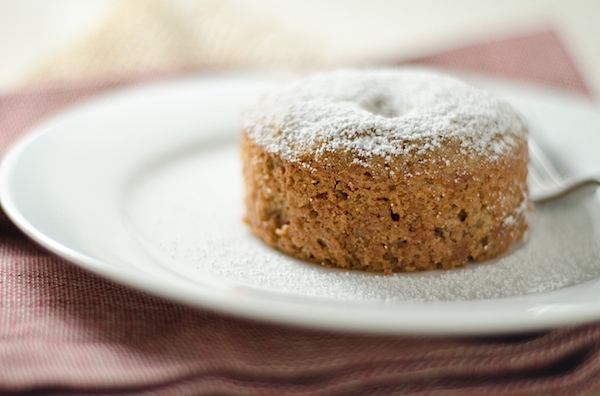 Oh, and if you're wondering about the dip in the middle, I thought it would look cool if there was a whole pecan sitting the top of the cake. Unfortunately, the cake batter swallowed it. So, it looks a little weird, but it still tastes good.
Happy baking!
Thanks for reading!
Reader question: What ingredients do you think about when it comes to fall?
0