A new cookie has taken the lead as my favorite cookie – oatmeal chocolate chip. The old favorite was chocolate chip. I know, it's not much of a difference. And yet, that simple addition of oats gives the texture and flavor something special that I just love.
Of course, this meant I needed to come up with a recipe so I could make the oatmeal chocolate chip cookies just the way I like – a little chewy. I started with this recipe for butterscotch oatmeal cookies that I made a couple years ago with good success, but I made a couple changes, also looking at my dough ball recipe for some ideas. I liked the flavor and chewiness of those butterscotch cookies, but I wanted to reduce the sugar and make them less flat, plus I wanted to make far fewer cookies. I played with the recipe over several batches, about 8 or 9 over the last couple years. I started by halving the butterscotch cookie recipe, adding flour, and reducing the sugar amounts. The first couple tries were decent but not great. I thought simply adding flour would make the cookies less flat, but it didn't work as I expected. I tried some batches with far less sugar, far less flour, different amounts of butter, using baking powder instead of baking soda, and many other variations. Each try was just okay but not just right. I tracked my adjustments and made notes along the way. Most recently, I tried doing some google research.
I did some online searching for how to make cookies chewy, and it turns out sugar is one thing that that helps make them chewy (so much for reducing it lol). Apparently using melted butter and baking soda instead of baking powder helps, too. So, I tried a couple more times, tweaking things all along the way. The final result is what I'd consider a "just right" oatmeal chocolate chip cookie – a little chewy, a little soft, and a little crispy all in one delicious package.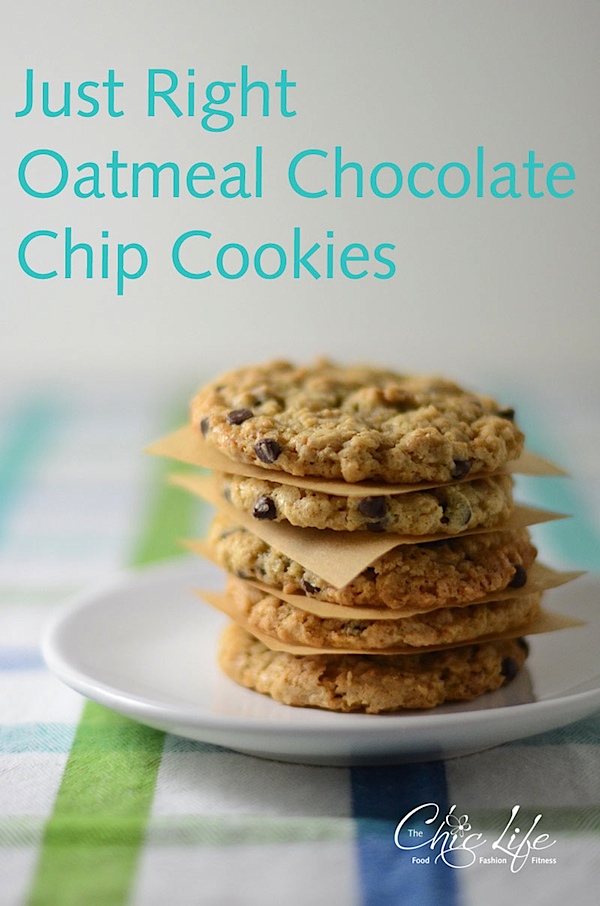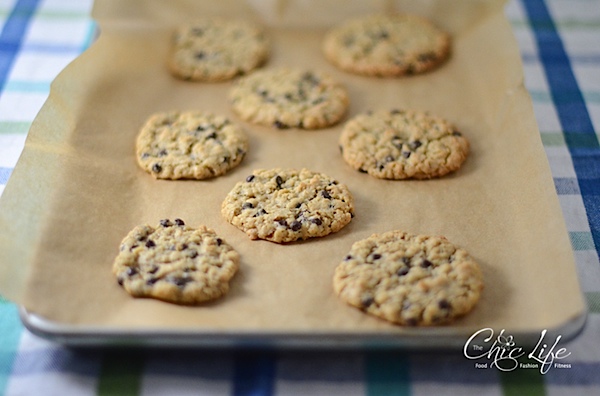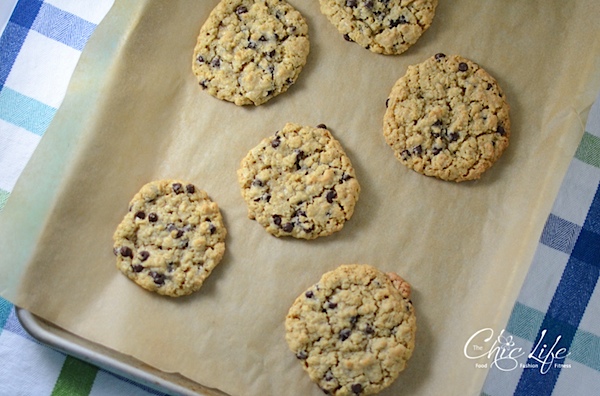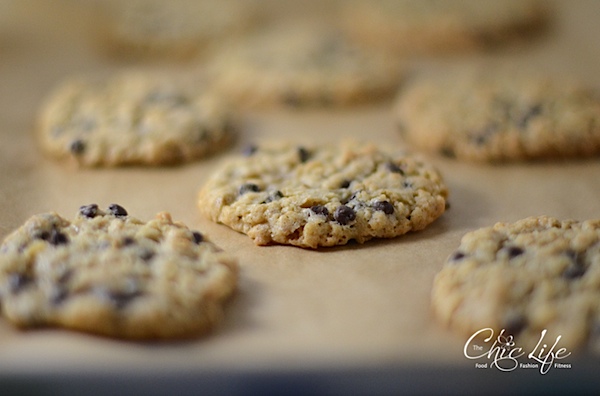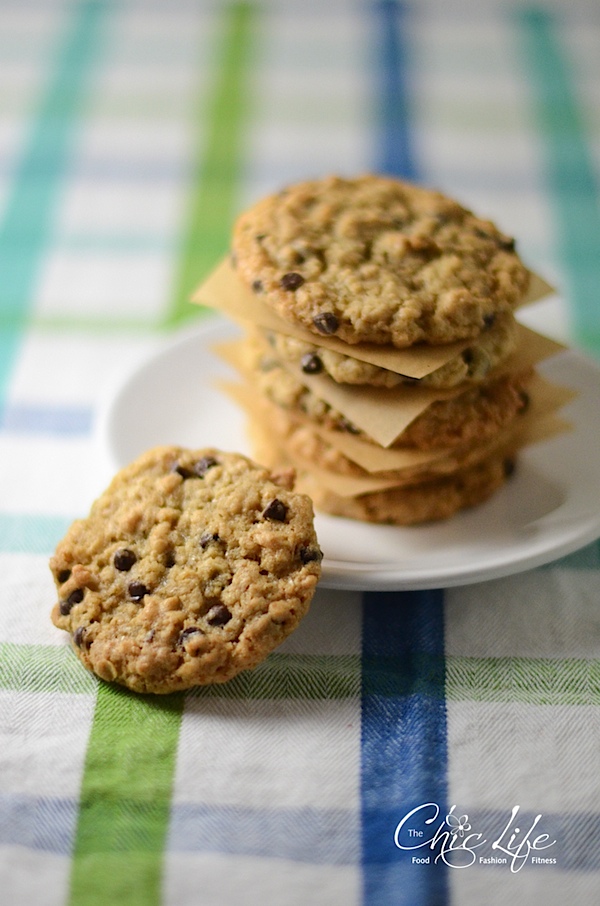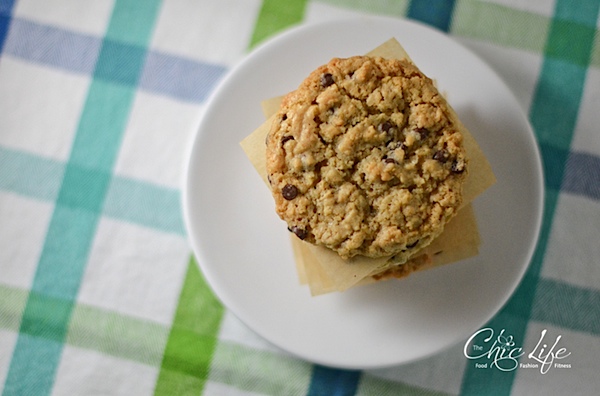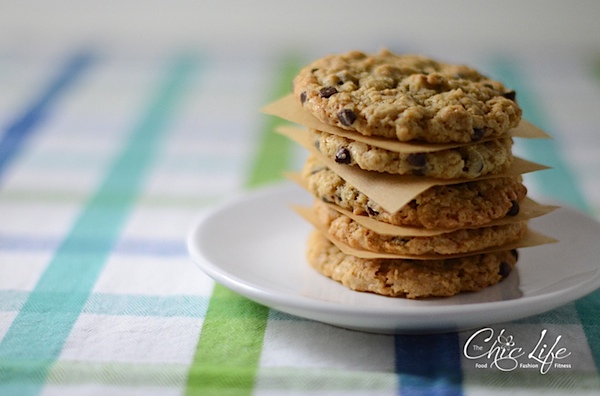 Just Right Oatmeal Chocolate Chip Cookies
The ingredients are simple and the results are delicious. They whip up pretty quickly, too! I started with this cookie recipe and experimented, analyzed, and re-experimented, and re-analyzed over several batches until I was happy with the results. According to some google research, melted butter, sugar, and baking soda help give the cookie a chewy texture, so keep that in mind if you modify the recipe at home, especially if you like chewy cookies, too. Be sure you use kosher salt or reduce the amount if you use table salt instead. And mini chocolate chips distribute better than large ones, so I was able to reduce that amount versus the 3/4 cup of the regular size chocolate chips I'd recommend. Hope you like these cookies as much as I do!
*Vegetarian, vegan options listed below*
Prep time: 10 minutes
Bake time: 10-12 minutes
Total time: 20-22 minutes, plus cooling time
Ingredients:
1 1/4 cup quick-cooking oats (old-fashioned would probably work just fine, too)
3/4 cup flour
3/4 teaspoon kosher salt (reduce amount if you use table salt, maybe 1/4 – 1/2 depending on how you like your cookie flavor)
1/4 teaspoon baking soda
1/2 cup (1 stick) butter, melted and cooled slightly (vegan – sub Earth Balance or similar product)
1/2 cup brown sugar
1/2 cup granulated sugar
1 egg (vegan – sub a flaxseed egg)
1 teaspoon vanilla
1/2 cup mini chocolate chips (or use 3/4 cup regular sized chocolate chips)
Directions:
Pre-heat oven to 350 degrees F. Prepare three baking sheets with parchment paper. Note: I could bake all the cookies in one batch with 2 shelves and 3 baking sheets.
In a large bowl, add oats, flour, salt, and baking soda. Whisk to evenly combine.
In a medium bowl mix butter, brown sugar, and granulated sugar. Make sure butter mixture isn't too hot so it doesn't cook the egg when add it, and add the egg and vanilla. Whisk to evenly combine.
Pour wet mixture into dry mixture and gently mix with a large spatula. Fold in chocolate chips.
Using a medium sized sorbet scoop (2 tablespoon), scoop dough and evenly distribute on baking sheets, leaving about 3 inches of space in between each ball of dough.
Bake 10-12 minutes, until edges are slightly brown. Remove from oven and let cool on baking sheets to room temperature. Enjoy!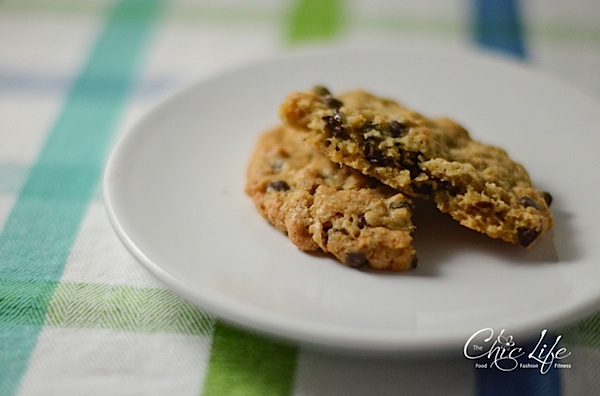 Happy baking! Thanks for reading!
Which do you prefer: regular chocolate chip or oatmeal chocolate chip?