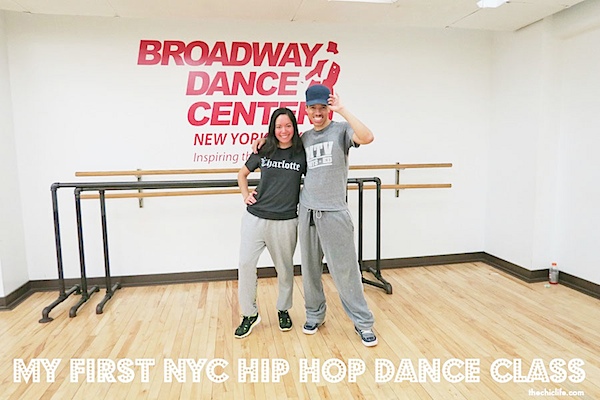 Why Dance Class?
After feeling more comfortable with the NYC workout scene, I wanted to really challenge myself with something faaaaaar out of my comfort zone. A NYC dance class. Not dance fitness. Real dance. While my background in figure skating and dance fitness may seem conducive to doing so, in my mind they were nothing alike. While I now feel very confident teaching dance fitness, I felt the actual dancing part was a weak spot for me. Not to mention you guys know I like fun workouts that don't feel like a workout. #sweathappy
Stay Safe or Go for It?
I had a choice to make. Play it safe and stick with dance fitness. Or, dare to try something scary and new. I had no idea what to expect from an actual dance class. What was the structure like? Would I be able to keep up? But, would I regret never trying? The answer was yes.
My Uh Oh Moment
I almost didn't sign up for my first dance class but managed to will myself to sign up for a Beginner Hip Hop class at the Broadway Dance Center (BDCNYC) via ClassPass. There were many dance styles available, but hip hop was the most familiar to me. I was feeling pretty good about the decision until I stumbled onto a short Instagram video from an Advanced Beginner Hip Hop class where the dancers all looked like professionals. Something like this video. Imagine my horror when I went to the BDCNY web site and realized I was signed up not for the first level class but for the third. A "Beginner" at BDCNY is expected to have 2-5 years of experience in the discipline. Besides a brief stint as a child taking dance lessons (which I didn't count), I had 0. Uh Oh!
It was too late to cancel the class without paying $15. Plus, I'm not a quitter, so I decided to push through. My anxiety about the class built as the class time approached. I was worried I'd be the one in class slowing all the real dancers down with my stupid questions and inability to keep up. Though I thought many times about canceling after all, I showed up and willed myself into the classroom. The instructor, Q, strolled in with a big smile and lots of energy.
The Class
After the 30 minute warm up, which I followed okay, I dashed over to the instructor to talk about my lack of experience. I half hoped he'd excuse me, but he gave me some encouraging words and told me to keep going. This would help me push through the rest of the class as I continued to worry that I really shouldn't be there and wondered if anyone would notice if I slipped out the side door.
The second part of class was dedicated to choreo. Tonight's song – "Formation". The pace of the class was pretty fast for me. I felt like I mostly stumbled along and was at least not completely lost. I hoped no one noticed me in the back row where I was attempting to hide. There were some parts of the song that turned, so anywhere I was behind, I managed to catch up on the turns so it looked like I was with the rest of the group. At least until we broke into groups of two and had to perform for each other. I was a fraud, and now at least half the class would know.
If I wanted to leave class before, now I really wondered if I should quickly grab my things and run out. But, I didn't. I made my way through the choreo and while I was proud I didn't quit, I was also not thrilled with how I did.
Dance-spiration
When the other group went, I marveled at their dancing skills. They seemed to have caught onto the choreo perfectly. On top of that, they looked like they were having the time of their lives, wearing the biggest smiles and so much confidence. I wanted to feel that way too when I danced. I wanted to be a happy dancer like them. I resolved in that moment to continue going to more dance classes until I was.
Many of the dancers in the class seemed to be familiar with Q. They seemed like loyal regulars, and I could see why. Q was obviously a great teacher. Though I had a rough first dance class, to the outside world, this was a regular hip hop class. I later realized that I'd let myself get entirely too caught up in my head. Going into something (anything!) feeling like you can't do it is a sure fire way to fail. I kick myself now for letting my thoughts run away like that, but beating myself up about it wouldn't help me much more after the fact.
3 Months Later
I'm blogging about this 3 months later. It would have been easy for me to go back to dance fitness classes. But, I didn't. I happy to say I've continued going to dance classes. I really liked Q's energy, enthusiasm, and style, so a couple short weeks later, I signed up for a new session at BDCNY that was more appropriate for my experience level – the Absolute Beginner Workshop. More on that another time.
While my first NYC dance class wasn't an easy one, it was certainly one that pushed me the most. I'd later learn that I had a pretty good reason to feel so unsure about my dancing skills. And while it would have been easy to say that I should stick with dance fitness where I felt comfortable, I decided to use the experience to set new goals. Now, I didn't want to just work on my dancing skills, in general. I wanted to be like the happy dancers I'd seen in class. I wanted to be a confident dancer.
What About You?
Even if you're not a dancer, what are some ways you can push yourself to try something new? What is something you've always wanted to do but were too scared? What are you waiting for? I can tell you from personal experience that just starting is the hardest part. The challenge continues as you go back again and again. But, it gets easier. And though it's tough, it's also fun! I'm so glad I've continued to push through because I'm really enjoying myself. I feel more accomplished and confident, and you can feel this too. You just have to decide you want it and go for it!
Everyone Is a Beginner at First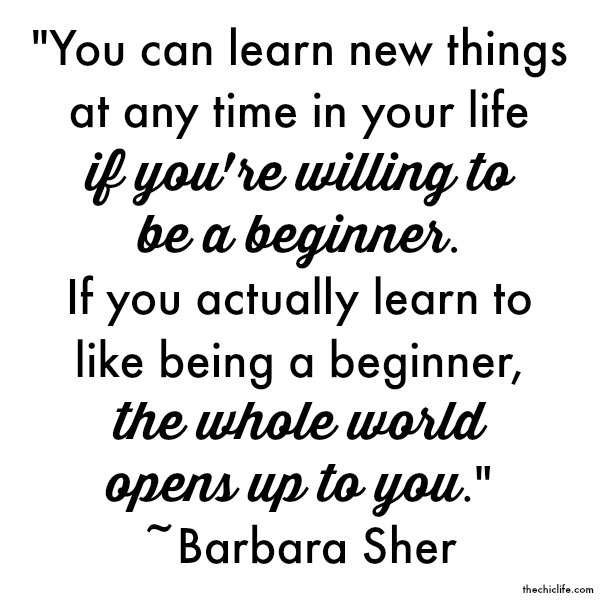 One of the most inspiring thoughts that kept me going was that no one starts out amazing. It's easy to look at really talented dancers like they've always been great. But remember – no one starts out that way. Everyone starts out as a beginner.
You can learn new things at any time in your life if you're willing to be a beginner. If you actually learn to like being a beginner, the whole world opens up to you. ~Barbara Sher
It takes years of practice, hard work, and discipline to get there. So, don't beat yourself up if you don't look like these guys at your first class. The important thing is to start. And after that, to keep going. And always remember to have fun. Trying something new is hard, but it doesn't mean you can't enjoy yourself as you go.
Get the NYC Hip Hop Experience
Q's Newz: for Q's class schedule
Broadway Dance Center: to take classes with Q and the rest of the talented BDCNYC team
PMT Dance Studio: I've also really enjoyed classes at this studio – they have a great team
Online Hip Hop Dance Resources
Emeroy: teaches classes online if you can't make it to NYC or prefer the comfort of your home AND check out his post How to Not Suck in Your First Hip Hop Class for some great tips
Steezy: really enjoy their posts (lots of great tips for new dancers about confidence) and they offer online classes too – I really liked their post on 5 Dance Tips for Picking Up Choreography Faster
***
Thank you so much for reading! And remember, trying something new is hard, but you can do it if you believe in yourself!
Share this post with someone who wants to try something new. What's the new thing you really want to try?
0