The day after our Aladdin, chicken parm pizza, and Central Park adventures was equally (if not more!) full. We had another full agenda planned.
NYC Dim Sum
Sis liked her first dim sum experience so much, she wanted more. This time we each invited a friend. She invited her friend, Nick. I invited my friend, Dana. We met down in Chinatown for an afternoon of dim sum goodness at where else? Golden Unicorn. I really do want to try some of the other spots in town, but when you have a guest, you kind of want to go with a sure thing. Ya know?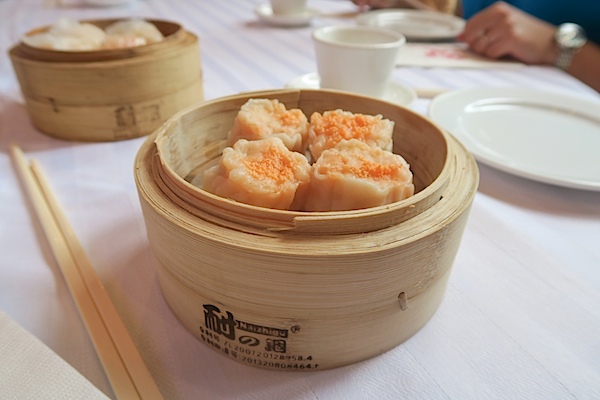 We tried shrimp shui mai (this is typically made with pork).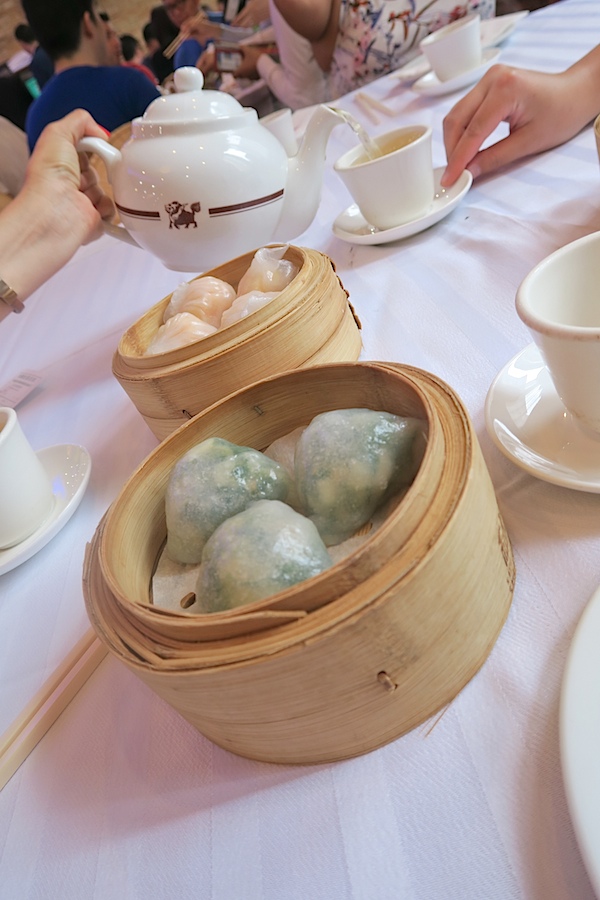 Shrimp & vegetable and har gow dumplings.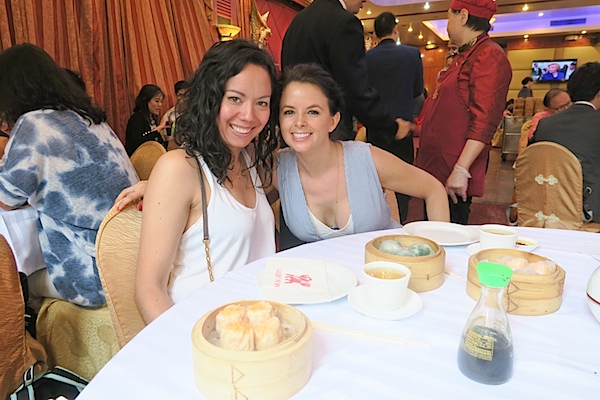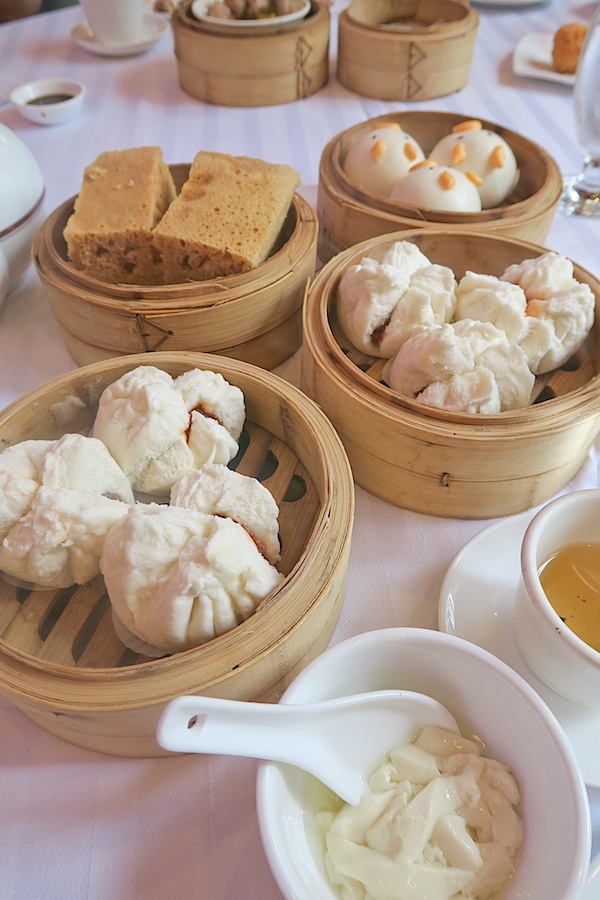 We also got steamed pork buns (the baked ones were sold out), tofu with ginger sauce, and sponge cake.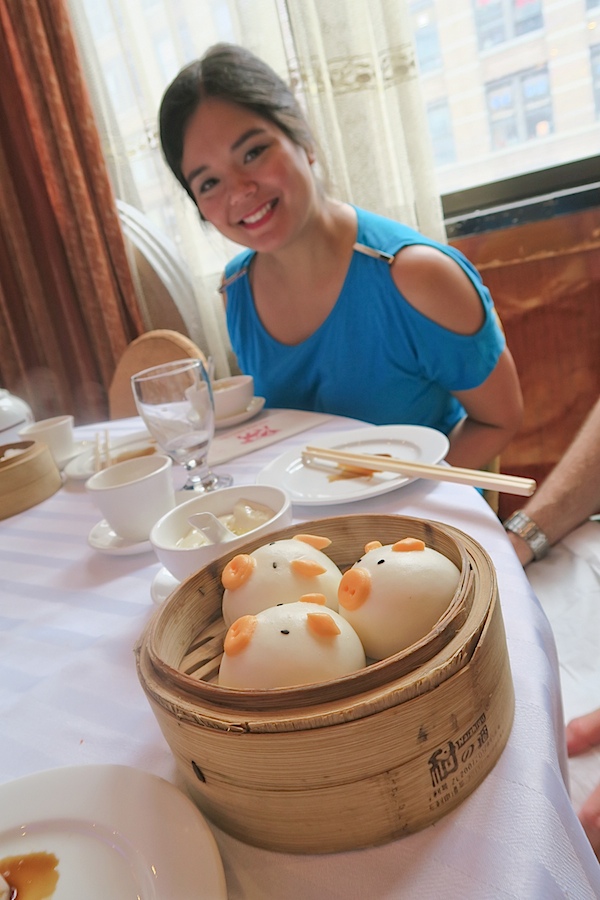 Plus these little piggy buns. They're so cute.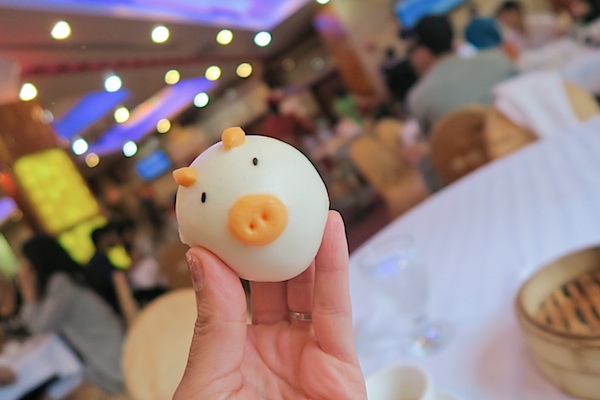 These little guys make you stop and think, "Hmm…you're almost too cute to eat. Almost!" And then you can't help but dig in. They're filled with a sweet custard and are really good.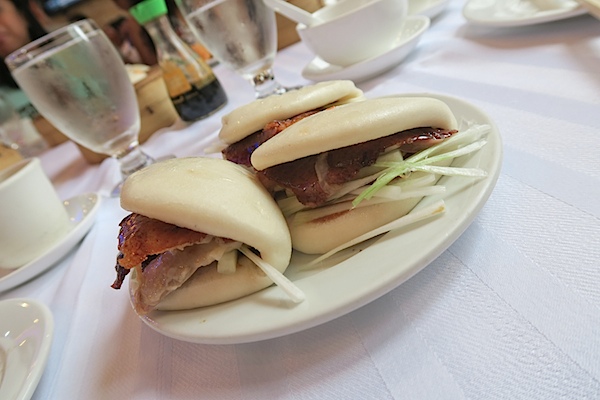 We tried something I've never seen before. They were tiny sandwiches made with freshly sliced roasted duck. They roll the duck around on a cart and prepare the sandwiches to order table-side.
Penguin Ice Cream
I really wanted my sister to try rolled ice cream since it's been all the rage here in NYC. We tried a new place I saw on Instagram. The first place I went, 10 Below, always has the longest lines. I mean, yea I waited in it. And yes, it was worth it (which is what everyone in line asked me as I walked down the sidewalk eating my rolled ice cream). But we thought we'd switch it up.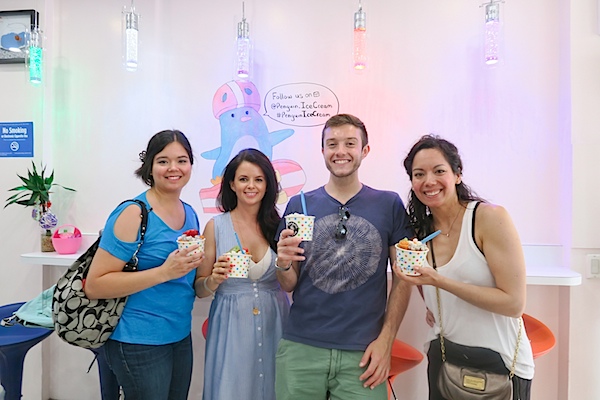 Turns out Penguin Ice Cream had no line at all. We walked right in and ordered. And it was a short walk away from Golden Unicorn, too. Woop!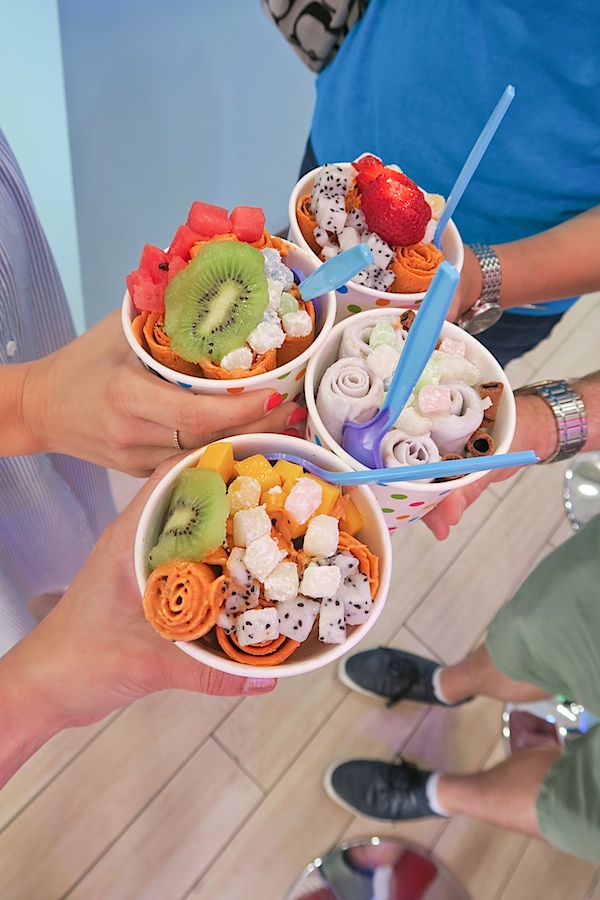 Aren't they colorful? Mine is the one at the bottom. I got the thai tea ice cream with dragon fruit mixed in. Then I had them top the ice cream with more dragon fruit, kochi, mango, and kiwi. This was really tasty and hit the spot on this hot day.
Brooklyn Promenade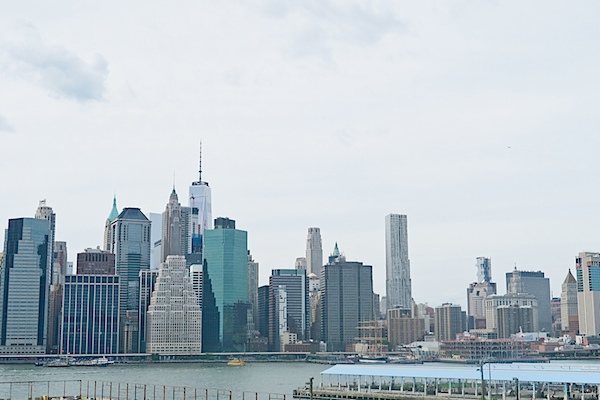 I also wanted Sis to see the amazing view of NYC from the Brooklyn Promenade.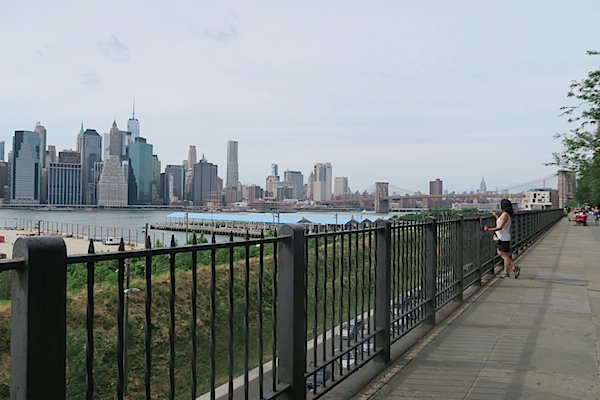 I think the view is a little better at night, but it's really stunning any time of day.
MatchaBar Chelsea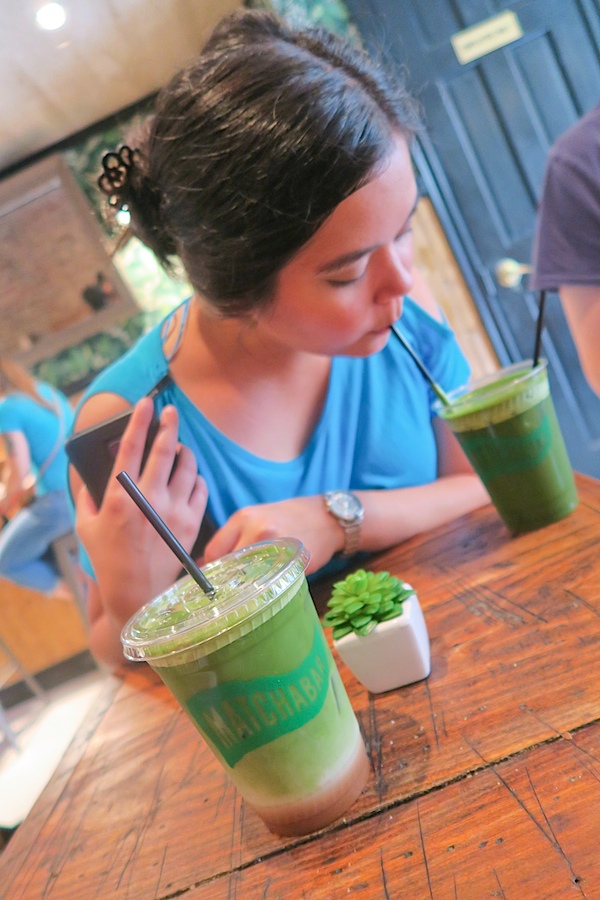 Sis was curious about the matcha I'm always drinking, so I took her to MatchaBar Chelsea for her first one. I think this place is the best for newbies. Great for veterans, too. But their matcha is really smooth, which those new to matcha seem to prefer. The verdict? She liked it!
Chelsea Market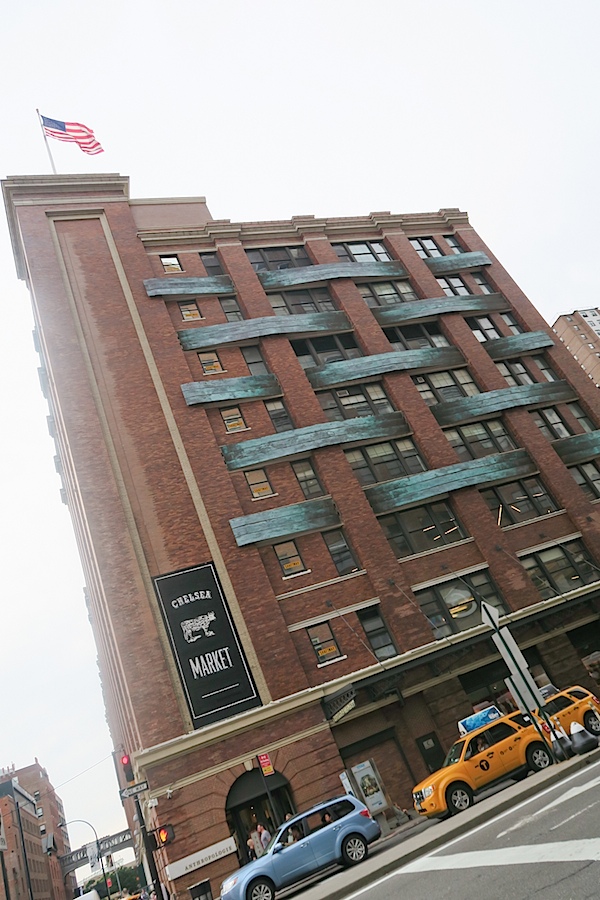 Since we were in the area, we headed to Chelsea Market for a little shopping.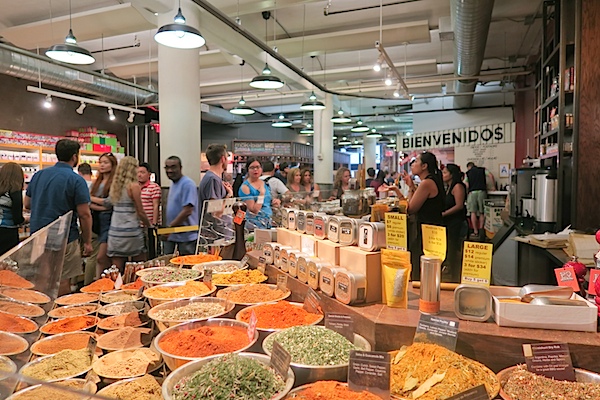 Sis got some tea to take home.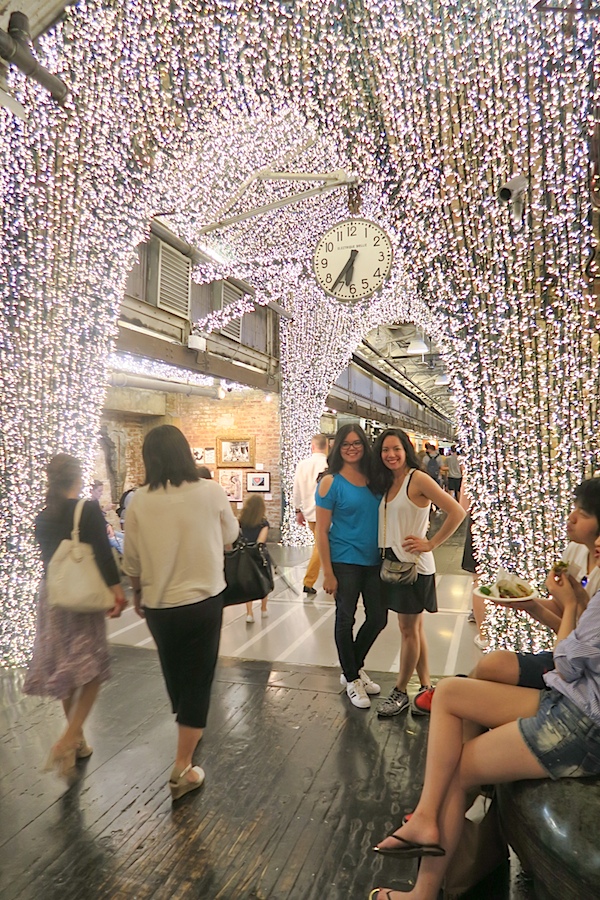 And we had a little photo op session.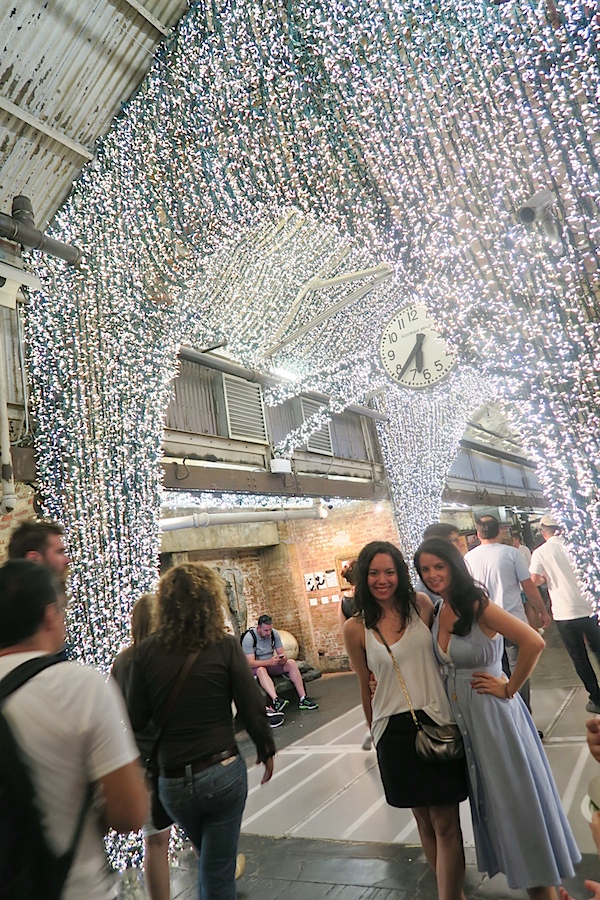 We tried to sneak photos in while the crowds weren't too thick at least.
The High Line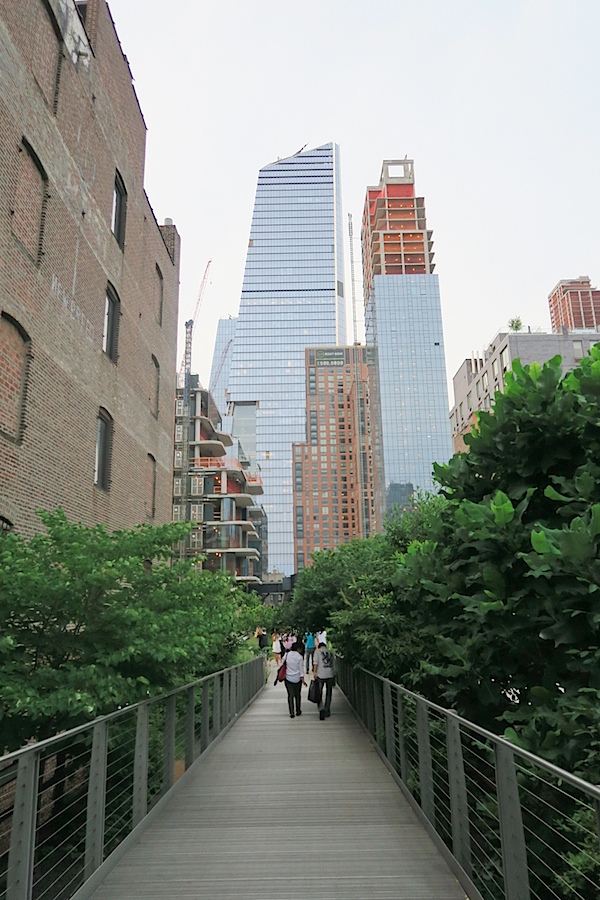 We took a quick stroll on The High Line. It's so much more lush here than it is in winter.
Bareburger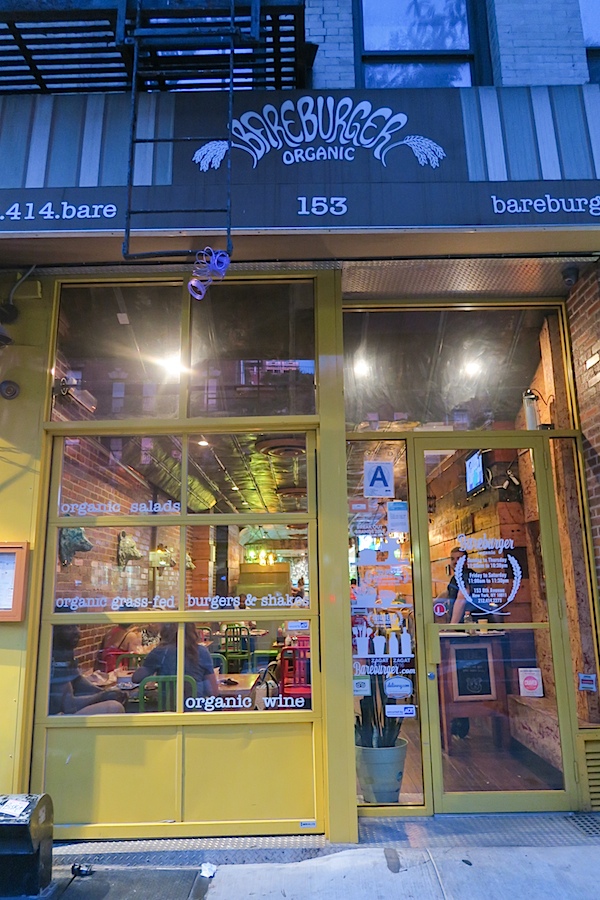 We met up with my friend Mitchell (who you may remember from this outing or from my Britney dance classes) for dinner. He suggested Bareburger, and it was a great suggestion.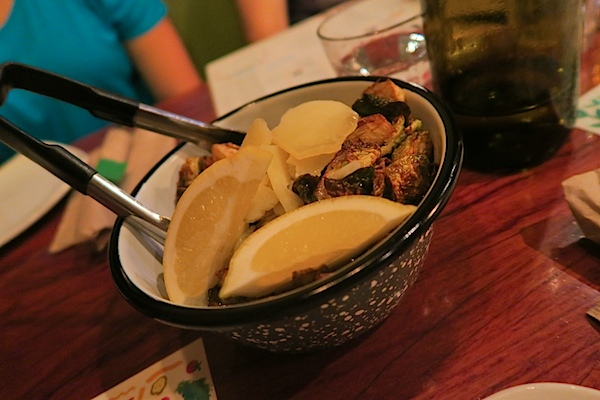 These crispy brussel sprouts may not be much to look at (or maybe you just can't see them past all the lemons and cheese), but they taste great.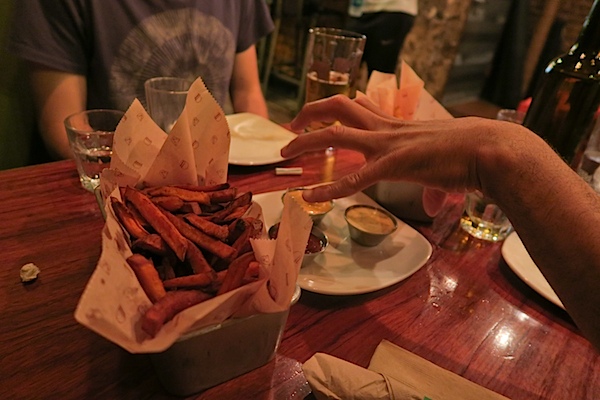 We also shared some french fries (regular and sweet potato) at the table.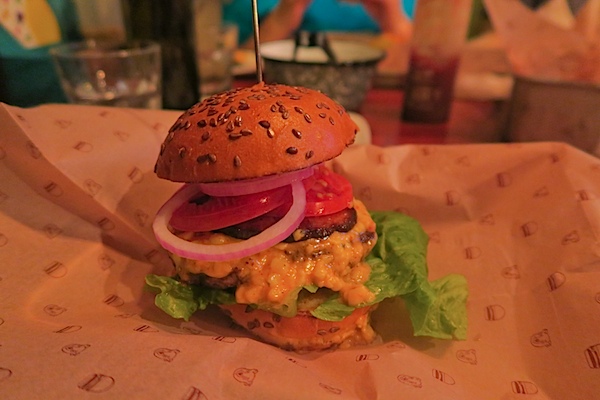 And I did a build your own burger with pimento cheese and bacon. The burger was great, but I was a little disappointed with the bacon. I was told it would be crispy, but it was way too thick to really get to a crispy state. It was well cooked but very chewy. I prefer thin and crispy bacon, so I probably won't be ordering this as a topping next time. Luckly, Bareburger has a plethora of fantastic burger topping options, so I'm sure I'll find plenty of things that would be great. We had a great experience with the service, and I also love how Bareburger has an organic focus. And get this – according to their web site:
All bareburger meats are free-range, pasture raised, humanely raised, antibiotic gluten & hormone-free
Nice! It seems like finding restaurants that feature more natural ingredients, especially organic, can be harder to find than expected in NYC.
Know some spots? I'd love to hear about them. Tell me where I need go!
More NYC Blog Posts
Here are some more posts from my sister's visit:
And click here to view my other NYC blog posts
Thanks for reading!
0