Hey guys! I really wanted to share my latest salmon recipe with you, but the pictures weren't up to par. I went to edit them last night and decided that they need to be re-done. So, instead I'll give you this: Papaya Power Green Smoothie Recipe. The weather is finally warming up here in NYC, and hopefully it's nice where you are too. Not sure about you, but warm weather makes me think smoothies.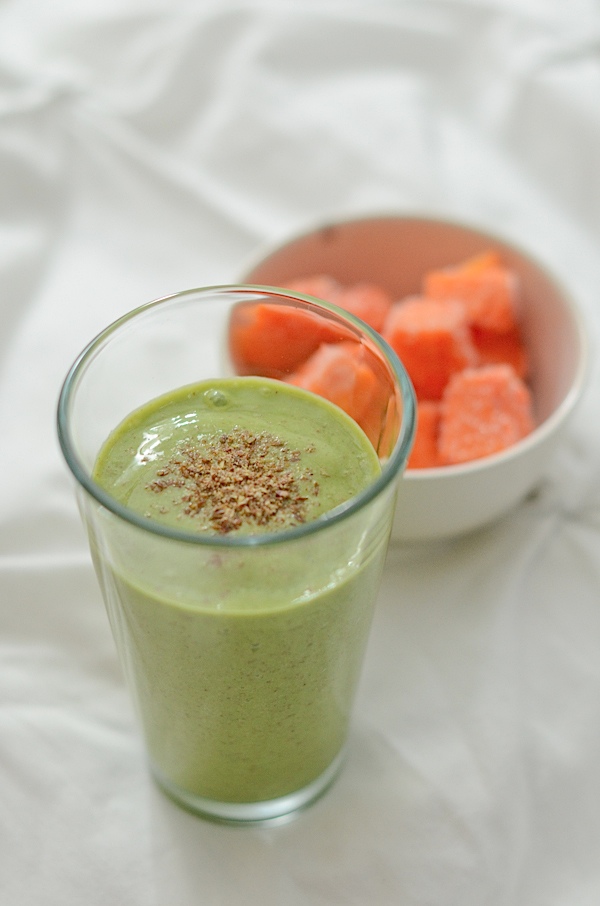 As you guys know from my other papaya smoothie recipe, I tend to have a good amount of frozen papaya on hand. Seriously, if your papaya is about to go bad, just freeze cut pieces and make a smoothie. The only thing I've found works well with frozen papaya is making smoothies. Many people enjoy smoothies for breakfast, but I often have them for dessert. When I want something sweet after dinner but I'm thinking something lighter, a smoothie hits the spot. This also gives me a chance to boost my system with even more fruit (and in this case veg!) benefits.
Why Papaya Power Green Smoothie Recipe?
I call this a Papaya Power Green Smoothie recipe because papaya is so good for you. I've collected some of the best benefits below.
Health Benefits of Papaya
According to this article at mercola.com:
Papaya fruit has more vitamin C than an orange, and 1 cup has 144 percent of the Recommended Dietary Allowance (RDA) of vitamin C.
The article notes papaya as also being a good source of vitamin A.
Of 11 health benefits of papaya on this msn article, one is that it can help prevent signs of aging:
All of us would love to stay young forever, but no one in this world has managed to do it. Still, healthy habits like eating a papaya daily will prolong the process and may make you look 5 years younger than you are. Papaya is rich in Vitamin C, Vitamin E and antioxidants like beta-carotene which helps prevent your skin from free radical damage keeping wrinkles and other signs of ageing at bay.
And whfoods.com says papaya has anti-inflammatory effects:
Papaya contains several unique protein-digesting enzymes including papain and chymopapain. These enzymes have been shown to help lower inflammation and to improve healing from burns. In addition, the antioxidant nutrients found in papaya, including vitamin C and beta-carotene, are also very good at reducing inflammation. This may explain why people with diseases that are worsened by inflammation, such as asthma, osteoarthritis, and rheumatoid arthritis, find that the severity of their condition is reduced when they get more of these nutrients.
Not too shabby. And the list continues! Just google for health benefits of papaya.
With this recipe, you'll also get the bonus nutrition of fresh kale and ground flaxseeds. Woop!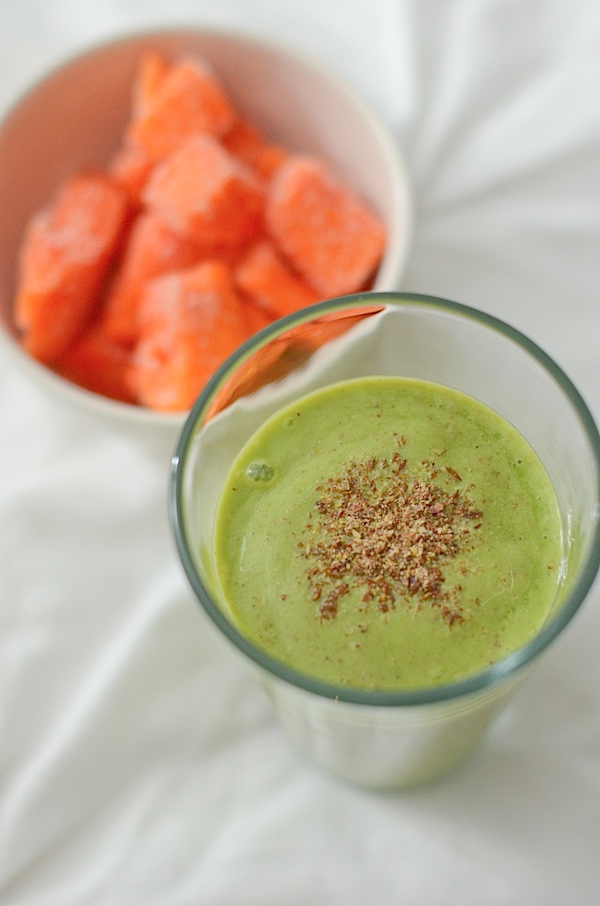 Papaya Power Green Smoothie Recipe
Enjoy the many health benefits of papaya with this easy green smoothie recipe featuring papaya as the star ingredient.
Author:
Diana of thechiclife.com
Ingredients
1 cup kale, cleaned and torn/cut into small pieces
1 cup frozen papaya
½ cup almond milk, plus additional as needed
½ frozen banana
1 tablespoon ground flaxseed
½ teaspoon honey, optional (or sub agave for vegan option)
pinch of pink Himalayan salt, optional
Instructions
In a blender, add kale, papaya, almond milk, banana, flaxseed, honey/agave if using, and salt if using.
Blend until ingredients are evenly mixed, about 1-2 minutes. If mixture is too thick or won't blend, add additional almond milk (just a bit at a time) and retry blending until you get the texture you like.
Taste test and blend in additional sweetener, if needed. Enjoy!
More Delicious and Healthy Smoothie Recipes
Papaya Coconut Green Smoothie Recipe
Piña Colada Green Monster Smoothie Recipe
Energy-Boosting Cookies 'N Cream Green Smoothie Recipe
Hope you enjoy this Papaya Power Green Smoothie Recipe. I'll have that salmon one for you soon.
Thanks for reading!
Share this with your friends: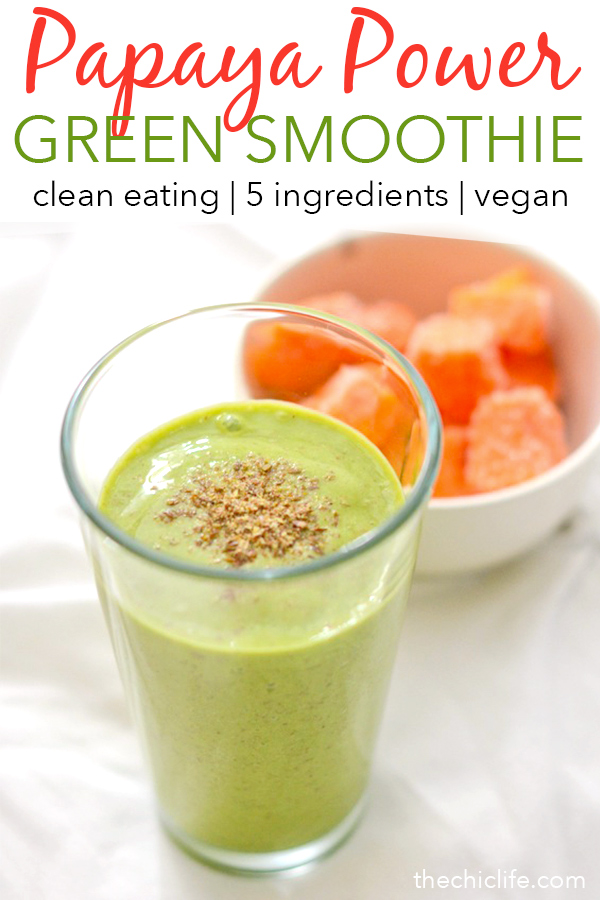 6