While I await the last couple of winning bidder donation receipts to come in (for the online auction hosted here on The Chic Life to raise money to help the Philippines), plus any more additional donations, so I can calculate the grand total, I thought I'd take a quick minute to share a new green monster recipe I came up with. I wanted to do a play on fall ingredients, so pumpkin and kale take center stage in this new smoothie concoction. Pumpkin pie spice adds a rich, fall flavor. The dash of cinnamon on top is the final touch.
As you guys know, I love desserts and sweets, but I don't necessarily like them very concentrated in sweetness. I've been working on creating recipes with sugar cut way back and natural sweeteners used where possible. This smoothie is a good example of this strategy as it relies on the banana for the sweetness. You can use a sweetened non-dairy milk or add honey or maple syrup if you miss the sugary-taste too much, but taste test it before adding more. You may surprise yourself!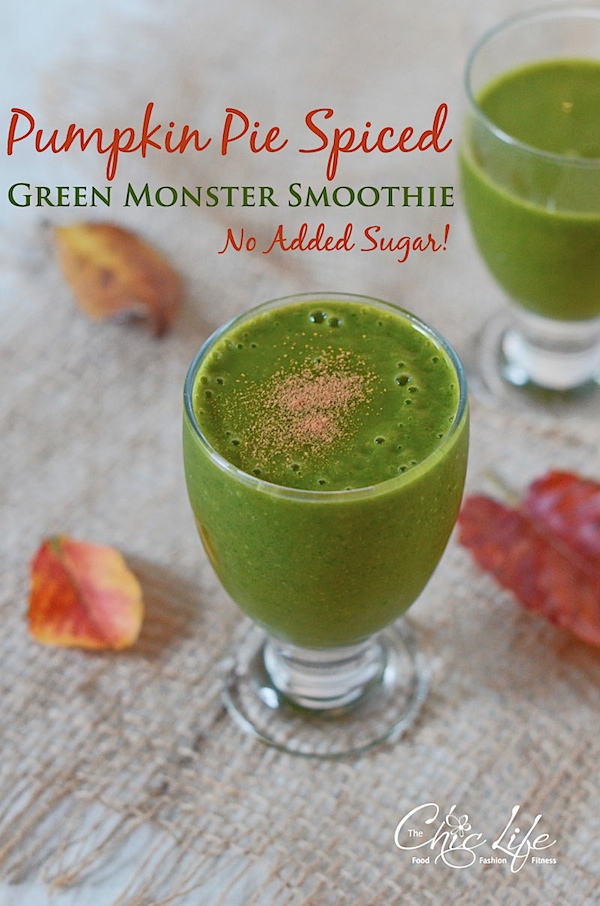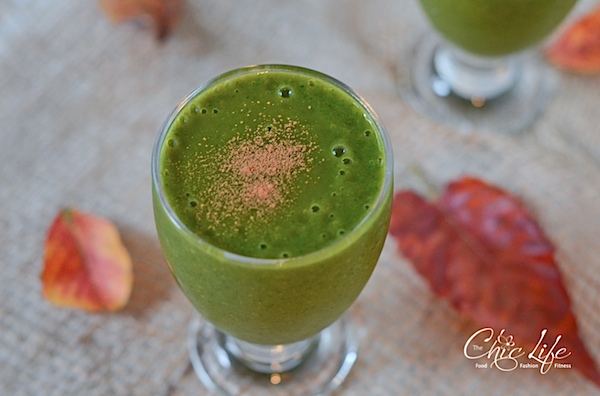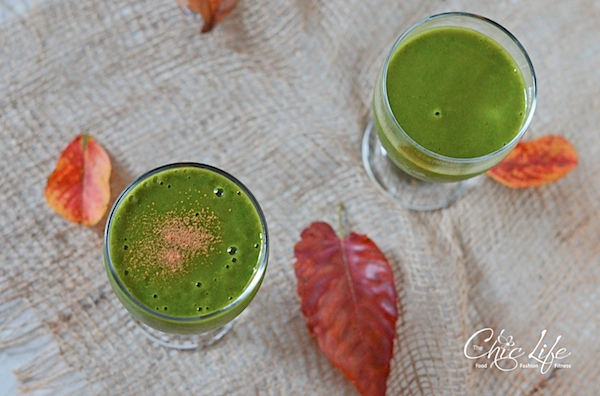 Pumpkin-Pie-Spiced Green Monster Smoothie
Play up fall flavors with this smoothie made with pumpkin, kale, and pumpkin pie spice. A dash of cinnamon (I used the ceylon variety) on top will give a nice kick when you take your first couple of sips. The banana gives this smoothie a lightly sweet taste, but you can add another natural ingredient like honey or maple syrup if you want to take it up bit.
*Vegetarian, Vegan options listed below*
Ingredients:
1 cup kale, torn into smaller pieces
1 cup original (unsweetened) rice milk (or other non-dairy or dairy milk), plus more as needed to achieve desired texture
1 frozen banana
1/4 cup pumpkin (this will yield a light pumpkin flavor – add more to taste)
1/8 – 1/4 teaspoon pumpkin pie spice
dash cinnamon, for decoration and flavor
honey, optional sweetener, as needed (or use maple syrup for vegan option)
Directions:
Combine kale, rice milk, banana, pumpkin, and pumpkin pie spice in a blender. Blend till ingredients are combined and smooth, about 1-2 minutes, or until smoothie reaches your desired consistency. You may need to scrape down the sides with a spatula to get everything fully integrated. Taste-test and add sweetener of choice if needed, to taste.
Pour into a serving cup, and add a dash of cinnamon on top. Enjoy!
You may also enjoy these TCL recipes: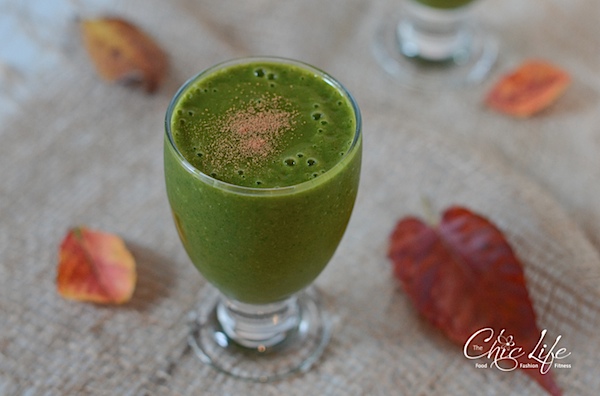 For those celebrating, I hope you have a wonderful Thanksgiving!
Thanks for stopping by!
Be sure to check me out on: Facebook | twitter | Instagram
{ 0 comments }