Peach Blueberry Breakfast Crisp Recipe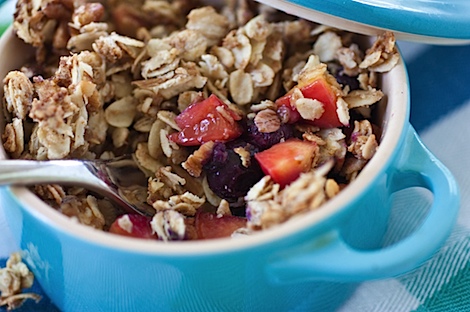 Author:
Diana of thechiclife.com
oil
1 peach – cleaned, pitted, and chopped (I used fresh, but frozen should work)
1-2 tablespoons blueberries (frozen or fresh)
½ tsp sucanat (or brown sugar - optional if you want your fruit mixture sweeter than the natural sweetness of the fruits)
¼ tsp tapioca starch (or corn starch)
¼ cup rolled oats
1 tbsp flour (I used spelt, but any will do)
1 tsp sucanat (or brown sugar)
1 tsp canola oil
pinch salt
dash cinnamon (optional)
bit of butter (about ¼ tsp – optional)
sprinkling of chopped pecans (about 1 tbsp)
non-stick spray
Preheat oven to 350 degrees F. Prep baking dish (I used a 4″ round ramekin) by brushing the inside lightly with oil.
In a medium bowl, mix peaches, blueberries, sucanat (if using) and tapioca starch. Pour into baking dish.
In a medium bowl, mix oats, flour, sucanat, oil, salt, cinnamon (I rinsed out my mixing bowl and reused it for the topping – one less dish = easier clean up!). Pour topping over berries.
If you're using it, dab small pieces of butter over topping and sprinkle nuts over topping.
Bake for 20-25 minutes, until top is lightly browned and peach/berry mixture just bubbles at the sides.
Wait till the crisp is safe to eat, serve, and enjoy!
Recipe by
The Chic Life
at http://thechiclife.com/2011/05/peach-blueberry-breakfast-crisp-reids-preview.html