Chocolate Coconut Cacao Muffins Recipe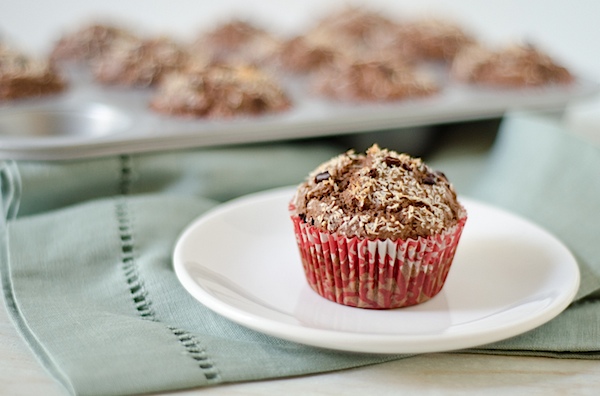 Author:
Diana of thechiclife.com
1 cup unbleached all purpose flour
¾ cup spelt flour (or sub your favorite flour)
½ cup cacoa nibs, plus additional for garnish
½ cup coconut flakes (finely grated/shredded), plus additional for garnish
¼ cup cocoa powder
2 teaspoons baking powder
¼ teaspoon salt
¾ cup sucanat (or sub sugar for a sweeter taste)
¼ cup canola oil
1 egg (or flaxseed eggs for a vegan recipe)
1 cup canned coconut milk (be to sure shake can well before using)
1 teaspoon white vinegar
½ teaspoon vanilla
non-stick spray or muffin liners
Pre-heat oven to 350 degrees F. Prepare 12 cup muffin tin with either muffin cups or non-stick spray.
In a large bowl, combine all purpose flour, spelt flour, cacao nibs, coconut flakes, cocoa powder, baking powder, and salt. Whisk till evenly combined.
In a medium bowl, whisk together sucanat and canola oil. Whisk in egg. Add coconut milk, vinegar, and vanilla extract. Whisk till evenly combined.
Pour wet ingredients into bowl with dry ingredients. Stir gently to combine, just till all dry ingredients are mixed in (careful to not over-mix – batter will be a little lumpy).
Evenly distribute batter into each cup of a 12-cup muffin tin (should fill muffins cups pretty full). Top each muffin with a little bit of cacao nibs and coconut flakes.
Bake muffins for 18-22 minutes, until muffins are cooked through (a toothpick inserted in the center of the muffin or loaf comes out clean). Note: It will be hard to tell when the muffins are done since the cocoa powder gives them a naturally dark color, and it will be hard to see when the edges start to brown, etc. Your best bet is to use the toothpick check.
Let muffins cool till they're safe to touch. Serve warm or wait longer and serve room temperature. Enjoy!
Note: The batter is on the thick side.
Recipe by
The Chic Life
at http://thechiclife.com/2012/11/chocolate-coconut-cacao-muffins-recipe.html