Easy Spiced Oven-Fried Chicken Recipe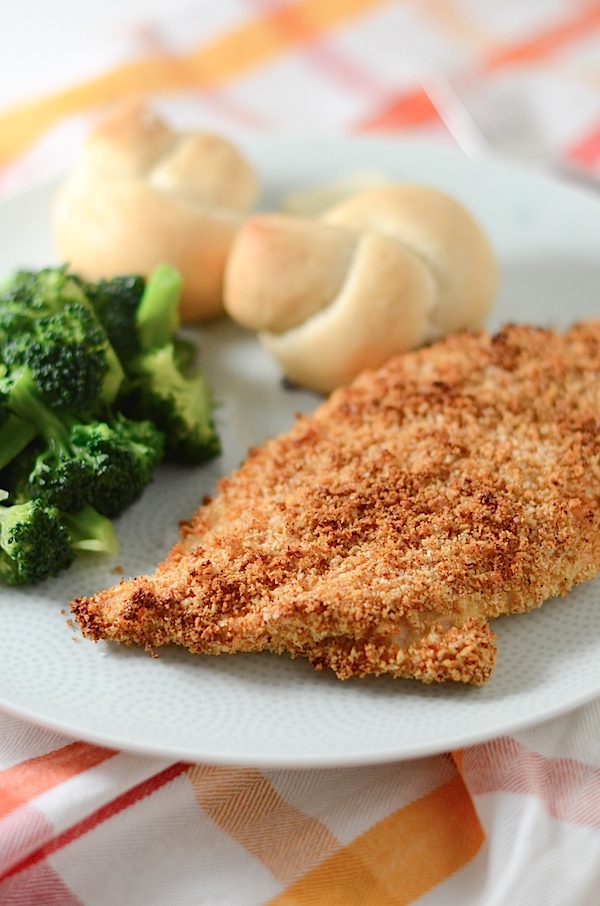 Author:
Diana of thechiclife.com
1 cup panko bread crumbs
1 teaspoon - 1 tablespoon of your favorite spice blend (I used Homestead Seasoning from the Savory Spice Shop), depending on how flavorful you want it.
¼ teaspoon kosher salt, optional (you may not need this if your spice blend contains a lot of salt)
1 egg
1 tablespoon milk
2 chicken breasts, pounded to ⅓ inch thickness
Pre-heat oven to 400 degrees F.
Place cooling rack over aluminum-foil lined baking sheet. Spray cooling rack with non-stick spray (just near areas where you'll be placing chicken).
Mix panko bread crumbs, spice blend, and salt (if using) in a wide/low bowl (or other small container with sides).
In another bowl similar to the one containing the panko, whisk together the egg and milk.
Dip chicken into the egg mixture, then press both sides into the panko mixture. Be sure to press in the areas that do not easily get covered by the panko mixture. You may have to pick up some of the panko and press it in with your fingers. You're not going to get a perfect coverage, but try to apply as much of the panko mixture as possible for extra crunch.
Place chicken on prepped cooling rack/baking sheet and bake for 26-30 minutes, or until chicken is cooked through (non-pink center or use a meat thermometer to check).
When chicken is safe to eat, serve and enjoy!
Recipe easily multiplies to serve more.
Recipe by
The Chic Life
at http://thechiclife.com/2014/05/easy-spiced-oven-fried-chicken-recipe.html