Healthy Breakfast Cookies Recipe | Whole Grain Tart Cherry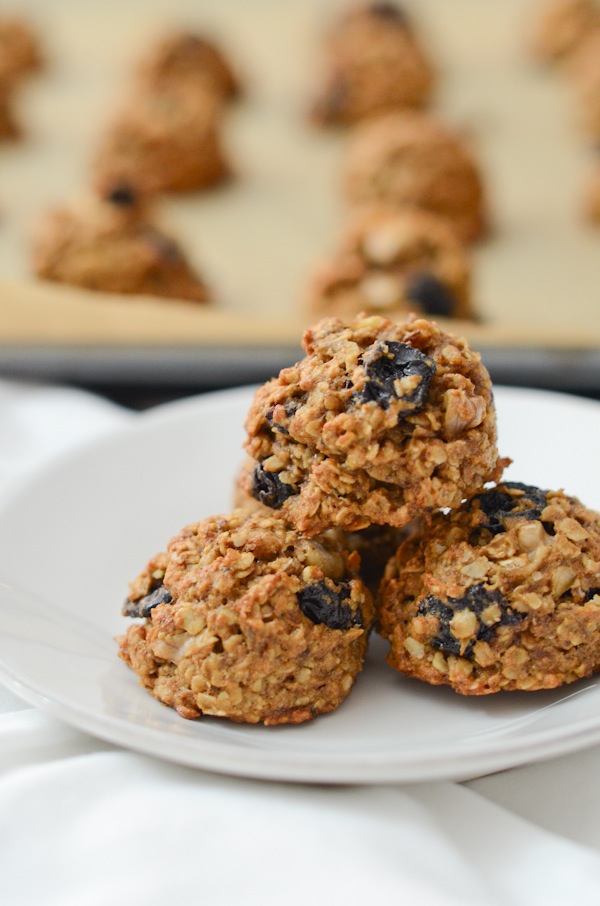 Author:
Diana of thechiclife.com
1¼ cup quick cooking oats
¾ cup spelt flour
¾ teaspoon kosher salt (or sub half table salt)
¼ teaspoon baking soda
1 ripe banana, mashed
¼ cup canola oil
½ cup coconut sugar (or sub raw cane sugar)
1 flaxseed egg (1 tablespoon ground flaxseed mixed with 3 tablespoons water)
1 teaspoon vanilla extract
½ cup walnuts, chopped (or sub nut of choice)
½ cup dried cherries (or sub dried fruit of choice)
Pre-heat oven to 350 degrees F. Prepare one large (or two small) baking sheet(s) with parchment paper. Note: I could bake all the cookies in one batch with 1 large baking sheet because mine did not spread out.
In a large bowl, add oats, spelt flour, salt, and baking soda. Whisk to evenly combine.
In a medium bowl mix banana, oil, and coconut sugar. Add the flaxseed egg and vanilla. Whisk to evenly combine.
Pour wet mixture into dry mixture and gently mix with a large spatula. Fold in walnuts and cherries.
Using a medium sized sorbet scoop (2 tablespoon), scoop dough and evenly distribute on baking sheets, leaving about 3 inches of space in between each ball of dough.
Bake 10-12 minutes, until edges are slightly brown. Remove from oven and let cool on baking sheets to room temperature. Enjoy!
Recipe by
The Chic Life
at http://thechiclife.com/2017/09/%ef%bb%bfhealthy-breakfast-cookies-recipe-whole-grain-tart-cherry.html