Healthy Turkey Breakfast Casserole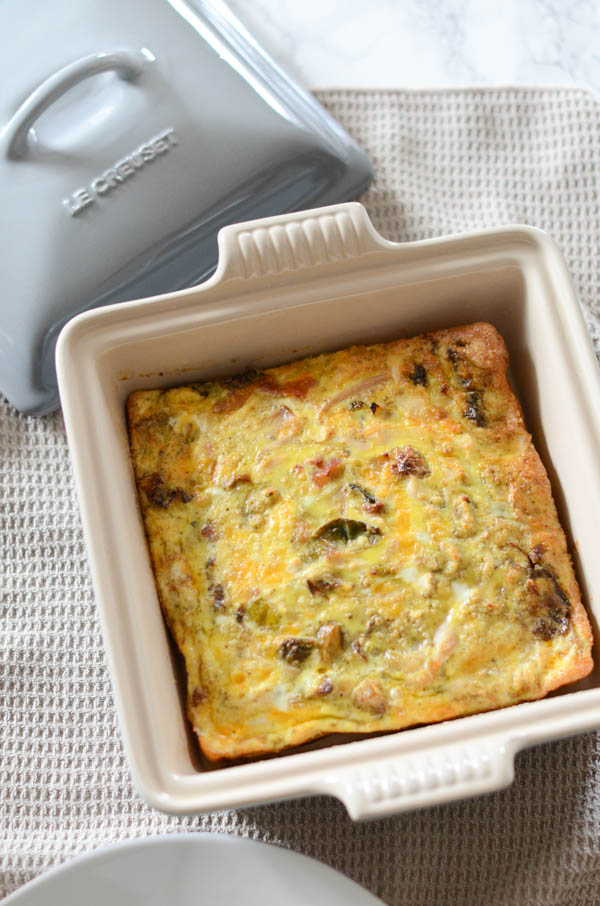 Author:
Diana of thechiclife.com
1 teaspoon oil (I used canola)
8 large eggs
¼ teaspoon dried rosemary
¼ teaspoon salt
⅛ teaspoon pepper
1 cup cooked turkey, chopped small
½ - 1 cup leftover cooked vegetables (I used roasted brussel sprouts)
½ cup leftover stuffing
½ cup, cheddar cheese
Pre-heat oven to 400 degrees F. Brush an 8x8 inch (or 7½x7½ inch) baking dish with oil.
In a large bowl, whisk together eggs, rosemary, salt, and pepper. Whisk in turkey, vegetables, stuffing (torn into smaller pieces if needed) and cheddar cheese until evenly distributed.
Pour egg mixture into the prepared baking dish and bake for 20-25 minutes, until the center is set (when a toothpick inserted in center comes out clean).
When the egg dish is save for consumption, serve and enjoy!
Serves: 4-8 (depending on how large you cut the portions). I cut mine into 6 servings.

Note: You can use oil or melted butter to brush and prep your baking dish. You can also use non-stick spray, but I've personally be working that one out of my cooking and baking.
Recipe by
The Chic Life
at http://thechiclife.com/2017/11/healthy-leftover-turkey-and-veggie-breakfast-casserole-recipe.html