Here it is! My Ultimate Planner Supplies List. I've been using a paper planner since I was a kiddo and decorating since 2015. Trust me – I've tried a lot of supplies over the years. Here are my favorites.
Note: This page contains affiliate links. If you make a purchase from one of these links, I may make a small commission at no extra charge to you. I have and love the almost all of the products linked below. Feel free to contact me any time if you have questions.
Writing
Basic pens
Color pens
Fine Sharpies
Regular Sharpies
Metallic pens/sharpies
Slick writers
White ink pens
---
Tools
Scissors
Ruler
Cutting slider
Glue squares / tape
Paper clips
---
Washi Tape
Set of non-patterned / solid wide washi tape
Set of non-patterned / solid thin washi tape
Patterned wide
Patterned thin
Metallic accent
---
Stickers
Checklists
Half boxes
Quarter boxes
Dining / meal planning
Fitness tracking
Weekend banners
Quotes
---
Miscellaneous
Page flag sticky notes
Decorative sticky notes
---
Free Checklist of This Ultimate Planner Supplies List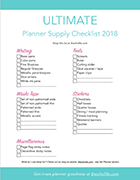 *Click here to get this list as a printable PDF*
Hope you enjoy this Ultimate Planner Supplies List. Check back because I'll be keeping this up-to-date with my latest faves!