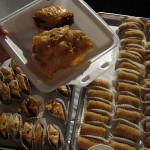 Woohoo! Another weekend and more fabulous weather!
Today was a looong day. I left my house at 7:15am and didn't get home again until 10:15pm. Whoa!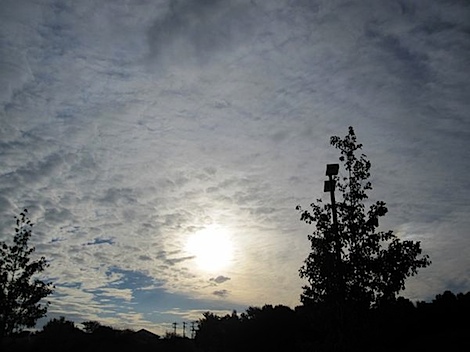 It was a beautiful morning and I had plans to go ahead and knock out my trip to the DMV. This time, I'd try a new location (one I'd heard was less busy) and I'd get there sooner. I got to the DMV at 7:30am and there were already about 30 people in front of me! Wth?! I decided to leave. I didn't want to wait another couple hours there, and I wanted to suck up my stubbornness and try to make an appointment and bypass the line completely.
Score – Me: 0, DMV:2

Unfortunately, after calling the 4 DMVs in town, I learned that the next available appointments ranged from October to December and I can't wait that long. So…I guess I'll try again in the next couple weeks.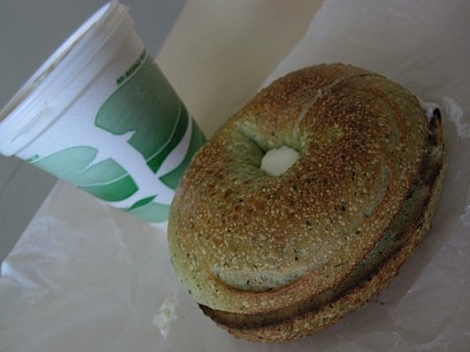 I did manage to get one of my fave breakfasts – Bagel Bin!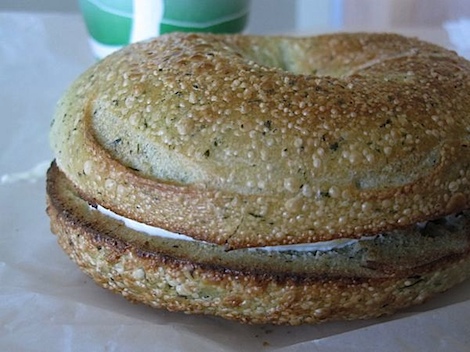 I got a vanilla coffee and spinach bagel with plain cream cheese.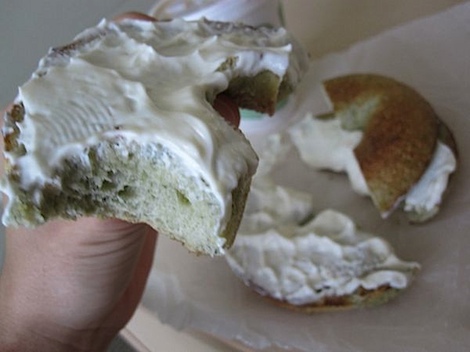 Happy Bagel Day Friday! Nom!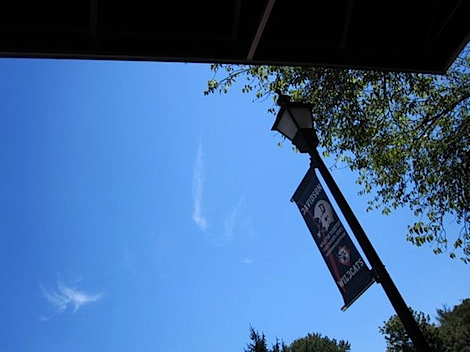 The day was gorgeous and my phone conferences were pretty much non-existent today (woohoo!) so I grabbed a co-worker to do lunch al fresco.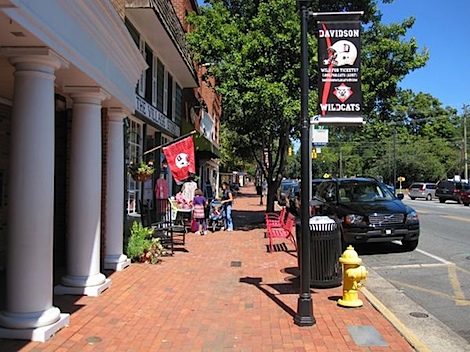 We went to downtown Davidson to hit up Toast.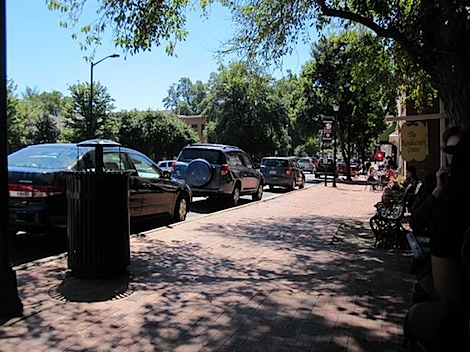 My view = gorgeous!
The weather was perfect – cool but not cool. Warm but not too warm. Bright blue skies and shining sun. Ahhhh…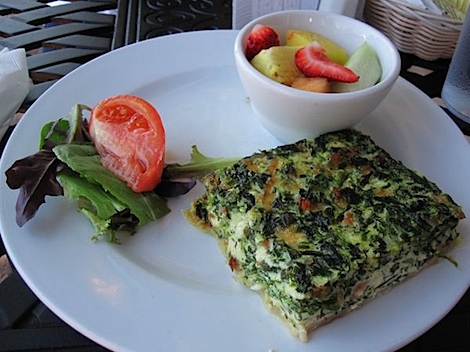 I had the quiche special: spinach, bacon, mozzarella, plus fresh fruit.
It was yummy but I kind of wished I'd gotten the soup and sammie combo with their homemade chicken salad (with tarragon!).
I grabbed an iced vanilla coffee with milk to take back to the office to finish the day.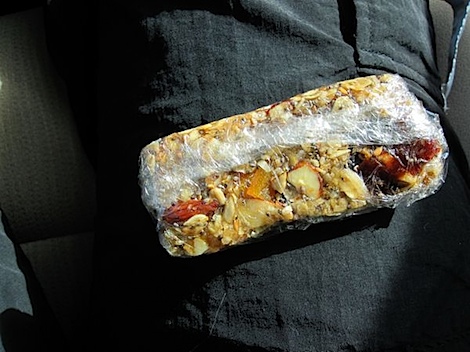 I had half of this Chic Bar on my drive to zumba for a pre-workout snack.
And then it was time to get my dance on!
I helped lead:
I Can Transform Ya
Waka Waka
Calimeno
It was a fuuun class!
The only thing equally as fun was a trip to the local Greek Festival! I went with some zumba friends right after class.
You can check out my trip from last year: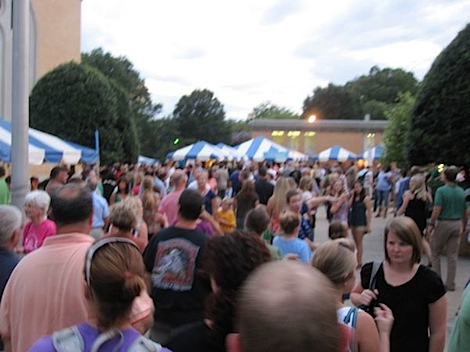 The festival was busy as ever with people everywhere!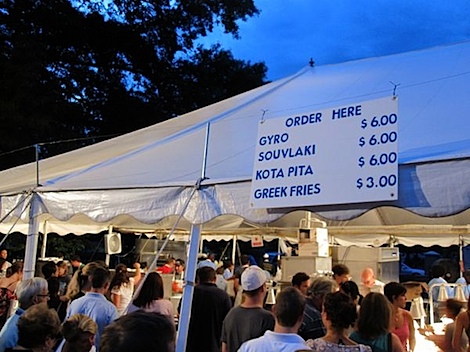 The lines for food were crazy long!
I ended up figuring out my friend Erica is a perfect food buddy. We split a spanikopita, a gyro and Greek fries…which was perfect to let us save room for dessert!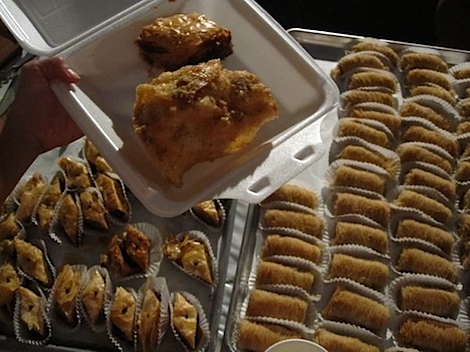 I was so excited to hit up the dessert bar!
I also got to try a couple new things that my friends got and let me sample: a baklava sundae and some fried dough ball things that had some sort of honey sauce. My gosh, they were amazing!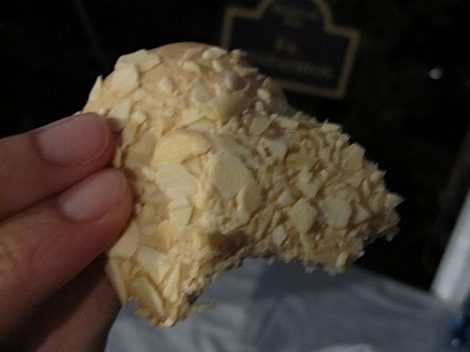 And this little crescent shaped cookie was the biggest surprise of the night! Erica let me have half of her cookie…I always pass this one up because it looks like it will be a dry cookie. Well, I guess you really shouldn't judge a book by its cover because this thing is most and almond-y and just plain delicious. It may be my new favorite?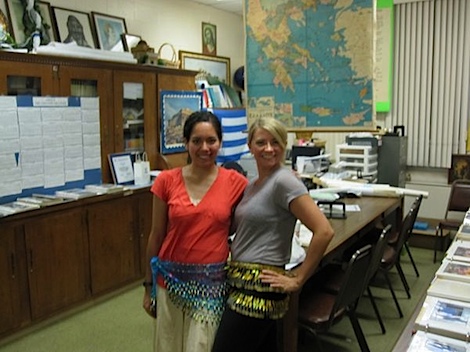 Post dessert time, Erica and I went SHOPPING! We each got a new hip scarf (ok, I got 2) and I got some fun arm-coin things. I can't wait to wear them to class! So fun!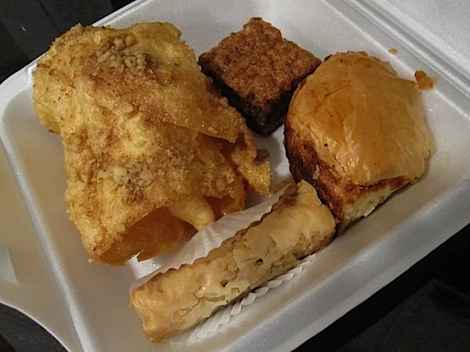 I managed to bring all the desserts I bought home – a little bit of everything. The Floreges (sp?) was like a really good baklava and of course there's the ever-famous Galactic Booty Call (click here for the back story). See…I'd tie this post title in somehow.

What festivals do you attend? Do you have any you frequent year after year or do you mostly hit up one-offs? (I'd especially love to hear about some in the South – I love a good festival!)