So, you want to get into the wild world of planning, but you don't know where to start? Despite having used a paper planner since middle school, I remember how confused I was when I first started getting into more modern planning and planner decorations. There wasn't a lot of information out there at the time, and since I already had this blog, I started adding tips and tutorials here to provide the help I wish existed when I started.
I started adding tips and tutorials here to provide the help I wish existed when I started
I've grouped the content below so you can (hopefully) get straight to the information you want. Here we go!
Note: This page contains affiliate links. If you make a purchase using these links, I'll make a small commission at no charge to you. Contact me if you have any questions. I'd love to hear from you!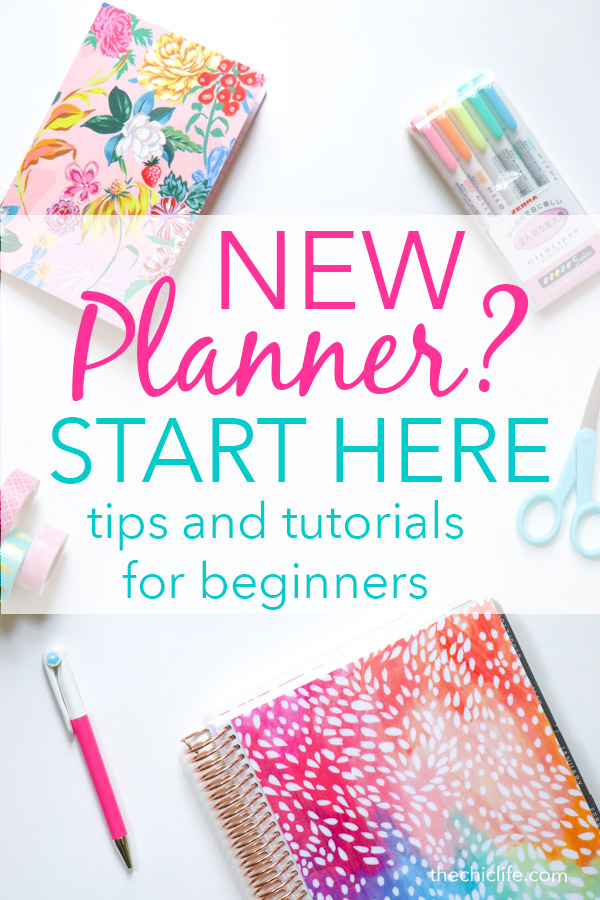 Which Planner Should I Get?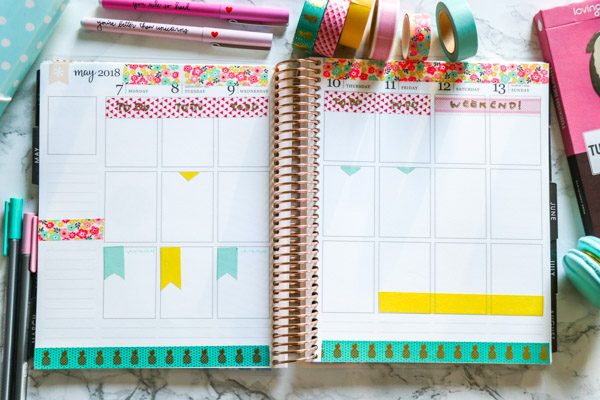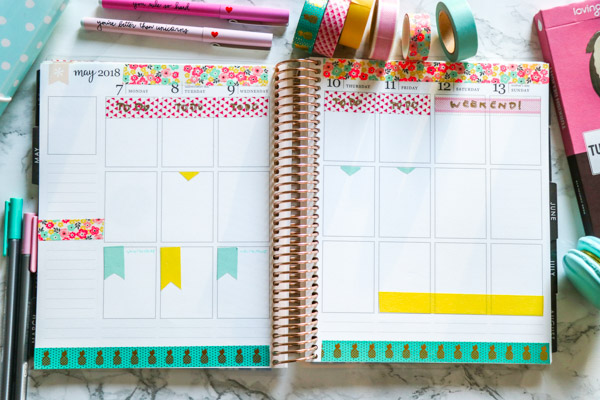 If you don't have a planner yet, you may be wondering, "Which planner is best for me?" There is an overwhelming number of options. To be honest, I haven't tested out that many. I loved the paper planners I used back in school, but I found those were mostly geared towards…well, school.
Luckily one of my good friends showed me her planner. It was love at first sight. But as I looked into it more, the planner had everything I was looking for. The planner: the Erin Condren LifePlanner.
Why I Love the Erin Condren LifePlanner
The LifePlanner has both weekly and monthly spreads (a baseline requirement for me)
I loved the positive messaging throughout the planner
It was colorful, and the customizable cover was fun
The materials are high quality
Plus, I loved the well thought out features:

Lined and unlined blank pages
Mini calendars for quick reference
Stickers included
Folder in the back

And my friend loved it and I trusted her feedback
And every year, the Erin Condren team incorporates customer feedback to make the next year's planner better than before.
Part of the reason I haven't tested other planners is because I love this one so much. However, new options have popped up over the years. Many of my planner friends also like: The Happy Planner, Kikki K, the Day Designer, and ban.do planners.
Update: I'll be trying the Happy Planner (in addition to my ECLP) for the first time in 2019!
Save $10 on Your First Erin Condren
If you want to save $10 on your first Erin Condren, you can use my referral link to set up your account. I'll also get a little credit, so it's win-win.
---
How Do I Use My Planner?

Once you have your planner, you may be super excited to start using it. Except now you may be asking, "How do I use this thing?"
I have written at least one post about all the many ways you can use your planner (get 80+ ways to use your planner here). But since you're just starting out, this could be overwhelming. For now, I suggest starting small. Sometimes too much information can lead to analysis paralysis.
Don't worry about things not being perfect or beautiful or whatever. You'll have plenty of upcoming spreads to refine. The bigger fear should be not using your planner at all. This is one of the common challenges. I know I've skipped plenty of weeks myself.
Where Should I Start with My Planner?
Start small. I recommend adding two things for now:
That's it. To start. From here, look at what other planners are doing and experiment. That's the best thing you can do. Try different things. See what works and doesn't.
Where to Get More Ideas*
Look at how others are using their planners. This is where I learned new ways to use my planner. There are so many creative planners out there! You can find them on YouTube, Instagram, and even join thousands of fellow planner lovers in planner-Facebook-groups.
Here's where you can get more planner ideas on this site:
My main Planner Page is the main hub of my planner content – it links to all of my other planner-related pages and some blog posts
For examples, I made this Planner Decoration Ideas Page to share my previous layouts and give you ideas on how to use your planner
Check planner-related hashtags on Instagram (for example: #plannerlove, #erincondren, and #plannergeek)
Watch Plan with Me videos on YouTube – I have several on my YouTube channel and I've also linked them here on The Chic Life
*You can also use these ideas to discover new ways to decorate your planner – see decoration section below
---
Which Supplies Do I Buy First?

I remember when I first jumped into planner decorations, I was SO excited to get decorating. But, I didn't know where to go. Or what to buy. I tried going to Michael's, but most of their stickers were raised and didn't lay flat. And they didn't seem to fit my planner well. They had some washi tape options. But, I knew there must be more options elsewhere. There are!
There are many more options for planner supplies out there, mostly online. Though I have found some good things at my local craft stores. I learned through trial and error what worked best. Thanks to Amazon Prime, I can even sometimes get my supplies delivered to my home faster than going to the store.
Essential Planner Supplies

To simplify things, I wrote this post and made a video to share my picks for top 5 Essential Planner Supplies.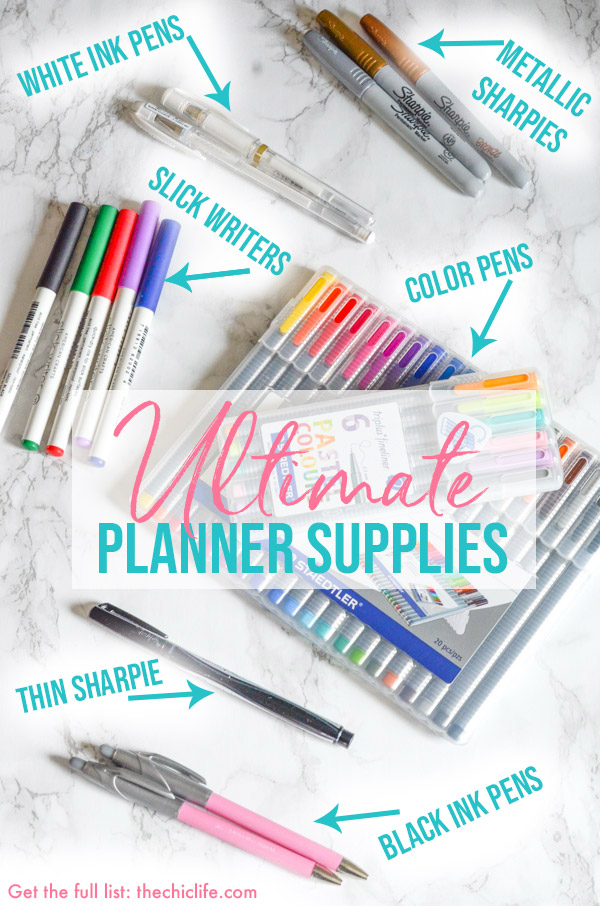 My Ultimate Planner Supplies List is available here, but I do recommend starting small so you don't buy more than you need.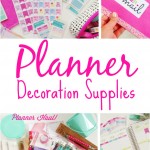 My main Planner Supplies page is here – this has the list of my favorite Etsy shops and other shopping recommendations.
---
How Do I Decorate My Planner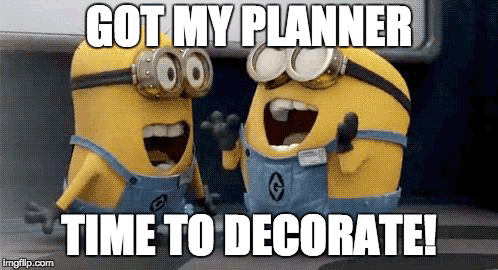 So you can't wait to decorate your planner, but you don't know how? I created this page, How to Decorate Your Planner, just for you.
Just like any type of decoration, planner decorating is very subjective. The best recommendation I can make is to look at a bunch of styles and see which you gravitate towards.
Some Planner Decoration Styles I've Seen
Minimalist – pen only / light decorations
No white space – the whole planner is full of stickers
Mix of washi tape and some stickers – this is the style I usually do
Stampers – stamps are used to decorate with different ink colors
Mix of everything
Why Decorate?
If you're interested in decorating your planner, you're probably like me. You want to make planning more enjoyable. For me, if I enjoy something, I'm more likely to continue. This has been true for me with planning, which is why I continue to do it.
If you don't like decorating, don't do it. If too many stickers stress you out, use less. Make this planner yours. And always remember to enjoy it in your own way!
How to Use Washi Tape in Your Planner (For Beginners)
One of the easiest and most affordable ways to decorate your planner is to use washi tape. I remember when I got my first rolls of washi tape. I'd heard it was amazing. But now I was like…what do I do with this stuff?
I spent hours looking at how others were using washi tape on Instagram and then started experimenting myself. To help others new to washi tape, I made this video with 6 easy ways to use washi tape in your planner:
Click here for the How to Use Washi Tape in Your Planner blog post – with photos!
How to Decorate and Use Your First Weekly Planner Spread
Click here for the photos and blog post for the Plan with Me – Your First Weekly Planner Spread
Some of My Layouts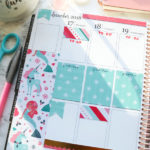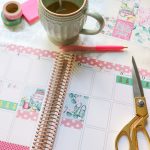 Click a photo above to see more about the planner decorations and supplies used for the layout.
You can see more of my planner layouts on my Planner Decorations Page here.
---
Want More Planner Tips?

Subscribe to my email newsletter for a free download. I'll also email you when I have new Planner posts and/or videos published so you can be the first to get to my latest tips and tricks!
Read More of My Planner Posts
From my main Planner page, you can access even more planner tips, tricks, and tutorials.
Click here for my latest planner-related blog posts
---
Thank you so much for reading. I hope you found this post and the linked content helpful as you start on your planning journey.
If your planner friends would find this information helpful, please share this page with them. Here are some graphics you can post on Pinterest, Facebook, etc. You can even use the share buttons below for easier sharing. Cheers!