Here it is! My Ultimate Planner Supplies List. I've been using a paper planner since I was a kiddo and decorating since 2015. Trust me – I've tried a lot of supplies over the years. Here are my favorites.
Note: This page contains affiliate links. If you make a purchase from one of these links, I may make a small commission at no extra charge to you. I have and love the almost all of the products linked below. Feel free to contact me any time if you have questions.
Writing
Basic pens
Paper Mate ball point pen: My go-to, black-ink planner pen! I love how smooth this writes. The ink is non-liquid so no smearing for my fellow lefties. Easy to hold.
Color pens
Fine Sharpies
Fine-Point Sharpies: Writes on most washi tape and some glossy stickers (see Slick writers for another option). I use this a lot when I'm turning washi tape into banners or label "stickers".
Regular Sharpies
Metallic pens/sharpies
Slick writers
White ink pens
---
Tools
Scissors
Fiskars 5 Inch Micro-Tip Scissors: Love how compact these are. Makes them easier to travel with. And the fine point tips make it easy for precise cutting for those adorable page banners and what not.
Gold Scissors: Let's be real, I mostly like the way these look on display or in my planner photos for my blog, Instagram, or even YouTube videos.
Ruler
Cutting slider
Fiskar's Paper Trimmer (12-inch): This is great for cutting washi tape lengthwise or trimming scrapbook paper for straight-line cuts. Make sure you get a 12-inch size so you can cut most standard scrapbook paper.
Glue squares & strips / glue stick / tape
Tombow Repositionable Tape Runner: Use this for adding scrapbook paper or paper cut-outs to your planner, re-setting washi tape / stickers that have lost their stickiness, or glueing sticky notes down. I typically use this on key edges.
Elmer's Repositionable Glue Stick: Same purpose as above. Except you can more easily cover non-straight shapes or entire areas.
Paper clips
---
Washi Tape
Set of non-patterned / solid wide washi tape
Set of non-patterned / solid thin washi tape
Patterned wide
Patterned thin
Metallic accent
---
Stickers (from Etsy, Amazon, craft stores, etc.)
Checklists
Half boxes
Quarter boxes
Dining / meal planning
Silverware stickers (pastel multi-color by It's Planning Time: Love these for either meal planning or tracking dinner dates, etc.
Fitness tracking
Dance stickers (pastel multi-color) by It's Planning Time: Great for tracking dance/hip hop/jazz funk classes – song notes could be great for instructors to track when they work on choreography
Entertainment
TV stickers (pastel multi-color) by It's Planning Time: Great for tracking your favorite TV shows
Travel
Weekend banners
Quotes
Sticker Books
These books contain multiple pages of stickers in a variety of sizes, shapes, and themes. These are especially great when you're first starting out. Or if you just love having lots of planner supplies and options.
---
Miscellaneous
Page flag sticky notes
Post-It Page Markers (Bright): I use these all the time for pre-planning as well as decorating. These are great for adding events and what not to your planner when they may need to move dates. Like scheduling dinner with your flaky friend.
Decorative sticky notes
---
Free Checklist of This Ultimate Planner Supplies List (Now RETIRED)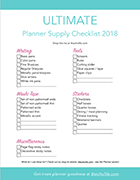 UPDATE: I've retired the checklist, but I'll keep the above list available for now. Thanks for stopping by!
Hope you enjoy this Ultimate Planner Supplies List.
Check back because I'll be keeping this up-to-date with my latest faves!