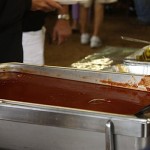 After this morning's fabulous pumpkin steel cut oats, I had the pleasure of attending a very special event today. My friend Erica invited me to go out with her friends and family to a local-ish, annual BBQ festival.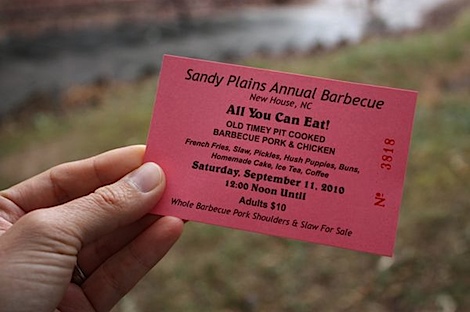 We went to the Sandy Plains Annual Barbecue (near Shelby, NC)!
This BBQ festival has been going on for years and years. This year, they estimate to feed 5,000-6,000 people with 1,700 chicken halves and whole lotta pork (forgot the stat figure…sorry!).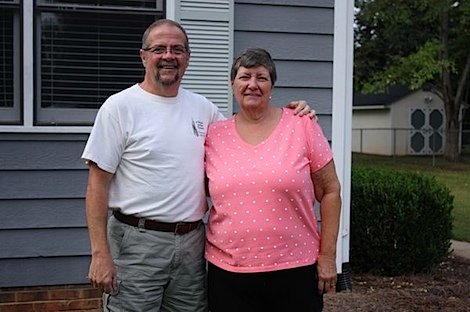 Erica's parents – Freddie and Patti (or is it Patty?) are veterans of this event and have attended for the last 21 years! (After eating there today, I can understand…I think I'm hooked too!)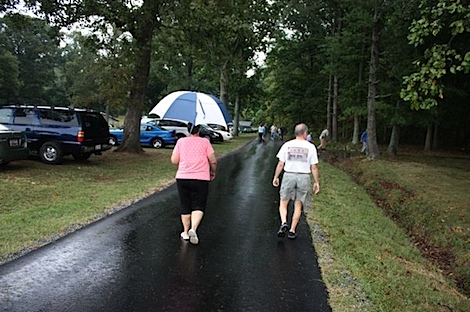 It rained the whole way over but was pretty much just letting up when we arrived. We walked down a long, paved road to the smokers and eating area.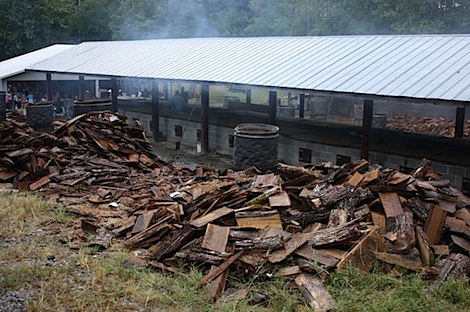 First in my line of vision – the smokers for the chicken.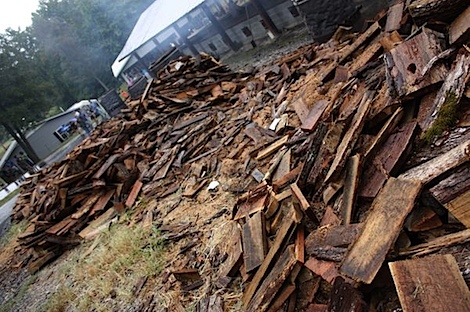 Firewood!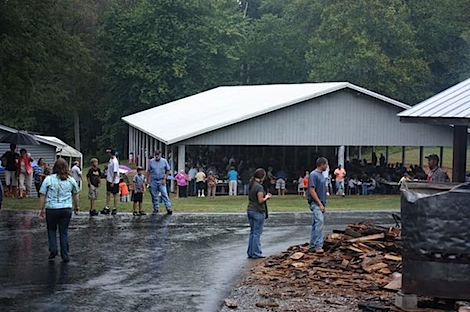 And the church had a HUGE, covered outdoor eating area.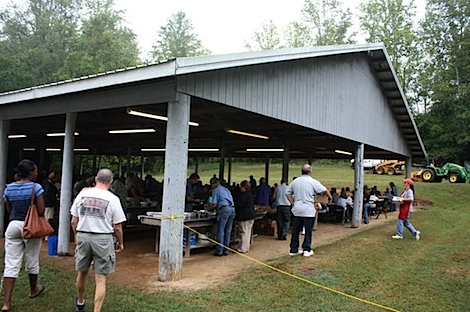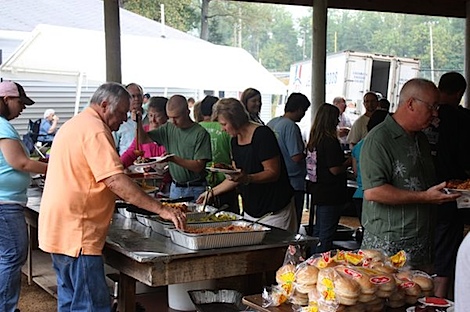 After getting our tickets (only $10 for all you can eat), we headed to get our BBQ on.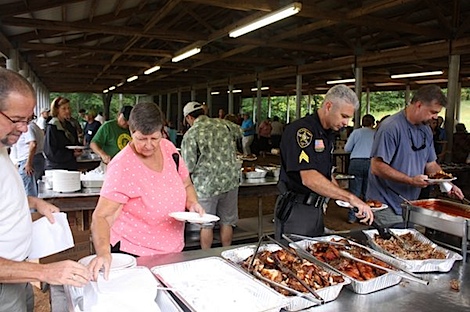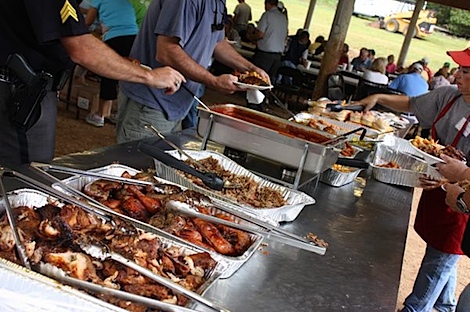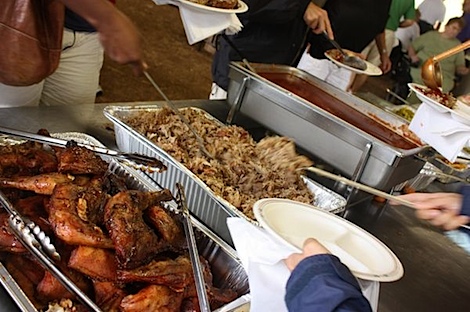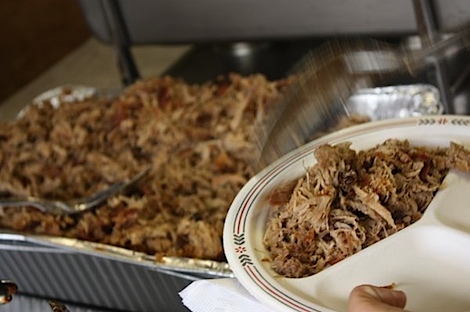 There was a continuous line of people getting food, which was continuously replenished: BBQ chicken, BBQ pork….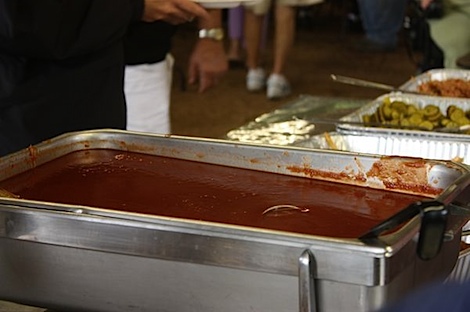 Heated sauce! (who knew hot BBQ sauce was so good – and it tomato based – my fave type!)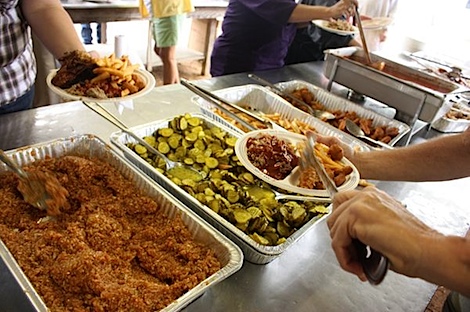 …plus cole slaw, pickles, french fries, and amazing homemade hush puppies.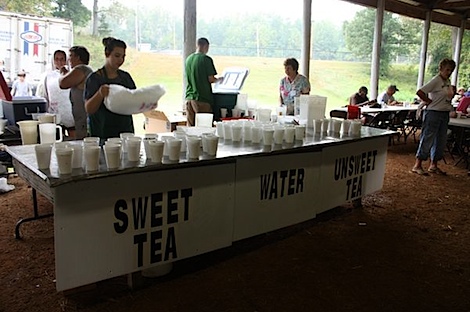 And I had to get a sweet tea to drink – BBQ just isn't the same to me without it.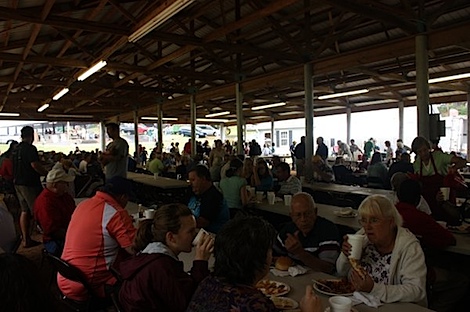 We got to the BBQ festival at around 2pm…can you believe it was this busy still? This is their slow time.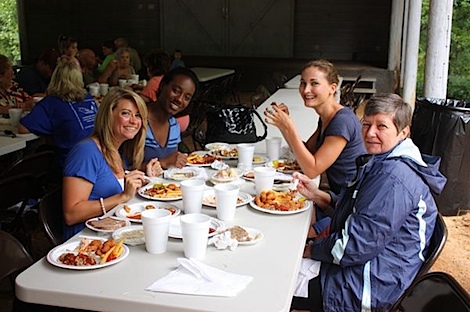 We made our way to Erica's fam's usual spot.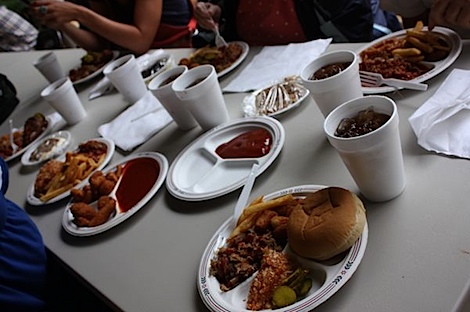 BBQ and sweet tea galore!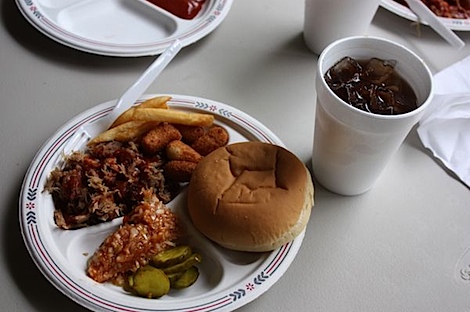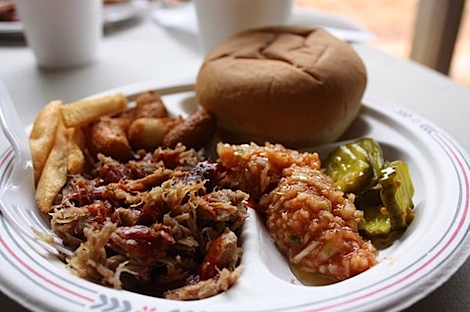 My plate: pulled pork, hot sauce, french fries, homemade hush puppies, cole slaw, pickles, bun. Whoa!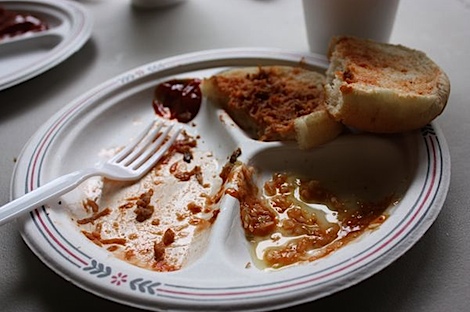 And all my life I've always had my BBQ on a bun – sandwich style. Today, I decided the BBQ was better sans bun. I'm going to have to try my BBQ this way next time I hit up Henry's!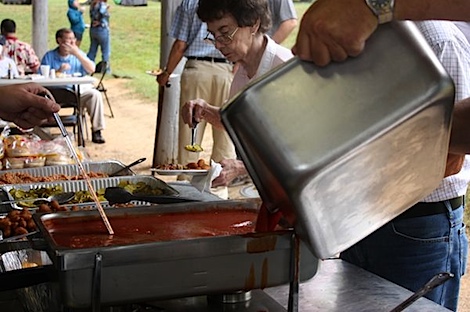 We went for seconds and got fresh, hot sauce.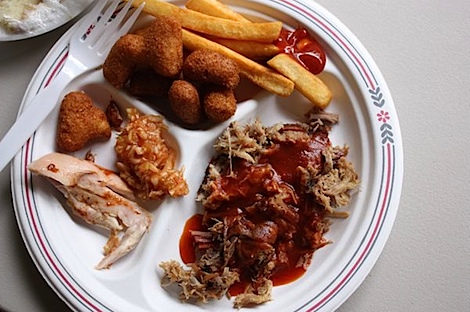 A little bit more of everything…with a bite of chicken.
Gosh, this was simply some of the best BBQ I've ever had! Everything was sooo good, but my definite faves were the BBQ (cooked perfectly!) and those hush puppies (perfectly crispy on the outside and soft inside)! And the sauce was sweet yet tangy…yum! And the sweet tea was on the money, too. We were all SUCH happy eaters!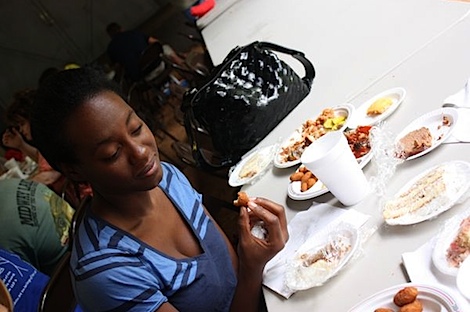 And here's a tip if you check out the festival…if you find yourself staring at a hush puppy…you may be full. Proceed eating with caution.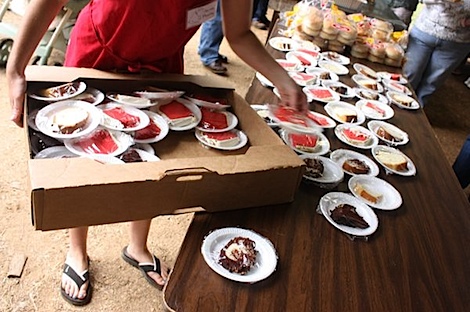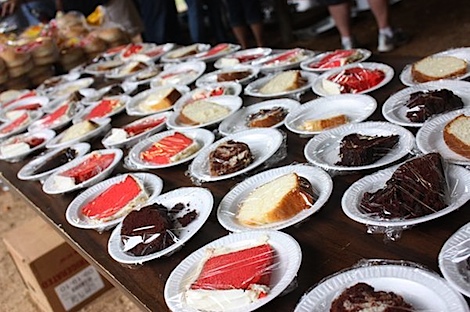 Of course, we had to hit up the dessert tables (there were 3 of them! Yesssss). These desserts are homemade by church members. I love a good homemade dessert!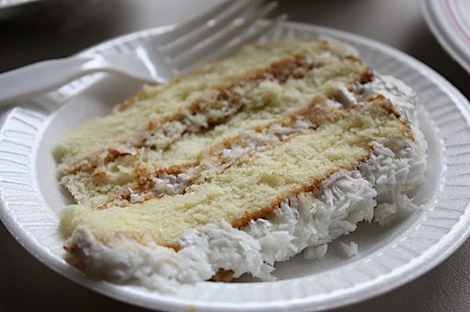 I tried a bite of coconut cake…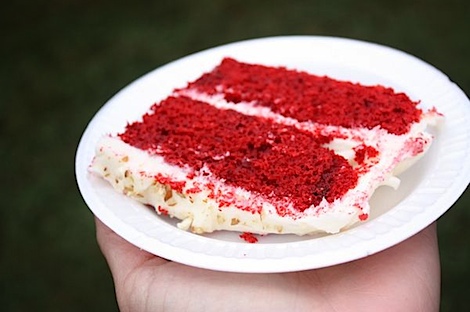 …and even snagged a piece of red velvet cake.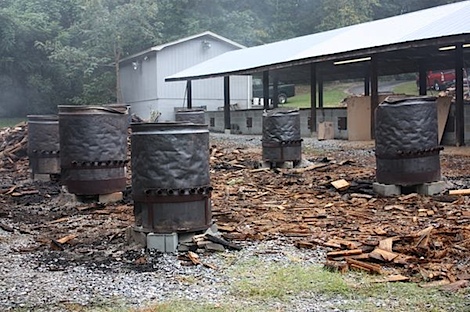 Then, it was time to take a tour of the smokers.
This is where they burn wood to create hot ash.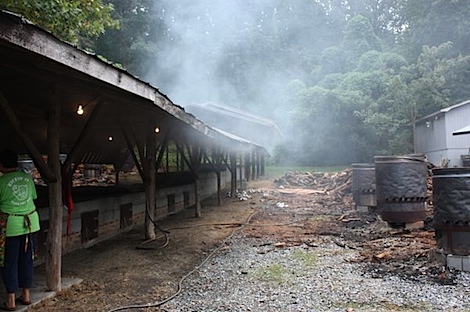 The ash goes into the smokers to the left and right, which is where the food is actually cooked.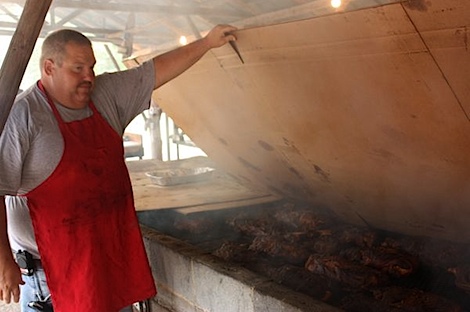 This nice man, who was volunteering his time for the church and who grows shitake mushrooms (neat!) and has been cooking BBQ since he was 12!, gave me a little tour.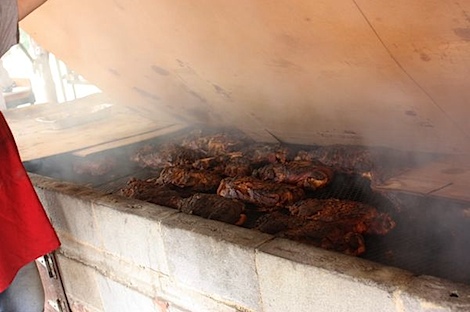 Here are the pork (shoulders, I believe) smoking away. Mmm…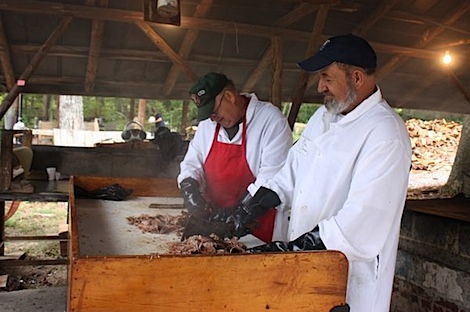 Once they're ready, they go to the chopping block to be prepped by these nice men to be taken to the food tables.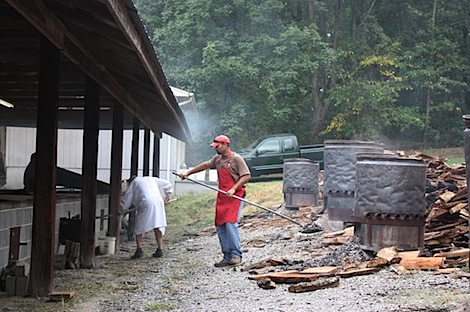 Here's hot ash being loaded into the smokers on the other side – this is where they cook the chicken.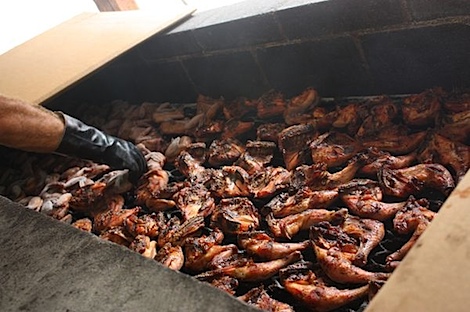 Hellooooooo!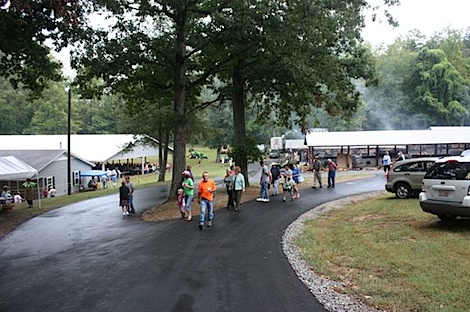 Before I knew it, it was time to bid adieu to my new friends at the Sandy Plains Annual Barbecue.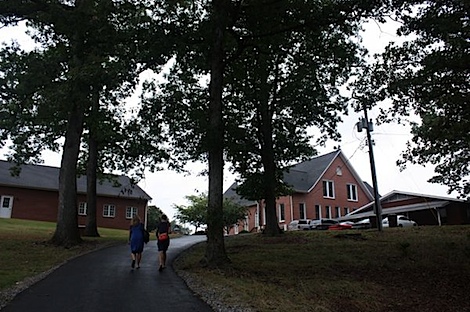 We headed back up the hill to our cars to head home, happily full.

If you're in the area, I highly recommend a visit to this event. The annual barbecue is a fundraiser for this church so not only do you get great eats, but it goes to a good cause, too. Trust me, it's worth a drive. People come from all over…our group drove more than an hour to get here and it was sooo worth it!
(quick note, I did a quick google search and checked the SP web site, but didn't see any info for the BBQ…guess you find out via word of mouth? If I hear anything about the next event, I'll give you the inside scoop aka dates/times)
Thanks Sandy Plains for the yummy BBQ!