If you've ever wanted dessert for breakfast, then boy do I have a solution for you!
Perhaps it's all the dough ball baking I've been doing lately, but I have had cookies on the brain in a big way! And the other day for breakfast, I actually ate a dough ball for breakfast. That's right…a dough ball. While it tasted delicious, it was heavier in butter and sugar than I prefer first the first meal of my day. And while dough balls are great for many things, they aren't the best as providing a good means of energy to sustain you through a busy work day or even weekend-day.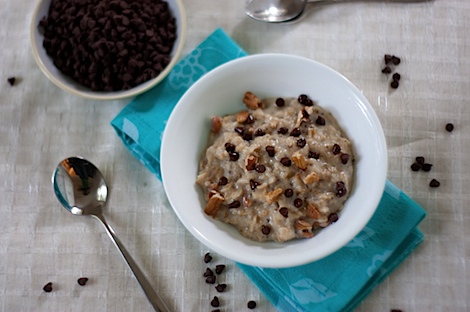 Enter – Chocolate Chip Cookie Dough Oatmeal. I've taken all the flavor qualities of cookie dough and added them to a healthy bowl of morning oats. What are these flavor qualities you may wonder?
To me, a chocolate chip cookie dough usually has the following:
butter (for the rich taste)
brown sugar (for that warm molasses flavor)
vanilla (essential to all cookies)
chocolate chips (obviously!)
By adding hints of these flavors to a nice, steamy bowl of chewy oats, you get the flavor profile of the dough but in a more healthful version.
Ta-daaaaaa!
Now, don't be fooled. This bowl will not taste just like cookie dough. I really don't think you can get the full cookie dough effect without adding in all that extra butter and sugar. But, I like to think this bowl of oats is a nice medium between the two ends of the spectrum.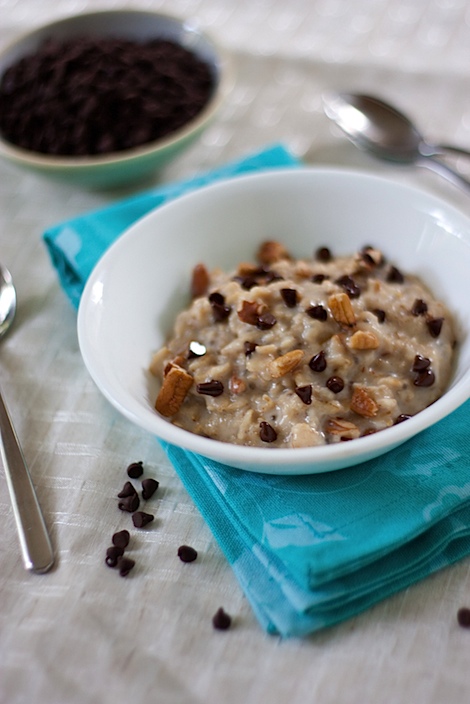 Chocolate Chip Cookie Dough Oatmeal
Take a regular bowl of oatmeal over-the-top with a cookie dough flavor. It's slightly less healthy than most bowls of oats, but way better for you than a handful of cookies in the morning. This recipe errs on the healthy side, so feel free to add a little extra sugar and/or butter if you want a richer flavor. Oh, and I added in some nuts for protein (to help you stay fuller longer), but feel free to skip if you don't like nuts).
*Easily made vegan if you use vegan milk, butter, and chocolate chip substitutes*

Serves 1 (small bowl – increase proportions as you like)
Ingredients:
1/4 cup rolled oats
1/4 cup milk or non-dairy milk
1/4 cup water
1 teaspoon brown sugar
1/2 teaspoon chia seeds, optional
1/2 teaspoon butter
1/8 teaspoon vanilla (or just a couple drops)
chopped pecans (or other nut), about 1-2 tablespoons
chocolate chips, about 1 teaspoon (I used the mini version)
Directions:
In a small non-stick pot, combine oats, milk, water, brown sugar, chia seeds (if using), and butter. Stir to distribute brown sugar. Cook over medium low heat until liquid is absorbed to your liking.
Stir in vanilla and pecans, reserving a couple pecans to add on top in the next step.
Pour oatmeal into a bowl, top with reserved pecans and as many chocolate chips as you like (the heat from the oats will help the chocolate chips to soften).
Enjoy!
Microwave Variation: You can also make this flavor in the microwave. Just cook your microwave oats as normal, stir in butter, brown sugar, vanilla, pecans at the end and top with chocolate chips and reserved pecans.
Happy weekend!

And please stop by my Facebook page to say hello (click)! I'd love for you to Like the official The Chic Life FB page.
You can also click the Facebook Like button on this post or check me out on twitter or StumbleUpon!
{ 26 comments }