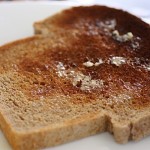 I woke up with a craving for oatmeal, but hubby offered to make scrambled eggs and toast. Who am I to turn that down?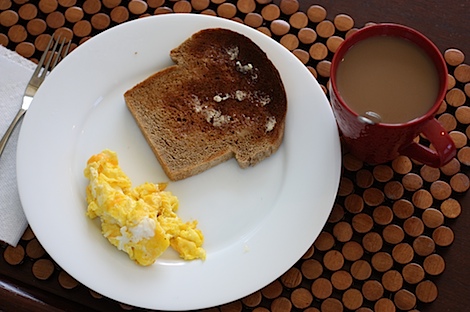 Scrambled eggs with a wee bit of cheese and Great Harvest honey whole wheat toast with a dab of real butter. Plus nice, hot, cozy coffee.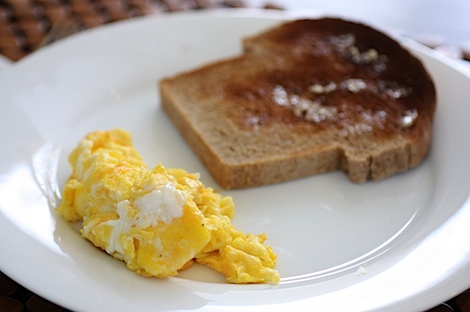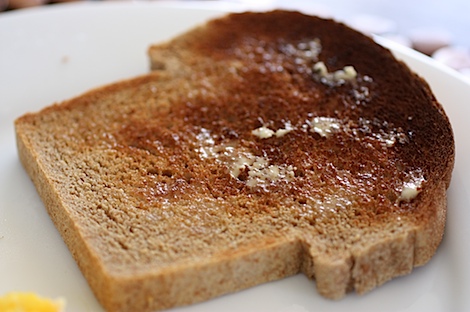 So nice to enjoy first thing.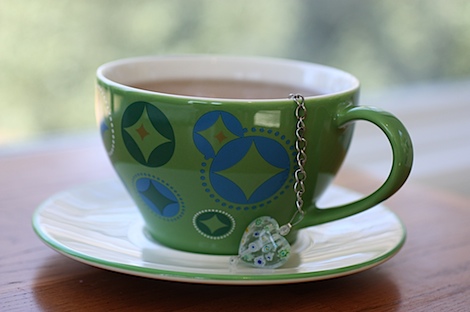 I decided I wanted some more soothing hot liquids and went for tea.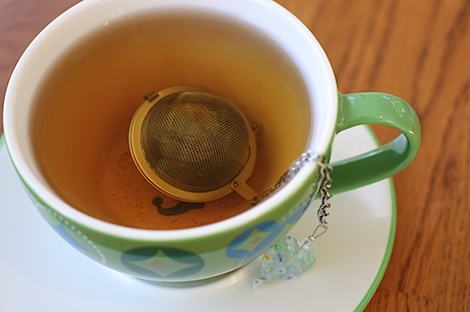 I brewed up more Amanzi Tea in Strawberry Magic with some organic cane sugar. Mmm…
*
*
*
I have lot on the agenda this weekend, including catching up on some bloggie related business.
First up, you asked, I answered – here are some answers to my Formspring questions :
What do you value the most in life?
I value a lot in life, but mostly family (including hubby and Bailey) and health.
Do you ever find its hard not to compare yourself to some of the BIG TIME bloggers? You know and are friends with some of them, but you've not hit the "big time" yet. Are you ever jealous?
No, I usually compare myself to myself. I am very analytical, so I try to learn from my own experiences and see how things have improved over time.
How do you keep up with regular blogging. Do you have a schedule that you stick to?
I am working on getting on a better schedule, but I basically try to blog at least once a day. I usually don't wake up early enough to blog in the morning, so I usually blog about the day after dinner. I best like days when I can do a couple shorter blog posts over the course of the day, but during the work week, it usually happens at the end of the day so I can recap everything in one post.
If you had $100 to spend on clothes, what would you buy?
Oddly enough, I do have $100 to spend on clothes! I got a Simon gift card from my company during the holidays, which I plan to spend at the mall…once I figure out what to buy. I'll probably head to J Crew or Anthropologie and get a splurge item – something I wouldn't normally buy. I like to buy my needs with my money but get fun stuff when I have unexpected gift money. I'm holding out for something cute from the spring lines.
What exactly do you do for work? It seems so stressful and draining. Is it related to what you studied in college?
I'd rather not say exactly what I do, but basically, I'm an IT Consultant, which is related to what I studied in college – computer science.
If you could wake up as anyone tomorrow, who would it be?
Myself! I may have imperfections and I may not be rich or famous, but I wouldn't want to be anyone else. I think your imperfections and your struggles build your character and help make you YOU. Not to mention I could never give up my husband, family or Bailey!

If you had to throw away either your TV or your computer, which would you choose?
I'd throw away my TV. I've lived without cable before and it was fine, but I would miss blogging and email too much to give up my computer!
*****************************
I'm working on blog posts for some of the questions that I think would be best answered in that format, so if you asked a question and I haven't answered yet, that could be why.
In the meantime, feel free to submit some more questions by visiting my Formspring page!
NOTE: I may choose to ignore rude or inappropriate questions.