I WFH Friday, which meant that I could slowly enjoy breakfast while working on my laptop.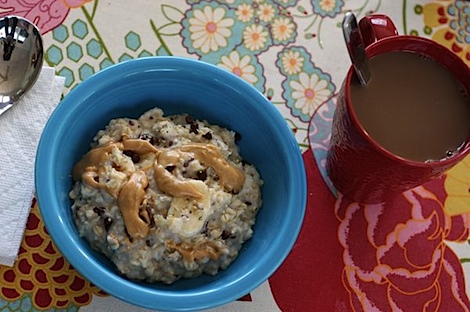 I made a pot of stove top oats for moi and hubby, along with some coffee.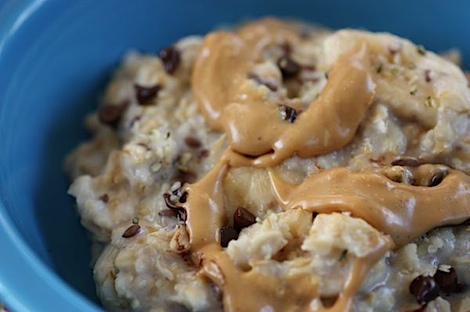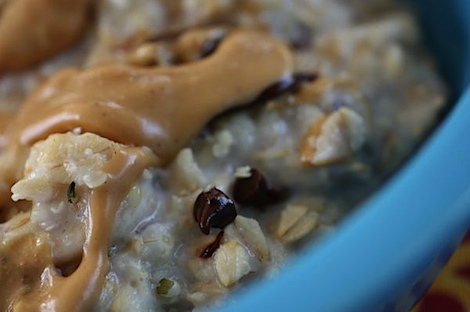 I kept it simple and just did Banana Oats.
Pre-Cooking Ingredients:
2/3 cup 2% organic milk
2/3 cup water
2/3 cup extra thick oats
1 tsp flaxseed
1 tsp chia seed
Cooked stovetop till thickened.
Post-Cooking Ingredients:
1 sliced banana (stirred in at end while pot still on burner to warm through)
hemp seeds
drizzle TJ's organic peanut butter
a dash of mini semi-sweet chocolate chips (extra for hubby)
and for hubby – a sprinkle of sugar (I try to let my fruits be my sweeteners)
Hit the spot.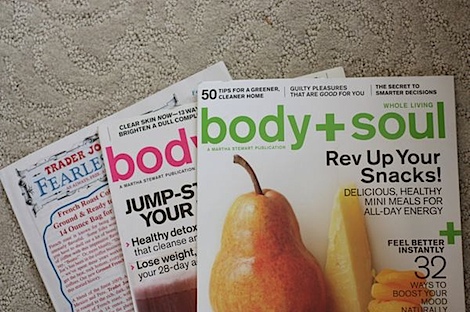 I tried to subscribe to body + soul about a year ago. It never came. 🙁
After tweeting about how I never got my magazine, the nice body + soul official tweeter sent me a link where I could request a free trial issue, so I tried once again. This time…success! Except I got both my February and March issues at the same time. Kind of annoying, but at least I got them. Plus I got the Trader Joe's newsletter…love seeing their new products and picking one the ones I want to try.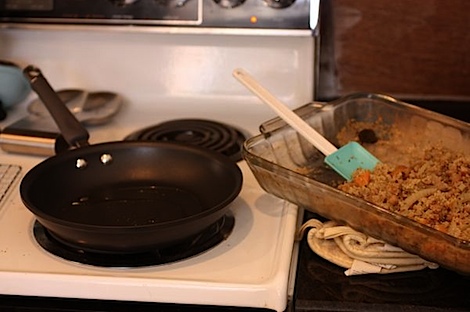 For lunch, I took a queue from Dreena's EDABV cookbook and used a saute pan and EVOO to heat up my vegan Quinoa Chick Pea Confetti Casserole .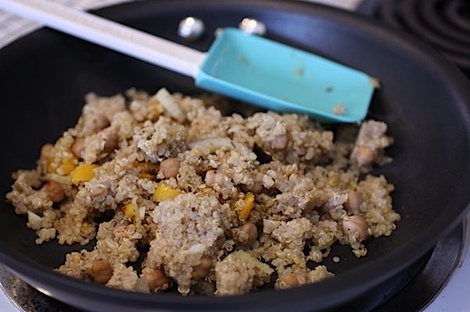 It was SO much better than heating it in the microwave. I always try to heat foods up stove top or in the oven over the microwave.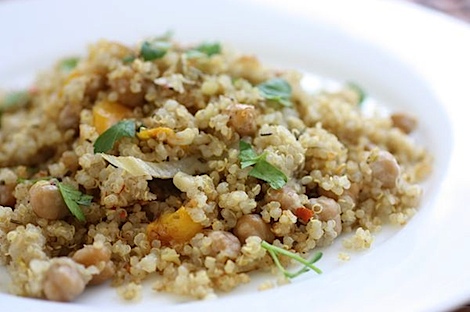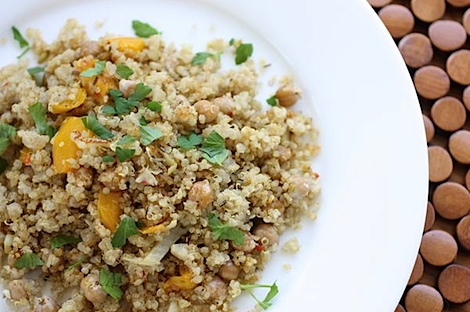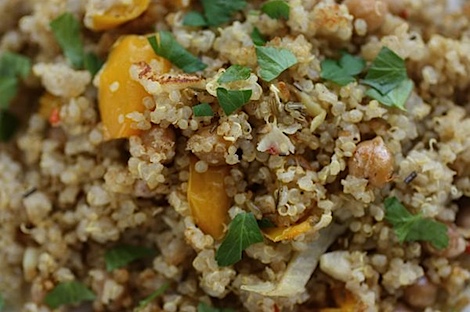 One thing I definitely like about non-meat meals is how much better they re-heat. I am not a fan of re-heated meats…they just don't taste right to me. This tasted wonderful!
The other thing I like about WFH is how much easier it is to enjoy hot tea. I can have all the hot tea I want.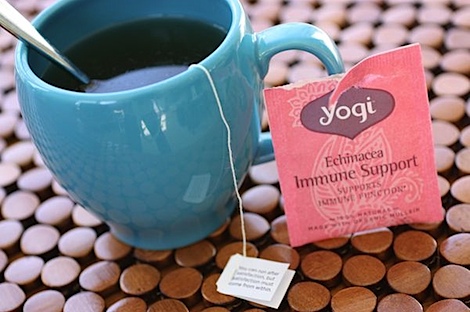 First cup – Yogi Tea Echinacea Immune Support sans sweetener.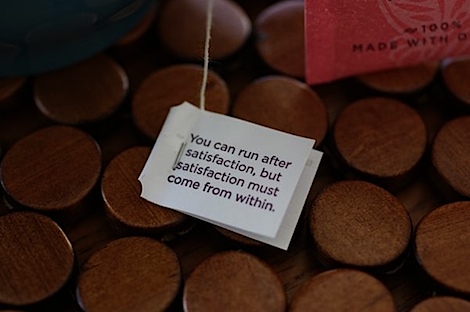 Yogi tea quote: "You can run after satisfaction, but satisfaction must come from within."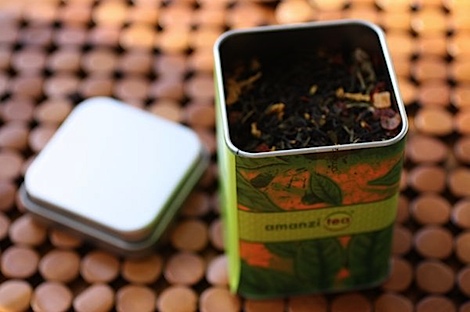 I also got to try a new tea I got for Christmas.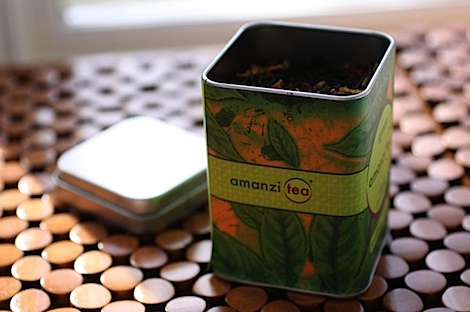 Amanzi tea in Strawberry Magic.
Ingredients: Black and Green tea, papaya cubes, rose hip peels, sunflower petals, natural flavoring.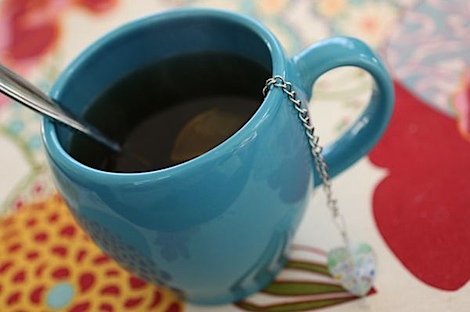 Wow – this was one of the best teas I've had in awhile! So berrylicious and flavorful!
My mom gave me a loose leaf tea holder with this cute chain and glass heart. Love it!
*
*
*
This weekend is my sorority's 30th anniversary at my alma mater. We are takin it old-school this weekend by visiting some of our favorite hang out spots and even having a semi-formal!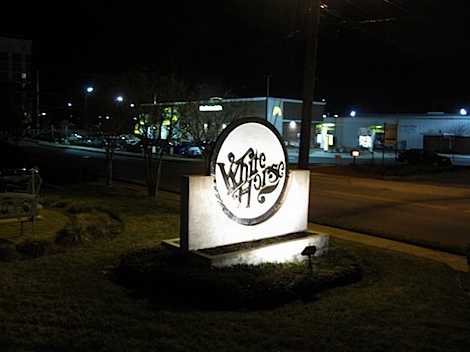 Last night, we hit up a fave restaurant – White Horse.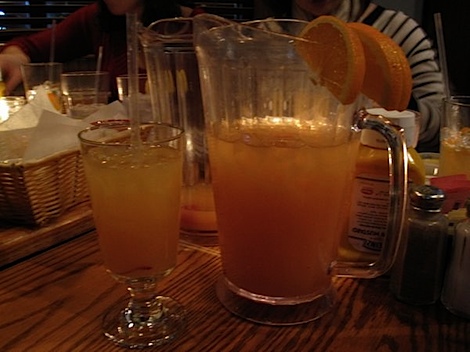 We split a couple pitchers of our fave old-school drink: Hop, Skip, and Go Naked (yes, that's the drink's real name). In the drink: a unique blend of rum, gin, and beer.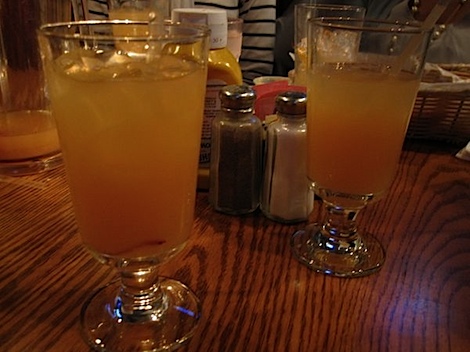 I forgot how tasty and strong this stuff is!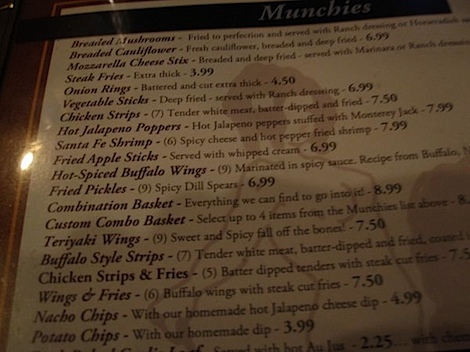 Next, I selected one of my old-school usuals: the Custom Combo Basket with breaded cauliflower, mozzarella cheese stix, vegetable sticks, and apple sticks (gotta have the apple sticks!).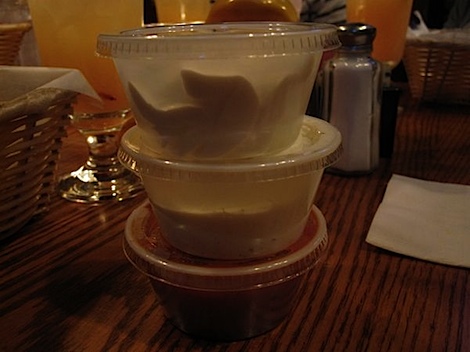 Sauces: marinara, ranch, whipped cream (for the apple sticks).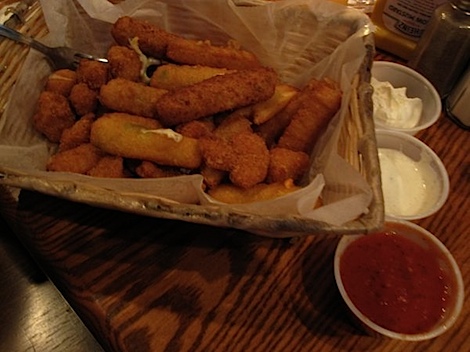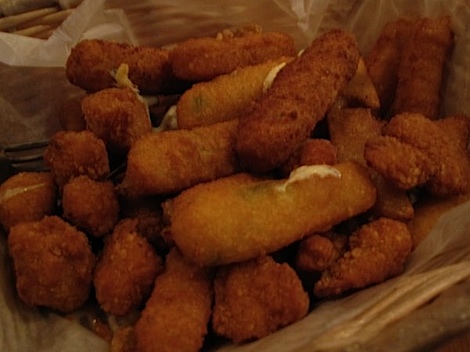 I basically ordered a basket of deep-fried-ness.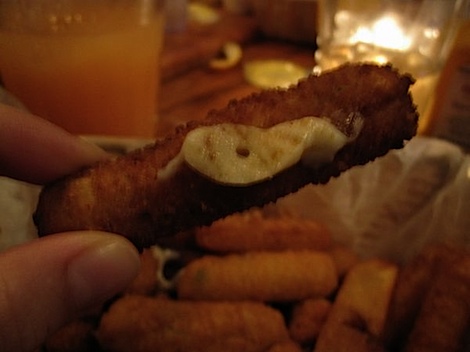 Cheese stix
Breaded cauliflower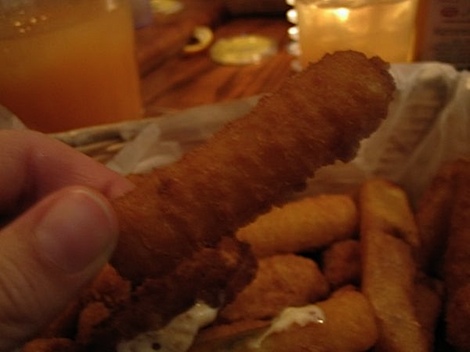 Vegetable stick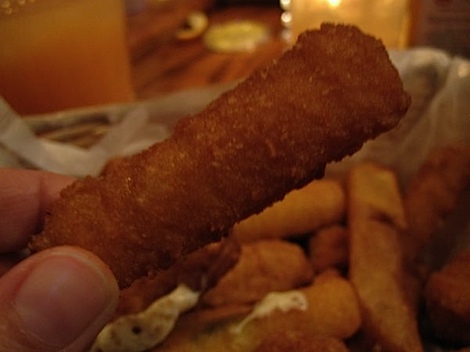 Apple stick (these were always one of my fave)
Anywho, no wonder I gained a freshman 15 eating this! lol I'm all about indulging once in awhile but an entire meal of deep-fried foods isn't my cup of tea anymore. I was glad I ordered it for the sentimental value, though. Next time, maybe I'll try to get some deep-fried foods and some not.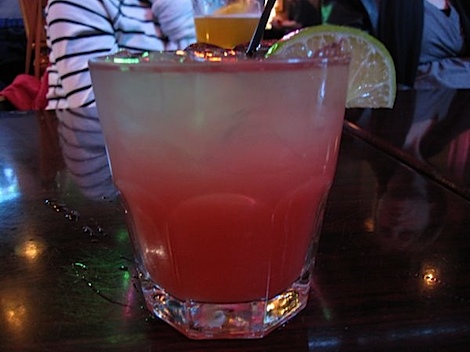 After dinner we hit up a local bar where I watched ice dancing on the TVs, listened to a live band playing cover songs from the 80's and 90's, and enjoyed a bay breeze.
Just driving around and seeing all our old hang-outs brought back so many great memories. I miss my college days – they were some good ones!
So excited for tonight's semi-formal! I still need to pick out something to wear!
What's your favorite thing to eat when you visit your alma mater?