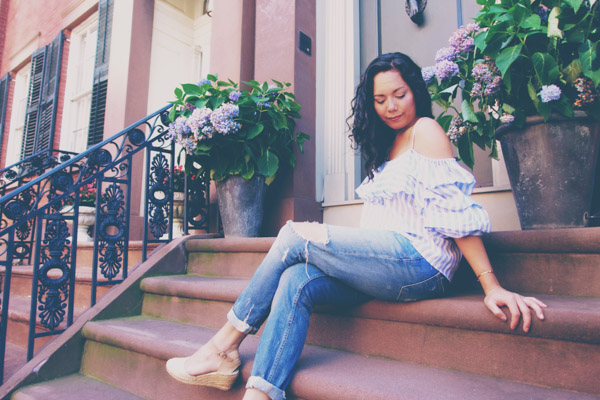 You're Not Invisible
Hey there, I see you.
You're not invisible. You're actually facing a struggle that SO MANY others face. I know because I used to be there myself.
I know what it's like to wake up and feel like things are so meaningless. To feel so unhappy. To feel dread going to work and absolutely NO ENERGY to even do the supposedly fun things.
To feel so completely trapped in your own life.
You're not even sure where things went so wrong. One minute, you were kicking butt in school. Excelling in classes. Making plans. Excited for the future.
It was gonna be so BIG!
You were full of energy and potential.
Then the future got here, and it wasn't that it was disappointing. At least not right away. It started out fine. But over time, the little stresses, failures, roadblocks, toxic relationships, and all the other randomness that has happened to you over time have slowly chipped away at you.
Somehow, you're just going through the motions. Following the daily schedule you've managed to fall into somehow.
You don't know how you got here. All you know is that you want OUT. NOW!
But how do you do that?
How do you fix what doesn't really seem broken?
You might have everything you wanted. Maybe that's a secure job, relationship, house, and safe lifestyle.
But maybe that secure job is slowing sucking your soul away. Maybe your current relationship isn't the one that lights you up. Maybe your house is in disarray or otherwise adds stress to your life. Maybe your safe lifestyle is boring you to tears.
Maybe none of this is true. Maybe all of it is.
All you know is that…you're just not happy.
You KNOW you're capable of MORE.
You know you WANT MORE.
Maybe you feel a bit guilty about this. You have plenty. You're grateful. But you're also lacking.
And you see others living their dream lives online or through your friends.
And yes, comparison is the thief of joy. And social media isn't reality.
But things you see in others are sparking things INSIDE YOUR HEART.
They're calling to you.
For some odd reason that you may not be able to connect yet, they're touching you.
Tiny sparks that you've shuffled away because maybe you don't feel that you deserve them.
But you're slowly realizing that you DO want those things.
You want to fulfill the potential you know is so BIG inside of you.
Getting In Your Own Way?
Maybe you're getting in your own way without realizing it, by:
Staying so small that you never actually take action to go for what you really want -> your dream life isn't going to come to you by accident.
Fearing failure so much that you take 0 risk -> no risk, no reward (If this was easy, everyone would do it).
Thinking "this isn't so bad. I can deal with it." -> Really? Can you deal with it forever? And even if you could, is that really how you want to live your life? Or do you want to tap into that voice inside that tells you what you know is true – you were meant for more!
Maybe you're afraid to change. To get uncomfortable.
Except that you're realizing you're already uncomfortable.
And that although the unknown is scary, but you're seeing right now is already terrifying.
You don't want to change. But you're realizing that you can't stay stuck in this life any more.
And that the change you've feared so long is better than your current reality.
The Other Side
I used to get in my own way too.
And I'm very familiar with these thought patterns, because they're exactly how I used to think.
But, I'm so passionate about helping others overcome these limiting thoughts and this fear-based lifestyle because…
…I want to help others avoid and/or escape the struggles I've experienced – I know how soul-crushing they can be
…I believe in sharing what I've learned to help make this world a better place – I'm all about spreading good vibes
…And I've seen the other side, and it's better than you can imagine.
The Path to Freedom
What if I told you that you are capable RIGHT NOW of:
Not feeling trapped anymore
Attracting a tribe who not only gets you but supports and encourages you to being your best self
Having things go right more than they go wrong
Bringing more abundance into your life
Making the impossible possible
Going bigger than you ever thought possible
It's time to stop living small.
You only have one life. How do you want to live it?
While you may not be able to make any drastic changes (even though quitting your job immediately may be sounding really good right about now), you CAN find ease and happiness NOW, even in the hardest of times.
There is a path to freedom!
How? With a Mindset Makeover.
Getting You Through
Think about it…you…me…working together to transform your life to your biggest dreams!
I'm confident that a Mindset Makeover can help you is because it's what's saved me time and time again over the last several years, especially in my darkest times.
From being trapped in a toxic work project that made me question my existence to going through the biggest heartbreak of my life (my divorce) over 600 miles from my friends and family on a work assignment in NYC.
What got me through?
The strength, abundance, positivity, and healing that I found through mindset work.
And these things can get you through too. I can show you how!
Owning Your Magic
I remember what it was like to feel so helpless. Like everything was falling apart and there was nothing I could do.
Thanks to stumbling upon personal development and mindset work, I was able to slowly change my life for the better.
And you can start this change for yourself too.
You can experience the same magic I do now:
Knowing you have the freedom and capability to take your life where you want
Releasing toxic relationships in favor of a tribe that makes you feel like you can be your authentic self while also continuing to level up to accomplish things you didn't know you could do
Having things go right all the time – and with such ease!
Enjoying a life of abundance, prosperity, and opportunity
Making the impossible possible on the regular (it's really fun btw!)
Living so big that others tell you (with a look of awe in their eyes) how proud they are of you for going for your dreams
Your Friendly Transformation Enthusiast
I'm not where I am today by accident, luck, or birthright. Over the years, I've transformed myself again and again to get closer and closer to my dream life.
From Awkward High School Outcast to "Popular" Sorority Girl
From Meek Wallflower Employee to Corporate Consultant Badass
From Fast Food Fanatic to Non-Diet Healthy Food Eater
From Sedentary Office Worker to Zumba Instructor
From Stressed-Out 9-to-5-er with Side Hustles to Balanced, Peace-of-Mind Goal Digger
From Hobby Blogger to Impact Lover
From Living in Scarcity and Fear to Flowing with Abundance and Joy
I've taken my life to places I never thought possible. And I want to help you go bigger in your life by going after your own dreams, living life on your terms!
How We'll Work Together
You can transform your life with my 8 week Mindset Makeover 1:1 coaching. I'm taking everything I've learned from thousands of hours of personal development, via countless books/podcasts/videos, and through my personal transformations and using it to help you get your own transformation underway ASAP.
We'll do 8 45-minute 1:1 video calls with unlimited WhatsApp support throughout our time working together.
I'll be there to support and guide you while also challenging you to get past your own hangups and mental blocks in an honest way.
I'm here to push you out of your comfort zone (that's where the magic happens, baby!), but I'm also here to hold your hand and remind you how flippin awesome you are too!
Together, we'll tackle your biggest mindset challenges so you can start living BIG.
Happiness Now!
Afterall, YOU want…
The job where you feel like you light up and are absolutely crushing it.
The relationships that fuel your soul and makes you feel so complete.
The home energizes you.
The LIFE where you want to pinch yourself every. Single. Day. Because…how can you be SO LUCKY to be living this life?
I'm here to tell you everything you want is right in front of you.
It may be on the other side of doubt. Fear. Insecurity. And it's most likely on the other side of a whole lot of work.
But I've transformed my career, relationships, home, and life.
From dull to AMAZING!
From underwhelming to OVERWHELMINGLY MAGICAL!
From "how did I get stuck here?" to "how is this REAL LIFE?!"
No more living a life someone else outlined for you. Or that you fell into. Or that you feel like you can't change.
YOU CAN!
Happiness isn't a destination. Happiness is NOW.
I'll help you not only work your way towards your dream life, but I'll help you add more clarity, fulfillment, and joy in your CURRENT LIFE.
Together, we can transform your life from where you are now to where you want to be.
Let's go get that dream life started today!
Stop existing. Start living.
Apply Today
Email me at diana at thechiclife dot com to apply for 1 on 1 coaching with me! Can't wait to hear from you!
Let's make magic happen!
It's never too late to be who you might have been