There aren't enough mocktails in the world. Ok, there probably are, and I just don't know about them. It just seems like there are all kinds of cool cocktails, but I don't seem to find as many cocktails.
Awhile back, I had some friends over on a Sunday afternoon for an impromptu pot luck, and I wanted to do something sans alcohol.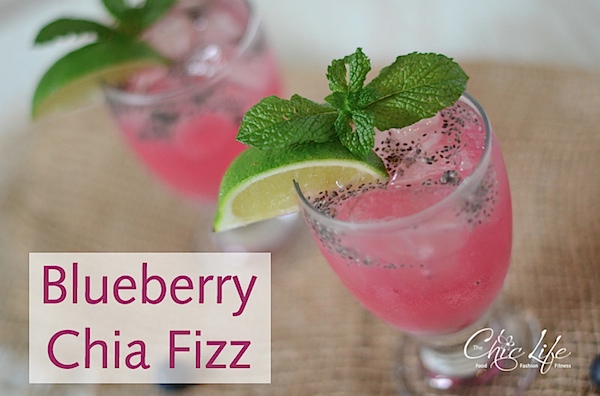 I thought back to the chia fizz I saw in Clean Eating Mag, but I wanted to do a twist.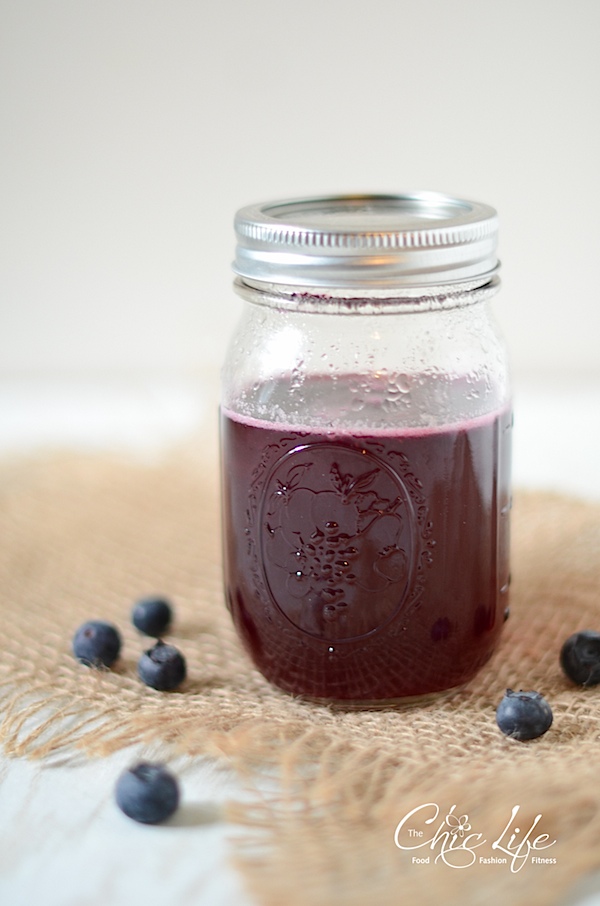 I recently read about a blackberry simple syrup in a magazine, and when I remembered that I had a bunch of blueberries in the fridge, the idea for the Blueberry Chia Fizz was born. A quick google search yielded two recipes for inspiration on the syrup (see recipe below for links). The blueberry simple syrup was super easy. I went light on the blueberries, but I think you could easily double or triple the amount of berries for a stronger flavor.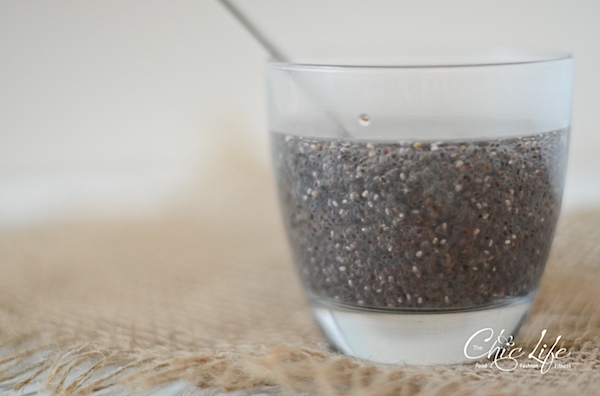 And for the chia seeds, I decided to keep those separate in case my friends didn't want them. I let them soak in water in the fridge just before they arrived.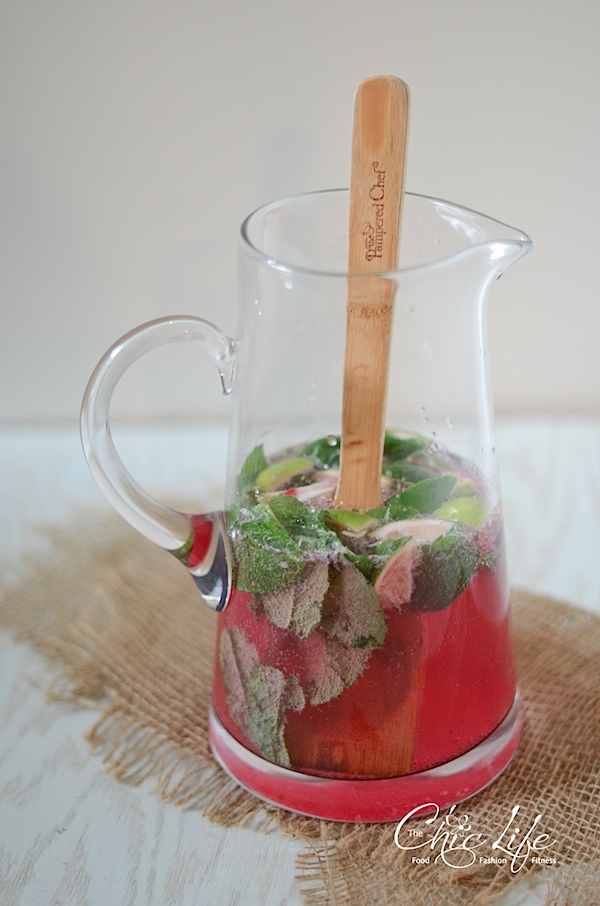 Since I wasn't sure if they'd even like this concoction, I started with a half pitcher.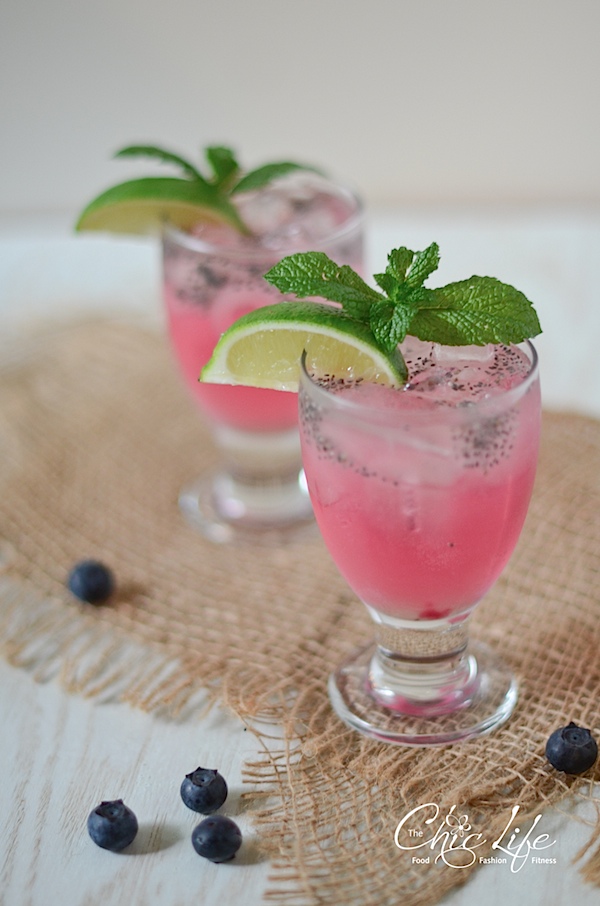 But, the drink was a hit!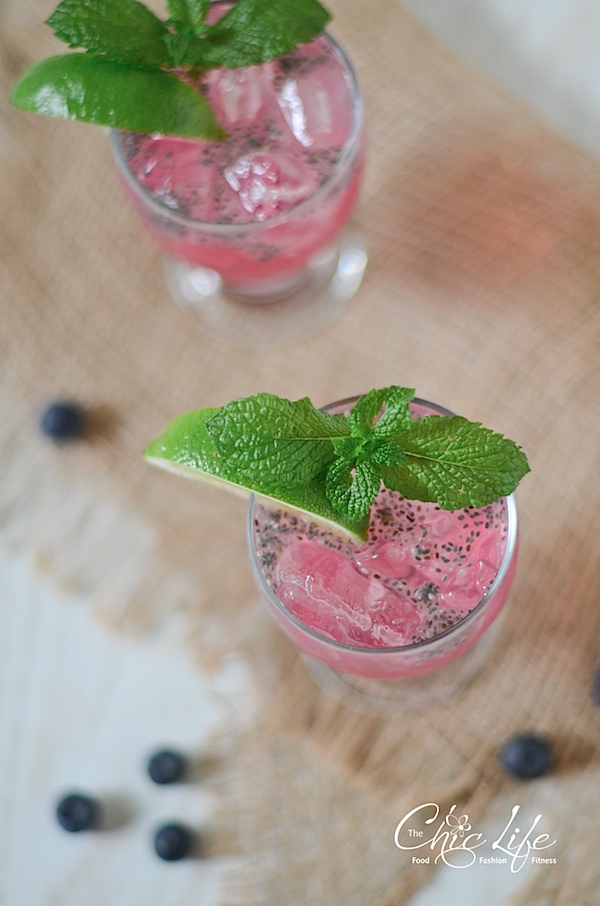 The drink was barely sweet and barely fruity in a totally good way. The hints of flavors with fresh mint and citrus made the drink taste so perfect for a hot summer day.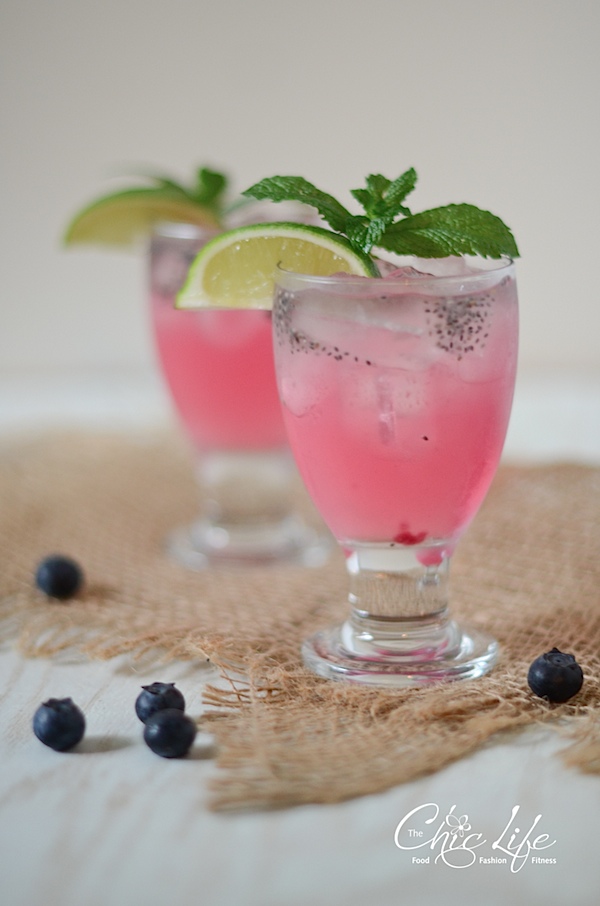 I'm definitely making this one again, and I'm hoping to try some other flavor variations.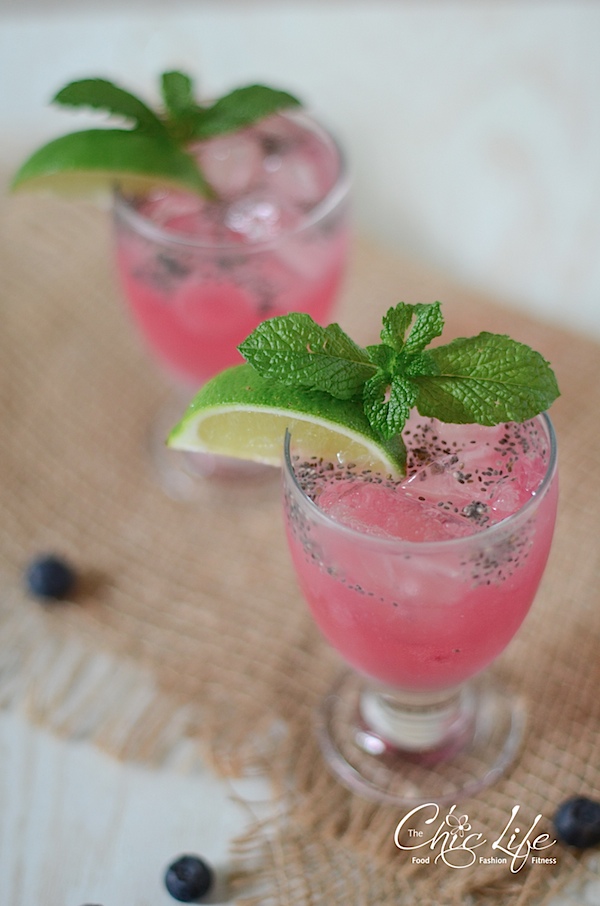 Blueberry Chia Fizz Recipe
Inspired by Clean Eating Magazine, Closet Cooking, and Simple Bites
A few years ago, I tried a fun drink I found in Clean Eating Magazine called "Chia Fizz" that reminded me of a mojito sans alcohol, add chia seeds. Since then, I've thought about a couple variations and how I like simple drinks like the "Chiz Fizz" and classic mojito – light liquids mixed with muddled fresh limes and mint. Nothing like a little citrus and mint to make something feel like summer.
This drink is light in all ways – lightly sweetened, lightly blueberry in flavor, and made with light ingredients. If you want more flavor in any area, adjust the ingredients as you prefer.
If you want to prep early, make the blueberry syrup in advance and let it chill all morning, all day, or overnight. The rest of this recipe is a cinch!
*Vegetarian, Vegan, Not So Sweet*
Time: Approximately 20 minutes active, plus an hour to one and half hours chill time
Serves: 6-12 (depending on how many refills you serve!)
Ingredients:
1/2 cup fresh blueberries
1 cup sugar
1 cup, plus 1 cup water
1/4 cup chia seeds
4 limes, cut into quarters, plus 1-2 limes for garnish
4 sprigs mint, approximately 20-30 leaves, plus top sprigs for garnish
2 1-liter bottles of Pellegrino
Directions:
Make the blueberry syrup

:
Add blueberries to a medium-sized pot. Mash with a potato masher until no blueberries remain whole.

Add sugar and 1 cup water and bring mixture to a boil. Simmer 10 minutes. Let cool for 30 minutes to an hour in the pot.

Place a mesh strainer over a heat-proof container (use a funnel as wide as the strainer, if needed) and carefully pour blueberry mixture into the container. Press all the liquid through the strainer using a spatula.

Note: You can reserve the blueberry solids to put into a smoothie or oatmeal later.

Cover blueberry syrup and let cool in the refrigerator.
Assemble drink at least 10 minutes before serving

:
In a cup, combine 1 cup water and chia seeds and stir. Let chill in the refrigerator for at least 10 minutes.

In a pitcher, combine limes and mint leaves and muddle (using muddler or back of a wooden spoon). Add blueberry syrup and Pellegrino.
To serve

: you can either pour the drink over ice in individual cups and spoon in some chia seed mixture or you can pour the chia seed mixture into the pitcher and pour over ice (either way, the chia seeds need about 10 minutes to soak up the liquids of the drink). Garnish with a lime slice and mint sprig. Enjoy!
You may also like: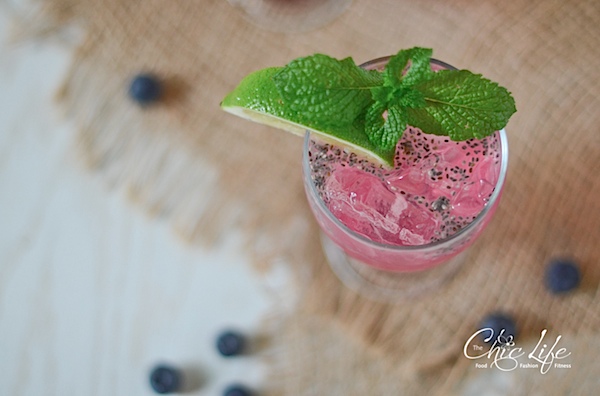 Hope you all have a wonderful summer full of delicious eats, great drinks, and lots of fun!
Thanks for reading! If you liked this post, please consider sharing it with your friends using one of the share buttons on this post or on my Facebook wall. Thanks again!
{ 4 comments }