Hi friends! If you follow me on Instagram, then you know I LOVE my golden lattes. So, if you're not familiar, a golden latte is an anti-inflammatory, warm beverage. And, it is typically prepared like a latte but without coffee/espresso. Because it has a no-caffeine energy boost, this has been my go-to afternoon pick-me-up since I've been reducing my caffeine intake overall, but especially after around noon since this can mess with your sleep. Anywho, I thought I'd attempt to apply the flavors of a golden latte to oatmeal. And it worked very nicely! So today I'm sharing my Golden Oatmeal Recipe with Turmeric and Sunbutter. Let's discuss!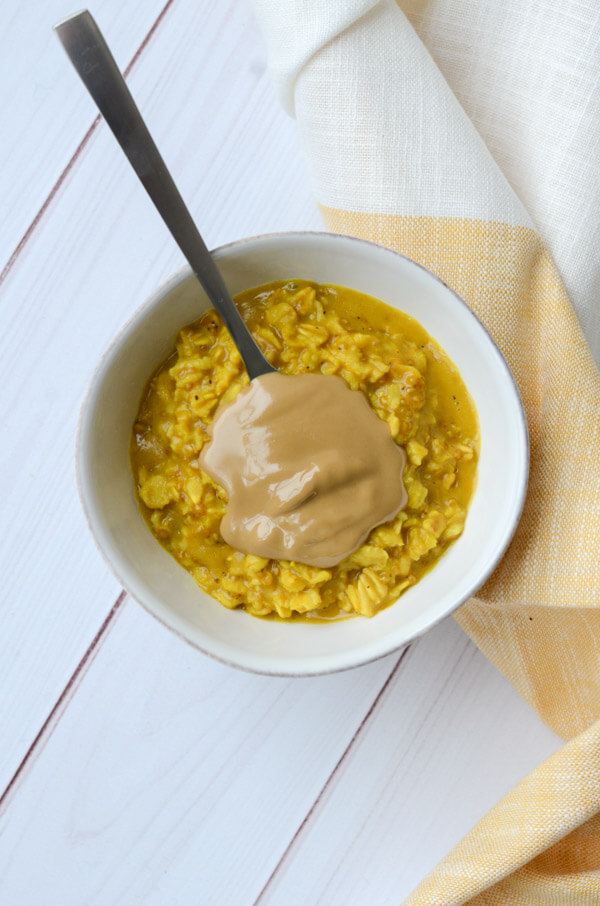 Natural, Plant-Based Food Color
Isn't this a gorgeous yellow color? While this photo is edited, the oatmeal is naturally yellow from the turmeric.
Why are natural colors important?
One thing that shocked me as I started getting into clean eating was how toxic many food colors can be. And, without going into detail now, I'll just say – do yourself a favor and google them. Also, some notes online about artificial food colors are questionable. But, the fact that so many are banned in other countries was a big driver for me avoiding them.
I mean…entire countries can't eat something, but major brands here are throwing it into packaged food like crazy? Hmm…moving on!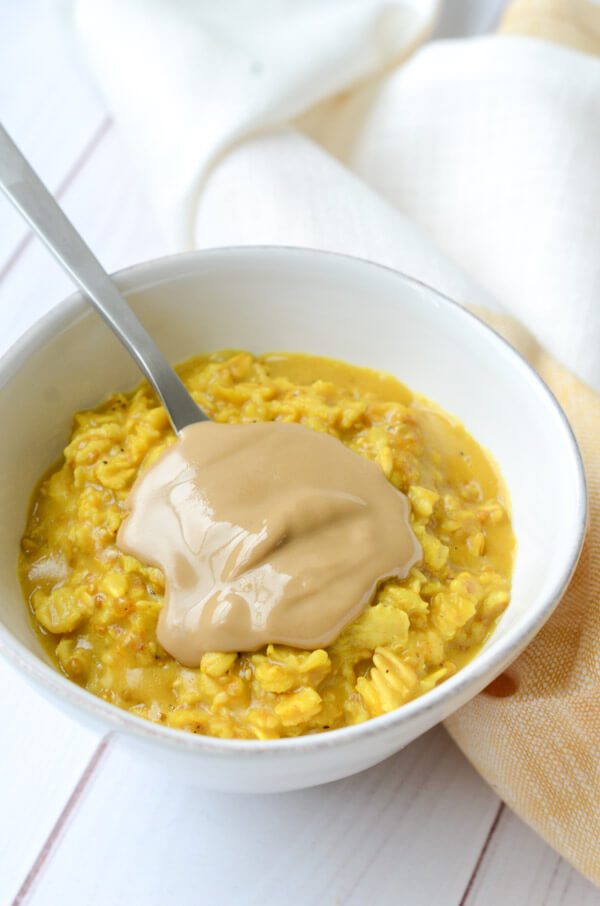 About This Anti-Inflammatory Golden Oatmeal Recipe
Quick Info About Turmeric
Turmeric is a root that has been used for medicinal purposes for at least 4,000 years according to this article over at PBS. And turmeric has many beneficial health benefits, though it seems like it's recently been most known for its anti-inflammatory properties. Or at least that was my initial pull to try it.
Why You Shouldn't Skip the Pepper
In my research about golden lattes, they need to include black pepper for it to be effective. According to this article at Mind Body Green:
One problem with curcumin is its low level of bioavailability, as much of it gets metabolized before it can be absorbed. But combining turmeric with black pepper (whose active ingredient is piperine) increases curcumin's bioavailability in the body by 2,000 percent—pretty amazing.
As a result, you may want to re-read that quote before skipping the pepper. Psst…plus, you really can't taste it. It's just a dash.
By the way, cinnamon is also a common Golden Latte ingredient and is also anti-inflammatory.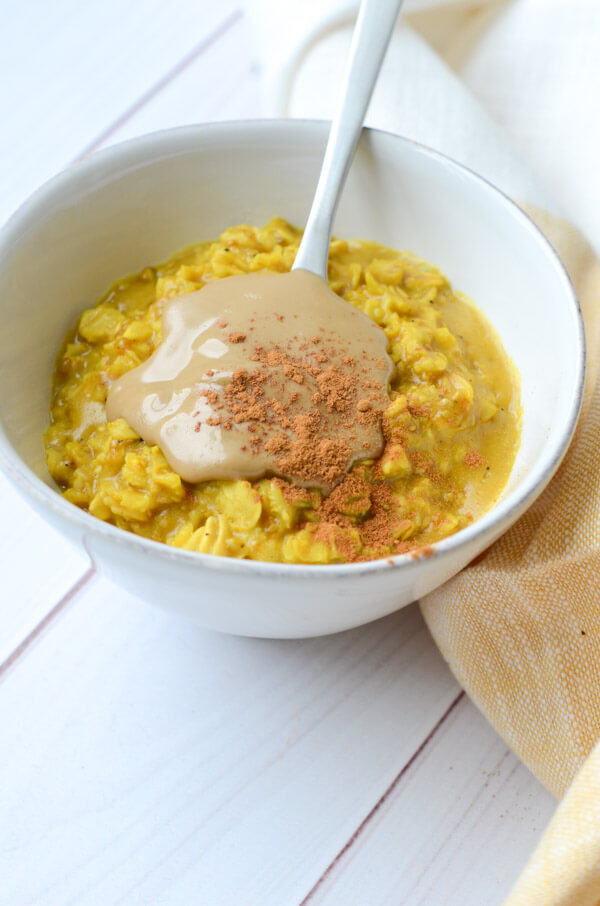 And I included cinnamon in the cooked oats, plus an extra sprinkle on the cooked Golden Oatmeal is nice too.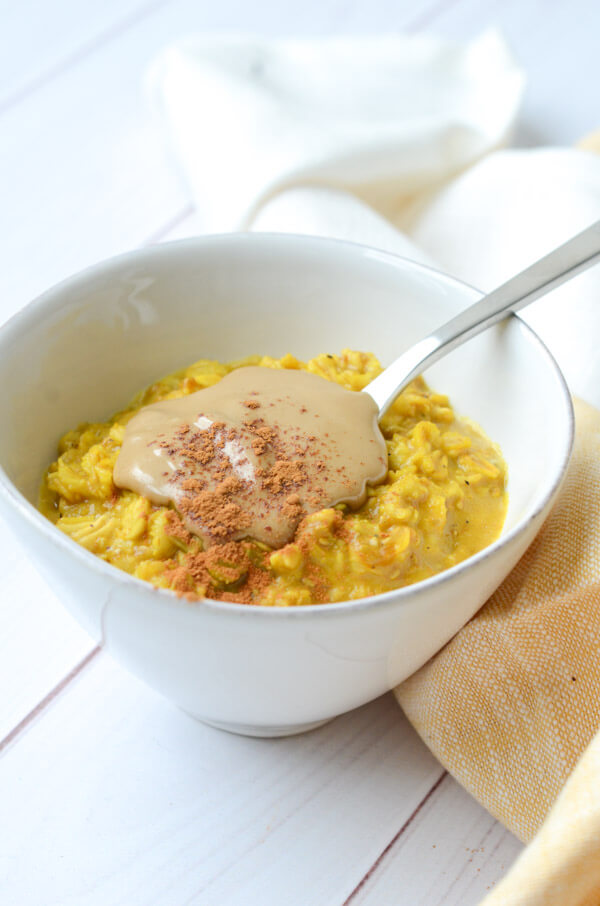 And as for the sunbutter, I added this on top to make this bowl of oatmeal a bit more filling. Yum!
Print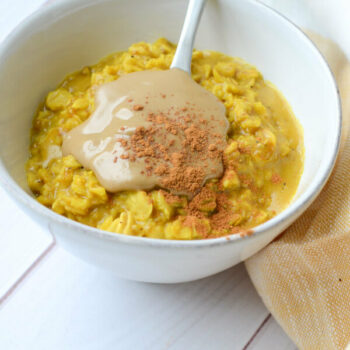 Golden Oatmeal Recipe with Turmeric and Sunbutter
Author:

Prep Time:

5

Cook Time:

8

Total Time:

13 minutes

Yield:

1

1

x
---
Description
If you like Golden lattes, you'll love this Golden Oatmeal Recipe with Turmeric and Sunbutter. This anti-inflammatory clean eating recipe is easy and fast for a quick, delicious breakfast.
---
⅓ cup

rolled oats

⅓ cup

milk of choice (I've been using coconut milk)

⅓ cup

water

1/2

–

1

teaspoon maple syrup

½ teaspoon

chia seeds, optional

1/4 teaspoon

ground turmeric powder

1/8 teaspoon

ground cinnamon, optional, plus sprinkle for topping / garnish
dash of ground black pepper
dash of salt

1

spoonful sunbutter
---
Instructions
In a small pot, stir together oats, milk, water, maple syrup, chia seeds, turmeric powder, cinnamon, black pepper, and salt. Cook over low heat, stirring occasionally, careful to not let the mixture boil. Continue cooking until the liquid is absorbed to your texture preference, about 5-8 minutes.
Pour oatmeal into a bowl. Add a spoonful of sunbutter on top. Sprinkle with cinnamon (if using), and enjoy!
---
Notes
Make this vegan by using vegan milk. I used coconut milk, but almost any milk should work.
While I always encourage you to adjust my recipes to your taste and needs, I did want to point out that as noted in the blog post details, the black pepper is critical in making the turmeric effective.
Recipe Card powered by
More Delicious Oatmeal Recipes
Chocolate Chip Cookie Dough Oatmeal
Honey Flax Almond Butter Oatmeal
And check out this post (with video) for a tutorial on how to make stovetop oatmeal
***
Thanks for stopping by! I hope you enjoy this Golden Oatmeal Recipe with Turmeric and Sunbutter. Such a delicious combo!
If you like this recipe, please consider sharing it with your friends and loved ones using the share buttons on this post…