I wasn't going to cook this weekend b/c I have lots of projects (that I'll be sure to share with you soon) in the works and I'm just running myself into the ground these days. Anywho, I happened to be on FoodNetwork this weekend and saw a couple casserole and savory pie dishes listed for St. Patrick's Day. I had forgotten it was St. Patrick's Day (and I forgot to wear green today), but the photos reminded me of one of my favorite 30 Minute Meals: Shepherd's Pie by Rachael Ray.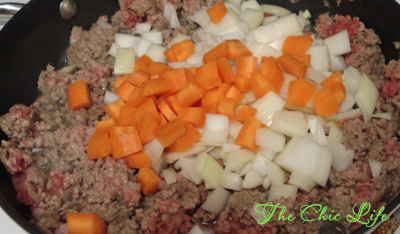 I had Shepherd's Pie for the first time just a couple years ago in Orlando, FL. It was my birthday, but I was on a project with my company – a week-long trip for a premliminary evaluation of a company's test scripts (yes, my geekiness slips out now and again). My two co-workers with me on the trip had been on a couple other projects together before and were pretty close, while I was the "newbie." On my b-day night, they were meeting up with a friend they used to work with who now lived in FL, and they let me tag along…thank goodness b/c who wants to be alone on their b-day?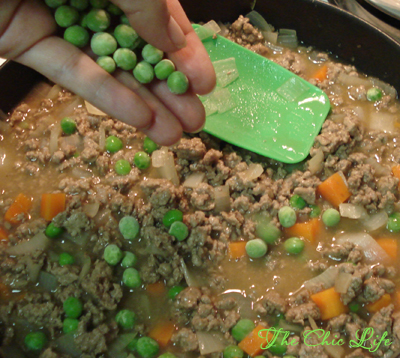 I was hoping they'd want to go somewhere I wanted to go since it was my birthday, but I was truly just tagging along for the ride. Their friend had already suggested meeting up an an English pub off I-drive. An English pub? I'd never eaten at such a place before and I don't much care for beer but I figured I'd make the best of it and have a good time anyways.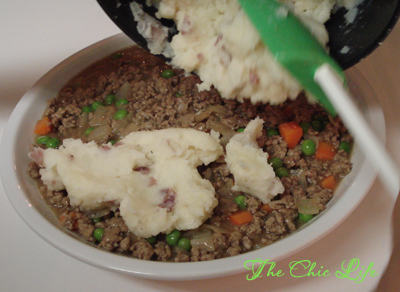 I stared at the menu blankly for some time, but narrowed it down between two meat dishes…one being Shepherd's Pie (the other I forgot). Whenever I'm torn between two options at a restaurant, I always ask the waiter which one they think is better…even if I've had both before, which was certainly not the case tonight. Anywho, the waiter strongly suggested Shepherd's Pie so I went with his suggestion. Of course, clueless little me didn't know what to order for a drink next. I tried to talk to the waiter about beers but without knowing much about them, I couldn't explain much.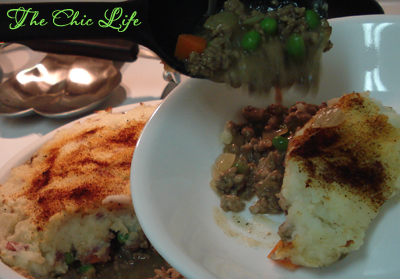 Perhaps he could sense it was my birthday that night or he was just being nice but without me even asking, the next thing I know he's brought a beer sampler to the table for me and for free – like 4 or 5 beers in mini glasses for me to try. I couldn't believe it…I mean that's customer service, right? Anywho, I figured out that night that I like light beers and I figured out that I like Stella and another light beer that has a long name – it starts with a 'B' and comes from England…Bodington or something? I should have written it down. Anywho, so the pie comes out and it's one of the best things I've ever eaten. Why had I not heard of this before, I wondered? It's like, what's not to like? Meat – good. Potatoes – good. Veggies – good. Gravy – good.
Shepherd's Pie – Good! I don't think it's a true Irish dish, but I read online it was Irish-American? Works for me – we enjoyed it either way!
Happy St. Patricks Day everyone!