Finally! My masquerade party post it up! Sorry it's taken me a couple days to get this to you. I considered throwing up a bunch of photos from the evening that night (since we got home pretty late), but it was too special an event to not give it more time. On Friday we celebrated…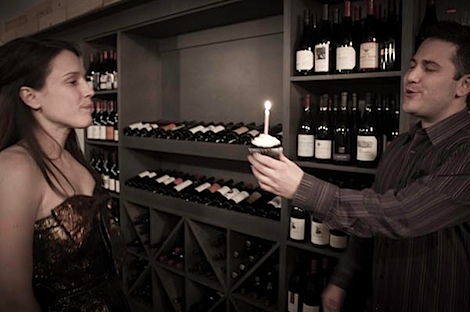 Nicole's birthday! Not just any birthday, but her 30th! 🙂
***
But first let's back up a bit…
I wanted to cheat on Eat In Month so badly on Friday because I was busy at work all day, rushed to Zumba, and then rushed home to get ready for Nicole's big b-day bash. I only had about 45 minutes to get ready and cook & eat dinner. Yikes!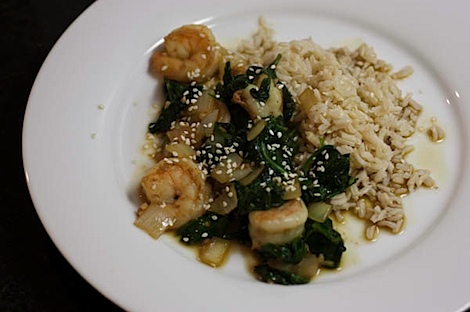 It would have been so much easier to just pick up take-out, but I ended up trying to cook the fastest things I could think of – shrimp and spinach. Luckily, the brown rice was already cooked. Anywho, I did a quick saute with soy sauce.
Then, it was time to put on a one-shoulder little black dress (LBD) and some 4 (ok, maybe 5?) inch booties. It was party time!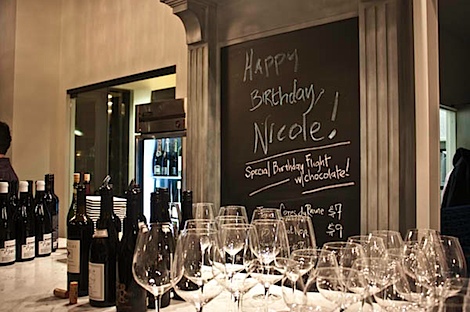 We headed out to the very new, very swanky wine and chocolate tasting room – Petit Philippe.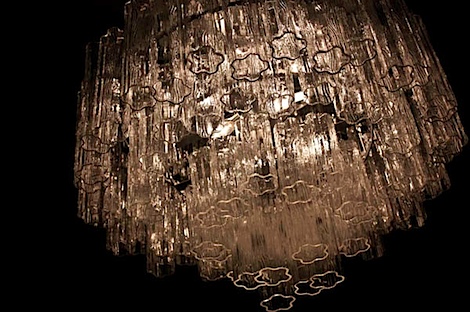 I gotta do my obligatory chandelier photo for you all. 😉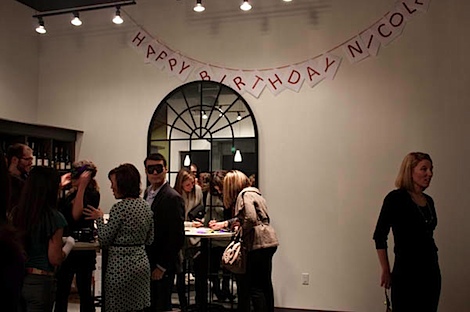 Anywho, you may or may not know Nicole is a huge fan of Gossip Girl. SO…what better than a masquerade party for the perfect 30th celebration? Isaac (Nicole's SO) and Caitlin did a fab job of planning Nicole's masquerade-themed party.
We all got there early and surprised Nicole who had no idea we'd all be waiting to party with her. Once they got to the tasting room, the party got started.
Petit Philippe was featuring a special 4-tasting wine flight with paired chocolates. I decided this wouldn't really be cheating on Eat In Month and went for the flight. You guys know I love a good sampling.
I wish I would have written down all the wine and chocolate flavors, because they were all wonderful. Not only that, but they were perfectly paired! The flavors of each really played off of each other nicely.
The first tasting was a sparkling wine called Emotion (this one didn't have a chocolate pairing).
Swirl it!
The second wine was Roco.
The third tasting was Qupe Syrah…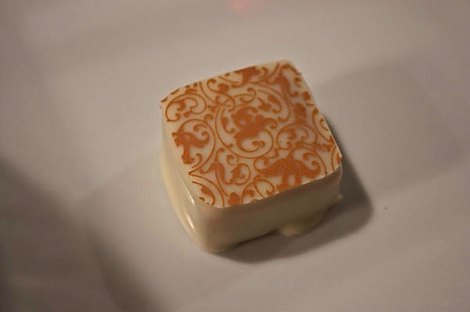 …with some white chocolate with a gorgeous pattern on top.
And the fourth and final pairing was Valentino with blood orange chocolate.
YUM!
May I have that wine flight again soon? I loved it!
Also, I had the pleasure of talking to the very friendly owners of Petit Philippe – Mark and Casey – and found out we have similar eating styles. They are healthy and local eaters. Woohoo! 🙂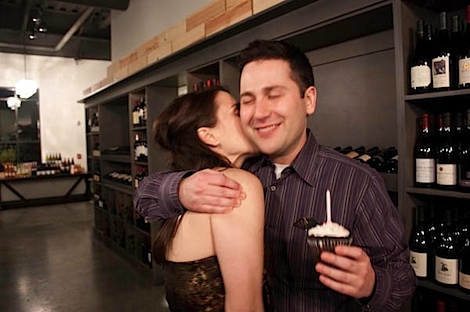 A huge Happy Birthday to Nicole! (aren't Nicole & Isaac adorable guys??)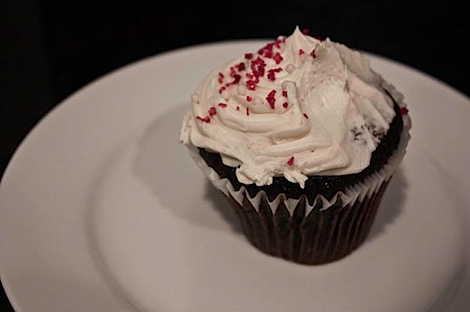 After being asked a couple times if I wanted to take a vegan cupcake home (they soooo had to twist my arm 😉 ), I caved. The cupcake made it (mostly) home with the exception of some icing I licked off on the way. hehe
And we even got a bottle of my fave wine Roco to take home and enjoy another day!
***
I have to admit, I haven't been watching Gossip Girl. I love the show when it's on, but I'm terrible at watching TV series because I always forget when it's on. I get the feeling I need to rent all the previous seasons on DVD and catch up!
Do you watch Gossip Girl? Who's your favorite character?