I woke up on Saturday feeling less nervous and more excited about hosting our first Thanksgiving…thank goodness. I think it was the realization that despite what happened, even if we had a turkey disaster, that we were more happy to just all be together as a family to celebrate. And that we could always (probably?) purchase something pre-cooked to replace anything that had an unexpected (and inedible) outcome.
I also knew my overall strategy was to keep things simple, which I hoped would increase our chances of a successful Thanksgiving. We had plans to make basic sides and definitely welcomed the help our families offered.
We planned to make/get:
the turkey (yikes!)
mashed potatoes
stuffing
pumpkin pie
veggie tray
rolls
My family was in charge of:
another dessert
salad (from their garden)
green beans (from their garden)
cranberry sauce
cheese & crackers
And hubby's family was bringing:
my MIL's famous "dry dressing" (addictive stuff!)
wine
I had to teach Zumba in the morning, so that took away some prep time, but I tried to make up for it the night before.
Just before leaving for class, I did manage to take care of a couple final details, like organizing more serving dishes and labeling the ones on the table.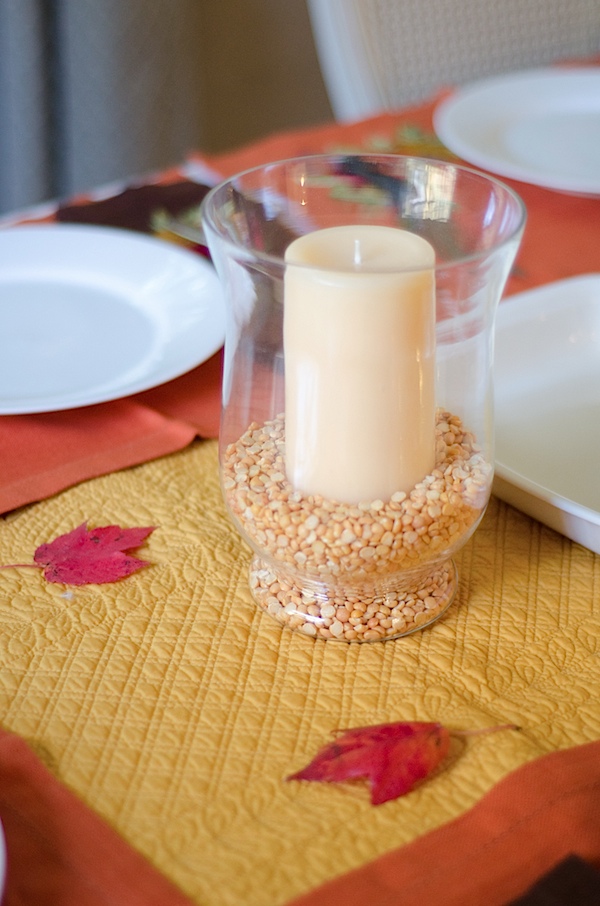 While I was at class, hubby picked up the turkey and last minute groceries. We ordered our turkey from Whole Foods last weekend and got the pre-brined one, which was great because it came ready to cook. No defrosting necessary! He also got some orange lentils, which we used for table decorations.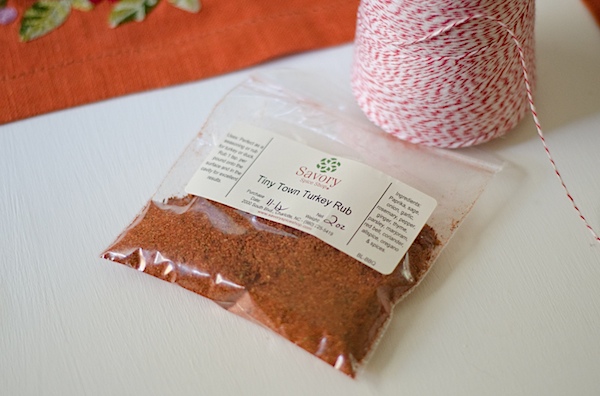 And luckily for me, my family arrived right after noon to help me with Thanksgiving prep. Seriously, it would have been so much more difficult without them. There was a lot of "Mom, how do you…?", "what do I do with this?", and "I put that where?" Sis laughingly reminded me to remove the organs from the cavity, which was a nod to the year my mom accidentally baked the whole turkey with them still inside. The turkey tasted fine, but it did give us a good giggle.
I used this Tiny Town Turkey Rub from Savory Spice Shop on the bird. I read about it on the spice shop's Facebook wall and decided it would be an fun experiment. I accidentally rubbed it all over the outside of the turkey (and inside the cavity) before learning that it was actually supposed to go under the skin. Oops. We decided to just roll with it. Because we were all planning to grab lunch immediately after getting the turkey in the oven, we decided to make the stuffing in a separate dish, so I stuffed the bird with an onion and two stalks of celery. And we couldn't get the wings to tuck under the turkey, so we tied them down with some kitchen twine.
I asked mom about if she wanted to try baking the turkey upside down thanks to your turkey tips on my Facebook post, but she said just to bake it right side up. Mom is always right, right? We also considered going ahead and doing a foil tent to start, but dad said that the turkey sometimes won't brown that way, even if you remove it near the end of the cook time. We decided to go sans foil tent with plans to add it if the turkey got brown enough but still required time to cook.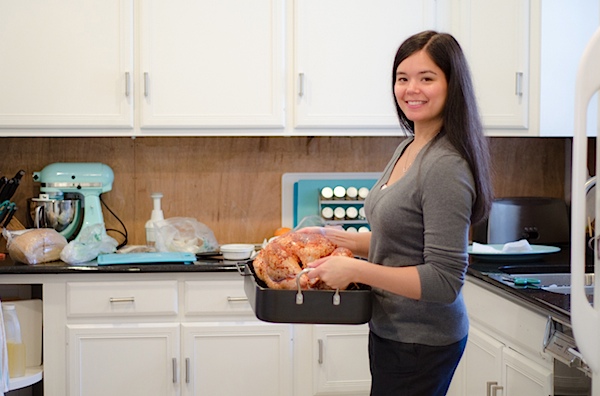 After getting the turkey in the oven, we headed out for a quick and light lunch at Jason's Deli. After lunch, we came back to baste the turkey and check on it, but there were hardly any drippings. So, we brushed olive oil all over instead. Thanks to a quick google search, I estimated that our 14 pound turkey would take approximately 5 hours to cook.
And since I knew from my rough timeline that we didn't need to start prepping any other food, we decided to take a quick shopping trip. Sis wanted a light fall coat, so we went to The Clothes Mentor to see if she could find something cute. And did she. She not only found a coat, she found a couple sweaters and a couple tops. I even almost bought a pair of shoes.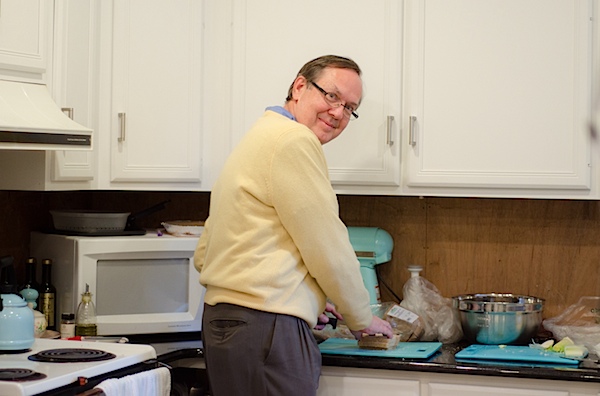 After our successful shopping trip, we headed back for final preparations. We were also joined by hubby's mom and brother.
Dad made his famous stuffing and everyone chipped in to help get things together.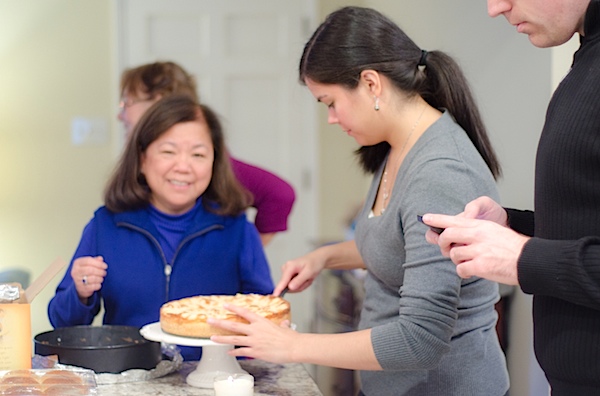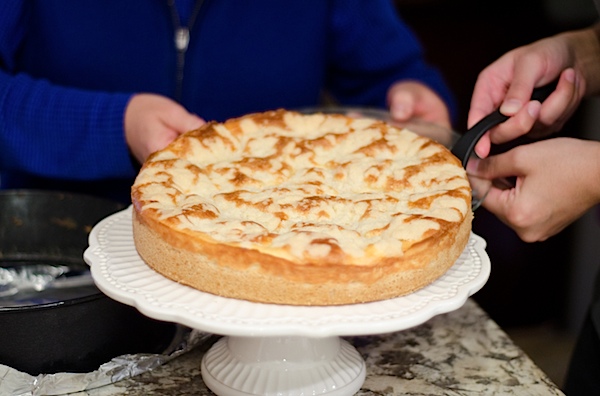 Mom brought a cheese cake coffee cake dessert.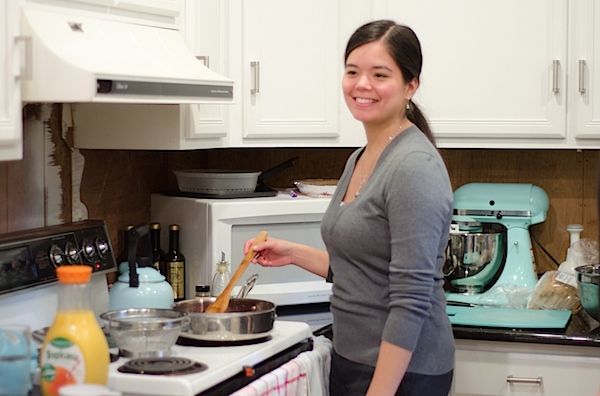 Sis made from-scratch cranberry sauce, a new tradition for our family. We ate the canned stuff for years and years until Sis learned how easy it was to make from fresh cranberries.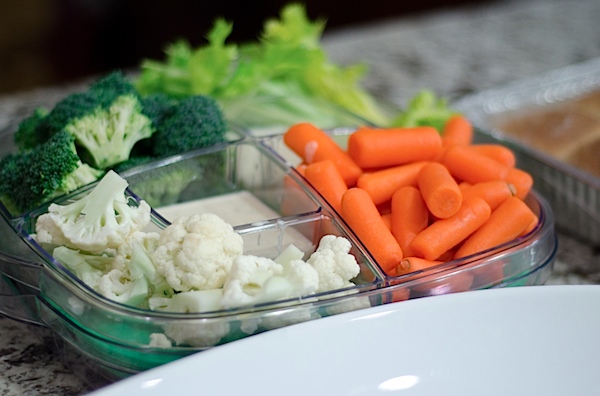 We had simple appetizers out for people to snack on – a veggie tray…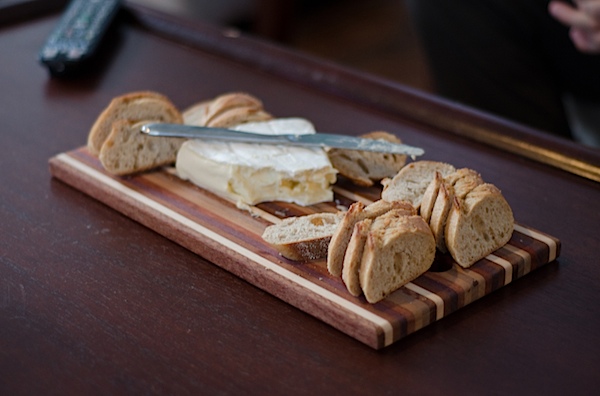 …and brie with crackers and baguette.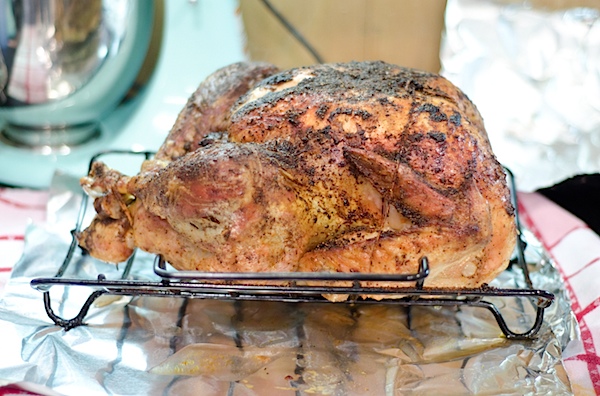 And as we were wrapping up the other food prep, we checked the turkey. It was done and looking pretty good, no foil tent needed!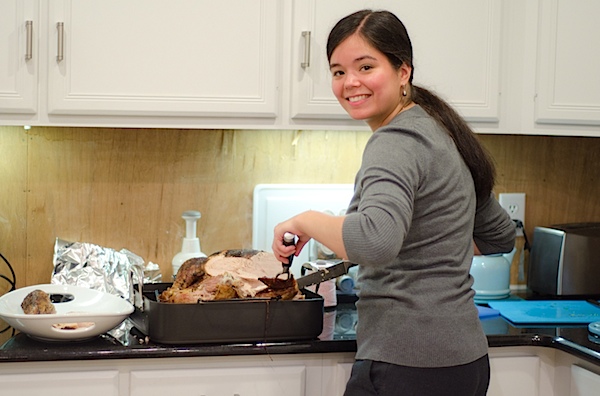 And you'll never guess who offered to carve the turkey. My sister did!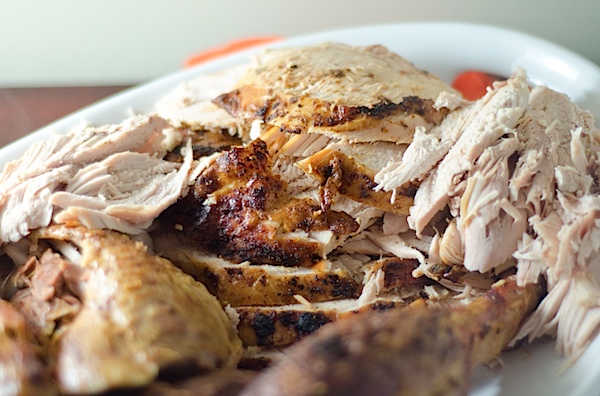 She did a pretty awesome job, too.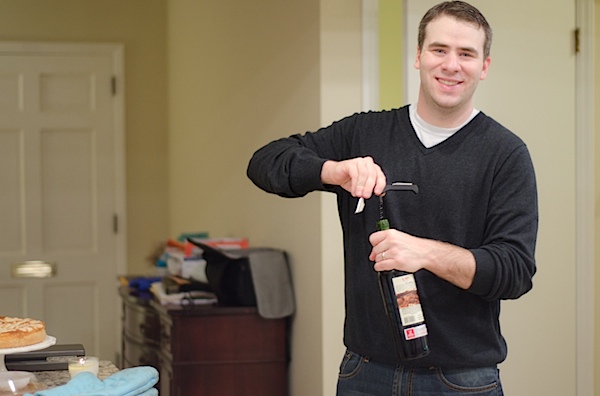 Hubby made sure everyone had their drink of choice.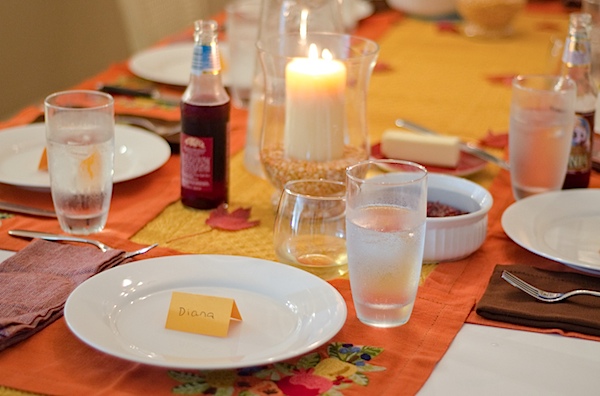 And the table was ready to receive the eats. All we had to do was serve.
***
Side note: I tried to narrow down my over 200 photos to a number small enough to fit into one post, but I still picked out 32. Since thirty plus photos seemed excessive for one post, I broke them into two posts for easier reading.
Stay tuned for past 2 – the feast!
Reader question: What's your Thanksgiving strategy? Do you stick to the classics, keep things simple, go crazy, experiment, or maybe a combination?