I haven't been doing so hot with breakfast lately. I remember when I didn't eat breakfast at all, just a few years ago. This was before I decided to take a healthier, non-restrictive approach to eating. Breakfast became an important meal of the day, and I never missed it. But, lately, it seems like I'm trying to take on too many projects, and they end up spilling into late night or early morning when I should be focusing on other things. I've done a decent job at eating something, but that something is usually smaller and less nutritious than I'd prefer. Grab and go eats have become my friends. I've found myself reaching for granola bars and yogurts when I'd rather have something hot, cooked, and more substantial. They're better than nothing, but I really think I need to re-prioritize. And maybe make a no-work in the morning rule. And maybe wake up earlier. Yea, something like that.
I managed to make a new, spiced egg bake for breakfast yesterday, which I had with a whole grain English muffin. That was fab. Today…not so much. Maybe I'll grab a smoothie?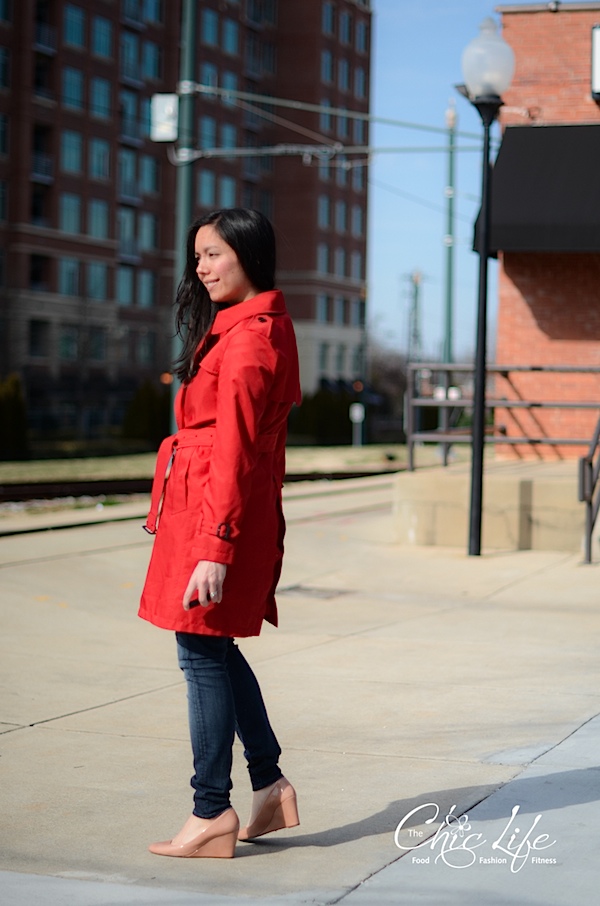 I'm planning to post more details about the Green Jeans Consignment sale I recently participated in – how I did with my consignment items, etc. But, for now, here's an outfit with one of the items I scored – a new-to-me, red trench coat.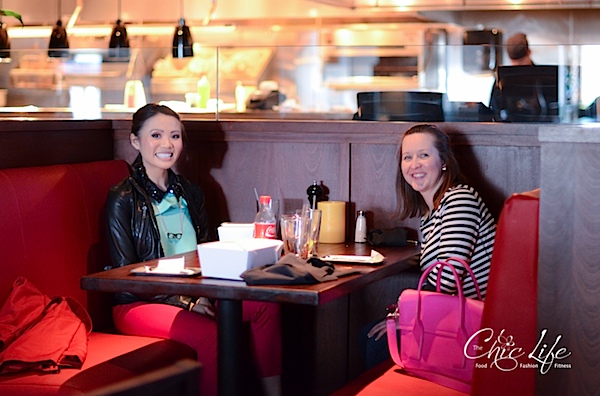 I wore this outfit to meet my friends Dion and Jenn for lunch at 131 Main. The restaurant has finally reopened after having been closed for the last several months (or was it longer?).
Can you see my coat in the above photo? It's the same color as the booth! lol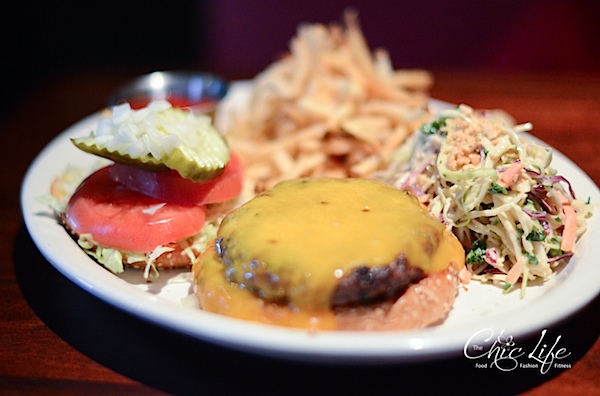 We met for brunch, but it appeared they were using a dinner menu for Sunday brunch (just a guess since I didn't see many breakfast-like options). Luckily, we met pretty late for brunch, so I opted for a lunch option – the cheeseburger. The burger was so big, I couldn't finish it. Loved the smokey flavor and the crispy, skinny fries and that cole slaw. I also kept eyeing the veggie burger Dion got. It looked great! And, I'm seriously going to have to try the dish Jenn got next time – the beef and noodle salad.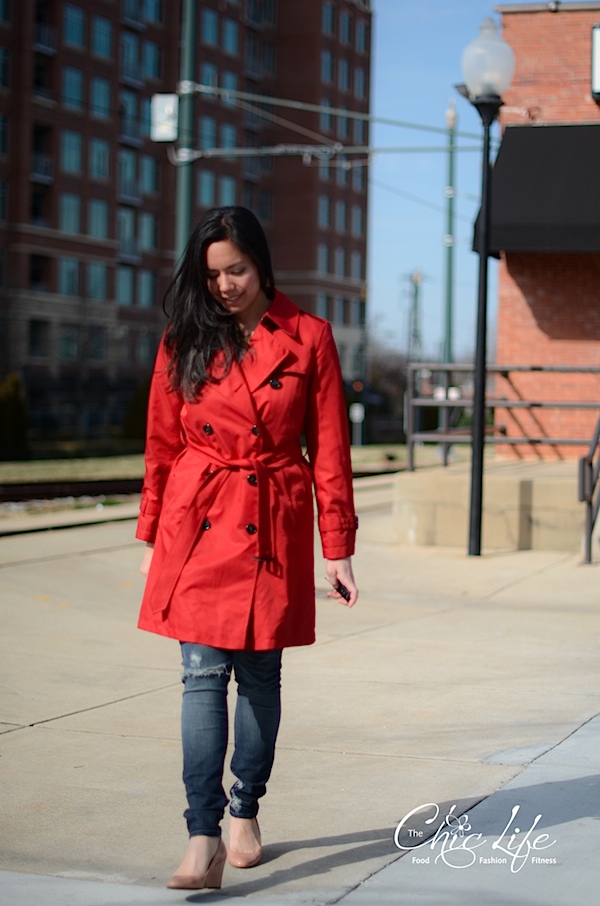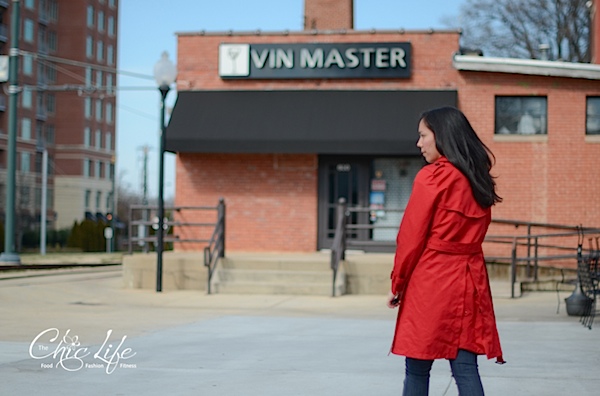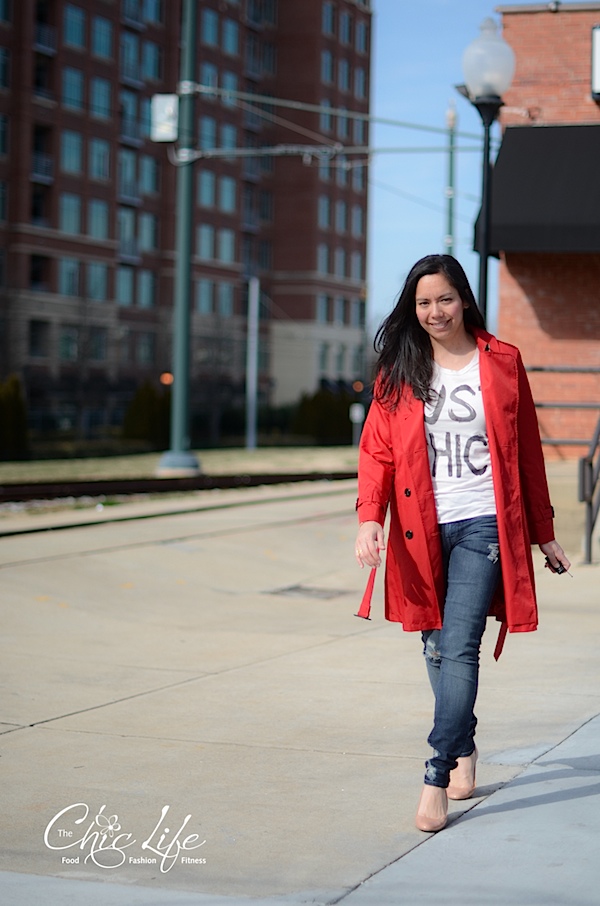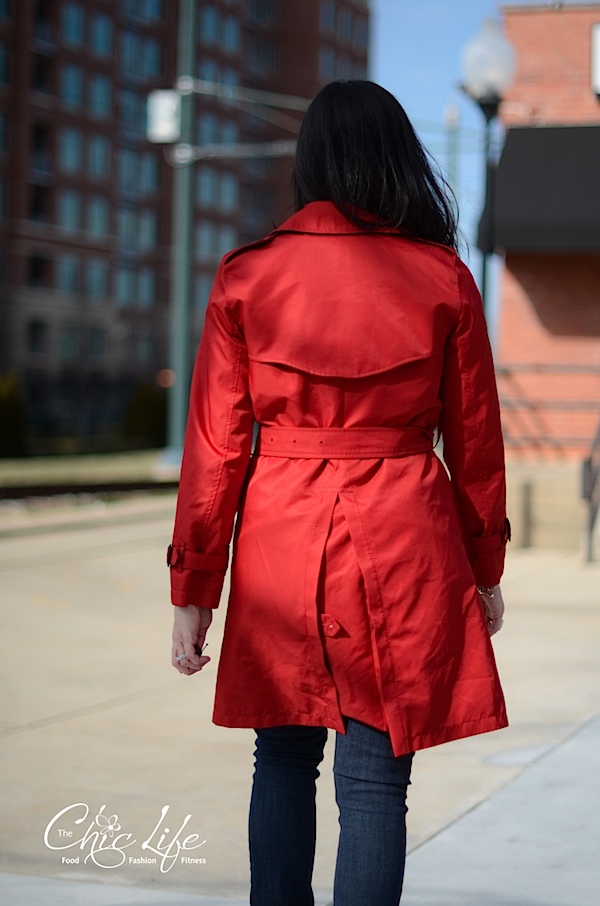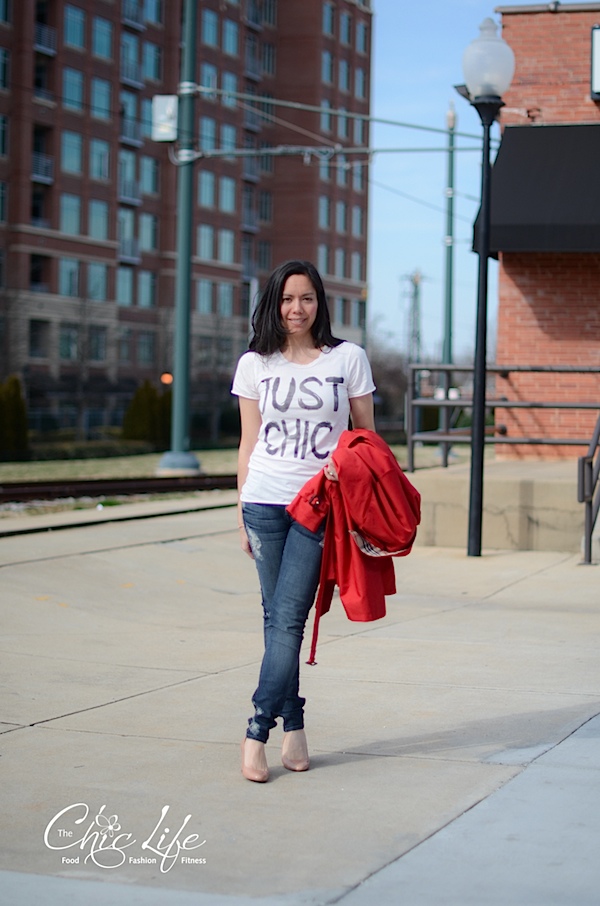 I really wanted the jacket to stand out in this first outfit pairing, so I kept all the other items pretty simple – nude-toned shoes, simple t-shirt, and basic skinny jeans with a destroyed finish for a little more personality.
Outfit details:
Red trench coat: Burberry (purchased at the Green Jeans Consignment Sale)
Destroyed Jeans: 7 for All Mankind (scored almost 50% off at Zappos.com – no longer available online there, though)
T-shirt: Forever 21 (gift from my friends)
Wedges: J. Crew
Bracelet: Juicy Couture
Ring: gift from family
Thanks for reading!
Reader question: Is breakfast a must-eat meal of the day for you?