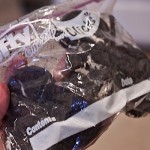 When the holidays swing around, I love to gift homemade things, but sometimes…not everyone wants that knit scarf you spent hours making. I'm not saying you shouldn't make your beloved craft gifts, I'm just saying…you know there are some people who will appreciate the hours you spent knitting and there are others who won't appreciate your gift as much. Crafty people, you feel me right?
In addition to different levels of appreciation, there's also the time factor. With many handmade gifts requiring hours of your attention, there's truly only so many handmade gifts you can make every season.
Well home-made-gift-loving-friends, I have a solution for you…
CANDY! Homemade candy, that is.
Everyone loves candy, right? Ok, if you want to get technical, not eeeeeeveryone loves candy, but I find most people do.

Anywho, this homemade candy would be a fabulous gift to give any time of year, but I'm gifting mine away for Christmas 2010.
If my pink salted caramels seemed too daunting for you, I have an even easier solution. This candy is practically no-cook. This candy is…Bark. All you really need to do to make bark is melt some chocolate and mix/sprinkle in cookies, nuts, or candy. Wait. Break. Package. Seriously…it's a no brainer. Not only is bark easy to make, but it looks fancy, too, so you'll get major brownie points for putting this simple candy together.
In this post, I'm going to show you how to make Cookies 'N Cream bark.
Cookies 'N Cream Bark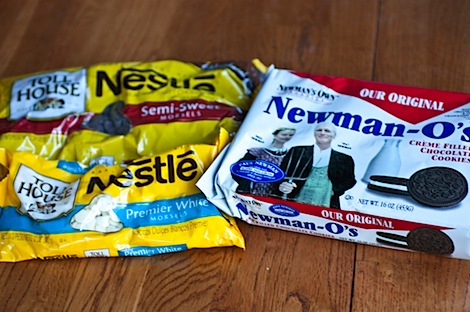 To make Cookies 'N Cream bark, you'll need white chocolate chips, semi-sweet chocolate chips, and cream-filled chocolate cookies. You can use Oreos, but I like Newman's own for the more natural ingredient list.
Ingredients:
2 small bags (11 oz each) of white chocolate chips
1 cup semi-sweet morsels
14-16 cream-filled chocolate cookies (depending on how cookie-ish you want your bark – I used 16)
wax paper
Directions:
I decided to go visual.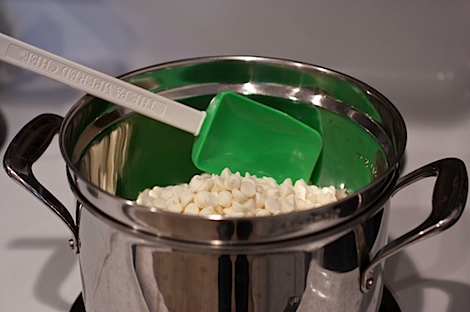 Place your white chocolate chips in a double boiler over medium (or medium low depending on your stove…just hot enough to melt the chocolate) to get the chips melting. If you don't have a double boiler (like me), use a heat safe bowl over a pot filled with roughly enough water to fill the pot 1 inch up the side. The amount of water you need will vary depending on your bowl and pot, but basically, you want enough water so it doesn't boil away but you don't want the bottom of the bowl to touch the water.
Repeat with the semi-sweet chocolate chips in a separate double-boiler (or pot set-up as described above).
If you don't have a double boiler or pot set-up, you can place the chips in separate microwave safe bowls and heat at 30 second increments, stirring between each increment, until the chocolate is melted.
(Bottom line, you're trying to melt the chocolate in two separate containers.)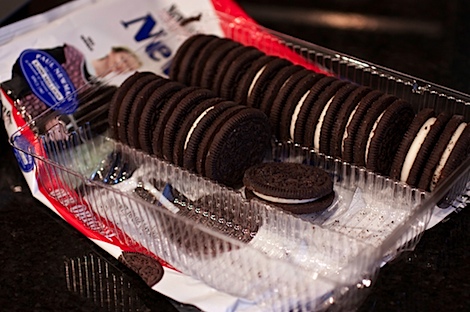 Meanwhile, get your cookies out.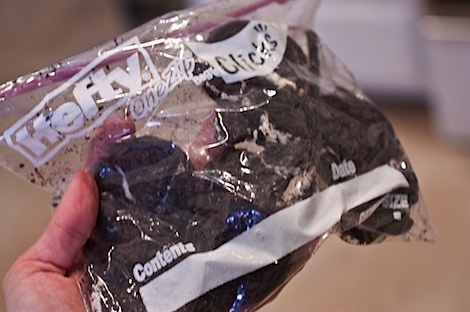 Place them in a large, sealed plastic bag (try to get the extra air out before sealing). Gently tap the cookies with a rolling pin or back of a large spoon…whatever you need to break the cookies into smaller pieces.
*Options step – Stir half your broken cookie pieces into the white chocolate before moving to the next step. Having made this now and seen a lot of the cookie pieces fall off when you just sprinkle them on top, I recommend this step, but you will not see stirred in cookies in the photos*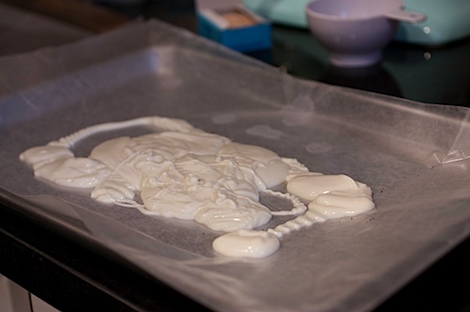 When the white chocolate is melted, pour it into a baking sheet lined with wax paper.
Note: Depending on the size of your sheets, you may need to use one or two. (I used 2)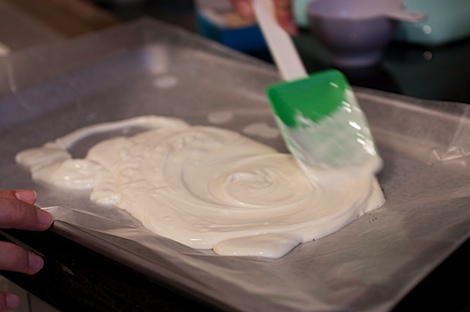 With the back of a spatula, spread the chocolate out to an even layer – about 1/4 inch high or to your thickness preference.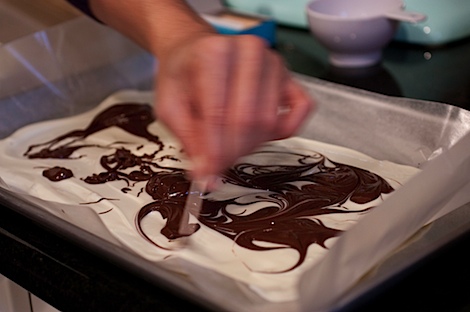 Pour the melted semi-sweet chocolate on top of the white chocolate and use a tooth pick to draw swirls in the chocolate, careful to not catch the wax paper below.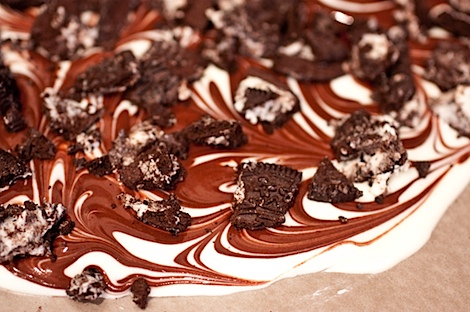 Before the chocolate sets, sprinkle broken cookies (or remaining cookie pieces if you went with the optional step above) over the chocolate and gently press into the chocolate.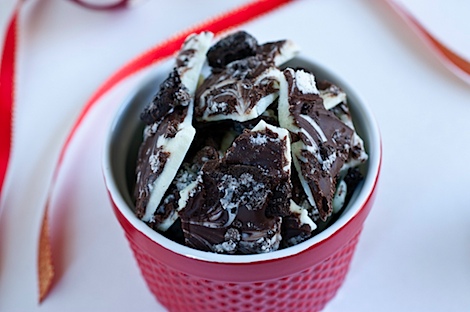 Wait at least 1 hour with bark at room temperature. When bark is set, break into small pieces.
And you're done. See…I told you that was easy.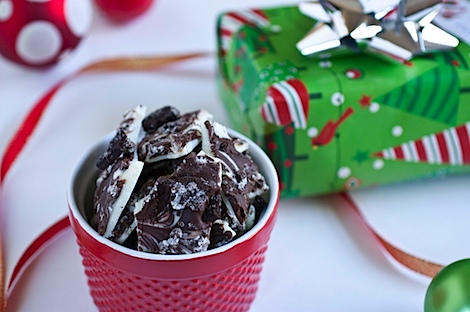 Now go ahead and do a little taste test before packaging to give to your friends and family.

You deserve it!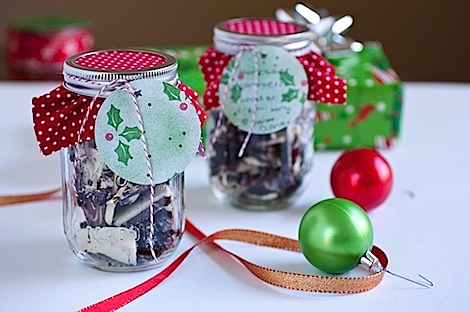 As I alluded to on my pink salted caramel post, I have a simple and beautiful packaging idea for you that I'll be sharing shortly. Stay tuned for details, but here's a photo preview for you lovely readers!
Cheers!

PS This bark is not only great for gifts, but also to serve at a dinner party or to take to pot lucks and other food-sharing parties.
I can't wait to experiment with this bark recipe and try some new flavors! What's your favorite type of bark?