When I first heard about salted caramel candies, I thought it sounded totally gross. I know people love the whole savory-sweet thing (myself included on a rare occasion), but I wasn't getting why people would put straight up salt on a piece of candy. Maple syrup on sausages…okay. But salt and basically sugar together in one bite? As it turns out, I'm a fan and making this Pink Salted Chewy Caramel Candy Recipe was pretty simple and definitely tasty!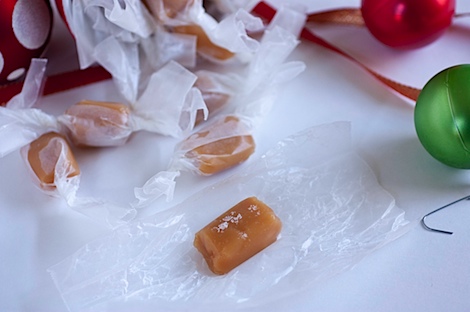 Of course, it wasn't long before I had caught on to the salted caramel trend. One bite and I was sold. Popular eats are typically not popular without reason, so I quickly caught onto what everyone was raving about. I found the strangely delicious combo of salted caramel heavenly. So unexpected…so divine.
It was no wonder that when I decided to jump into the wild world of candy making that salted caramels were my first choice.
I tried this recipe by The Kitchn and had pretty good success at my first attempt. The second however, did not go as planned, though I don't blame the recipe…I now blame my candy thermometer. See, after my second batch came out rock hard, I googled to find the reason for my botched caramel attempt. Most suggestions mentioned something about cooking too long or to too hot a temperature, but I knew I had very closely monitored my temp, so it must have been something else.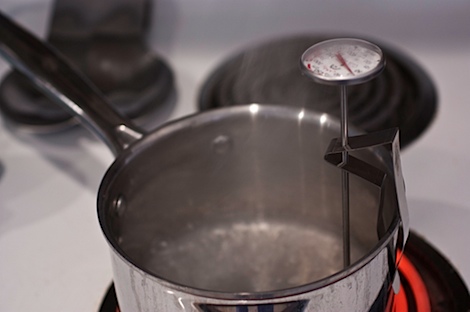 When I stumbled upon a tip to check the calibration of my thermometer, I thought it was a waste of time. But since I didn't know what else was wrong with my botched caramel making attempt from before, I decided to give it a go before trying my third batch. To my surprise, the candy thermometer I was using read 175 degrees F in boiling water while my instant read thermometer read a closer to correct 211 degrees F. No wonder my second batch came out so wrong! I can't believe I got something usable out of the first batch!
With a reliable in thermometer on hand, I decided to try out homemade caramel candies again…this time making up my own recipe based on internet research and the proportions of this recipe.
See, when I was researching, I found many instances of caramel recipes that threw all ingredients into a single pot, unlike the 2 The Kitchn recipe used. Since I'm not a fan of cleaning extra pots, I decided to go with that method. I still wanted to keep the size to something I could put in an 8×8 casserole dish, thus the proportions I utilized. I also found differences in final cooking temperature, but most varied between 245 and 250. I decided to play it safe and stick with 245 so I didn't experience slab-o-caramel again. The recipes varied quite a bit with types of creams, fats, and sugars, but I decided to stick with the ingredients that seemed most traditional and simple. After all my research, I was extra comfortable embarking on a third caramel candy making adventure. 🙂
Here's what I did…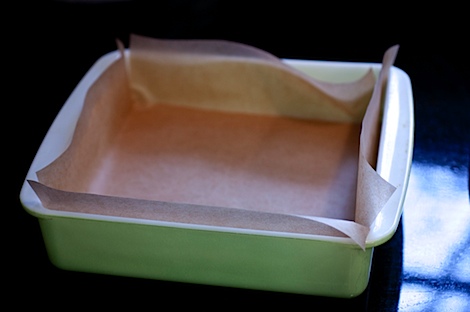 I lined my 8×8 dish with parchment paper. Be sure to line up both sides using 2 sheets of parchment. If you don't (and I made this mistake on my first attempt), the caramel will be extremely difficult to remove from the sides of the pan. Don't skip this step.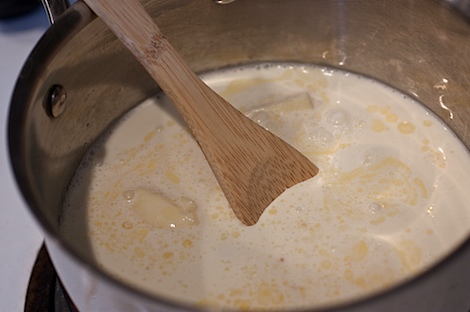 This recipe is simplified to allow you to put all ingredients into a pot at the same time.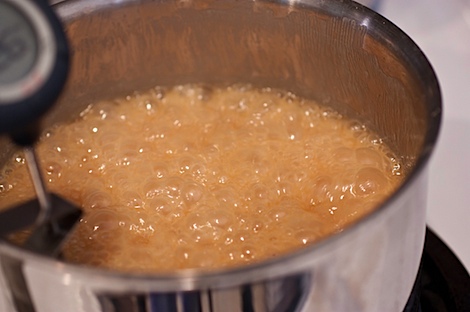 When the mixture boils, it will rise quite a bit. Use a pot that is at least 2 times as large as your liquids, but more like 3 will be safer. The temperature will most likely waver around 222 for quite some time, but I found when it started raising in temperature, especially closer to the end of the cooking time, the temperature jumped faster and faster! Watch your candy thermometer!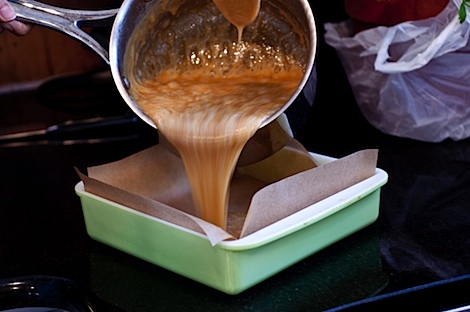 Once the mixture reaches 245 degrees F (using your calibrated thermometer), remove from heat, stir in vanilla. Then, pour into your baking dish. Cross fingers and hope for the best.
Let it rest at room temperature for 3 hours.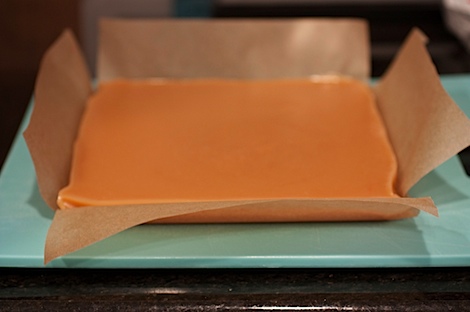 After patiently waiting, remove your caramel candy from the baking dish and cut into small pieces. Most recipes recommended 1 inch pieces, but I found a slightly smaller cut to be easier to eat and yields more servings.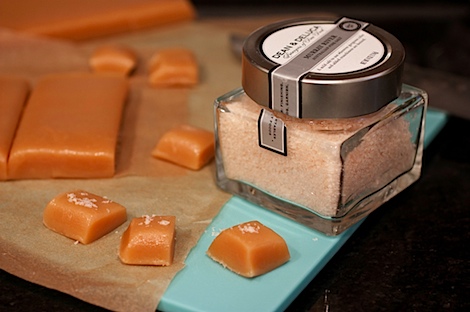 I used pink salt because I thought it looked the prettiest. It also reminded me a bit of the candy I reviewed from Theo awhile back. But you can use almost any salt you want, just be careful of the flavored ones. Dean and Deluca had quite a few options but most grocery stores will at least have a coarse fleur-de-sel type of salt, which is what you want (not table salt).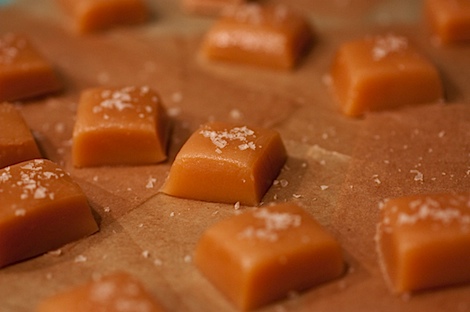 Sprinkle the tops of the caramel with a bit of salt and press salt gently into the tops.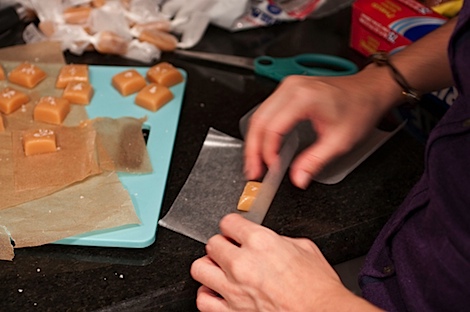 You can put the candies into individual paper cups or wrap them in small pieces of wax paper.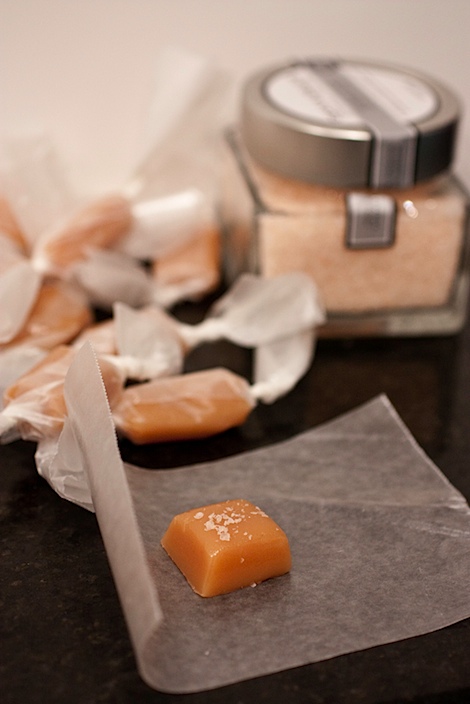 I liked the wax paper because it was easier to package.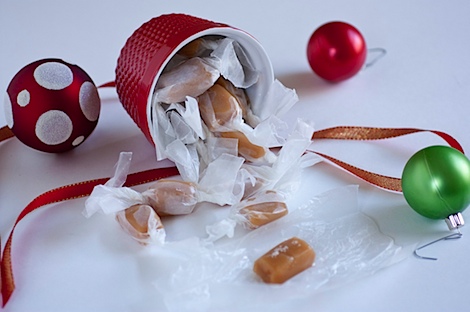 Print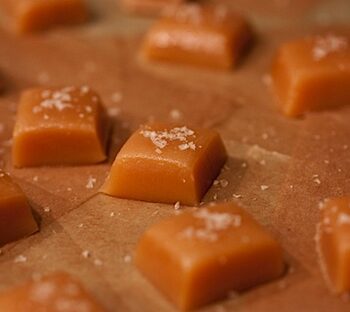 Pink Salted Chewy Caramel Candy Recipe
Author:

Category:

Dessert
---
Description
These chewy caramels are easy and a great first-candy-making experience. They also make a great gift. Wow your friends by using a fancy salt and labeling your candy so it sounds extra chic. Inspired by this recipe by Live Laugh Eat who adapted it from this recipe.
See photos and notes above for some helpful tips.
*Vegetarian*
---
2 cups

heavy cream

1 cup

sugar

1 cup

brown sugar

1/2 cup

corn syrup

1/2 cup

butter (

1

stick) cut into 1 tbsp pieces

1/4 tsp

table salt

1/2 tsp

vanilla
coarse salt like pink salt or fleur-de-sel for topping caramels
---
Instructions
Prepare an 8×8 casserole dish with parchment paper, ensuring to cover up the sides of all 4 sides (see photo above), using 2 sheets of parchment paper criss-crossed.
Combine the first 7 ingredients (heavy cream through table salt) in a medium pot (should be about 2 to 3 times as large as your total ingredients because the mixture will grow as you cook it). Insert candy thermometer into mixture (I believe you want to avoid allowing the tip of the thermometer from touching the bottom of the pot). Turn heat to medium high and bring to a boil, stirring frequently to ensure sugar crystals dissolve completely.
Once mixture reaches a boil, turn heat down to medium and do not stir any further. Instead, use handle to gently swirl mixture in pot occasionally. Cook mixture until it reaches 245 degrees F (roughly 20-30 minutes, but it will depend on your stove heat and vary quite a bit). Monitor your temperature closely, especially towards the end of cooking.
Once the mixture reaches 245 degrees F, remove the pot from heat, gently stir in the vanilla and then pour mixture into your prepared baking dish.
Cool at room temperature for 3 hours or until set.
Cut into small pieces (I cut mine into just under 1 inch pieces, about 2/3 inch – I eye-balled the sizes).
Sprinkle tops of caramels with pink salt of fleur de sel. Gently press salt into the tops of the caramels.
Place candies into individual paper cups or wrap in small pieces of wax paper.
Enjoy!
---
Notes
Be sure to read the blog post and check out the photos for additional tips.
Recipe Card powered by
Handmade caramels make a wonderful gift any time of year!
***
Pinterest review: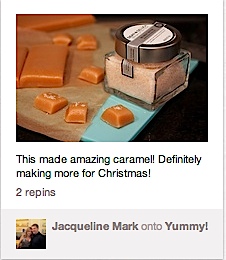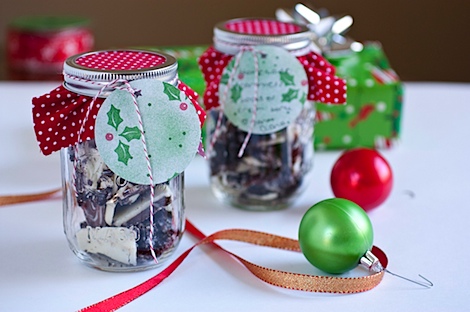 Check out my Cookies 'n Cream Bark Recipe and a fun holiday packaging idea with mason jars! Hope you enjoy the Pink Salted Chewy Caramel Candy Recipe.
Do you like salted caramels? Any other savory-sweet combos?
Here's a shareable graphic for your Pinterest!