When I was a little girl, whenever we went to pot luck get-togethers, I always loved my mom's meatballs. They were delicious, but most importantly to this sugar-aholic, they were sweet. They were my first savory-sweet food love. Years later, I asked my mom to make meatballs for a get-together, and she wasn't sure exactly which meatball recipe I was talking about. I asked for the "sweet one", and she asked if I was talking about the "jelly-meatballs." Jelly meatballs? That was crazy talk. Surely she remembered the ones she made over and over seemingly every time. And surely they weren't made with flippin grape jelly! After going back and forth, I was horrified to learn that the meatballs I so loved were, in fact, made with jelly. Grape jelly? How was it possible that grape jelly could be mixed with meatballs to be edible let alone delicious? I didn't understand it. I wanted to fight it. But, as it turns out, some things are better off not fighting. Sometimes things that shouldn't go together do to create something wonderful. And that's ok.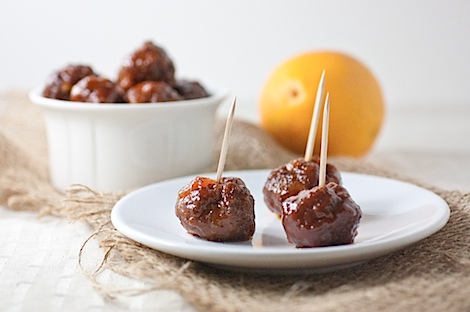 Recently, I decided to do a play on the famous grape jelly meatball recipe.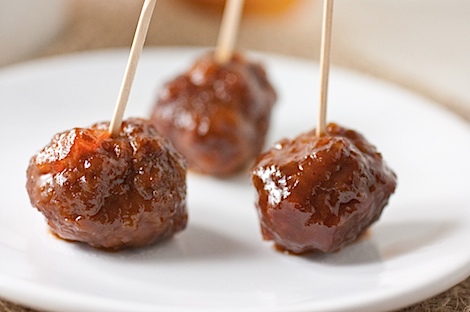 The main ingredients of the original recipe are grape jelly, meatballs, and …wait for it…chili sauce.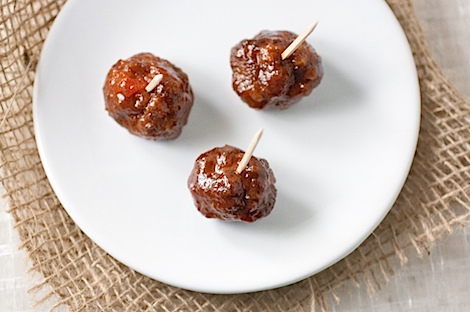 I know. Random! But, hey, it works.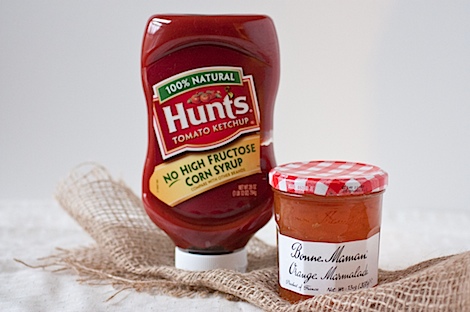 Anywho, I wanted to do something similar (still using jelly), but with a new flavor twist. I decided on using orange marmalade for a tangy twist on this pot luck classic to make a Slow Cooker Meatballs with Orange Marmalade Recipe.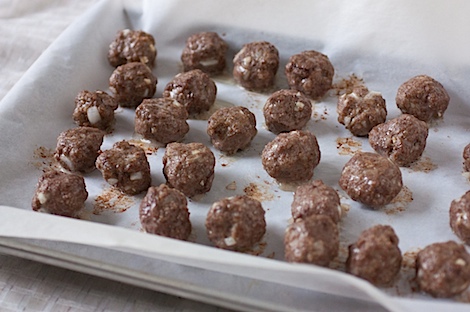 I also decided, since I had the time, to make the meatballs from scratch, but you can use frozen ones if you're short on time.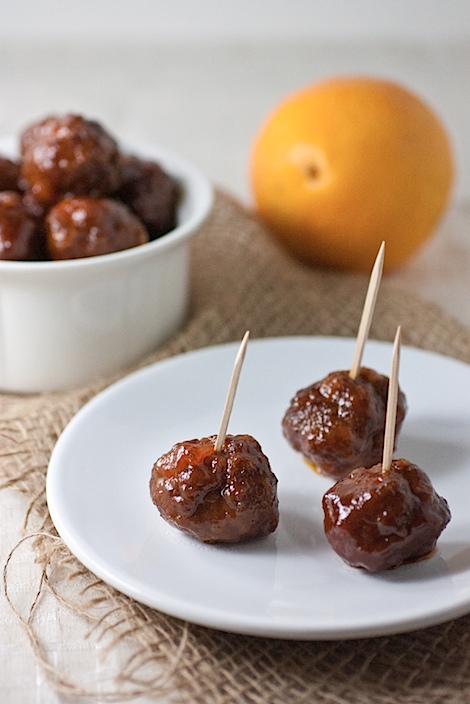 The result – a sweet meatball 10 year old me would have loved.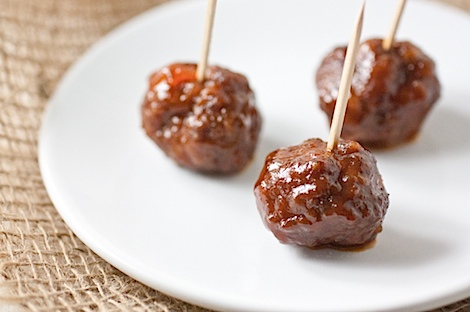 This Slow Cooker Meatballs with Orange Marmalade Recipe would be great to make when you're entertaining or if you need to take something to a pot luck. They're a great appetizer but could also work well for a more tapas or small-bite kinda meal.
Slow Cooker Meatballs with Orange Marmalade Recipe
This recipe is a fun twist on the classic grape-jelly meatball recipe that most people have had at one pot luck or another. The orange marmalade gives the meatballs a lovely tangy flavor that still keeps the sweetness of the original version. And if you're short on time, don't worry about making the meatballs, just buy some frozen (and check out the alternate preparation directions below the recipe).
Author:
Diana of thechiclife.com
Ingredients
1 pound ground beef
½ cup plain bread crumbs
¼ cup finely chopped onion
1 egg, lightly beaten
1 clove garlic
1 teaspoon kosher salt
¼ teaspoon fresh ground pepper
1 13-ounce jar orange marmalade (I used Bonne Maman, which is very tangy - use brand of choice)
½ cup ketchup
1 teaspoon soy sauce
¼ teaspoon fresh ground pepper
non-stick spray
Instructions
Pre-heat oven to 350 degrees F. Prepare a baking sheet with parchment paper (or non-stick spray/aluminum foil)
Combine beef, bread crumbs, onion, egg, garlic, salt and pepper. Using your hands mix until evenly combined, but try to not overmix. Form into 1 inch meatballs and place prepared baking sheet (use non-stick spray or parchment paper). Bake 10 minutes, turn, bake 10 additional minutes.
In a large bowl, add marmalade, ketchup, soy sauce, and pepper. Stir till mixed well.
Prepare slow cooker with non-stick spray. Add baked meatballs and sauce. Stir to coat meatballs. Cook on high one hour.
Alternate Directions for frozen meatballs
Add frozen meatballs (no need to defrost!) to the slow cooker with the sauce from Step #3 above. Cook till meat is completely cooked/warmed through - on high for about 2 hours or low for about 6.
Notes
Note: 1 hour (cook time in slow cooker for from-scratch meatballs) / 2 hours (cook time in slow cooker for frozen meatballs).



Note: Save prep time by using frozen meatballs, but do note - they will take longer to cook.
What do you think of jelly meatballs? Love them or hate them?
PS Who's ready for the 3rd annual Eat in Month? It's headed your way…tomorrow! 🙂
15