Get some cocoa powder, coconut milk, and other milk of choice on your way home from work/school/etc. because you're going to want to celebrate…
National Hot Chocolate Day!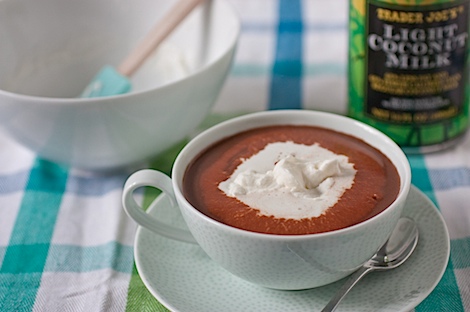 I heard about the holiday on twitter earlier and decided to whip up something for the special event. I actually tried googling to learn more about the holiday, but as it turns out (like it does with many of these food or at least lesser-known holidays) there are multiple National Hot Chocolate Days. But who needs a legit holiday to celebrate something as simple as hot chocolate, right?
That's what I'm going with…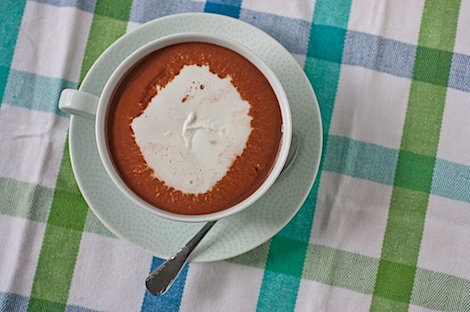 WIth my newly-found excuse to make hot chocolate, I decided to work up a recipe for something else inspired by twitter – coconut milk hot chocolate. I tried this once a year or so ago when I heard a twitter friend mention it on a particularly cold and dreary day, except I used 100% coconut milk for the recipe. As it turns out, too much of a good thing really can be…well, not so good. The full-coconut milk hot chocolate was just so-so. I found it to be too thick and rich (perhaps because I was using the canned version instead of the carton type?).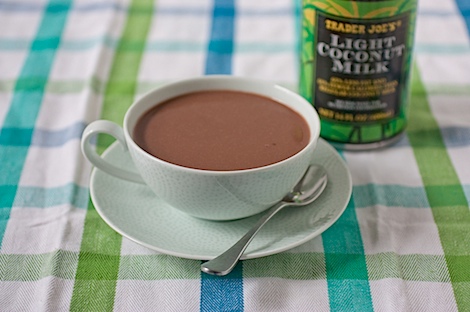 Lesson learned. This time, I followed my trick for making oatmeal with coconut milk – I went 50% coconut milk and 50% something else. When I make oatmeal, the other 50% is usually water. Today, for the hot cocoa, I decided to use some rice milk.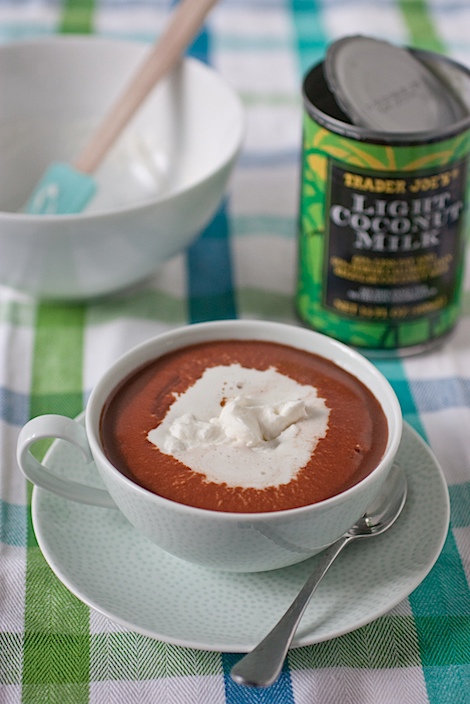 And since I was feeling really festive, I also whipped up (literally) some whipped cream for the top. Mmm…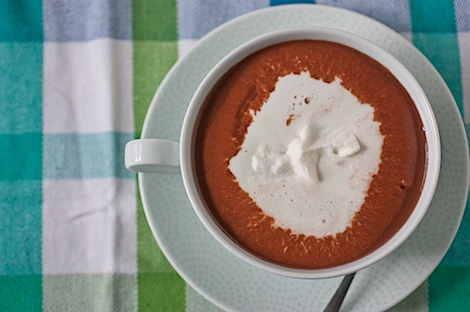 Coconut Milk Hot Chocolate
It doesn't have to be National Hot Chocolate Day for you to enjoy this cozy drink. Coconut Milk Hot Chocolate yields a tasty twist on this classic dessert beverage. As for making the drink from scratch…For most of my life I used packaged hot chocolate mixes to make hot chocolate, but from-scratch really takes very little additional effort. I made mine stovetop, but you could easily adjust the recipe to make it quicker in the microwave. Oh, and if you're feeling particularly lazy, you can try skipping the step of mixing the cocoa powder in a separate bowl by putting it straight in the pot…however, I find that usually creates lumps making the extra step useful. And I only used 2 teaspoons of cocoa powder, which I thought tasted plenty rich, true chocoholics may want to add 1-2 additional teaspoons.
Time: 15 minutes
Serves: 1 (but you can easily multiply for fellow chocoholics)
*Vegetarian, Vegan if you use vegan milks and whipped cream*
Ingredients:
1/2 cup coconut milk (canned), or sub carton version for a lighter flavor or sub other milk of choice if you really want
1/2 cup rice milk, plus 1-2 tablespoons (or sub other milk of choice, but please read above story before using coconut here, too)
2 rounded teaspoons unsweetened cocoa powder
sweetener of choice, to taste (I used about 1 teaspoon of agave syrup)
whipped cream, optional, for serving
Directions:
Place coconut milk and 1/2 cup rice milk in a small pot over medium low heat.
Meanwhile, place cocoa powder and extra tablespoon of rice milk in a small bowl. Whisk until a paste/thick mixture forms and powder is absorbed. Add additional tablespoon of rice milk, if needed.
Whisk cocoa mixture into milk mixture. Heat till hot but not boiling.
Pour into a mug and top with whipped cream, if using.
Serve and enjoy once the drink is cool enough to safely drink.
***
Pinspiration: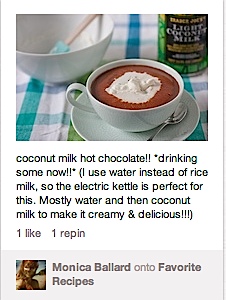 Pin by Monica with a tip about using water instead of rice milk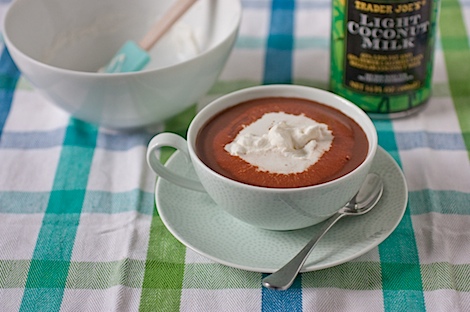 Enjoy!
***
PS: It's the last day of Eat in Month! Gotta admit…I can't wait to eat out again! lol
***
Reader question: Are you celebrating National Hot Chocolate Day today? Do you prefer "regular" hot chocolate or a particular flavor?