Is Christmas hitting your town, too? Every day, I see a new neighbor with an assortment of lights up in their yard or a wrapped Christmas tree tied to the top of a car on the way home to be decorated. We haven't put up any decorations or even gotten a tree yet. We actually don't have a lot in the way of Christmas decorations anyways. I always marvel at the decorations I see other people do, especially the creative outdoor lighting. I've always wanted to do the type of outdoor Christmas lights where they outline the house. White bulbs would work, but blue would be pretty, too. For some reason, I think that looks really nice. I also really enjoy when people put wreaths over every window with giant red bows. It's so simple, but looks great. Oh, and I guess they're kind of cheesy, but the reindeer-lights (white lights that are in the shape of a reindeer) look nice to me for some reason, too.
Do you put up Christmas lights on the outside of your house? How do you do yours?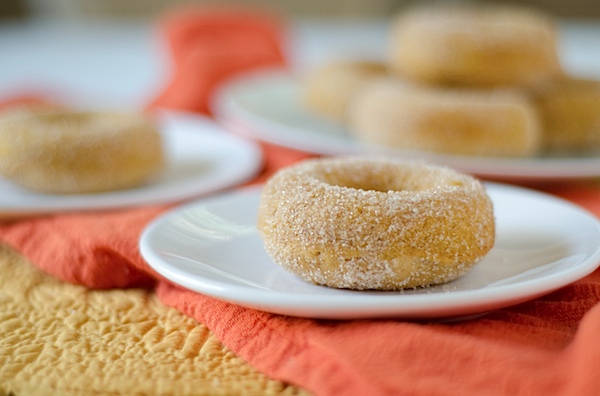 I seem to be stuck in post-Thanksgiving mode. We still have frozen turkey leftovers to eat, and I have a few more Thanksgiving leftover recipes to share here on TCL (a use for that turkey and a dessert for cranberry sauce). But, for now, I thought I'd share another good use for canned pumpkin in case anyone has some leftover from last week's festivities. Or, if you have more cans of pumpkin in your pantry than you know what to do with. Or, if you're just looking for an excuse to make a delicious dessert.
I call them "Healthier Baked Pumpkin Doughnuts" because I have a hard time calling most dishes, especially desserts, "healthy." What makes a dessert "healthy" anyways? I'm not sure, but I do know these are healthier than traditional fried doughnuts.
I considered making an icing/frosting to go on these (I was thinking cream cheese), but I actually really liked baked doughnuts just rolled in cinnamon sugar. I do have another doughnut recipe queued up that has an icing, but there's something about the sugar mixture that makes me happy. I suppose it's because part of the appeal of the baked doughnuts is how fast and easy they are. And making frosting just adds more time and dirties more dishes. The cinnamon sugar appeals to my lazy side since it's faster and easier than making icing and still tastes excellent.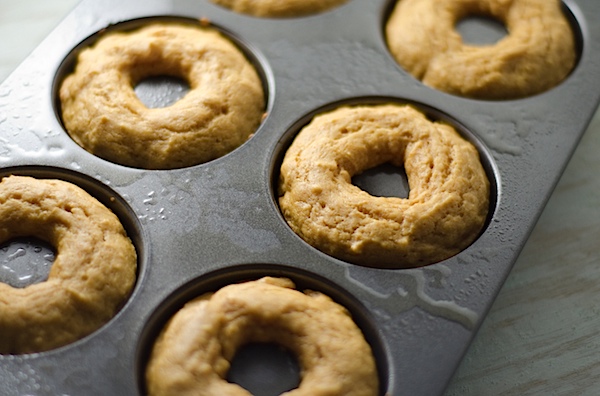 I actually meant to post this recipe sooner, but the first batch came out like this (see photo above). Oopsie. Since getting a basic doughnut recipe down thanks to developing a winning batch of apple cider doughnuts (click to view), I've enjoyed doing some flavor variations. But, I always find canned pumpkin a trickier ingredient to work into recipes. It adds liquid with out adding much to the wet ingredients. And it can sometimes bake up weird. I once had this chocolate-pumkpin cake mini fail (thus the lack of that recipe in my collection) that never baked up properly. I baked it and baked it and baked it, and it just never set. Silly, pumpkin. Silly, me. Though, I am now reminded that I'd like to finish that recipe to share with you guys. The concept was great, I just failed at the execution.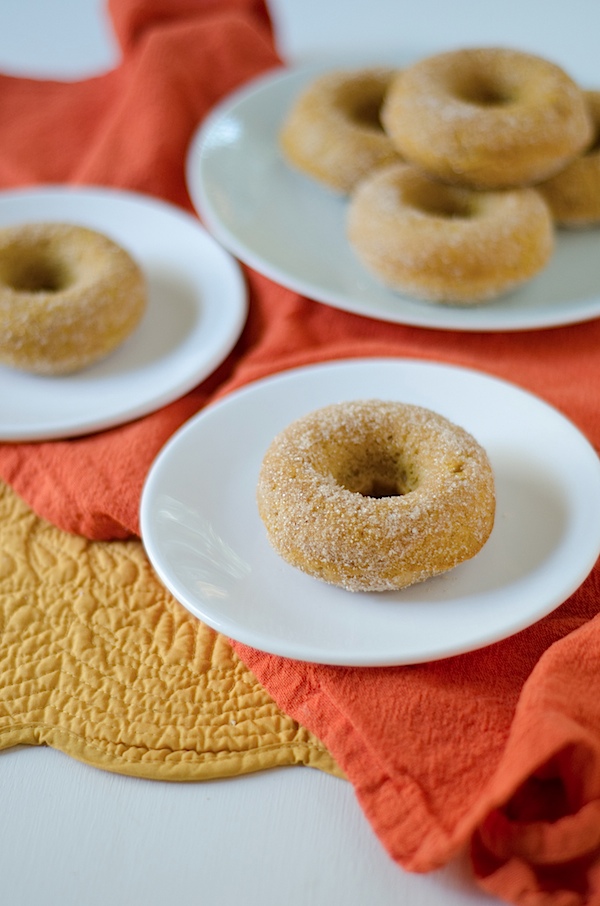 Luckily, this batch turned out to be a winner, so I finally have a recipe (for the doughnuts, at least) to share.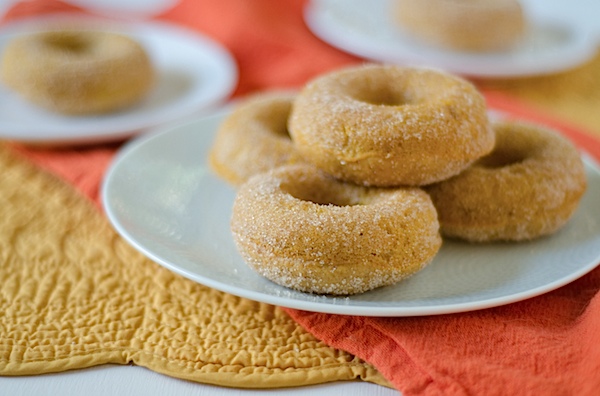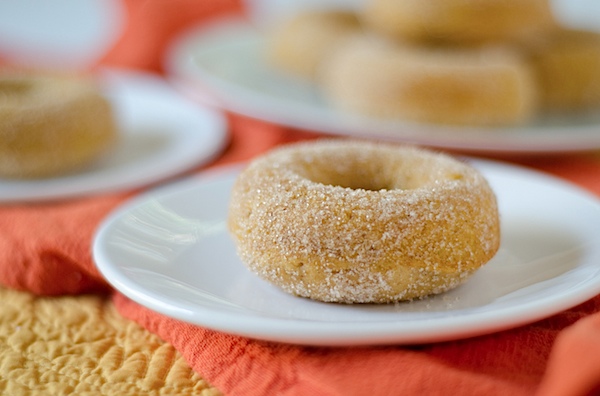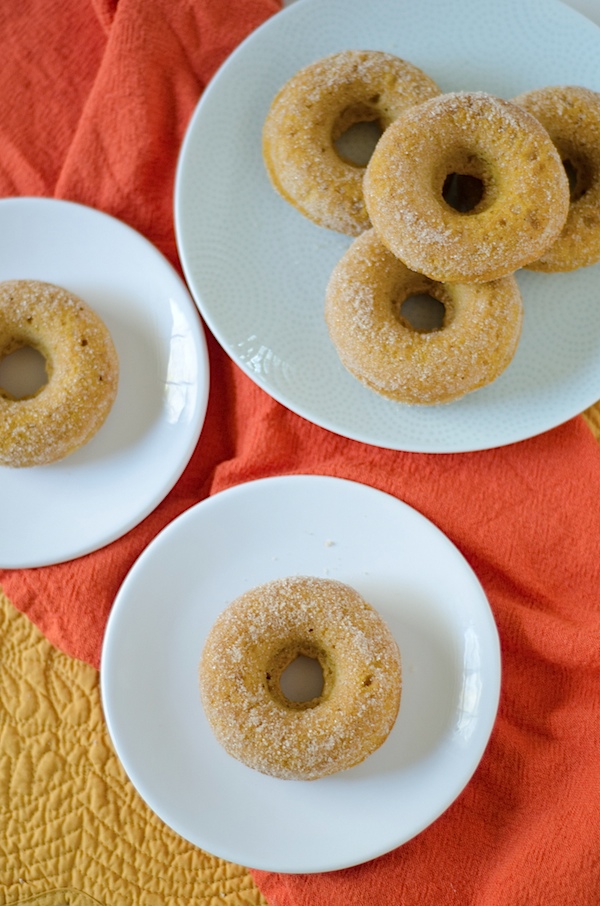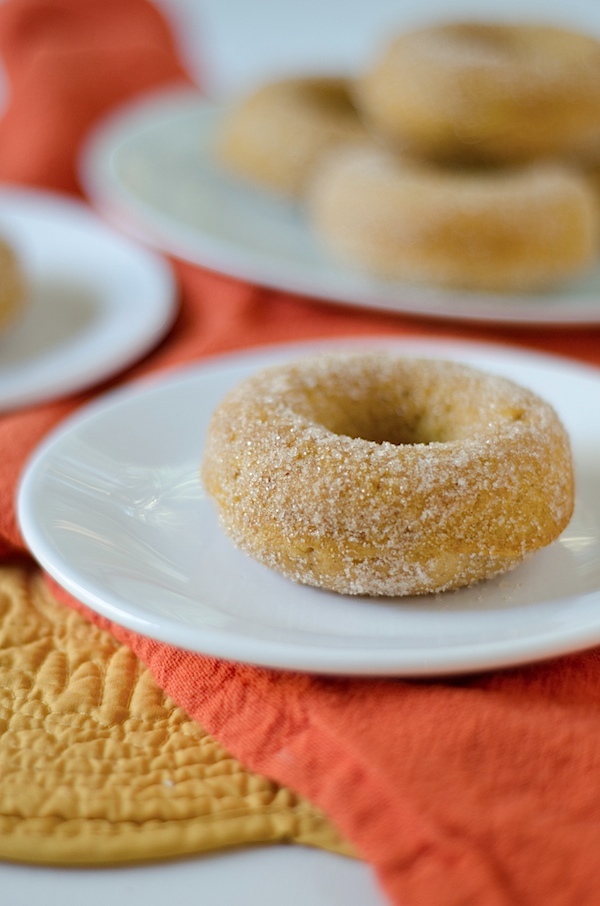 Healthier Baked Pumpkin Doughnuts
Here's a quick & easy dessert that's a perfect use of leftover canned pumpkin. I'm loving baked doughnuts because I can make them so quickly and they're just so darned good. One batch never lasts long in our house. We gobble them right up and you can, too, with this recipe.
Prep time: 10 minutes
Bake time: 7-9 minutes
Total time: 17-19 minutes
Yields: 6 doughnuts
*Vegetarian, Vegan options listed*
Ingredients:
3/4 cup Unbleached All-Purpose Flour
1/4 cup, plus 1/4 cup granulated sugar (preferably raw, brown sugar would probably be delicious)
1/2 teaspoon baking powder
1/4 teaspoon baking soda
1/2 teaspoon, plus 1/2 teaspoon cinnamon
1/4 teaspoon salt
1/4 cup canned pumpkin
1/4 cup milk of choice
1 large egg (or sub flaxseed egg)
1/4 teaspoon vanilla extract
1/4 teaspoon white vinegar
Directions:
Pre-heat oven to 375 degrees F. Spray 6-count doughnut pan with non-stick spray.
In a medium-large bowl, add flour, 1/4 cup sugar, baking powder, baking soda, 1/2 teaspoon cinnamon, and salt. Whisk to combine.
In another medium-large bowl, whisk together pumpkin and milk. Whisk in egg. Add vanilla extract and white vinegar and whisk to combine.
Pour wet ingredients into dry ingredients and gently mix until just combined (careful to not over-mix).
Evenly distribute in doughnut pan. Note: This dough is pretty thick, so you'll want to spread the tops as flat as possible using the back of a spoon or spatula.
Tap pan on counter to release air bubbles. Bake for 7-9 minutes, until doughnuts are cooked through (when a toothpick inserted into the doughnut comes out clean). (Mine were perfect at 8 minutes, but oven temperatures can vary, so check at 7 minutes)
In a small bowl, whisk together (or stir with fork) 1/4 cup granulated sugar and 1/2 teaspoon cinnamon until cinnamon is evenly mixed in. When doughnuts are safe to tough, but while they're still warm, dip each side into the cinnamon-sugar mixture, pressing and twisting to get good coverage.
Serve and enjoy!
***
You may also like these TCL recipes:
Or these from around the web: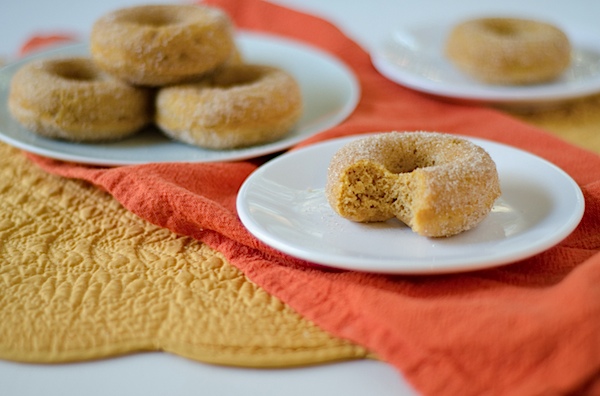 Did you enjoy this post? Please consider sharing it by clicking on one of the share buttons or the Facebook-like button at the end of this post.
Thanks for reading and for trying out some of my recipes! I saw on Pinterest that some people were making some of my recipes for their Thanksgiving celebrations, which made me feel so honored. It's always a treat for me when someone takes the time to make one of my recipes, especially for a special event. Thank you again and happy cooking & baking!
PS It's almost 9pm, and I have so much more to say in this blog. I should really consider blogging at this time more often, as opposed to blogging at midnight, which is when this usually happens.
{ 19 comments }