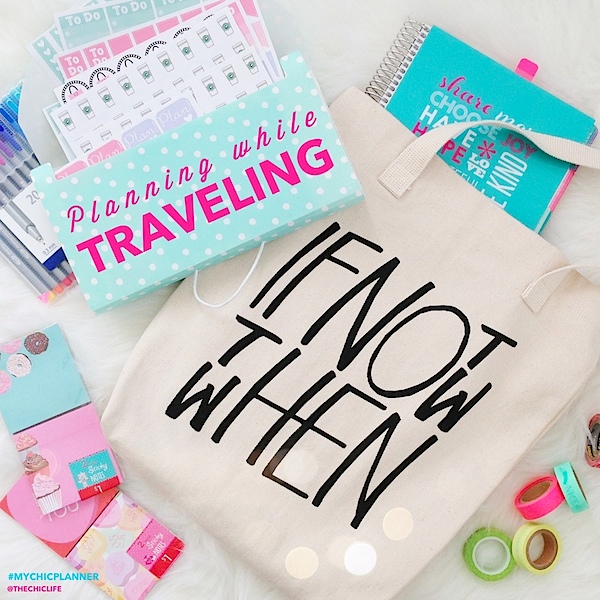 Hubby and I take frequent weekend road trips to see family. This is great since we get to spend lots of quality time with them, but it can make planning a little more challenging for me. I've come up with a couple things that have helped make planning while traveling easier for me, so I thought I'd share in case anyone else finds this info helpful, too.
I like to do my planning over the course of the weekend, which is why I bring what I need to get planning done while I'm out of town. And I am that Type A that I want my week decorated so I know how to best fill it in when I learn about upcoming events and what not. Heaven forbid I use the wrong color! Seriously, though…I used to color coordinate my planner by using a specific color for a particular category. I've recently begun to use colors based on the week's color scheme, so I do like to have at least the colors picked out before I start writing in the week's spread. This brings me to my first tip:
Tip #1: Choose Your Color Scheme and Coordinating Planner Decorations
I use the Erin Condren Life Planner, which comes with month and week views. When I'm traveling, I'm usually focused on the week view only of the upcoming week. One of the best things I can do in the days leading up to my trip is choose a color scheme. This reduces the amount of supplies I need to take with me, especially the more selective I can be. If I know I want to go with a pink and turquoise theme, then I don't need to bring any of the supplies in other colors. I actually decided to bring all my Valentine's Day supplies with me this past weekend, and I have a lot of those. A lot. Seriously, I've been raiding the Target Dollar Spot like whoa. So, I'll do another post with tips on if you want to bring a bigger stash. To keep things simple, the easiest thing is to have a good idea of what you want to do and bring only what you need to make it happen.
I like to bring:
2-4 washi tape options
1-2 decoration sticker sheets (purely decorative – flowers, hearts, etc.)
1-2 sticky note sets (usual 1 sticky note design and one of page flags)
my functional sticker sheets (to-do list headers, checklists, etc.)
my colored pen set
scissors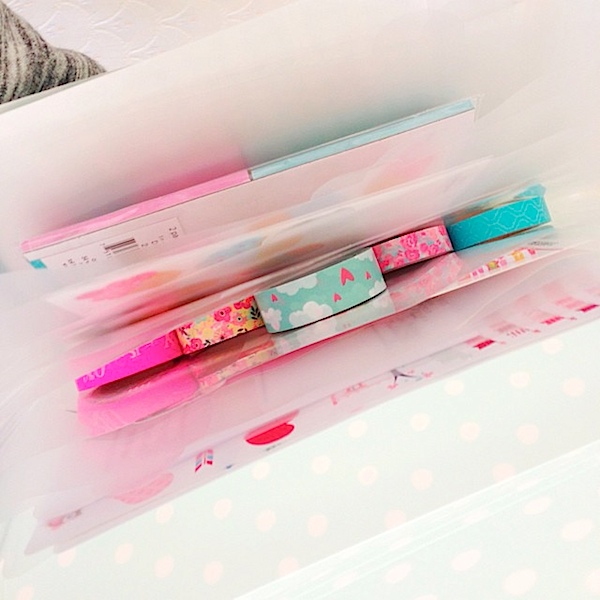 Tip #2: Store Your Planner Supplies in an Accordion File
I picked up a cute turquoise polka dot accordion file from the Target Dollar Spot recently. Actually, let's be real. I picked up a few of these. But, I find the short and long shape (there are three options that I've seen so far) works best for planning while traveling. It's long enough to hold some of my taller sticker sheets. It can also fit my sticky notes and washi tape. Probably the best thing about it is that it keeps my stickers nice and flat so they don't get out of shape or accidentally peeled off. I also like having most of my supplies in one easy-to-access place and the ability to keep my stickers separated. You could do them by color or theme, but I'm currently keeping my Etsy stickers grouped by shop. You can even put your scissors in here. It holds so much, and it was only $1.
Tip #3: Have a Dedicated Tote/Bag
I've been using planners longer than I can remember. It was always one of my favorite school supplies when I was a kid. I think I started using them as early as middle school. Since then, I've tried carrying it in various ways. I've tried jamming it into other bags containing many things. I put it in the same bag as a reusable water bottle one time, which was a big mistake. What kind of water bottle leaks!? The best thing to do is to have a dedicated tote to protect your planner from liquids, foods, pointy objects etc.
Keeping your planner in a separate bag will also help since you can treat that bag extra gently. You won't put it at the bottom of your luggage or shove it into some crevice of space in the car. You can really take care of your precious…I mean…planner.
Tip #4: Go on a Planner Supplies Adventure
It's amazing how different stores, even of the same big chain, can have a different stock of planner supplies. When I'm traveling, I like to go on mini shopping adventures. I love to check out the stores to see what goodies I may find. Inevitably, I find a new sheet of stickers of a style of washi tape I've never seen, so I like to use my trips to collect new supplies. I like collecting a couple different things (mugs, journals, etc.), and craft supplies is definitely high on my list of things to shop for when I'm out of town.
Planner Post Requests?
Hope you enjoyed my Planning While Traveling post! If you have any planner-related post requests, let me know in a comment below or shoot me an email at thechiclife at gmail dot com. I've toyed around with the idea of making a video because I think some things are just easier to show in video format, but videos terrify me! I keep hoping to muster up the courage over the years, but I may just need to stick with photo-blogging. We'll see!
Thanks for stopping by!
By Diana 5 Comments
Who says comfort food has to be unhealthy? I think a cozy bowl of this Healthier Chicken and Dumplings recipe is perfect for a cold or rainy day. We definitely make this a few times during the fall and winter seasons.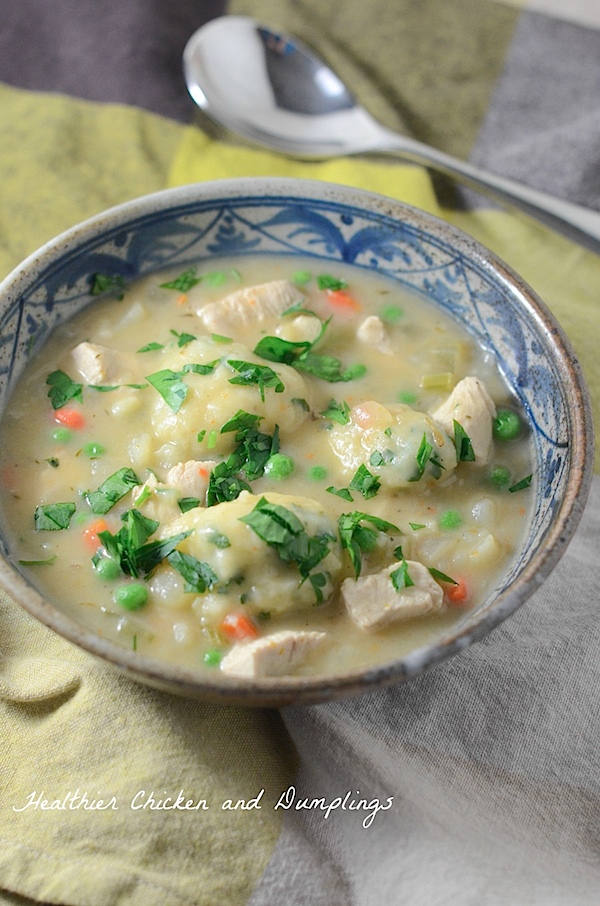 The base recipe is actually really great, so I didn't have to change it too much. It's simple and fast. Hello, 30 Minute Meals! But, I didn't love using boxed biscuit mix for the dumplings. Some of those boxed mixes throw in some interesting extras by way of ingredients that Michael Pollan wouldn't approve.
Speaking of Pollan, I love his straightforward approach to eating as outlined in Food Rules, and it's probably one of the most influential books I've read for my take on healthy eating. His advice is practical and easy to apply, and I thought about it when I adjusted this recipe.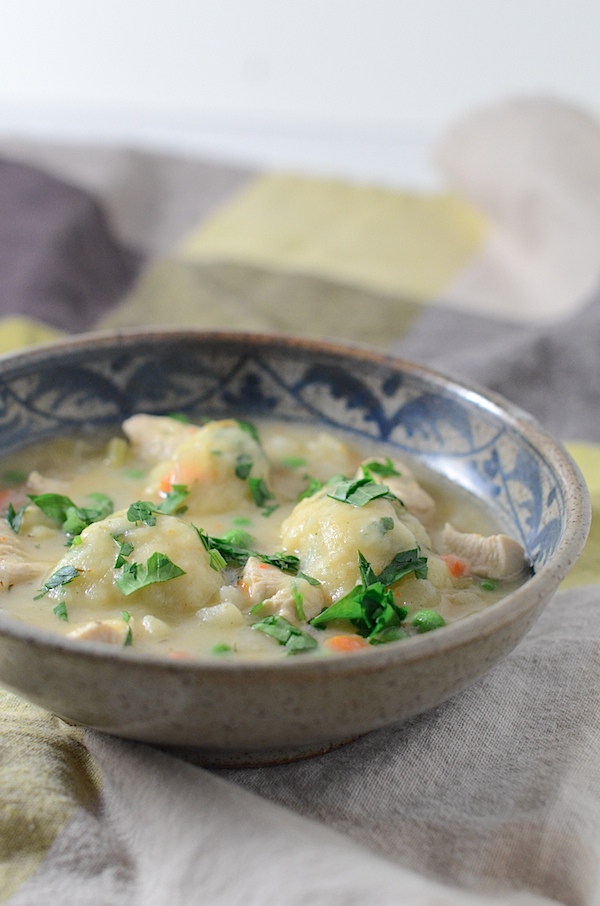 From extra biscuit mix ingredients to straight up biscuit ingredients, I made this a little extra clean-eats.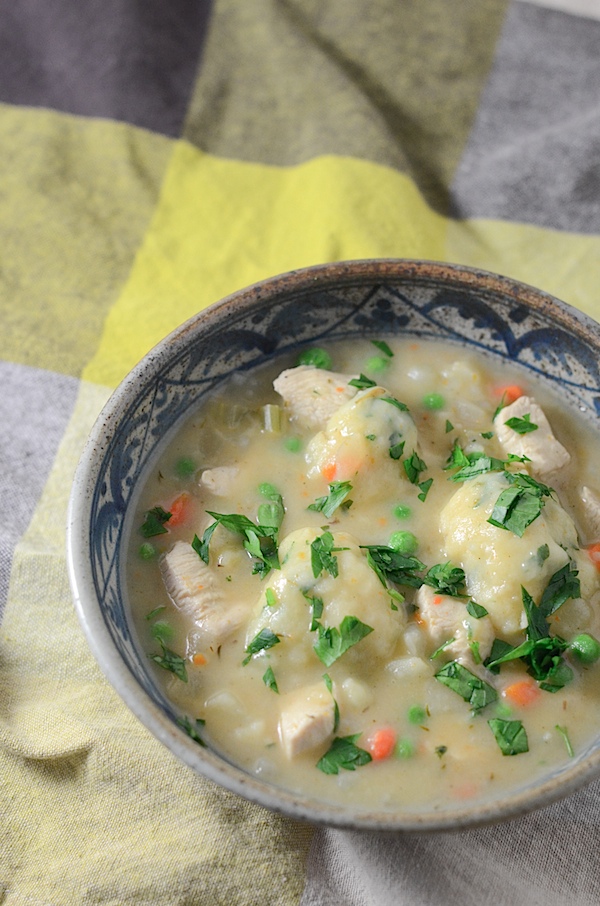 Healthier Chicken and Dumplings Recipe
Here's a Healthier Chicken and Dumplings Recipe to try out sometime soon. I adapted this recipe from
the 30 Minute Meals recipe
to make the biscuits from scratch (with a couple other minor changes). It's really just as easy as using the boxed stuff without the unnecessary added yucky ingredients. Don't skip the parsley. It's so good for you and high in vitamin C. Try using whole grains for the biscuit mix to take the health factor up a notch. I really like using spelt flour because the texture is pretty fluffy for a whole grain flour.
Author:
Diana of thechiclife.com
Ingredients
1 to 1½ pounds boneless skinless chicken breasts or tenders, cut into bite-sized pieces (about 1 inch)
1 tablespoon olive oil
1 russet potato, peeled and diced
2 medium carrots, peeled and diced or thinly sliced
1 medium onion, chopped
2 rib celery, diced
1 bay leaf, fresh or dried
1 teaspoon poultry seasoning
½ teaspoon kosher salt (or ¼ teaspoon table salt), plus more to taste
¼ teaspoon black pepper, plus more to taste
2 tablespoons, plus 2 tablespoons cold unsalted butter, divided
2 tablespoons, plus 1 cup flour of choice, divided (I like spelt or a mix of half whole wheat and half unbleached white)
1 quart chicken broth or stock
⅓ cup flat-leaf parsley, chopped
1 cup frozen green peas
2 teaspoons baking powder
¼ teaspoon salt
2 tablespoons cold unsalted butter, cubed
½ cup milk (I used 2%)
Instructions
Pre-heat a large pot on the stove over medium heat. Add oil, potato, carrots, onion, and celery, and cook until onions are translucent, about 5 minutes. Stir in bay leaf, poultry seasoning, salt, and pepper. Add 2 tablespoons butter and melt, stirring a little. Add 2 tablespoons flour to the pan and cook 2 minutes, stirring with a whisk. Whisk in broth or stock and bring to a boil. Add chicken to the broth and stir.
In a medium bowl, stir 1 cup flour, baking powder, and salt until evenly combined. Cut 2 tablespoons butter into small cubes. Cut butter into the flour mixture with a pastry cutter or fork until the mixture resembles coarse crumbs. Stir in milk and ¼ cup parsley until the mixture is just evenly combined (be careful to not over mix).
Drop tablespoonfuls of flour mixture into the pot, spacing dumplings evenly. Cover pot and reduce heat to simmer. Steam dumplings 8 to 10 minutes. Remove cover and stir in peas. Cook until peas are warmed through, about 1 minute. Taste test and add salt and/or pepper, if needed. Serve, garnish with extra parsley, and enjoy!
Notes
Sometimes it's hard to find 1½ pounds of chicken at the grocery store. I find that anywhere between 1 and 1½ pounds works okay. You'll just have a lot more of the veggies and biscuits if you go towards the lower amount of chicken, but you can still make it work.
Love healthy comfort food? Try out some of these other options:
Thanks for stopping by! Hope you enjoy this Healthier Chicken and Dumplings Recipe!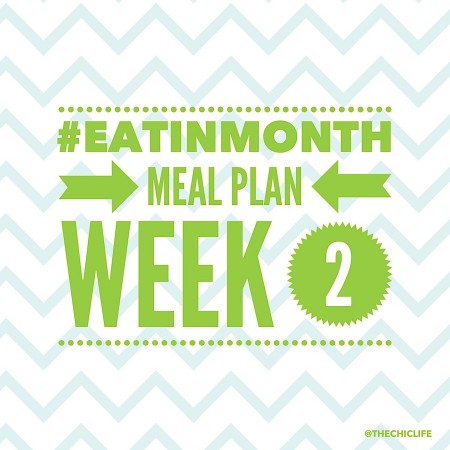 Well, I guess I'm slacking a little already since I'm a couple days late with my meal plan, but at least I'm making one? One change I'm doing to be more efficient is to not plan breakfast. As long as I plan my morning to include *a breakfast*, eating breakfast isn't much of a challenge….