Well, we've entered the last half of the Eat in Month Challenge 2015. Woohoo! Just a couple weeks left. You can do it!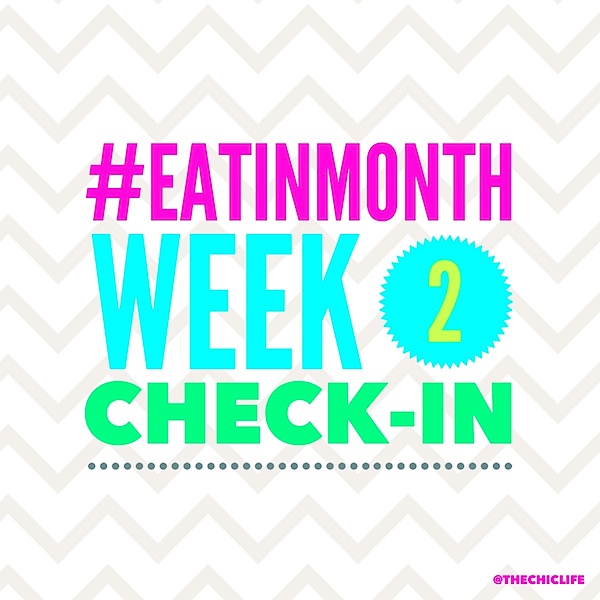 You can check out my meal plan for Eat in Month 2015 week 2. Here's how my second week of the challenge went.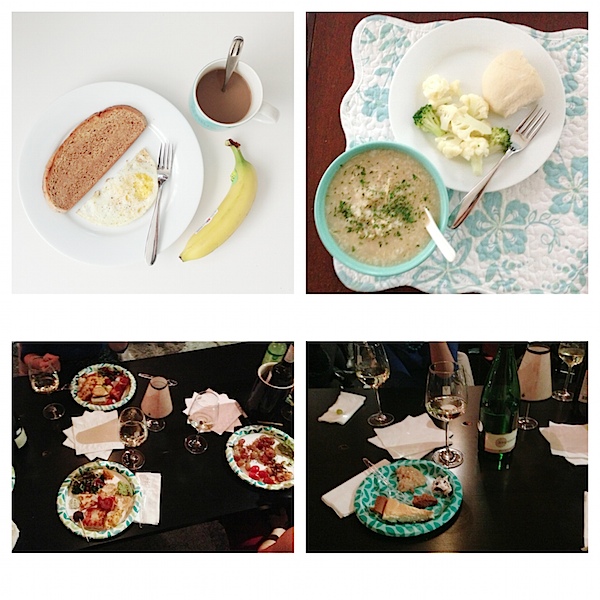 Sunday, January 11, 2015: My dance fitness company had a holiday party, but luckily for me, it was potluck-style. I had a couple people ask me if this counted as a cheat, but I didn't think it did for a couple reasons: 1) we weren't at a restaurant 2) most of the food was home-cooked. I enjoyed some great eats with some sparkling vino and the company of my dance friends. It was a great time!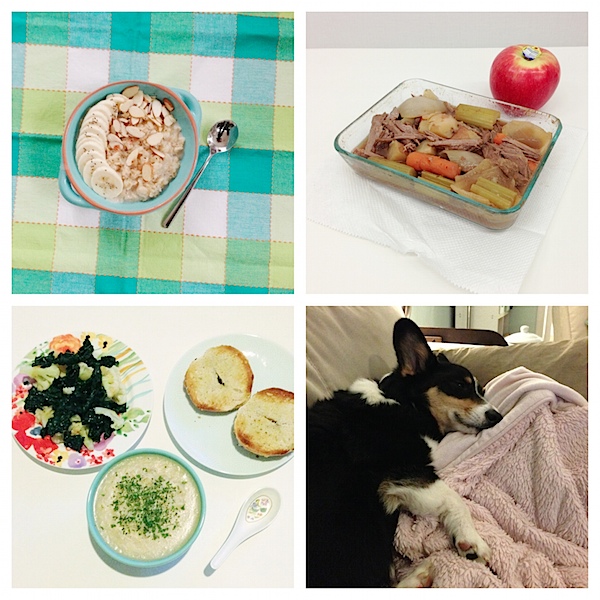 Monday, January 12, 2015: We actually cooked pot roast in the slow cooker Sunday even though I had the potluck for dinner. It was supposed to be hubby's dinner on Sunday and our lunch for later in the week. I recently became one of the co-organizers of a local Meetup, so I had that after work. I should have planned better because I was really, really hungry even before the Meetup started. I had a late dinner of soup, steamed veggies, and a toasted bagel.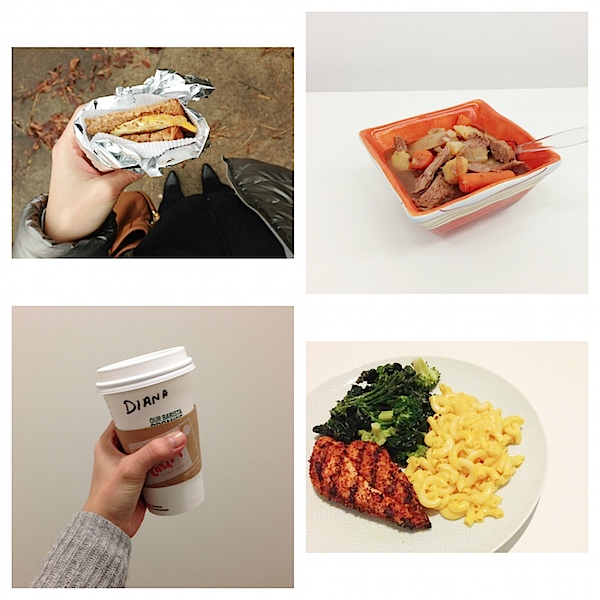 Tuesday, January 13, 2015: On Tuesday, I started the day with an egg and whole wheat toast breakfast sandwich on-the-go. And we had more pot roast, so that made for a great lunch. I cashed my once-a-week Starbucks in on Tuesday with a grande chai tea latte. We did a simple dinner of grilled chicken with Homestead rub. That stuff tastes good on everything! I think we were supposed to have rice pilaf, but hubby requested mac and cheese. We whipped up a box of Annie's.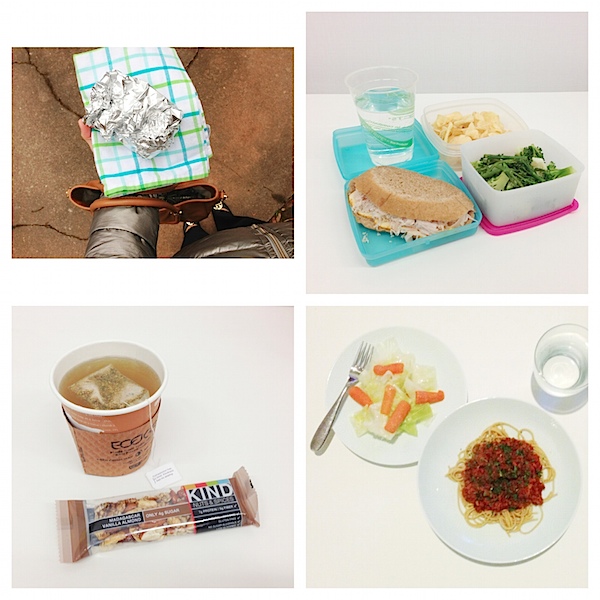 Wednesday, January 14, 2015: Wednesday was a big day for me. We moved my Zumba class to a new location after having been at the old one for well over a year. I had another toasted egg sandwich for breakfast, a turkey cheese sandwich for lunch, and a ginger tea and KIND snack bar in the afternoon. The new class location kick-off went great! We had a couple unexpected issues we had to deal with right before, but overall it all went well. One of the issues was a giant stage that isn't normally supposed to be in the space. You'd think it would be good, but the floor pieces weren't locked in. So, all the pieces were moving around under the instructors while we danced. Yikes! Luckily, no one fell through and class went off swimmingly. I think the new location is going to be great!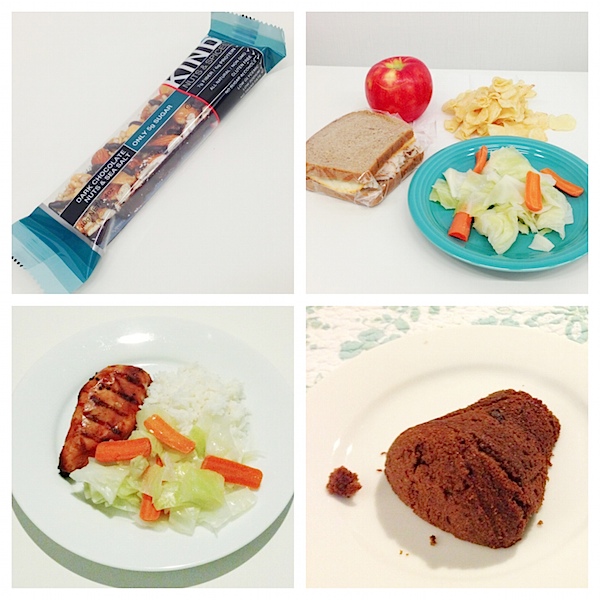 Thursday, January 15, 2015: As the week closed, I found myself running a little later, so I had a KIND bar for breakfast. Hubby made my ginger soy grilled chicken for dinner, and we cooked extra for lunch. I had a half pumpkin chocolate chip muffin from Great Harvest for dessert. I was supposed to have it for breakfast, but I forgot it was there in the morning.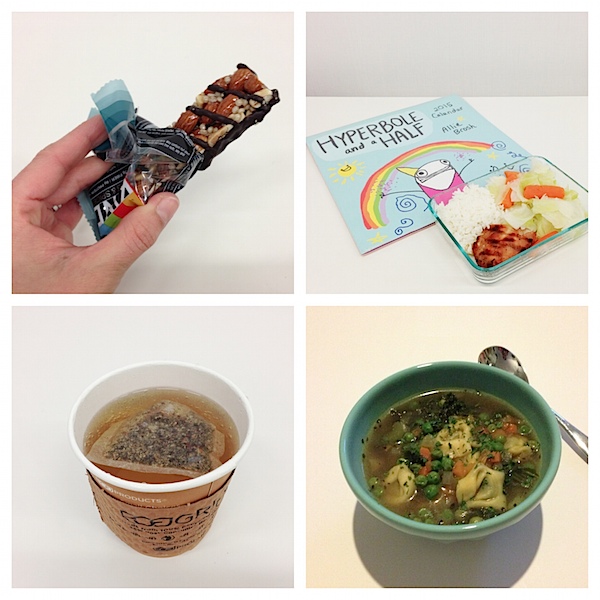 Friday, January 16, 2015: I tried doing the leftover chicken for lunch, but it wasn't my favorite. I'm not a fan of the way chicken tastes re-heated. I ate it, but I'm not going to plan for another one of those any time soon. The only way I can seem to eat chicken re-heated is if it's in soup. I really, really wanted another Starbucks on Friday, but I held strong and made some Sleepytime tea instead. And Friday has become my late work day. I was at the office till 7:30pm. I had planned an easy dinner just in case this happened, so dinner was a cinch. I made my Easy Tortellini Soup, and it hit the spot. I used Trader Joe's spinach tortellini this time, and I think it was even better with this than the cheese I used originally.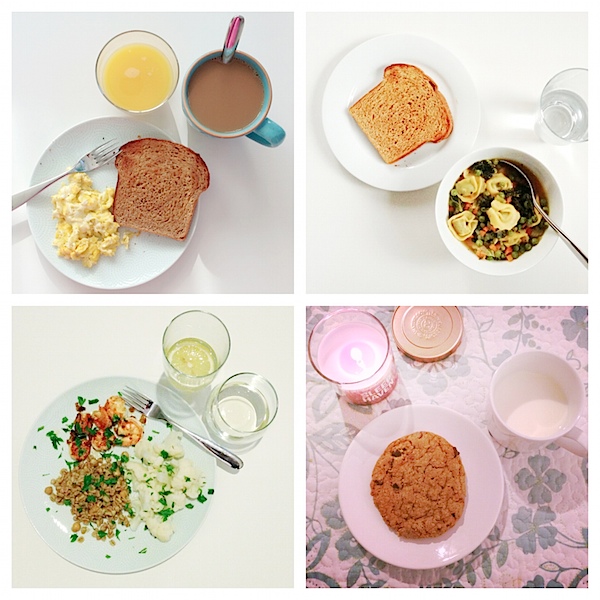 Saturday, January 17, 2015: I had a meeting in the afternoon on Saturday, so I had a late lunch of leftover tortellini soup. The star of Saturday was definitely dinner. I haven't had this shrimp in forever, but it's one of my fave ways to prep it. I cook it quickly with lemon and garlic. It's yummy! I also whipped up some of my Rosemary Garlic Farro. A whole foods oatmeal chocolate chip cookie and milk went great with a relaxing night in and my new Sleep Haven candle.
How's your challenge going? Is it getting easier or harder as we near the end?
Thanks for stopping by!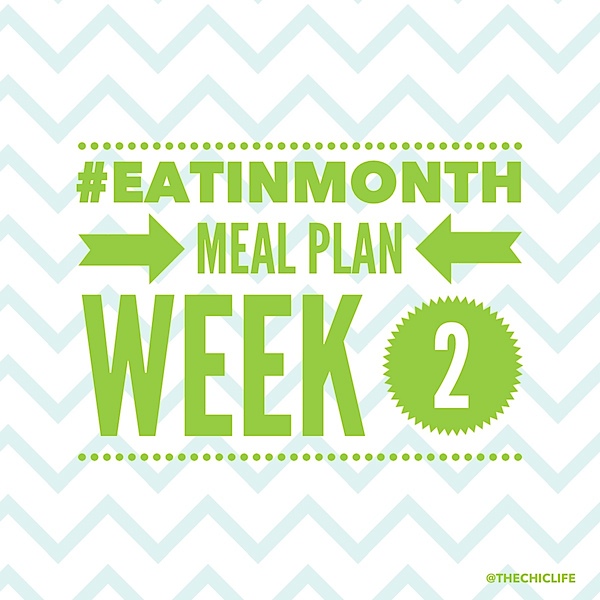 Well, I guess I'm slacking a little already since I'm a couple days late with my meal plan, but at least I'm making one? One change I'm doing to be more efficient is to not plan breakfast. As long as I plan my morning to include *a breakfast*, eating breakfast isn't much of a challenge. I have stocked my pantry so I have plenty of great things to choose from for breakfast. This will save time in my meal planning and let me focus on my real challenge areas – lunch and dinner.
Sunday, January 11, 2015
I had a holiday party on Sunday that was a potluck. Some of my friends at the party asked if this counted as a cheat, but I didn't think it did, especially since I wasn't at a restaurant, I wasn't paying for food, and most of the eats were home-cooked anyways. Do you have any gray area meals coming up? Remember, it's your challenge, so you can make a call on whether it's a cheat or not.
Lunch: Leftovers (soup)
Dinner: Potluck for me (I made my mom's Filipino sweet rice – I need to share this recipe!) and slow cooker pot roast for hubby
Monday, January 12, 2015
I had a Meetup event after work, so I knew dinner needed to be simple. Since I feel like I may have a bit of a cold (or am coming down with something…no!), I finished off the last of my mom's Filipino Get Well Soup for an easy dinner.
Tuesday, January 13, 2015
Ok, here's where we're really planning. Tuesday is my night for either cooking something more elaborate or focusing on errands/to-dos at the house. I'm feeling a little behind on things, so a simple dinner is sounding good. One of our favorite meals to make is grilled chicken that is simply flavored with a spice blend. We just rub whichever flavor we're feeling into the chicken and grill away! I love to eat these with steamed vegetables and rice pilaf. We have a bunch of boxed pilafs and will use one of those.
Lunch: Pot roast
Dinner: Grilled chicken with spice blend, steamed veggies, rice pilaf
Wednesday, January 14, 2015
I have a BIG event tonight that I'm so excited about! My Zumba class is moving to a new location! I'll be doing a second class after mine, so hubby will cook dinner so I'm not eating at midnight. Wednesday is quickly becoming our spaghetti night.
Lunch: Sandwich, veg, chips
Dinner: Spaghetti and veg
Thursday, January 15, 2015
Class night! Hubby loves grilling, so we'll make one of my favorite ways to grill chicken that only uses 3 ingredients, too! We're going to make a double-batch of everything for an easy Friday lunch.
Lunch: Sandwich, veg, chips
Friday, January 16, 2015
Leftovers – the easiest lunch. I love packing these the night before so I can just grab and go in the morning. I've been so tired on Fridays after my crazy-busy work weeks, I'll look forward to a cozy bowl of this super simple soup.
Lunch: Leftover Ginger Soy Grilled Chicken, steamed broccolini, and rice
Dinner: Easy Tortellini Soup with toast or rolls
Saturday, January 17, 2015
I have a busy Saturday, so I'm thinking easy eats that are quick and delicious. We haven't had shrimp in awhile, so I'm going to whip up my favorite way to eat them. I think it's based on a 30 Minute Meal, but we usually just wing it these days, especially since it's so easy to make! Let me know if you'd like to know how we cook our shrimp, and I'll put a recipe together.
Lunch: Easy Tortellini Soup with toast or rolls
Dinner: Garlic lemon shrimp sauté, Rosemary Garlic Farro, veg
***
Do you have any meal plan tips? Leave em in a comment or feel free to share your meal plan for the week. Thanks for stopping by!
By the way, it's never too late to join the Eat in Month Challenge. Click here to learn more about it!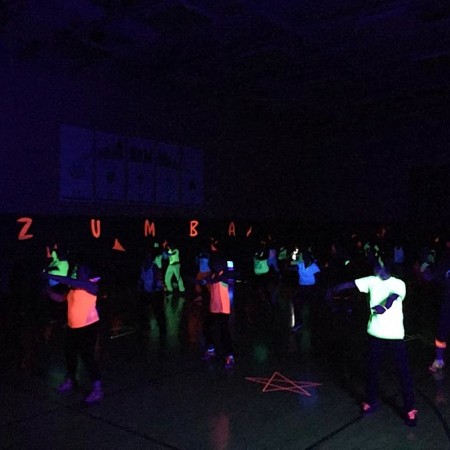 They say that the things you do to start a new year set the tone for that year. If that's true, then I think 2015 is going to be GREAT! I kicked off my 2015 by hosting a New Year Zumba Glow Party. These things are always a ton of work, but they're so worth…