By Diana 8 Comments
Did you do anything fun for Chinese New Year? Hubby and I usually try to get dim sum every year, but this year, we did something even better.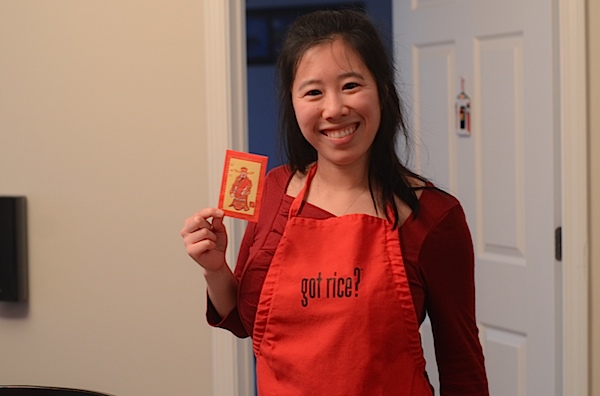 My friend Briana invited me over for a hands-on Chinese New Year party at her house. The plan – prepare her family's recipes and learn how to fold dumplings and egg rolls and make other traditional dishes.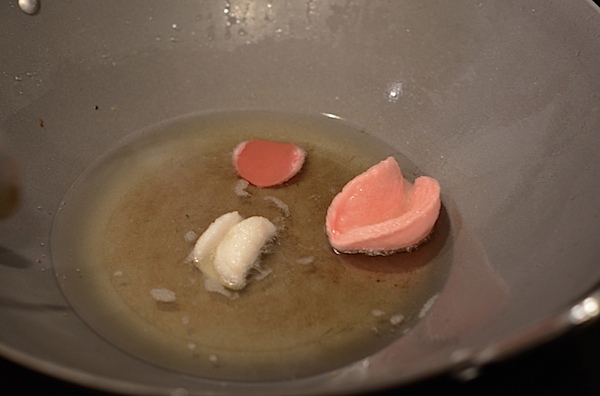 When I arrived, Briana was frying up shrimp chips.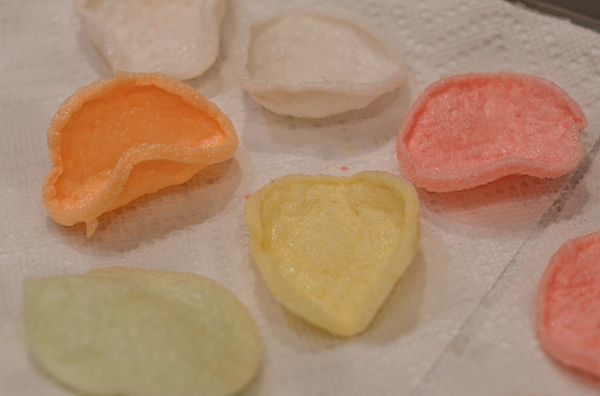 The colorful discs are small and thin when they come out of the box, but they puff up to at least four times their original size as they fry in oil.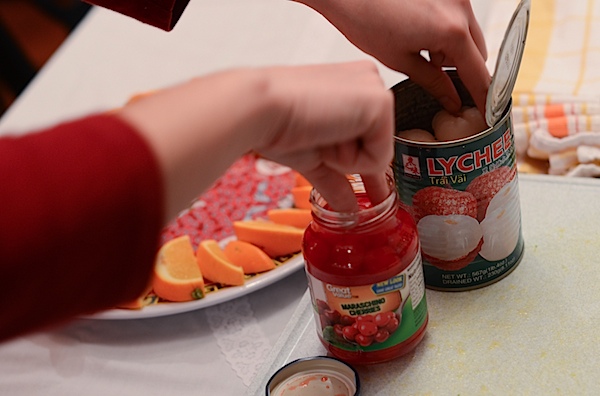 The fruit platter was easy to put together – just add sliced oranges and stuff cherries into lychee fruit.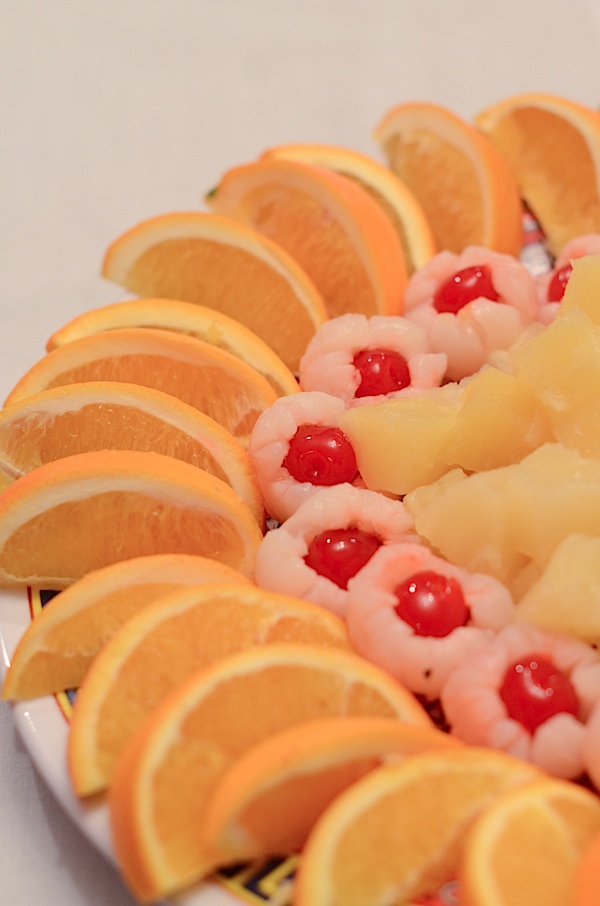 With pineapple added to the center, the simple fruit platter was beautiful and colorful. The oranges are said to bring wealth and good luck.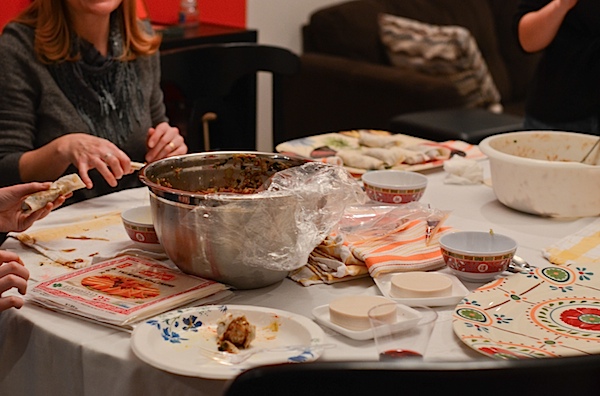 After some snacking and gathering, Briana kicked off the real hands-on fun with the party. The dining room table was set-up for dumpling and egg roll making and most of the guests found a seat there.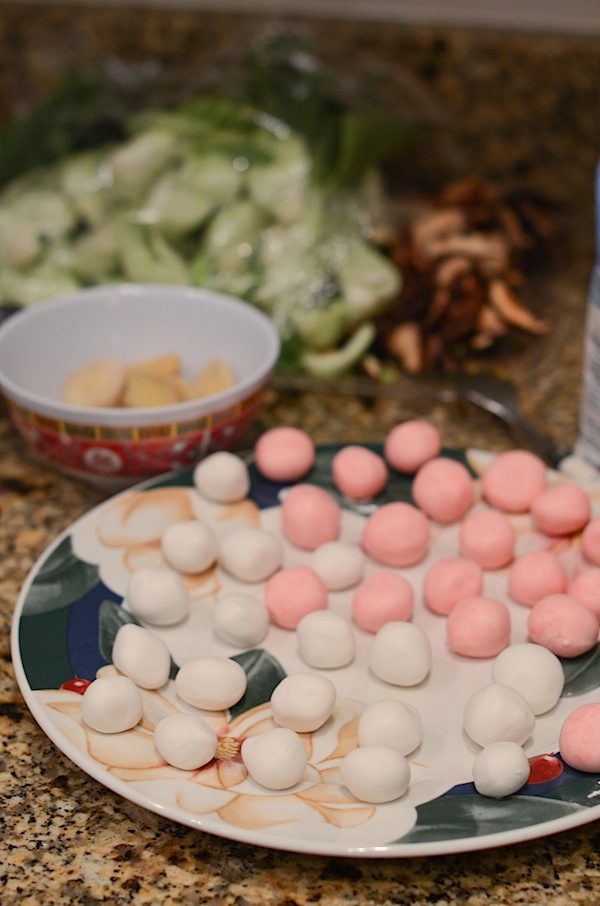 I headed into the kitchen to learn about Tang Yuan. I'd never seen anything like it, so I was really curious to see what it was about.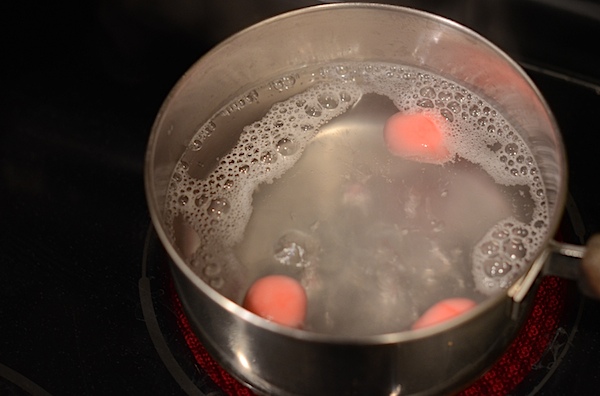 Glutinous rice is used to make a dough that is rolled into balls and then boiled till they float. Next, the dough balls are cooked in a sweet broth made with pandan leaves, ginger, and sugar.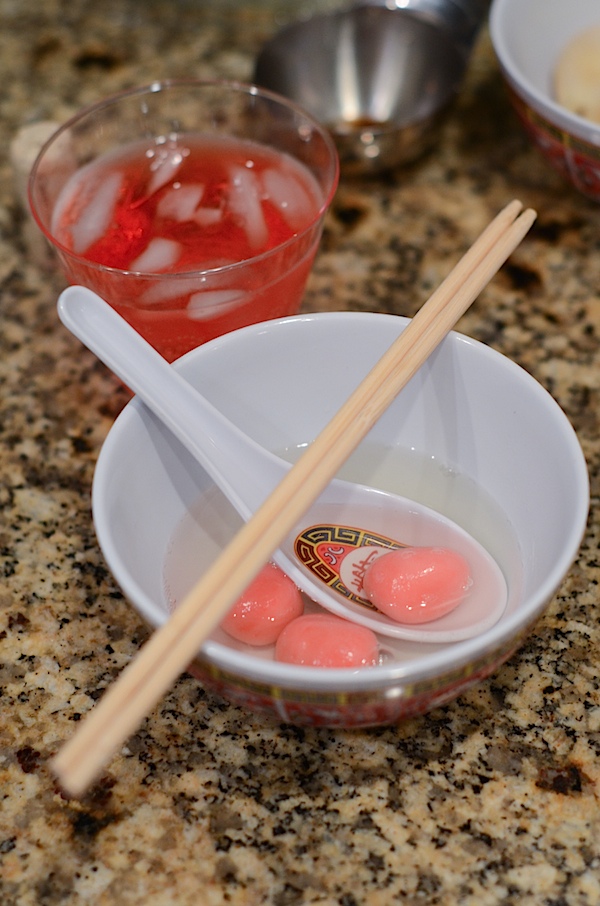 The soup is more like a dessert, but I didn't mind eating it first. It's always a good time for dessert!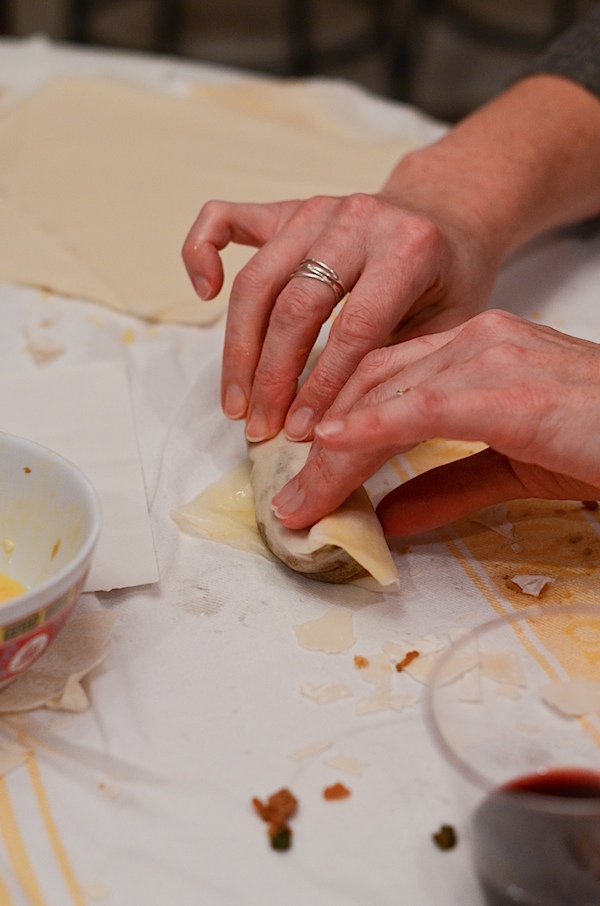 After finishing with the dessert soup, I checked out what the others were working on – folding egg rolls…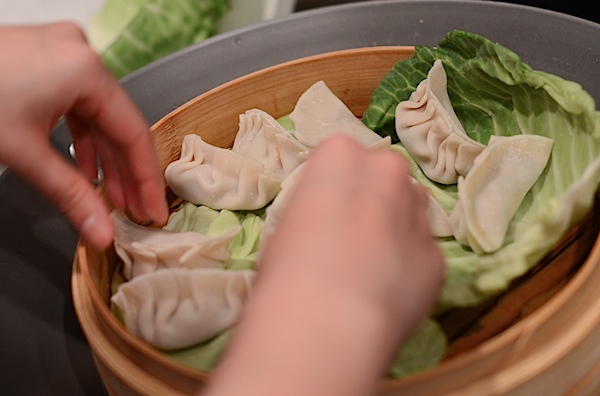 …and steaming dumplings.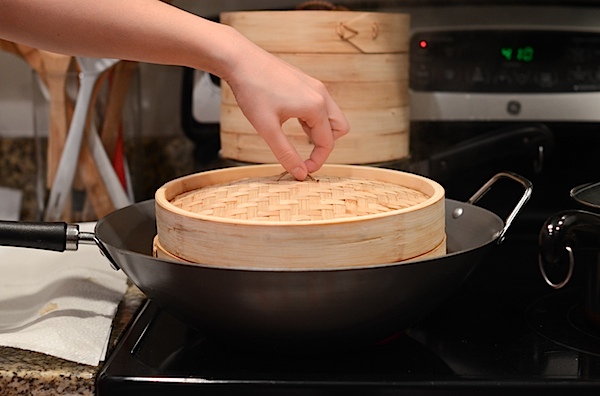 Time for the big reveal…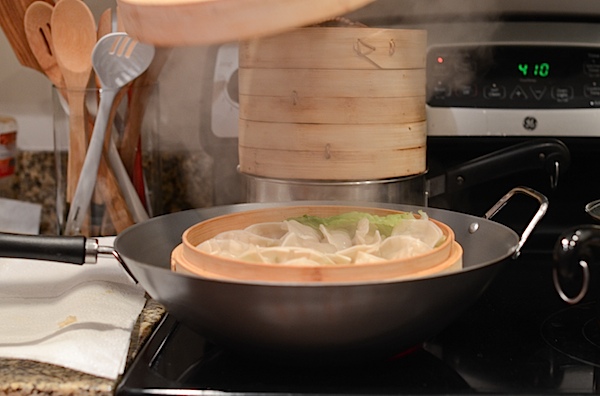 Oh yea!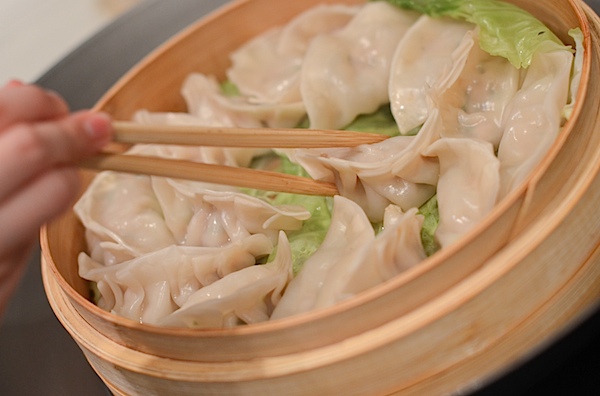 Hello, lovelies.
Nothing like freshly steamed dumplings. Briana said the dumplings are shaped like coins to symbolize wealth. I was curious about the coin shape reference since they don't resemble the round shape of coins I'm familiar with, but this article mentioned that the shape is like ingot-shaped coins or yuanbao.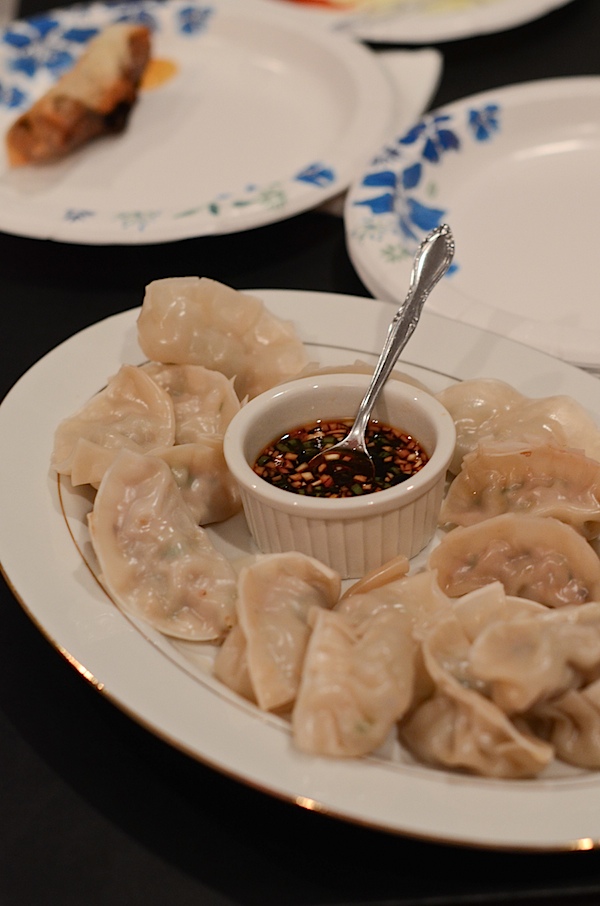 These were served with a simple sauce of soy sauce, vinegar, fresh ginger, fresh garlic, and green onion.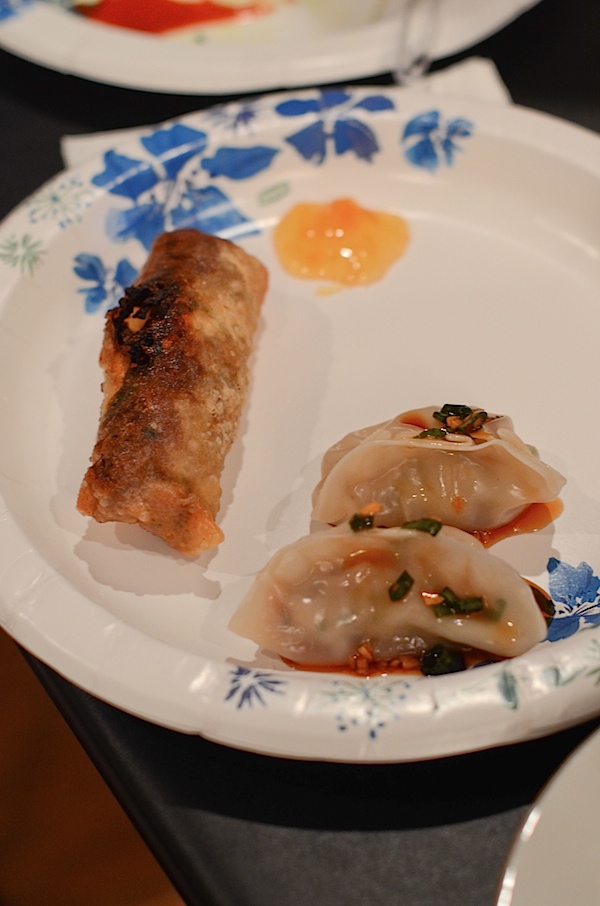 The dumplings and egg rolls were gobbled up almost as soon as they were cooked. They were both so great! Lucky for us, the group had prepared tons of food. And while batches and batches of Chinese New Year eats were prepared, cooked, and served, we got to enjoy good company from the fellow guests. Also not pictured, we had even more delicious eats that Briana prepared and other guests brought – fried taro root cakes, noodles, kimchi, Filipino sweet rice (that I brought), and Chinese BBQ chicken wings.
By the way, I learned from Steamy Kitchen that the egg rolls also have symbolism since they are shaped like gold bars and thus are said to bring wealth.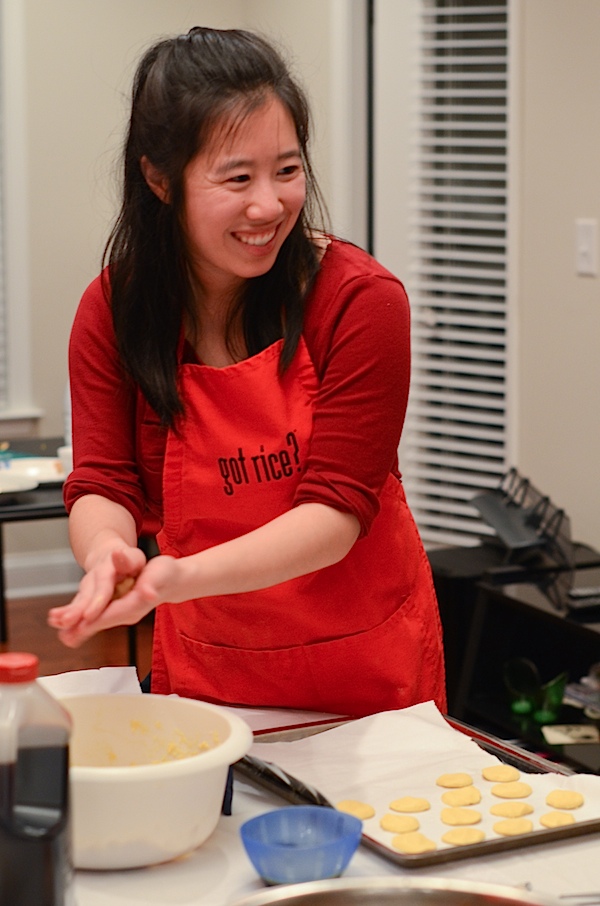 After we'd stuffed ourselves on (mostly) savory eats, Briana got started on dessert #2 – Almond Cookies!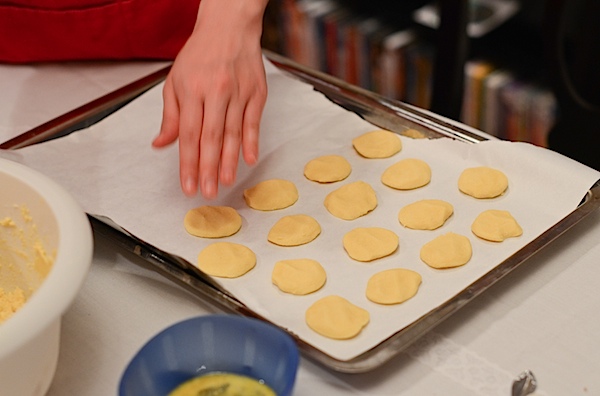 Briana said she liked to make her cookies a little smaller than normal. They were pretty much bite-sized, and you couldn't help but want to snack on them like chips.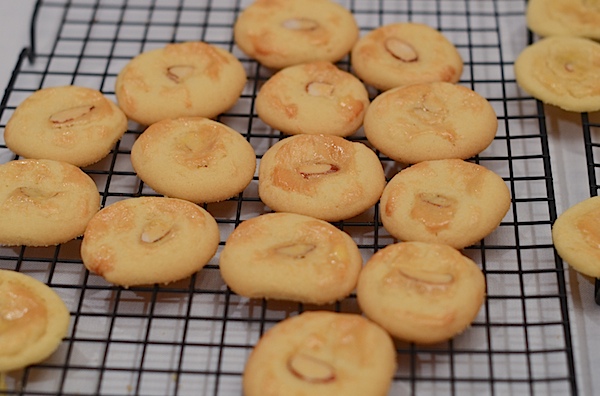 They were so yummy!
And don't forget about the tea!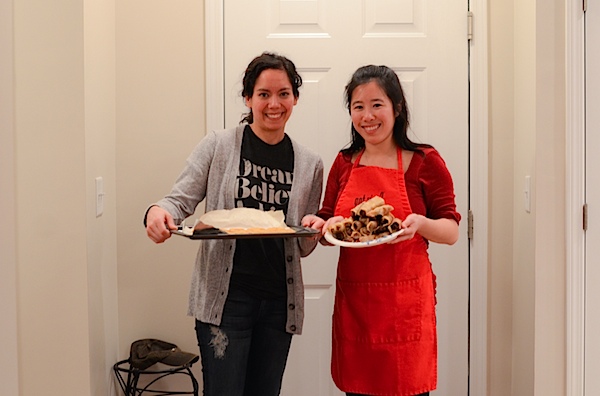 Thank you to Briana for opening up your home to us and sharing your family's traditions! We had a blast!
By Diana 4 Comments
I think some of my friends think that I always maintain healthy eating habits. But, sometimes I have a tendency to get caught up with things and start skipping out on some of those habits. Work gets crazy, and my schedule becomes overwhelming. Once in awhile, I find myself missing out on sleep and making poor food choices. And sometimes those choices are less about picking unhealthy things than remembering to incorporate good, nutritious ones into my daily eats/drinks.
I was in one of those slumps recently. One thing that helped me out was buying some locally made vegetable juices (from Viva Raw) and having a smoothie every day or so. I really think the vegetable and fruit nutrition helped me get back in gear. It also gave me an excuse to play around with smoothie recipes. I decided to try a simple Healthy Almond Butter Smoothie first. Next, I tried an extra-healthified Almond Butter Smoothie. The recipe for the simple version is at the end of this post. I'll be sharing the other one soon.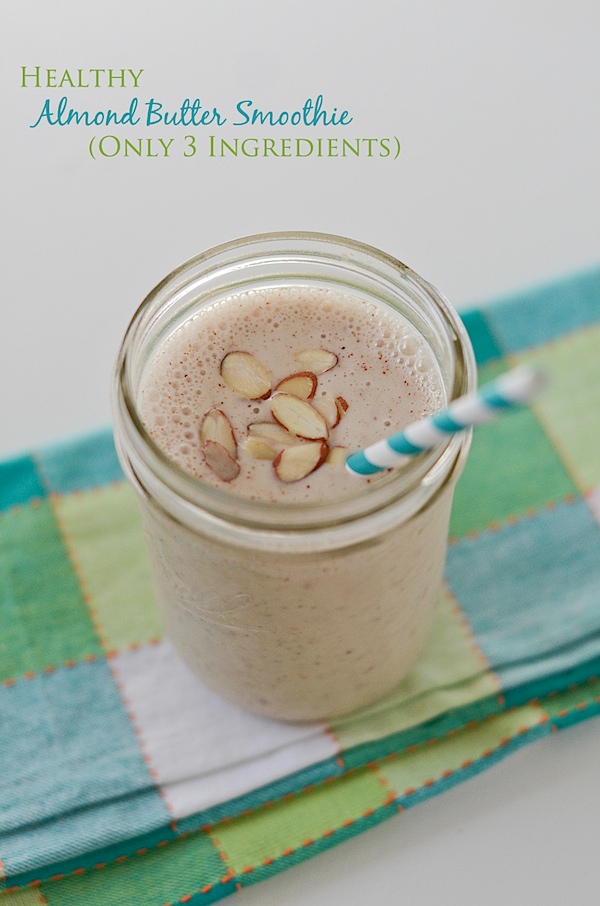 I love creative ingredients and all, but sometimes it's nice to make something with just a handful of staples. This healthy Almond Butter Smoothie is made with only three ingredients. And, none of those ingredients is a sweetener! Yup, this smoothie uses the natural sweetness of a banana.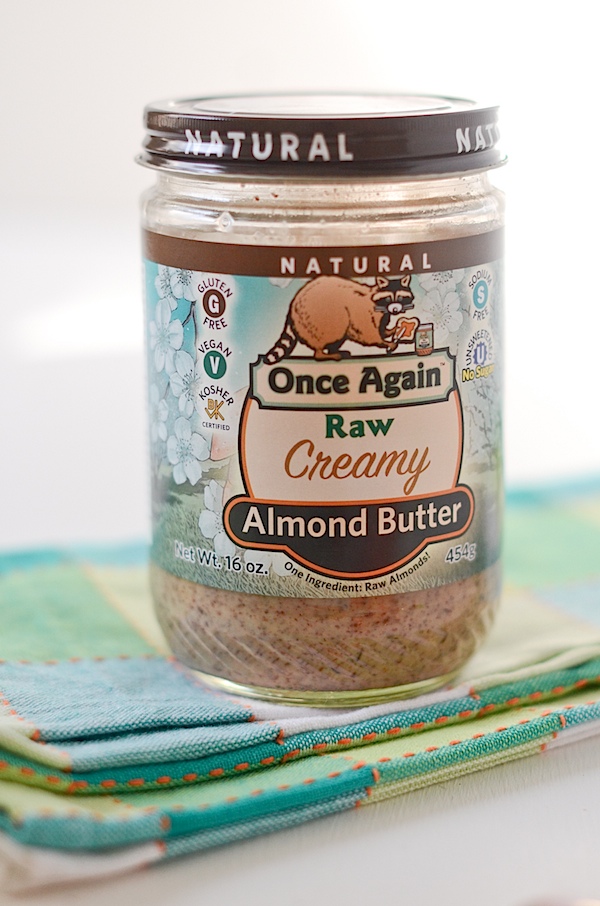 The key ingredient is a good almond butter. You'll get almost all of your flavor from this ingredient, so pick one you enjoy eating. This Once Again Raw Creamy Almond Butter was on sale recently, so I decided to check it out. I'm not gonna lie, I prefer an almond butter made with roasted almonds and salt for a deeper flavor. This one is quite light.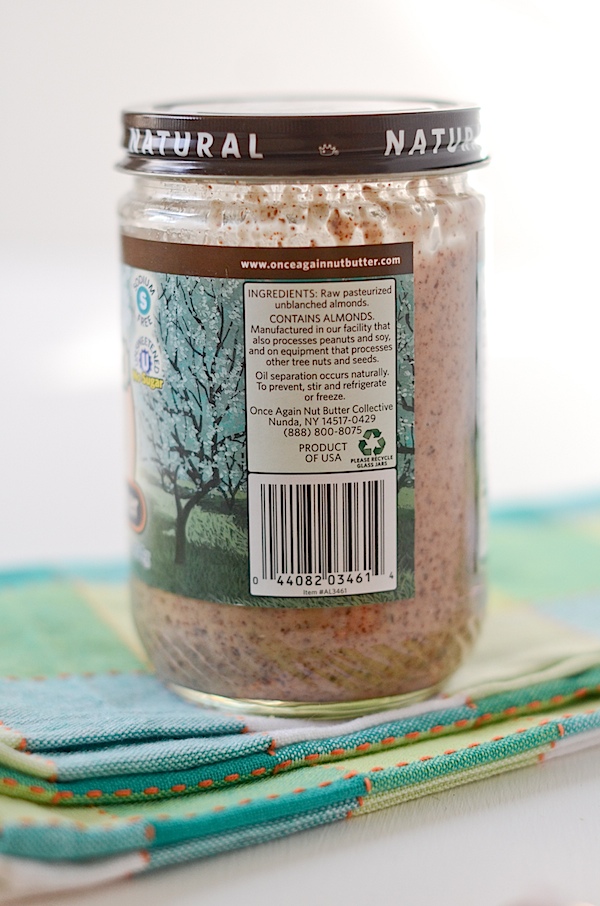 However, for a non-homemade almond butter, the ingredient list is impressive.
Ingredients: raw pasteurized almonds
Yup, just one ingredient. No chemicals or additives. Just straight up almonds.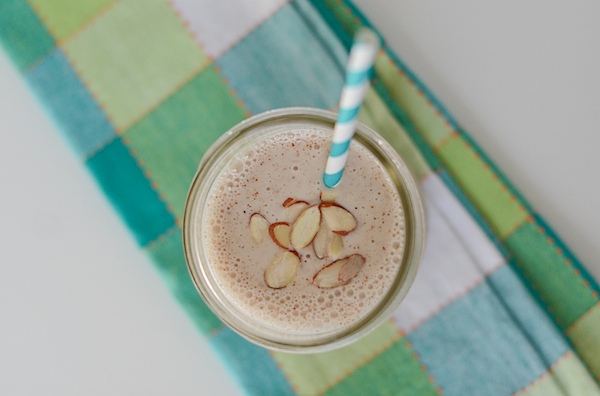 This smoothie is a great everyday smoothie, but there are also a ton of ways to jazz it up. More on that on my next post for the Amped Up Almond Butter Smoothie Recipe.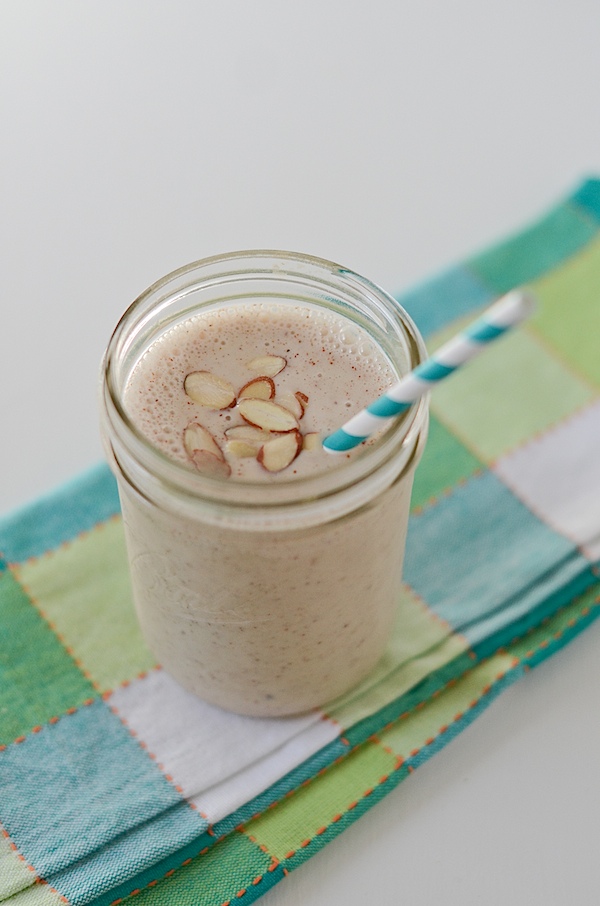 Healthy Almond Butter Smoothie Recipe
This Healthy Almond Butter Smoothie recipe is a cinch to whip up. It only uses three staple ingredients, too, and you can easily add in others to your liking. Remember to choose an almond butter you really love since it will be the main flavor of this smoothie. Did I mention there are no added sugars in this smoothie? Woohoo!
Author:
Diana of thechiclife.com
Ingredients
1 cup milk of choice (I used unsweetened rice milk)
1 frozen banana
2 tablespoons almond butter
Instructions
Place milk, banana, and almond butter in the blender.
Cover and blend until ingredients are processed and smooth, about 1-2 minutes. Taste test and if desired, blend in sweetener of choice to taste.
Enjoy!
Notes
This recipe uses the sweetness of bananas for natural sugar. If it's not sweet enough for you, you can blend in some more sweetener of choice.

A frozen banana is recommended for a nice, frosty texture. But, you can sub a non-frozen banana. I'd just recommend adding a couple cubes of ice to the mix.
***
Have a great week! And, remember to eat your fruits and veggies!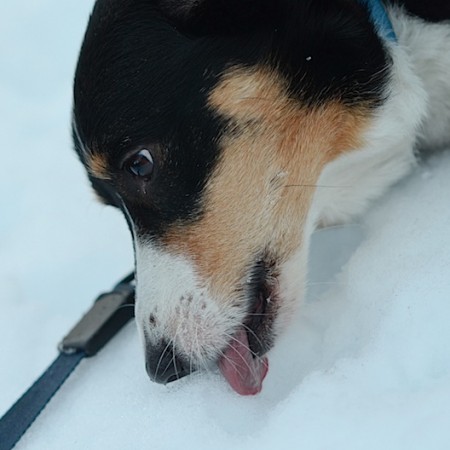 In case you hadn't heard, we got a little snow here in the south. And when a little snow happens here, many cities pretty much shut down. The downside? Since I have the ability to work remotely, I still had to work all week. The upside? Since I have the ability to work remotely, I…