I wondered if Jacob's Pickles would be the best restaurant of my sister's visit to New York City. But we had plenty of other delicious spots to hit up. This post has info on two of our favorites.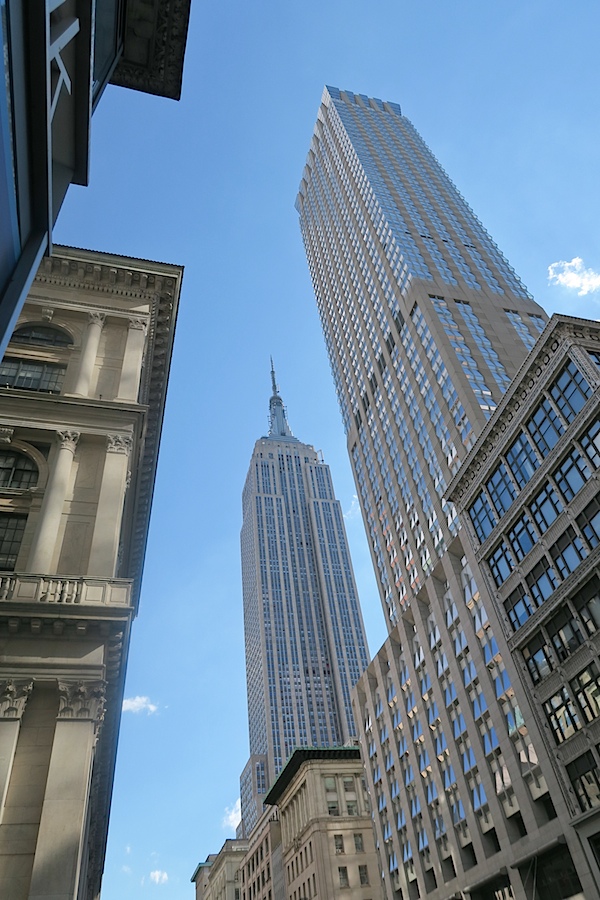 I took my sister to her first POUND fitness class. It was just near the Empire State Building, so we got some good shots of the iconic building.
Tip: We were sure to pull over to an out of the way area on the sidewalk so as to not disrupt the flow of sidewalk traffic or piss off any locals. Never stop in the middle of the sidewalk to snap a shot (or for anything, really), unless you want to get yelled at, bumped into, or simply aggravate the New Yorkers passing you.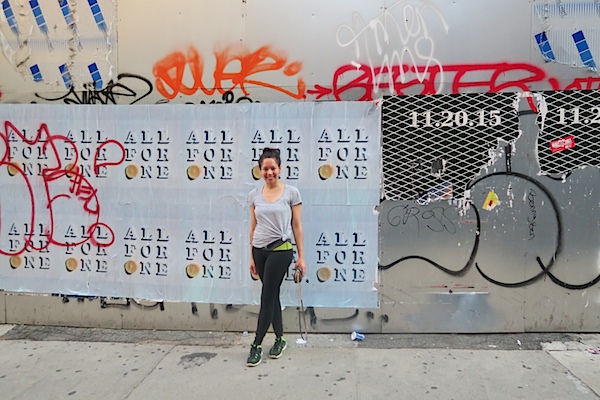 After a quick change into what else…athleisure…we were off for dinner just a couple blocks from Crunch Gym.
Spice Symphony (Best Indian Restaurant in NYC)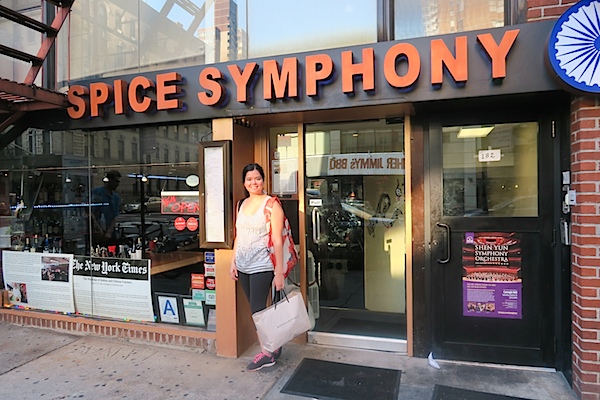 Sis wanted to find the best Indian food in NYC. Some google research had Spice Symphony listed as the best according to TripAdvisor.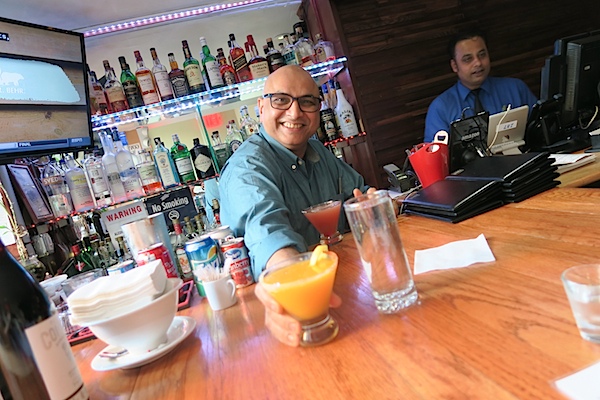 We made a reservation, which was good because the restaurant was full when we got there, even though it was a Wednesday. But, we decided to eat at the bar because it had better lighting and we both really wanted to take photos of our dinner.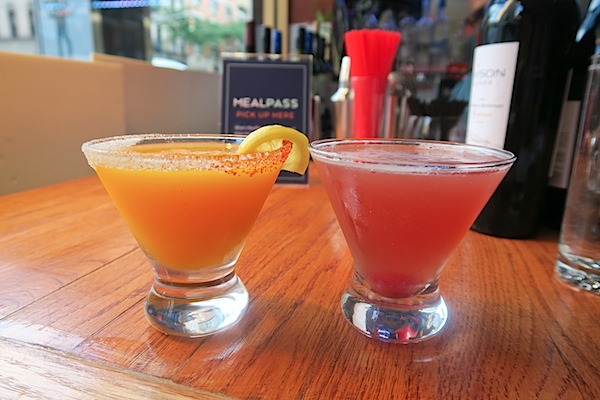 The orange drink on the left is a mango margarita. It's probably one of my all-time favorite cocktails. It tasted sweet and the alcohol wasn't too overpowering. It was unique and very enjoyable with dinner.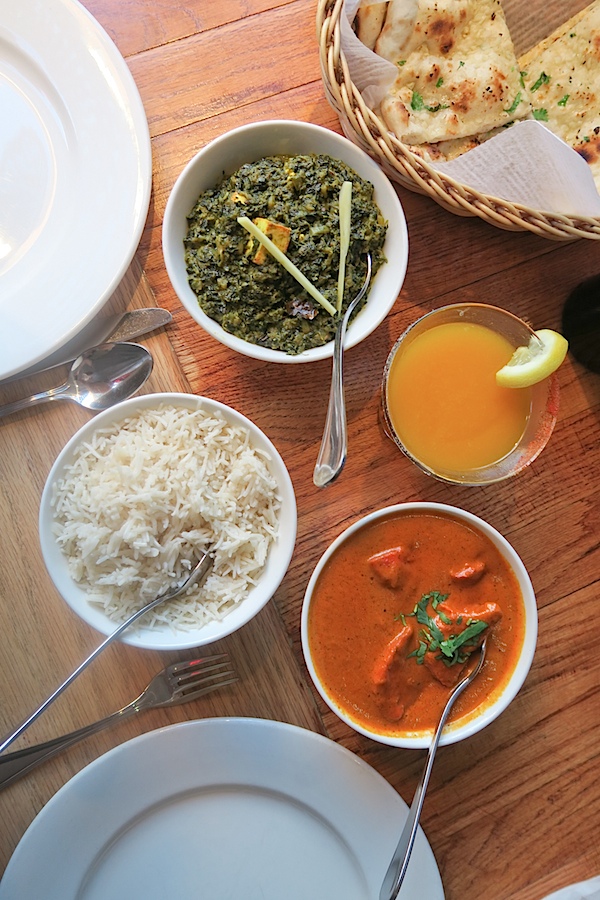 We decided to share a couple dishes: chicken tikka masala and saag paneer, plus rice and garlic naan. The food was definitely the best Indian I've ever had, and I've actually already gone back for another visit since this initial visit.
If you're looking for quality Indian in NYC, definitely check out Spice Symphony. By the way, this is an Indian-Chinese fusion restaurant. I know a lot of people have significant others who don't like Indian, so you can get a good compromise dinner here. As long as they like Chinese, of course.
Tasty Hand-Pulled Noodles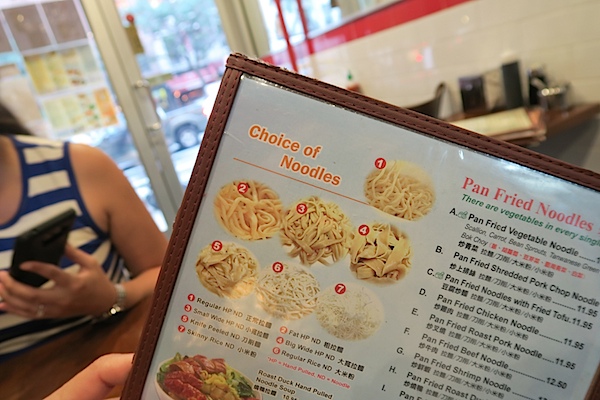 My sister visited the original Tasty Hand-Pulled Noodles location in Chinatown while I was at work one day. She loved it so much, she really wanted to take me there to experience it myself. Hand pulled noodles were one of my bucket-list eats from when I was first planning to visit NYC at the beginning of this year.
Tasty Hand-Pulled Noodles was actually visited by Guy Fieri on Diners, Drive-Ins, and Dives, if you're into that show. They have two locations: Chinatown and Hells Kitchen. We visited the Hells Kitchen location together.
We had a seat near the doorway to the kitchen and actually got to watch the chef pulling the noodles. It's really interesting to see. The chef literally takes a ball of dough and uses his hands to pull it into tiny strands of noodles. Amazing! Here's a video of Tasty Hand-Pulled Noodles in action if you're curious.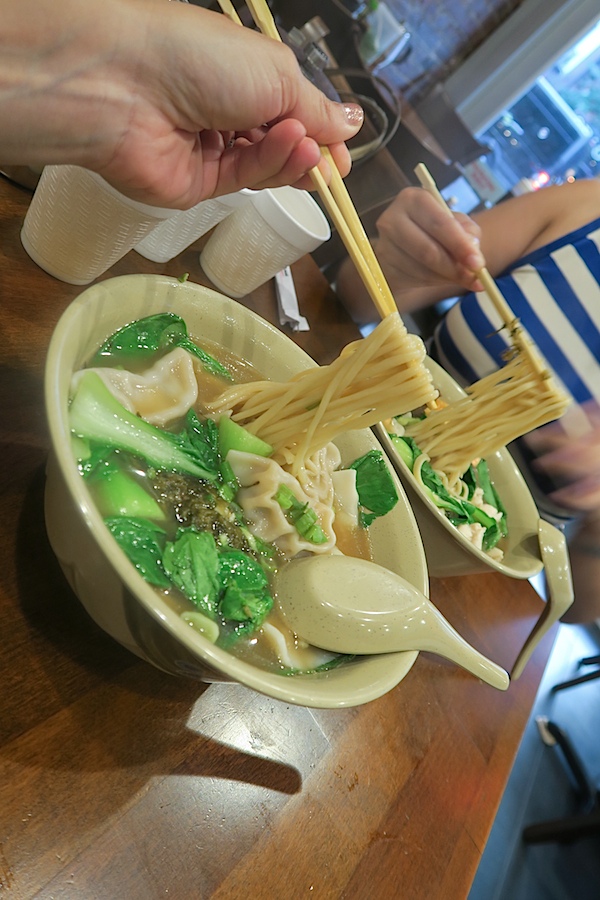 My sister liked this place so much, I think she visited it about three or four times during her trip. That's some noodle love for ya!
More NYC Blog Posts
Here are some more posts from my sister's visit:
And click here to view my other NYC blog posts
Thanks for visiting!