To my fellow Zumba instructors, the schedule for Zumba Convention Orlando 2014 is LIVE!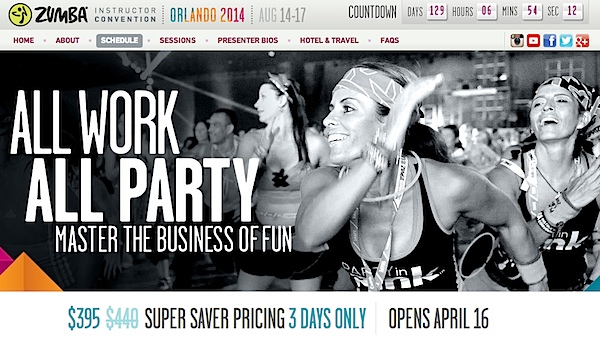 They're doing things a little differently this year. Firstly, the schedule is up, but registration doesn't open until April 16th. So, you have time to research the sessions you want to attend.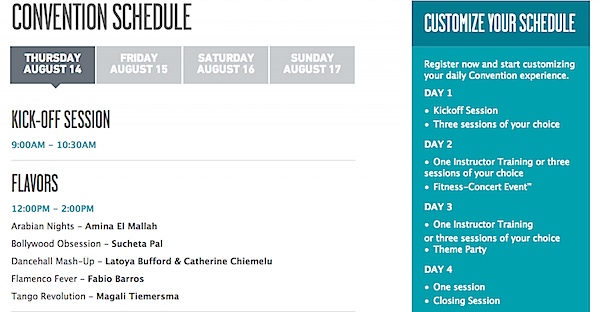 Next, they've made several changes to the schedule:
They've changed the schedule structure. There are different numbers of sessions on each day. I like how there's only one session on Sunday now – this will make travel and hotel check out so much easier!
They've introduced new sessions, but they've taken away a couple of the ones I've enjoyed in the past. Of the new sessions, I'm curious about many, including LatinTronika, A Tribute to the King/Queen of Pop (not sure who the queen is – Madonna?), Pop Madness, and Arabian Nights. I was sad to see Be the Inspiration by Steve Boedt gone, and I'd heard good things about the fusion class last year and was hoping to attend that one this year. Perhaps it's on the schedule but under a different name? I'll have to wait till the descriptions of each session are available.
I'm excited to see so many Latin Pop sessions – that's definitely my favorite as far as the session closest to my teaching style and songs I tend to favor. I think there was only one Latin Pop session per convention for the last two years. Go Lindsey!
They've added more Jam and other non-flavor sessions.
They've added more master classes, including a set that happens later at night (roughly 7-8-ish).
I'm also tempted to do an instructor training on one of the days, if I can pull myself away from the sessions (which I really enjoy, so that will be difficult). The cool thing about convention is that you can do trainings with a ZES that you couldn't' as easily reach from your hometown. As much as you may like a particular ZES, it can be difficult to find the time and money to travel to do a training with them, especially if they're very far from you.
Anywho, I love Zumba Convention! It's my can't-miss conference of the year because it's so much fun, and I always learn so much to improve my classes. This will be my fourth year attending! Can't wait!
***
You can read about some of my past Zumba Convention experiences here:
I blogged multiple posts from each convention, but I've linked one above for each year that should be able to get you to the rest. Use the Next/Previous links at the end of each post to get to the others. I think I posted the most detailed descriptions of the class in last year's posts.
***
Who else is going to Zumba Convention this year?!?
By Diana 2 Comments
How do you spend your mornings before work?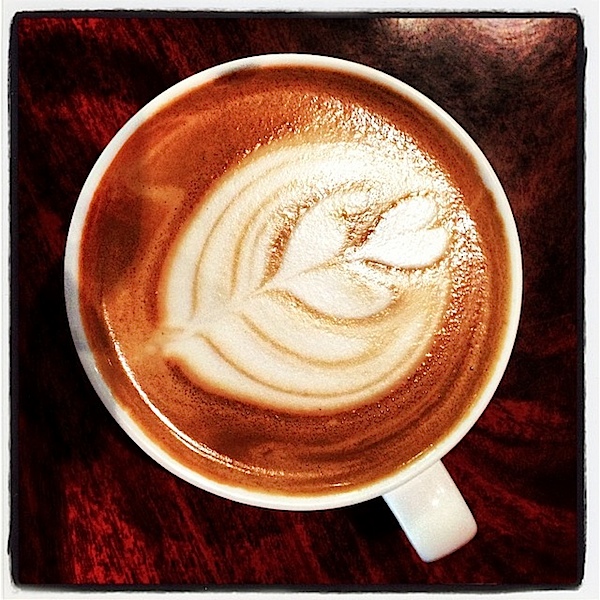 As I tend to be more of a night owl, my mornings are usually a bit rushed. I hit snooze a time or two too many, and the next thing I know, I'm running behind, often rushing out the door with a meager breakfast bar for eats.
I've recently learned that two of my tech friends who I really respect and look up to have a weekly, if not daily, habit of visiting a local coffee shop. They use these morning coffee breaks to relax, reflect, plan, and be creative.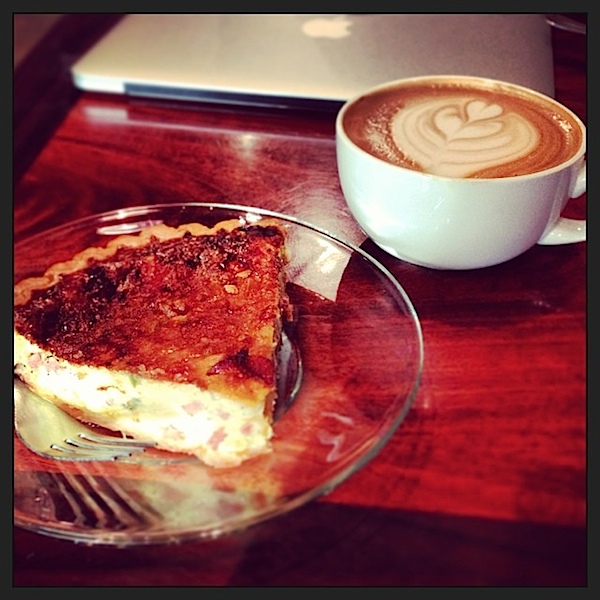 I met one of my friends for a pre-work latte (and slice of quiche) the other day, and it was such a nice way to start the day. I thought about how great it was to catch up, and how it would be good to do that more often and to see more friends. I wondered if a morning wouldn't be a better time than 11pm to write a blog post for The Chic Life. And all that has me thinking even more that I'm doing things wrong in the morning. If I could just wake up a little earlier, I could enjoy such a break, too.
On top of this, I've heard tips from others about spending a few minutes each day planning out the days to-dos and appointments. Not only would I feel more prepared for the day, but I think I'd feel more confident and organized, too. And then there's the obvious bonus of not feeling like I'm pressed for time and having a few minutes to make a quick breakfast.
It's definitely food for thought. Guess I'll have to work on getting to bed earlier, too!
***
Thirsty for more? Here's a great article from the Harvard Business Review about the two lists you should review every morning (click to view).
Do you rush around or do you have a nice mooring routine down?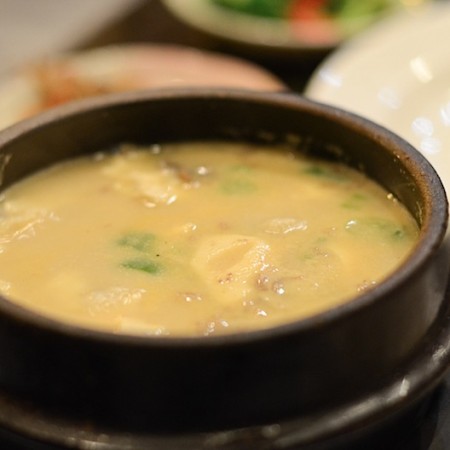 Sis and I are taking a weekend road trip to Atlanta, GA, and we found a great stop on the way in Duluth, GA. We were up for a food adventure and decided to try Jang Su Jang, a Korean BBQ restaurant. Neither of us have had Korean food before, but we've heard such good…