By Diana 2 Comments
How do you spend your mornings before work?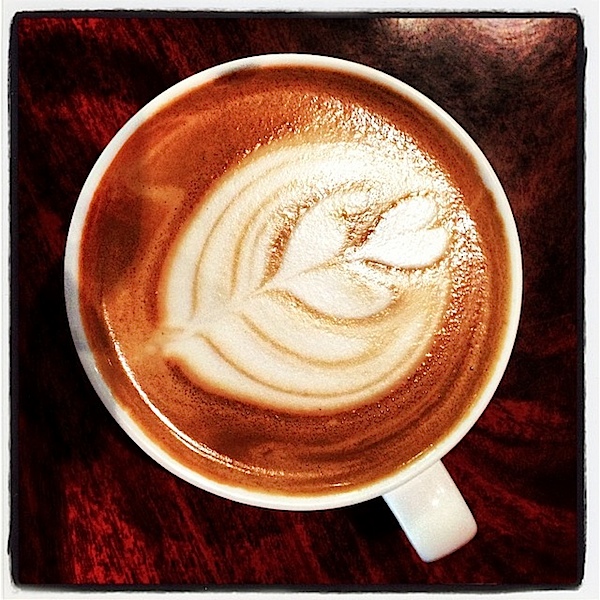 As I tend to be more of a night owl, my mornings are usually a bit rushed. I hit snooze a time or two too many, and the next thing I know, I'm running behind, often rushing out the door with a meager breakfast bar for eats.
I've recently learned that two of my tech friends who I really respect and look up to have a weekly, if not daily, habit of visiting a local coffee shop. They use these morning coffee breaks to relax, reflect, plan, and be creative.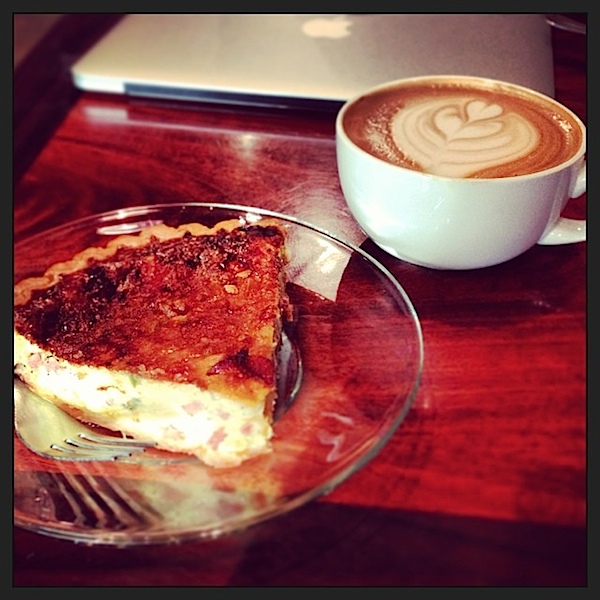 I met one of my friends for a pre-work latte (and slice of quiche) the other day, and it was such a nice way to start the day. I thought about how great it was to catch up, and how it would be good to do that more often and to see more friends. I wondered if a morning wouldn't be a better time than 11pm to write a blog post for The Chic Life. And all that has me thinking even more that I'm doing things wrong in the morning. If I could just wake up a little earlier, I could enjoy such a break, too.
On top of this, I've heard tips from others about spending a few minutes each day planning out the days to-dos and appointments. Not only would I feel more prepared for the day, but I think I'd feel more confident and organized, too. And then there's the obvious bonus of not feeling like I'm pressed for time and having a few minutes to make a quick breakfast.
It's definitely food for thought. Guess I'll have to work on getting to bed earlier, too!
***
Thirsty for more? Here's a great article from the Harvard Business Review about the two lists you should review every morning (click to view).
Do you rush around or do you have a nice mooring routine down?
By Diana 3 Comments
Quiche. It's what for breakfast, lunch, or even dinner. It's like the gift that keeps on giving for busy people like us. Make it once and enjoy the leftovers for whichever type of meal you prefer later. Not to mention the combinations are endless. I recently whipped up a delicious quiche that I'm sharing here for a Brussels Sprouts and Cheddar Cheese Quiche recipe. The brussels sprouts added a nice, sweet taste to the overall flavor. Yum!
Though it's one of few things I think re-heats okay in the microwave, I think the best way to re-heat quiche is in the oven. I like to cut a slice up and bake it until it's heated through for that fresh-baked taste.
The next step is to figure out what you want to serve the quiche with. I like my quiche with toast and coffee for breakfast and with a salad for dinner. All the sides are simple, making this overall meal experience tasty and easy.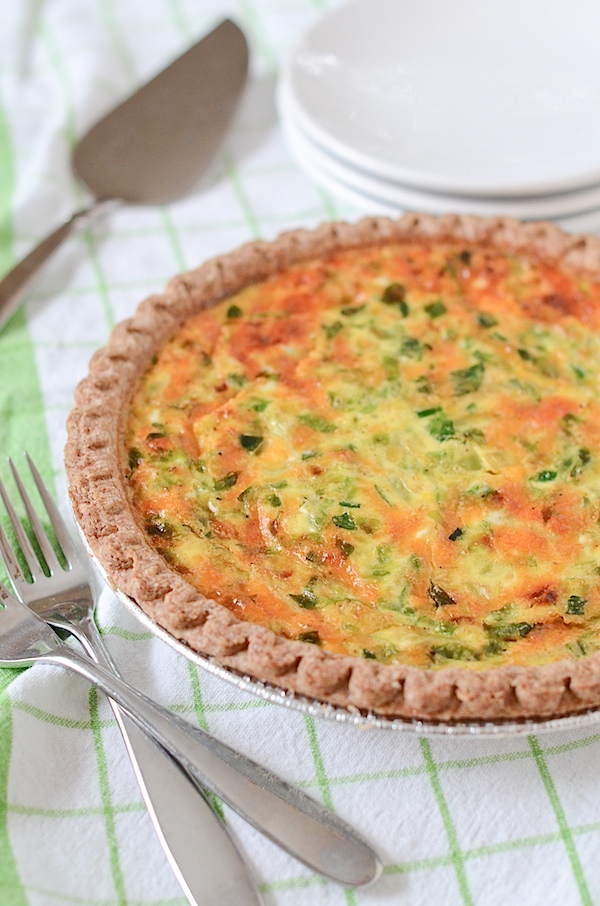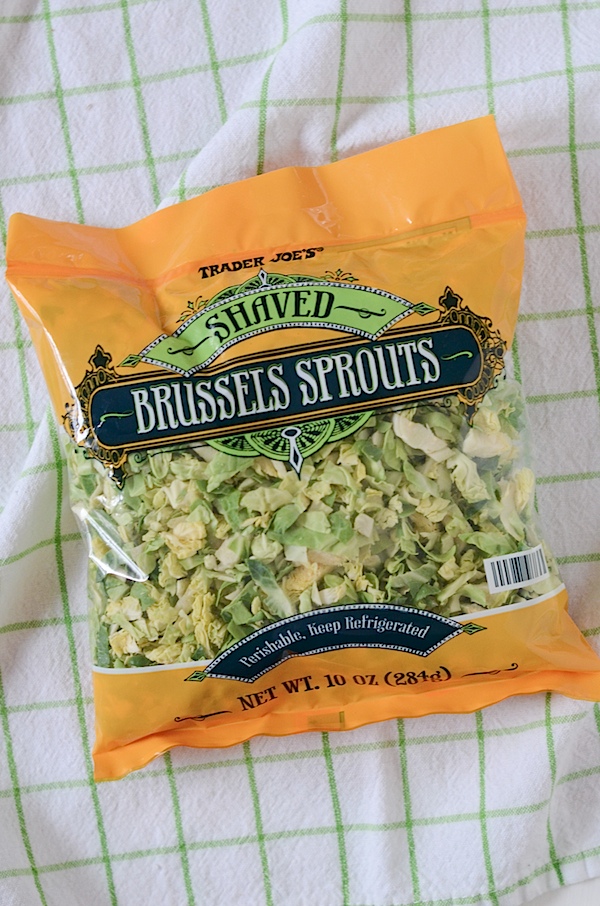 Brussels sprouts are easy to shred (check out my recipe for easy sautéed brussels sprouts), but if you're extra short on time, try the pre-saved ones available at Trader Joe's. You'll get enough to eat as a side vegetable for a different meal and the leftovers will already be cool to save you even more time.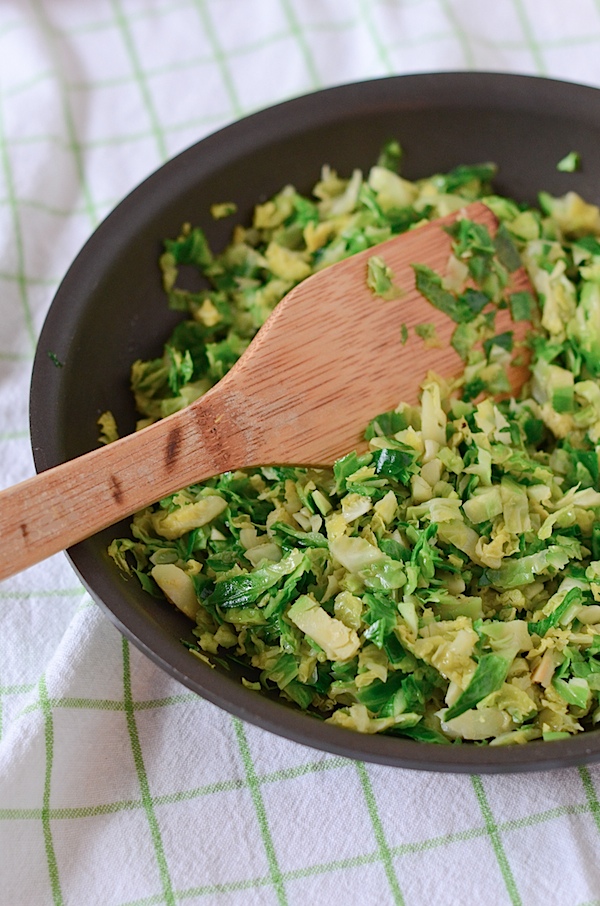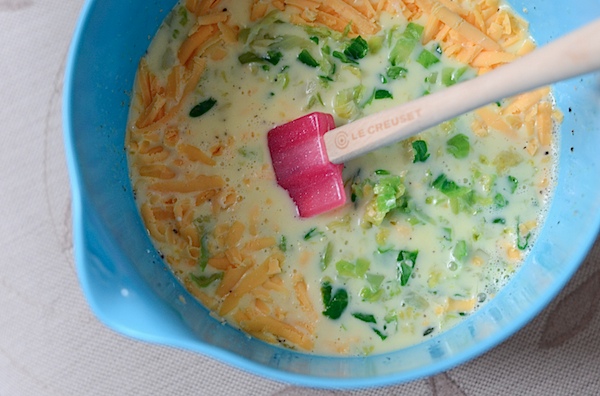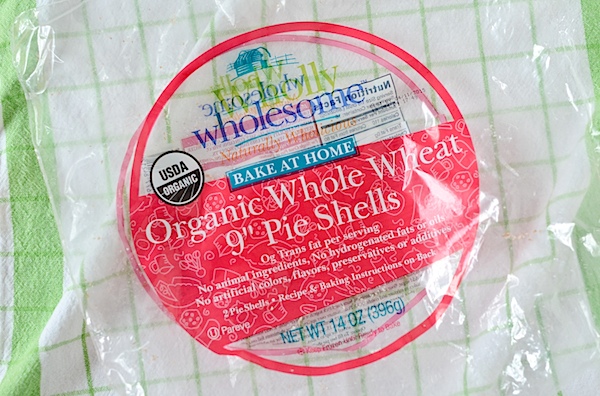 I recently found these frozen pie crusts at my local health food store. They come in a variety of flavors, including spelt and gluten-free. My favorite is the Organic Whole Wheat 9″ Pie Shell by Wholly Wholesome.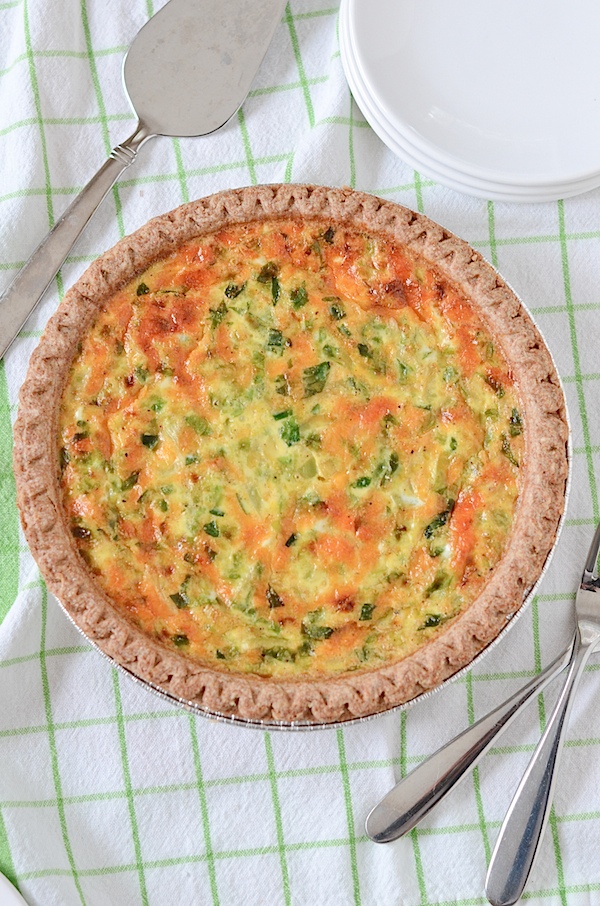 Hello, delicious Brussels Sprouts and Cheddar Cheese Quiche Recipe!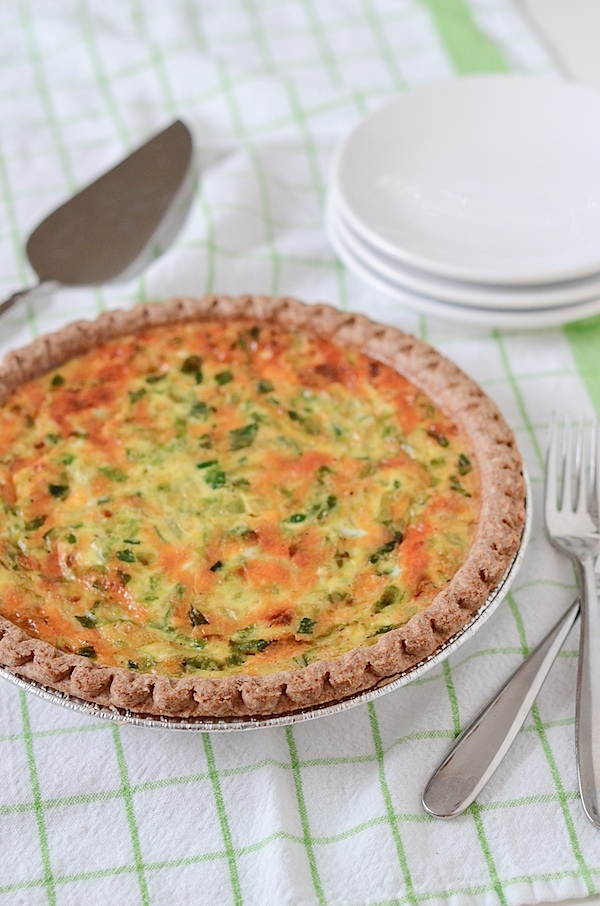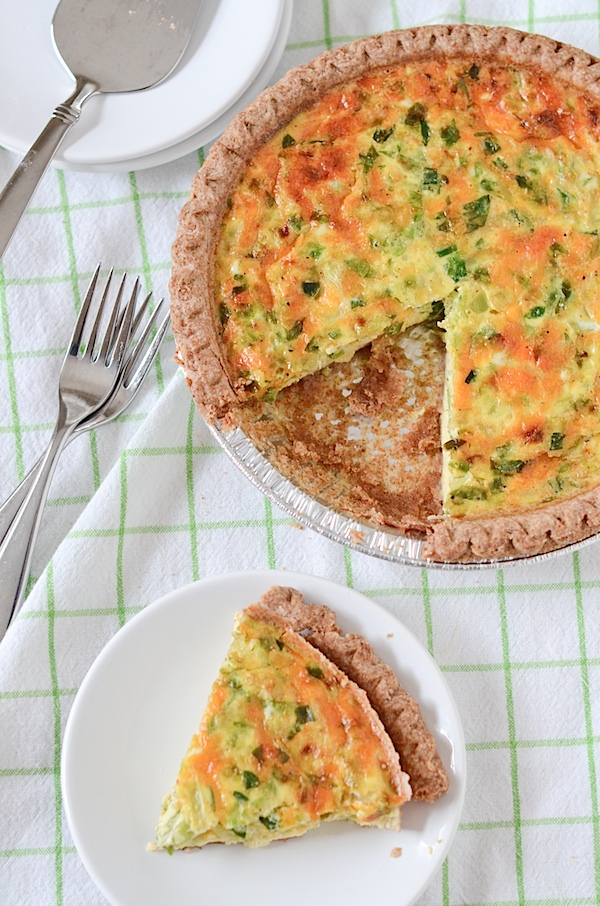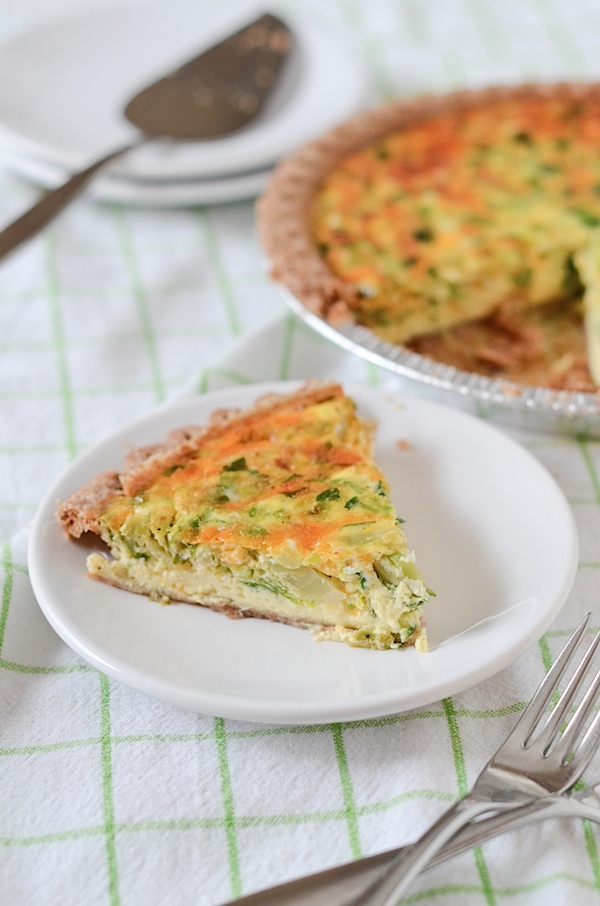 Easy Brussels Sprouts and Cheddar Cheese Quiche Recipe
Easy Brussels Sprouts and Cheddar Cheese Quiche Recipe is super simple to make. Enjoy it for breakfast, lunch, or dinner. This is a great use for eggs that are about to expire or if you need to do meal prep for the week and need easy eats. Serve with toast, a salad, and/or fresh fruit to complete the meal.
Author:
Diana of thechiclife.com
Ingredients
½ tablespoon butter
1 teaspoon oil (I used olive oil)
1 cup shaved brussels sprouts
4 eggs
1 cup milk
1 cup grated cheddar cheese
¼ teaspoon garlic salt
¼ teaspoon fresh ground black pepper
1 frozen pie crust (see photos for the clean eats version I found at my local health food store)
Instructions
Pre-heat oven to 350 degrees Fahrenheit.
Heat a large pan over medium heat. When it's ready, add the butter, oil, and brussels sprouts and cook, stirring frequently, for 2-3 minutes, until the brussels sprouts have softened nicely. Set aside to cool. Wait until the brussels sprouts have cooled before proceeding so they don't cook the eggs when you add them in the next steps.
In a large bowl, combine eggs and milk and whisk till evenly combined.
Stir in brussels sprouts, cheddar cheese, garlic salt, and black pepper.
Pour egg mixture into frozen pie crust and bake for 45-55 minutes, until the center is set.
Notes
NOTE
: This recipe would be a great use for leftover cooked brussels sprouts (
click here for a recipe for sautéed brussels sprouts
). Simply skip the brussels sprouts cooking step and if yours aren't already shaved, chop them pretty small.
NOTE
: Keep a frozen crust in the freezer for convenience.
Cooking tip
: If when you check the quiche to see if it's done the center is sunken, then you need to cook longer. The center should be puffed up a bit.
What's your favorite quiche ingredient combo?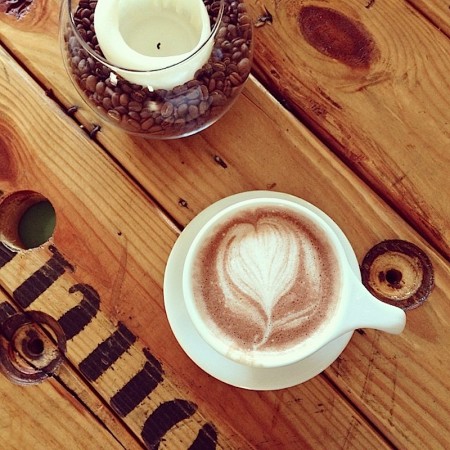 Since we have Not Just Coffee in town, I'm spoiled with delicious coffee. I now look for high quality coffees with latte foam art wherever I go. Imagine my surprise when just such a coffee popped up on the @visitgreenvillesc Instagram account. Could it be that I could find a coffee shop like NJC when…