I hope you all had a wonderful Fourth of July. Ours was spent relaxing most of the day – exactly what I wanted to do. I started it all out by sleeping in (yay!) and then me and the hubby hit up a local pancake house for a delicious brunch. Next, we headed to Tar-jhay (aka Target) so I could pick up a Rubik's cube. I know…random! I've never had the desire to try to solve the silly thing till recently, but that's another story for another day. Anywho, the hubby got on the phone with some buddies and ended up planning for us to spend the night doing the all-American tradition (to celebrate today's holiday) – grilling! We promptly headed to the grocery store to get all the essentials we'd need, plus a few extra to make a dessert I'd recently been eyeing in one of my mags.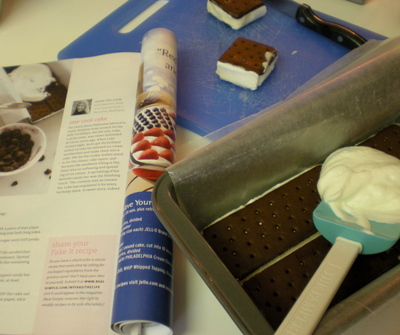 I don't know if you saw it, too, but I saw a yummy-looking dessert that appeared to be as easy as it was tasty in my Real Simple magazine – the July 2008 copy. I'm talking about the dessert made from ice-cream sandwiches and whipped cream. Did you see it!? I knew from the minute I saw it that I'd be making it soon, and I figured what better dessert on the Fourth than something cool & creamy to wash down those hamburgers and hot dogs?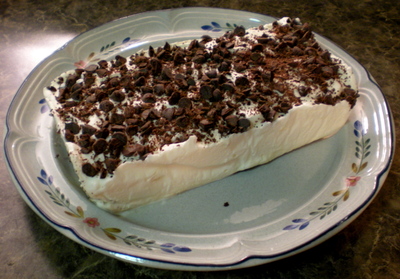 The recipe came together very easily. It was basically just two layers of ice cream sandwiches separated by two layers of whipped cream – all topped with chopped chocolate chips and re-frozen. The hardest part was making the whipped cream from scratch (which isn't very hard at all if you have an electric mixer). The recipe suggested using wax paper or parchment paper to line the bottom of the baking dish. The wax paper was a bit hard to get off the dessert when I was removing it from the pan – it kind of fell apart and ripped, so if you try that recipe, maybe try parchment paper instead? I'm not sure if it would be much better.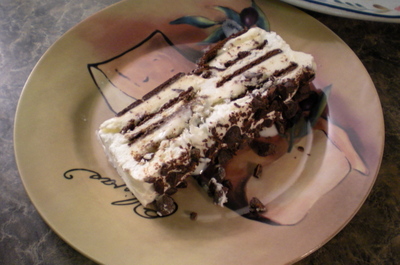 All in all, though, the dessert was a big hit and everyone loved it. We left our friends with big smiles and the rest of the dessert and headed back home to relax some more.
If you celebrated it, how was your Fourth? What did you eat?