I don't know if you've ever even heard of it, but, for me, Dim Sum carries special memories (see old post here for details) and is quite the treat.  When I found out Mr. Chic's sister, A, was also a fan of Dim Sum, I was thrilled.  It's not very often that you find another fan of Dim Sum, so when you find one, you have a special kind of foodie-bond.  We try to make a special trip to the local Dim Sum restaurant whenever we are in the same town.  This past weekend, we happened to share one day of our vacays together and decided to make a Sunday brunch trip.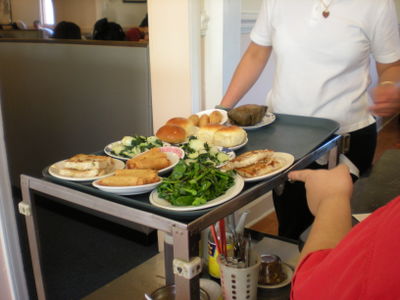 We went to
Hong Kong Chinese Restaurant
, which is one of those hole-in-the-wall places that are little-known secrets.  Their secret – they have
delicious
Dim Sum!  For those unfamiliar with a Dim Sum meal, you sit at your tables and select dishes from carts that are rolled around the restaurant.  The carts carry a variety of dishes in three sizes – small, medium, and large.  The sizes also dictate the way the dishes are priced – one price per size.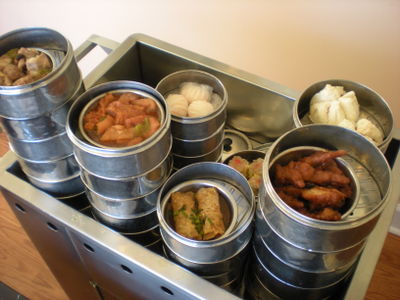 A typical Dim Sum service includes entrees that are baked, fried, sauteed, and (what I consider their signature cooking style)
steamed
.  The steamed dishes are brought out in the round, silver containers that they were cooked in.  I like the steamed dishes in the back-middle (shrimp dumplings) and back-right (steamed barbeque pork bun).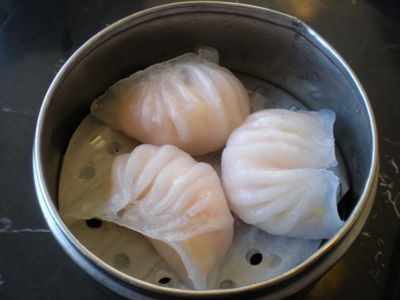 These are the shrimp dumplings.  They are made with shrimp…and some other stuff…and are wrapped in a thin dough, probably rice-based.  Sorry for the vagueness, but when you go to an authentic Chinese restaurant and you don't speak Mandarin or Cantonese, you're probably not going to know exactly what you're eating.  lol.  Although…come to think of it, I guess I never thought to ask exactly what these are made of.  If I had to guess, I would say shrimp and water chestnuts or bamboo shoots.  Perhaps I'll ask next time?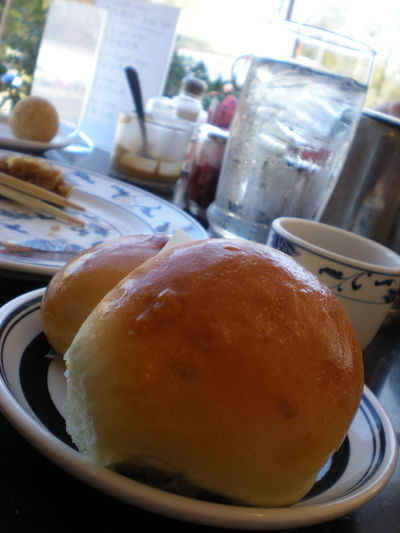 Now,
these
are my absolute favorite.  They are baked, barbeque pork buns.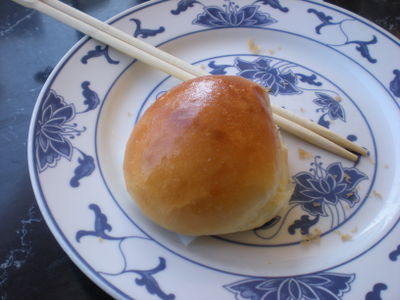 The buns have a slightly sticky-sweet top with a soft, yummy inner bread that almost reminds me of a fresh yeast roll…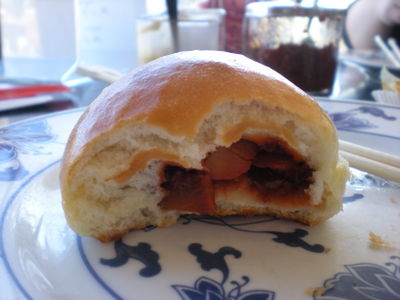 …and inside, a sweet barbeque pork filling.  Yuuuuummmmmm….Just looking at the photo is making me hungry all over again!  lol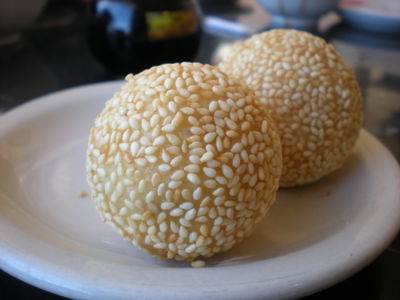 Oh, and you know I have to have
some
kind of dessert.  A and I like to share Sesame Balls to fulfill our sweet-tooth cravings.  The Sesame Balls are doughy and filled with a sweet, bean paste.  Yum.
Dim Sum is definitely a different kind of Sunday Brunch, but one worth trying at least once in your lifetime.  Enjoy!