I ended up staying an hour later at work than I originally expected to, which totally threw off my evening plans. I've been thinking of trying out a yoga place in town, and they have a trial where you can go unlimited times for one week for $25. I was considering going tonight, but I missed the class I wanted to take, so I'm hoping to make it next week instead. After leaving work, I had no clue what to make/eat for dinner, so I went to the grocery store and picked up some random ingredients.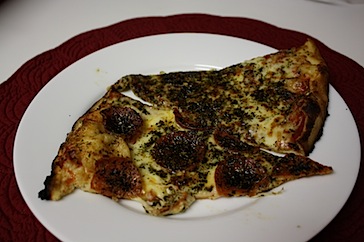 I knew I could throw something together using the ingredients from the store, but when I remembered our fave pizza place was near the organization store and that I needed to pick up a couple more baskets for that pantry addition, pizza started sounding better and better. As you can tell from the photo, I ended up just getting pizza. I'll cook something later this week.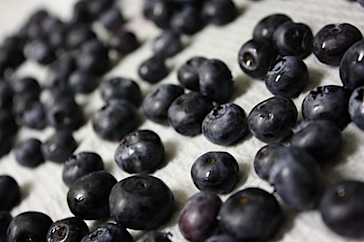 I went ahead and prepped some blueberries for a challenge dish I'm planning to make later this week – Ellie Krieger's Blueberry Blast Smoothie. Since I ended up getting all those fresh berries yesterday, I actually had to freeze some of my fresh berries for the smoothie recipe. I measured out 2 cups (so I can make one for me and one for hubby), washed them and laid them out on this paper towel to dry. After they air-dried for about an hour, I put them in a freezer bag and into the freezer. I read online that you're supposed to put them in a bag in the freezer and after they've been in for 30 minutes, shake them so they don't stick together. That means I need to go shake them now. Just a second…
Ok, I'm back!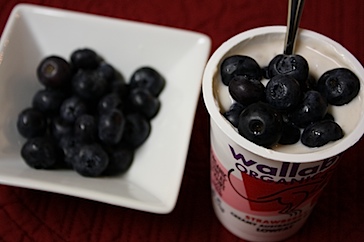 While I was rinsing off all those blueberries for the smoothie later this week, I went ahead and washed some off for a snack tonight. I think it's about a 1/2 cup worth. I put a lot in a Wallaby yogurt, which I tried out upon suggestion by Erin (thanks hun, it was delish!) and the rest I just ate plain. It was a refreshing finale to a pretty heavy dinner, but at least I was able to work some of the challenge food into my diet already this week. Yay!