I am so sleepy this morning!  I tossed and turned all night and I'm not sure I slept more than a couple hours all in all.  Not sure what's with me!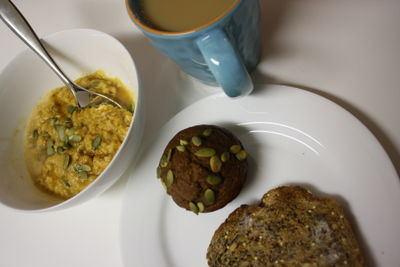 I decided to try to at least start my day right with a nice, grainy breakfast.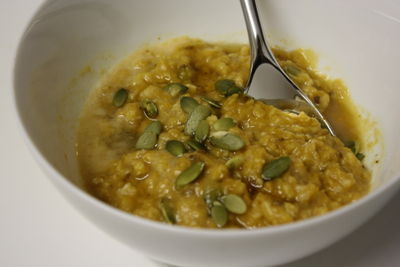 After gathering some advice from Kath (thanks girlie!) last night on how best to prepare it, I made my first ever bowl of Pumpkin Oatmeal!  This will count as my second dish for my weekly food challenge (click for details).  Here's what I put in it if you want to re-create this:
Pre-cooking (stir together the following):
Microwave for 1 1/2 minutes.
Post-cooking:
1 tsp brown sugar
1 tbsp 2% milk
Top with another sprinkle of pumpkin seeds
and a drizzle of maple syrup
I was surprised at how good the pumpkin oatmeal really was.  The first time I saw it on Kath's blog, I thought it looked kinda weird and I was scared to try it.  But, I don't like to knock anything without trying it for myself and I'm so glad I gave this a go.  Since I didn't put too much pumpkin in, it didn't taste overwhelming like pumpkin…just different.  If you're afraid to try this, maybe just put a wee bit of pumpkin in to start?  Like a tsp or something?  Seriously, you should try this one out…especially if you're getting bored with your current oatmeal eats.  Oh, and the pumpkin turned my oats a beautiful, bright orange color that was fun to look at while I ate.  The pumpkin seeds gave the oatmeal a nice texture, too.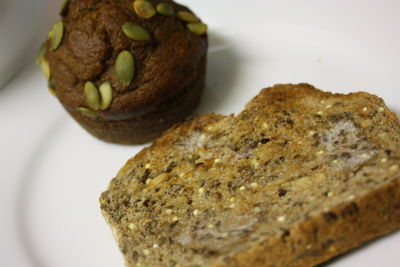 Even though I knew the bowl of oats would fill me up, I couldn't resist toasting up a piece of the High Fiber bread we got from Kath and Matt (thanks guys!) last night.  Look at all those great grains!  The texture is fabulous!  I topped mine with a little butter.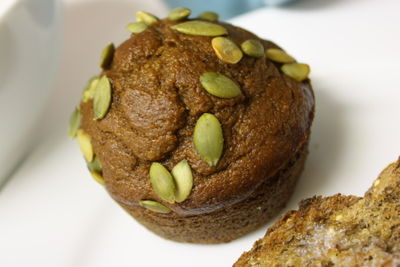 I also set aside this pumpkin muffin to come to room temp (it was in the fridge last night).  I don't know what I was thinking when I gathered it with my other breakfast items.  I am so stuffed, I couldn't possibly eat this.  Good thing it will make a nice snack later!  Yum!
Ok, off to run errands and continue to attempt to get organized!