As I mentioned before, I've spent the last year or so trying to pay down a credit card.  The process was pretty discouraging since the card was for business, and I occasionally had to purchase stuff with it, thereby slowing down the payoff time and preventing me from seeing a lot of movement in the lowering balance (it felt like I put all my money towards it and the balance never dropped…so frustrating!), but today, it's official:
The feeling is almost surreal…I've focused so much of my time and energy, and I've been so hard on myself for the last long year that to think that it's over is almost unreal.
Still, I am ecstatic!  I'm so happy and proud of myself for making it through this and I can't wait to do something really awesome to celebrate!  What to do, what to do…I don't know yet, but something good…this was really, really hard!  Shall I go shopping?  Out to eat?  I don't know!  Btw, if any one is interested in hearing what I did to pay off the card, drop me a comment, and I'll try to throw something together.
Maybe I'll get the point and shoot camera that I need?  The one I have is really so whacky.  Look what showed up today in my import: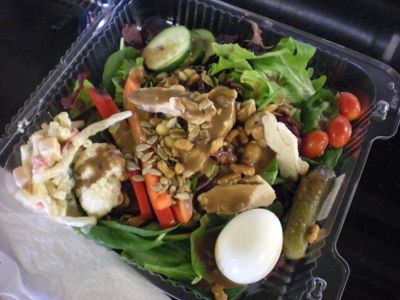 My salad photo from yesterday that my camera claimed was no longer on my memory card...grr…I'm not sure how much more of this crazy camera I can take!  lol
Ok, I I'm off to brainstorm some sort of awesome celebration treat. 🙂