One of my fave staple recipes to make is Ellie Krieger's Oven "Fried" Chicken. I read somewhere, you can make cereal-breaded-chicken recipes healthier by using a whole grain cereal, so I've been casually hunting for a good option.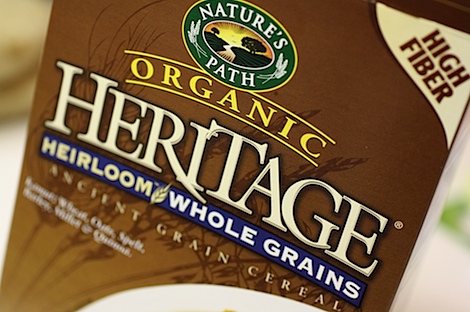 The last time I was at TJ's, I decided to take a closer look at the cereal options and decided to try the Nature's Path Heritage Heirloom Whole Grains cereal. I noticed that there were some sugar-y ingredients on the list (I'm not too big on savory-sweet combos) but they were pretty far down the list, so I decided to give the cereal a whirl.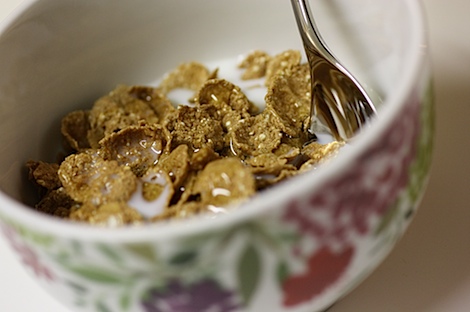 I haven't had the chance to cook my chicken dish just yet, but I have taken the time to sample the cereal to ensure it wouldn't be too sweet to use in the recipe.
In the ingredient list: Organic Kamut wheat flour, organic wheat bran, organic whole wheat meal, organic evaporated cane juice, organic whole oat flour, organic spelt flour, organic barley flour, organic whole millet, organic barley malt extract, organic quinoa, sea salt, and organic honey – great stuff!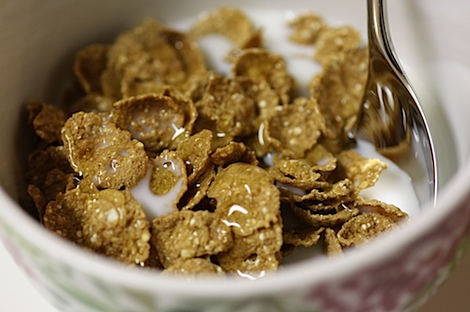 I tasted a couple flakes "naked" to gauge the sweetness and they weren't really sweet at all. Yay! Since the box was already open, I decided to go ahead a have a bowl French-style. I'm not sure it's truly "French" but I one of the habits I picked up from my exchange to France was eating plain, corn-flake-type cereals topped with a wee-drizzle of honey and some milk.
The combo was awesome! I really liked the simplicity of flavors and the texture of the cereal against the smooth honey. Guess my dad's really wearing off on me because I'm really preferring heartier whole-grains over the more processed options more and more. I've had a bowl of this stuff every other day for the last several days (for breakfast, snacks, and dessert) and I'm so not sick of it yet. I just hope I have enough left to make Ellie's chicken recipe!