So, I'm a bit behind, but I'll try to catch up today.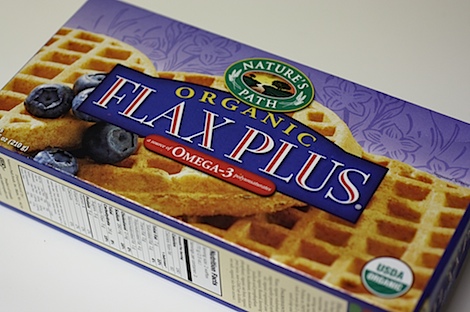 Friday kicked off with a new kinda breakfast…for me at least. I'm usually running so late in the morning, I don't take time to make anything I'm not already programmed to make (i.e. oatmeal or AB toast), but on Friday, I decided to try the waffles hubby brought home last week. I was surprised to see he picked these out since he usually opts for the more familiar options (like Eggos) when it comes to shopping, but I was proud of him for trying something new and healthier.
He bought us some Nature's Path Organic Flax Plus Waffles.
I decided to do a bit of a sampling and made 2 waffles – 1 covered in Barney Butter and the other dowsed with Vanilla Bean Maple Syrup. I also added a MorningStar Sausage Pattie for a savory balance.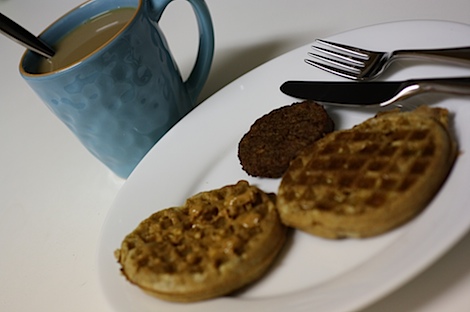 I thought the waffles were really good – they didn't even taste that "healthy" to me – just like regular waffles. I preferred the maple syrup topping over the AB, but it was worth trying. I think I'll stick with AB on my toast and maple syrup on my waffles.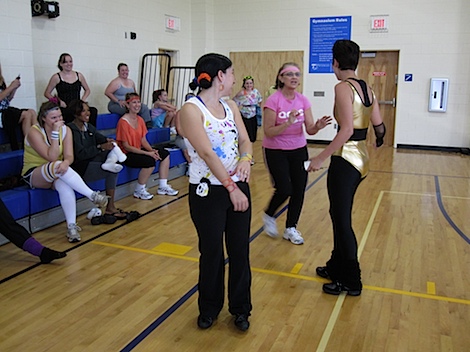 After work, I had a very special event – an 80's zumba party!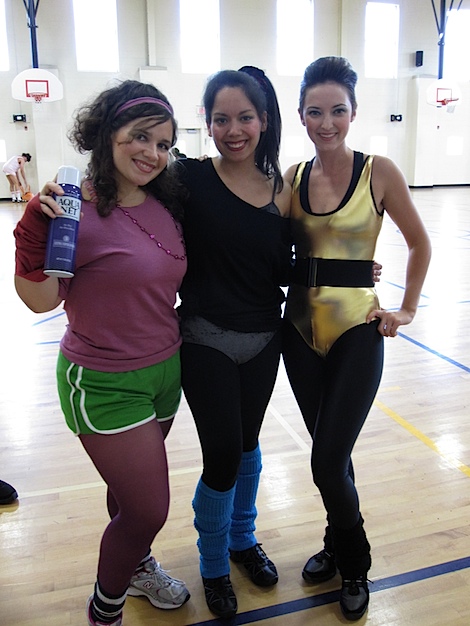 I actually busted out some leggings and a leotard that I used to wear all the time when I had ice skating practice! All I had to add were the leg warmers and the off-the-shoulder tee, complete with side-knot, of course. Class was a blast, but I was soooo hot in those silly leg warmers!
After class I headed home to see what Hubby was up to – he said he wanted to do dinner Friday night.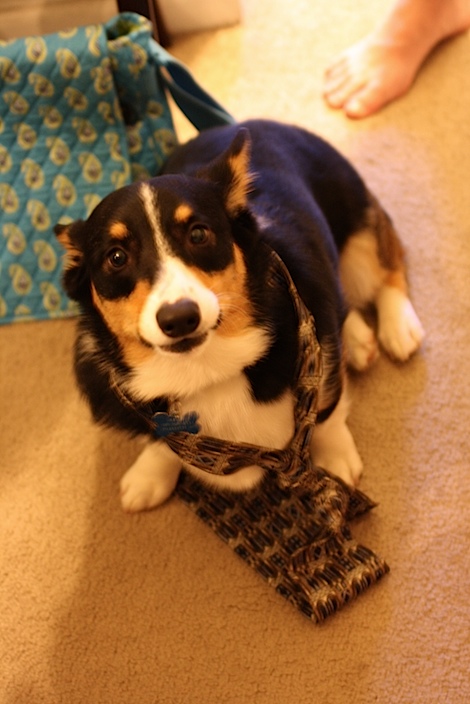 I was greeted by Bailey in a tie. Hubby said Bailey was going to be our server for the evening. (Don't worry, we didn't leave the tie on Bailey)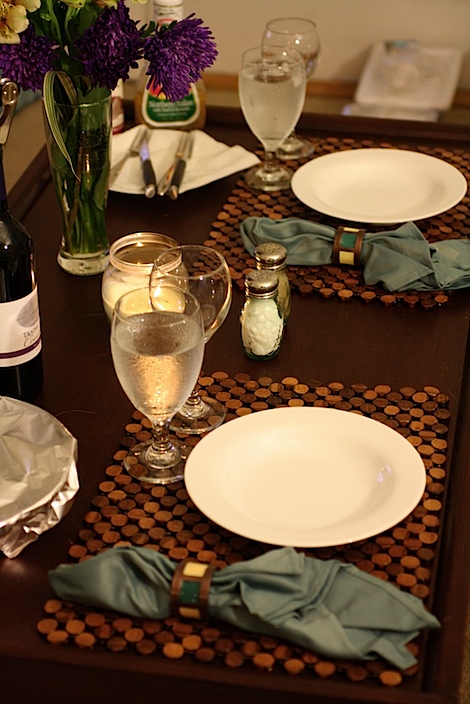 Hubby had the table set up so cute.
Pretty flowers b/c he knows how much I adore fresh flowers.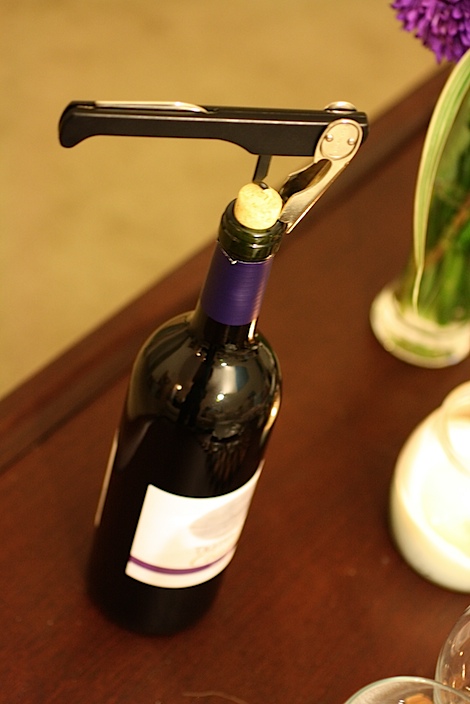 He even picked up some Trader Joe's Coastal wine for the evening.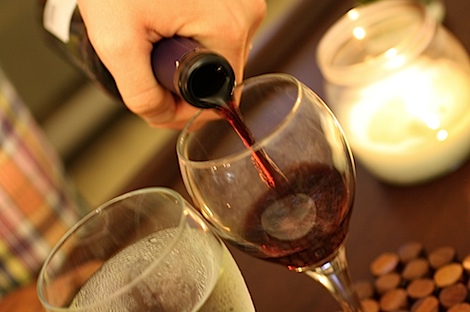 Hubby asked if I knew what we were having for dinner with the wine being a clue.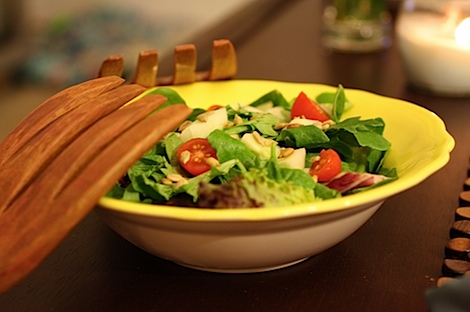 I tried guessing over salad.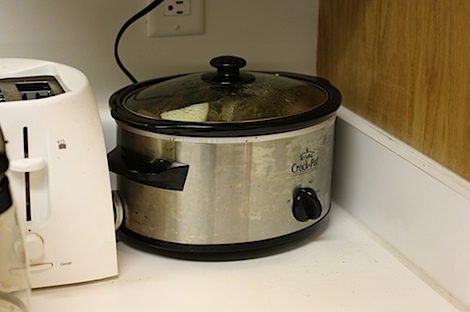 But, I didn't figure it out. Turns out hubby had hidden our slow cooker behind our coffee machine in the kitchen. I didn't go in the kitchen, so I never saw it.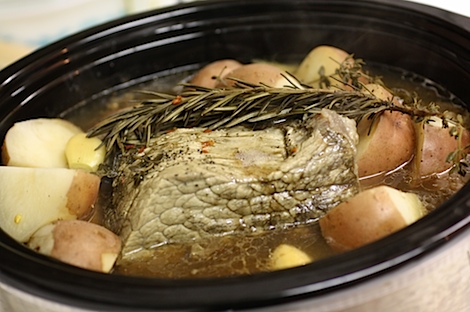 Inside was a yummy-smelling pot roast. Although I have a recipe I typically use (click to view), Hubby said he used a Tyler Florence recipe, but I'm not sure exactly which one he used. I tried searching for it briefly this AM, but there were quite a few options.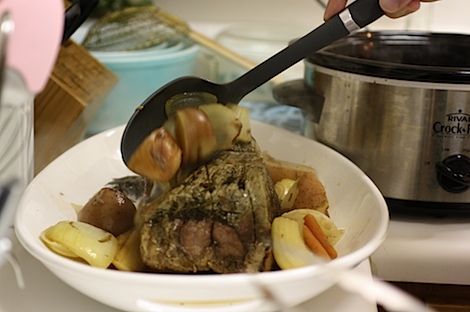 I thought it was so cute how hubby even got out our serving platter to serve dinner.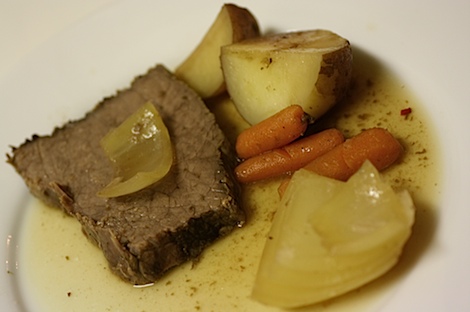 I had a nice serving of pot roast with some onion, carrots, and red potatoes – the flavor was awesome – especially with all those fresh herbs hubby used. I think I'll have to try adding some of those to my standard pot roast next time.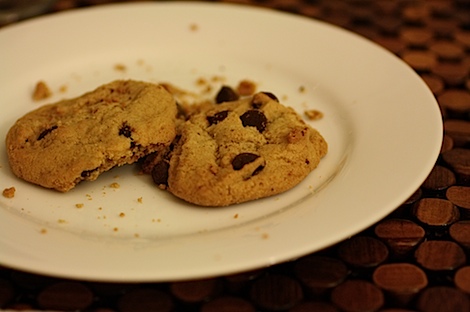 Dessert was simply some of those irresistible TJ's chocolate chip cookies.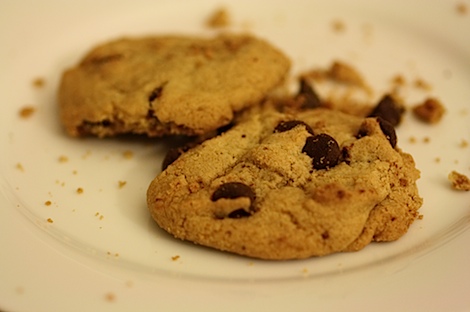 They were a sweet way to end a great day.