Freshly Ground Coffee – Oh Yea!
I woke up extra groggy this AM to a pantry without my beloved Fresh Market coffee. We finished the last of our Breakfast Blend yesterday.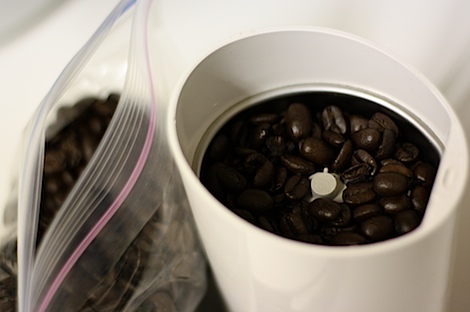 Luckily, my neighbor gave us a bag of coffee beans awhile back because he said were too light for him. Light coffee = good to me.
The only downside – I had to grind the beans. I know this doesn't take long, but being someone who typically sleeps as late as possible and then rushes to get ready, every second counts.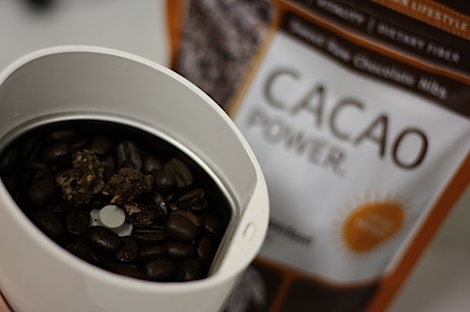 Following an idea from their web site/marketing, I threw in a couple Cacao Power Sweet Raw Chocolate Bites (from my free sample stash from Navitas Naturals)
I also decided to throw most of my cacao nibs into my oatmeal pre-cooking. I like them MUCH better this way! They have a better texture IMO, though I did toss a couple extra on top for fun, along with some sliced almonds.
Unsweetened Hershey's cocoa powder helped make my bowl extra chocolate-y. Though the oats look decadent, I really only added a light drizzle of agave to sweeten this bad boy.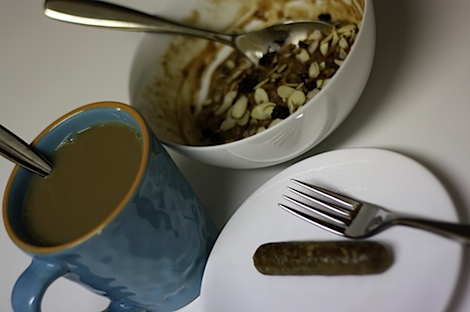 I added a Morningstar "sausage link" for extra protein.
And the coffee – wow, it was awesome! I have no idea what kind of coffee it is, though! Guess I need to ask my neighbor. I don't know if it was the fresh-ground beans or the cacao, but my coffee this morning was especially delicious.
Get Toasty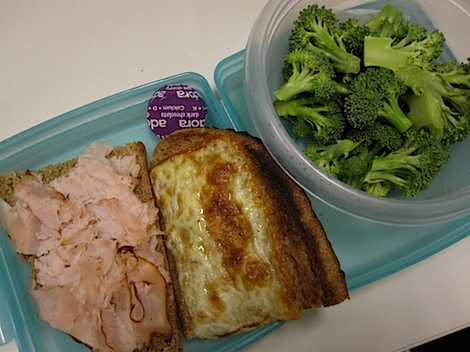 Get toasty! Want to jazz up your lunch sammie? If you are lucky enough to have a toaster oven at your office/home, why not try toasting your sandwich? It's practically the only way I eat my brown-bagged sandwiches these days.
Today I had some Black Forest turkey, muenster cheese, on Great Harvest Honey Whole Wheat bread. I also had some raw broccoli and an adora.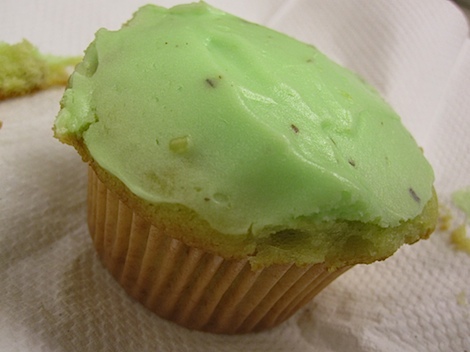 My friend who works near me had a sweet surprise for me around lunchtime – a pistachio cupcake! She told me she was baking some pistachio cupcakes for a fundraiser awhile back. I wanted to buy some to support her, but I was out of town. Since then, I've been bugging her to make more so I can try one. Today was my lucky day! The cupcake was awesome! Yum!!
I intended to leave work at 4:30pm today to pack and clean my apartment for some friends who were crashing at our place to catch a flight early tomorrow morning. Unfortunately, I got a last minute meeting invite for a 3-5pm meeting and after the meeting, I got an assignment with a due date of tomorrow at 11am! Eek! I ended up staying till 6pm to get my deliverable done, but I lucked out when my friend said she had to cancel. As much as I wanted to see her and her hubby, my apartment in its mid-move state is in NO way ready for guests. Hopefully, next time we have potential houseguests, we'll have a comfy bedroom for them to use!
House Update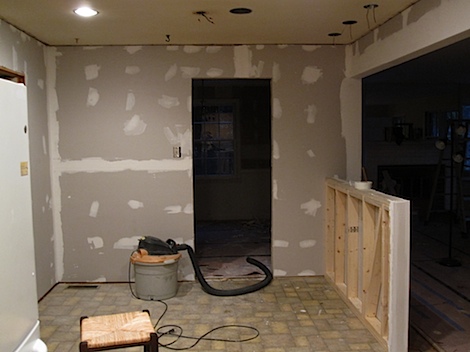 Speaking of house, we stopped by today after work to check it out. It's really coming along! Every time I see the progress of our kitchen reno, I get so excited! I LOVE watching projects in process and seeing how they morph into their final state.
Pizza Parlor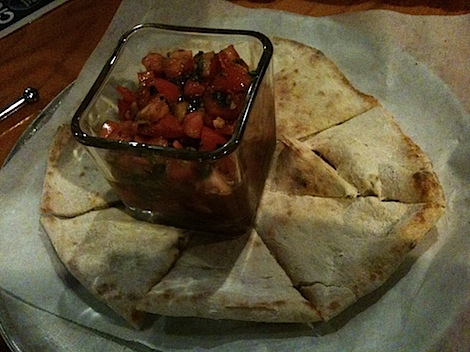 Hubby and I decided to get pizza at our fave pizza spot in town for dinner. We started by splitting this bruschetta appetizer. Their tomatoes are perfectly seasoned and the bread is, I think, made with their pizza dough. It's nice and chewy with a slightly crispy outside.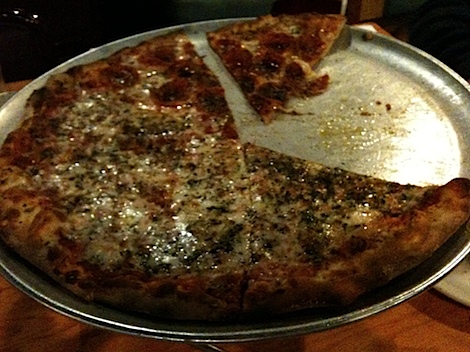 We had a 1/2 cheese, 1/2 pepperoni pizza to share.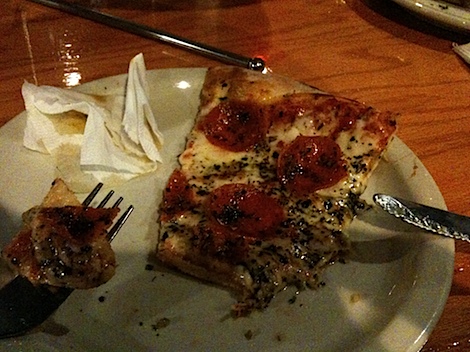 I had 1 piece of pepperoni and a skinny piece of cheese.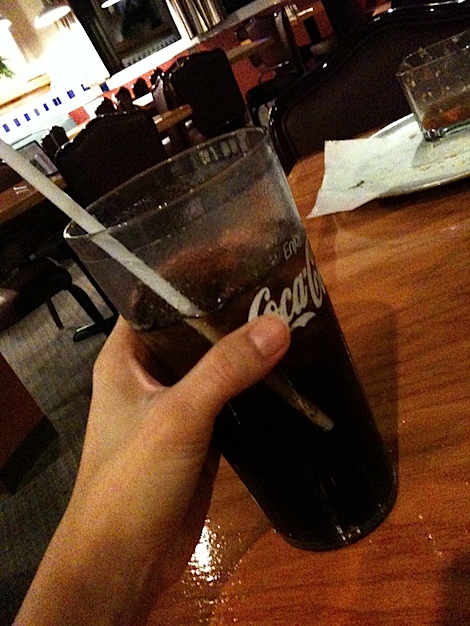 I also had Coke to drink, but this is about all I could drink. I don't drink a lot of soda in one sitting. The above photo is AFTER I was done. Hubby helped me finish.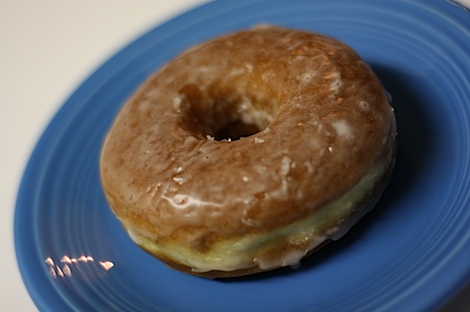 Hubby got me a treat today while I was at work – a glazed donut from our fave local bakery. After the cupcake and pizza, I probably shouldn't have had this donut, but I like to think things balance out, so I didn't sweat it too much (read at all).
Home-Cozy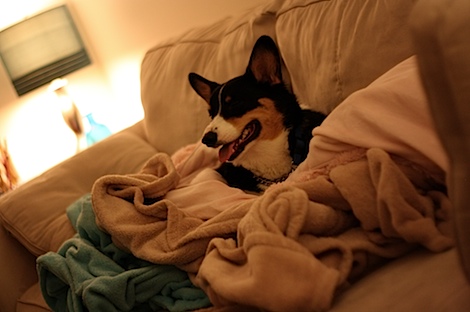 I washed our throws/blankets tonight for our (almost) houseguests and tossed them on the couch. Bailey LOVED them!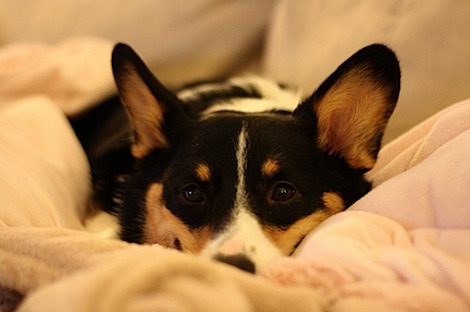 He looked so cozy, I couldn't possibly ask him to move.
I watched So You Think You Can Dance (so glad Molly felt better mid-show – that girl can dance!), Glee, and Real World Road Rules Challenge whilst packing boxes and blogging. Oh yes…the big move is ahead and our home-owner-ness is starting to set in. Yippee!
Tidbits: