Stayed up late tonight packing…here are photos from tonight: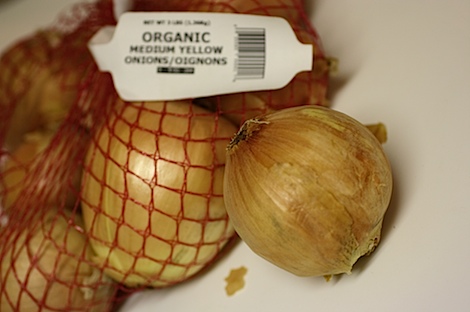 I got these organic yellow onions at Earthfare for under $3 – yea, the whole bag!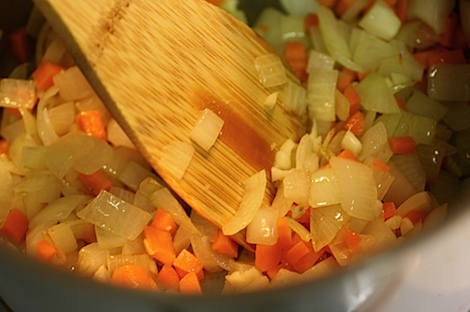 Veggies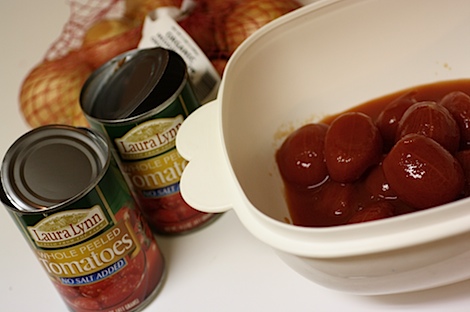 I decided to make a red sauce pasta dish to try to use up more of our pantry ingredients. I've had these cans of whole peeled tomatoes waiting for a rainy day, and though it didn't rain, they came in handy today.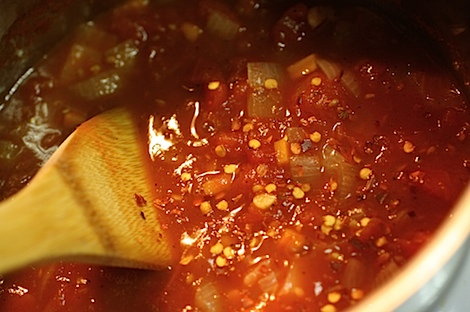 I made Mario Batali's Basic Tomato Sauce which reminds me of cappellini pomodoro, a dish frequently found at Italian-style restaurants.
I added extra pepper to give my version a kick. We were going sans meat tonight so I figured the least I could do for hubby was make the dish spicy since he likes heat.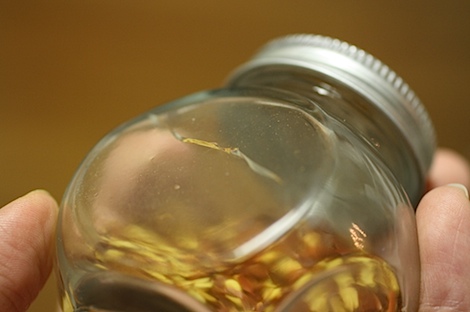 Unfortunately, I noticed a crack in my spice jar. Guess it's time to make a trip to Crate + Barrel. I'll probably be frequenting the place anyways now that we'll have a full-sized kitchen to hold all the fun plates and mugs I've been dreaming of for the last couple years.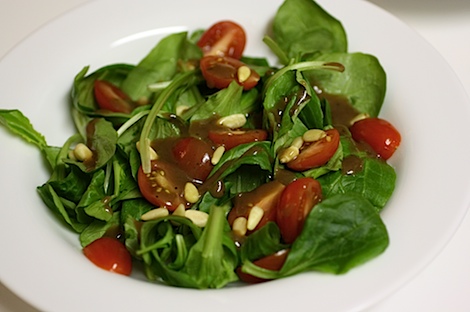 We had a mache salad with cherry tomatoes and pine nuts and a balsamic-style dressing.
I read online that mache has natural anti-stress properties. Please pass the mache!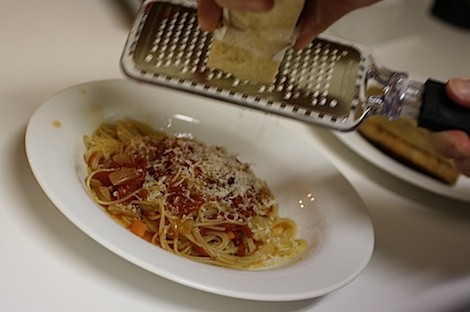 A little fresh grated parm on top.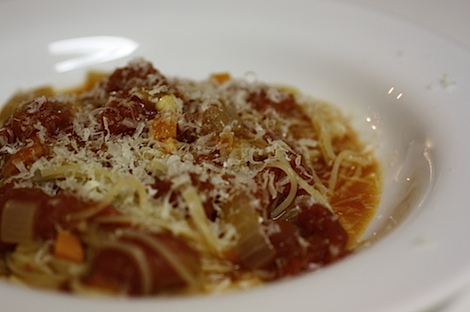 Dinner is served.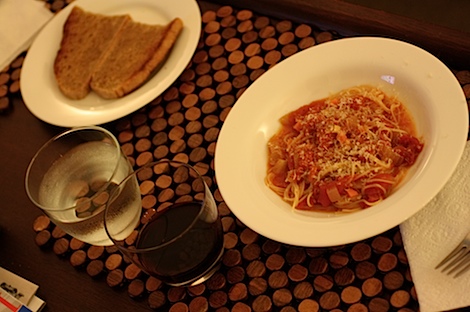 Where the magic happens (that's for you Megan! lol)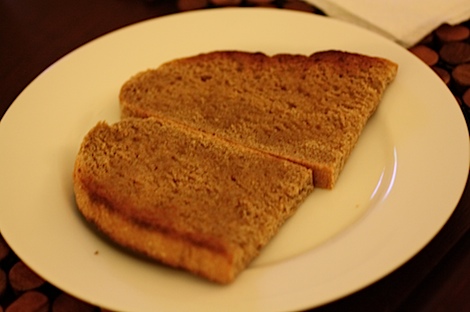 We had some Great Harvest Honey Whole Wheat toast with real butter on the side.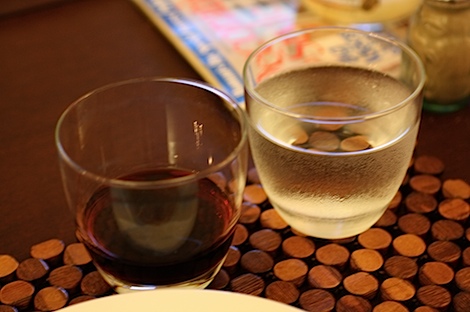 A lil vino and water to go with dinner.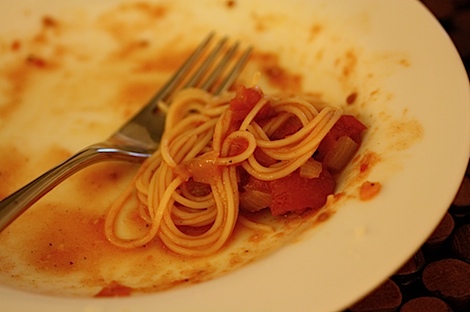 Round #2 – seconds.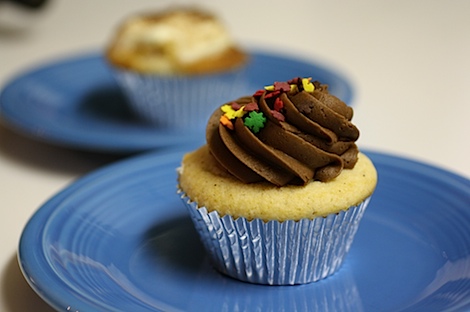 Round #3 – dessert!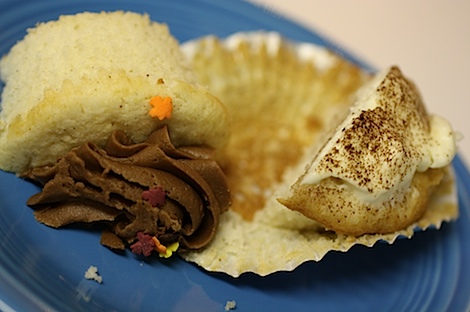 Hubby picked up a treat for us while I was at work – cupcakes!
He got two cupcakes in tiramisu and vanilla with chocolate icing, the latter being my personal fave. I managed to talk hubby into halving each cupcake so I could enjoy both flavors. They were both delish, but the vanilla with chocolate icing is still my favorite.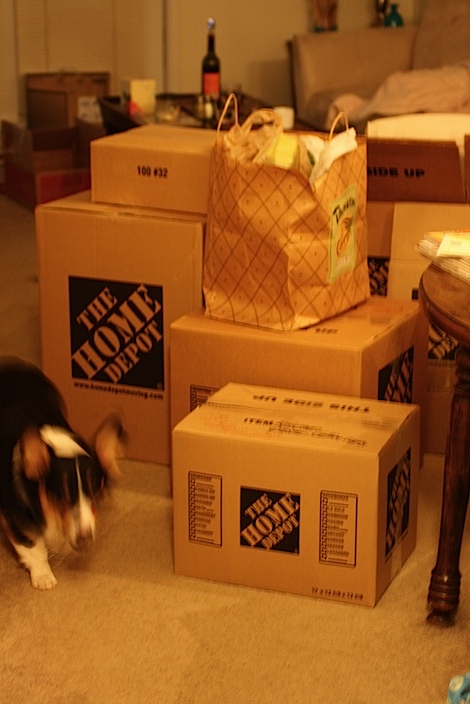 Welcome to my life in boxes. I've spent a couple hours every day packing stuff up for the last week or so. Thanks to those efforts, we've already moved a lot of stuff into the house.
Unfortunately, we still have a TON more to do! Where did all this STUFF come from!? I think it's time for another purge. Too bad we'll probably move in before we have the opportunity to figure out what's staying and going.
On the positive side, progress is progress and we're off to a great start!
What are your tips for moving/packing?