Ok, so I didn't go vegan for a day, but I really wanted to! This week has just been too crazy to plan things out the way I wanted. I was hell bent, however, on participating in some form, so I decided to go to a local restaurant to pick up some take-out for Vegan Week.
Vegan Week is being put on by Eating Journey and Silly Tater Tot . Though I'm not vegan, I really wanted to participate because I was curious, I like challenges, and I like maintaining an open mind. I think it's imperative to always keep your mind as open as possible – I believe this leads to a richer life and I see no reason in shutting things out because of stereotypes or preconceived notions. I'm not saying I'm perfect at this, but I try. 🙂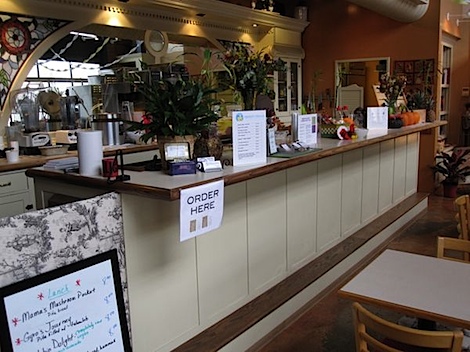 I knew there were a couple places in town that could help me out with vegan week since I didn't have time to try to figure out or even cook/prepare any recipes at home. I decided to hit up Real Food Charlotte after having a friendly conversation with a nice man who worked there who helped me pre-order some food I could pick up on the way home.
I found several yummy things I wanted to try, but I stuck to my vegan order (since not everything there was vegan…I'll be back for the rest!) and took pictures of my faves.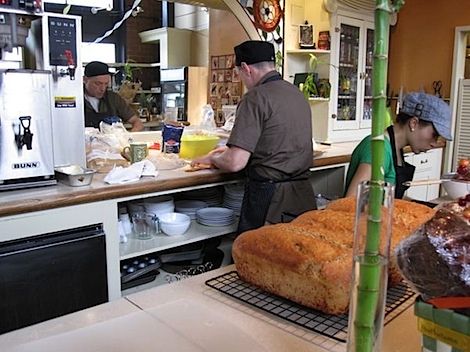 They were even baking fresh bread when I was there. Their bread is vegan.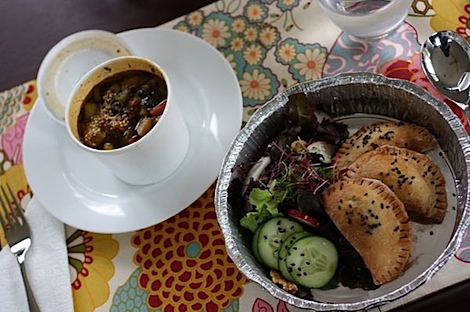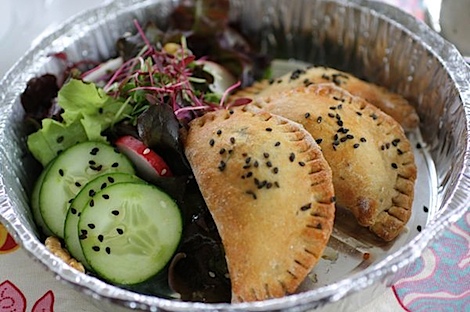 For my vegan lunch, I ordered the vegan empanadas with vegan veggie soup – the special of the day!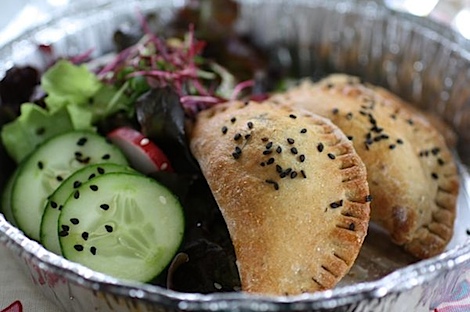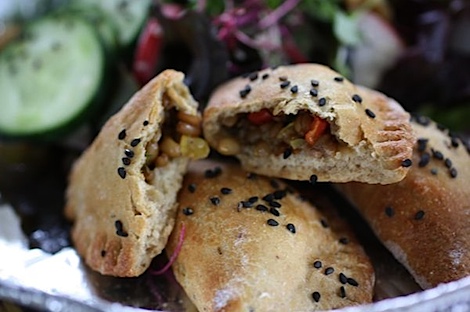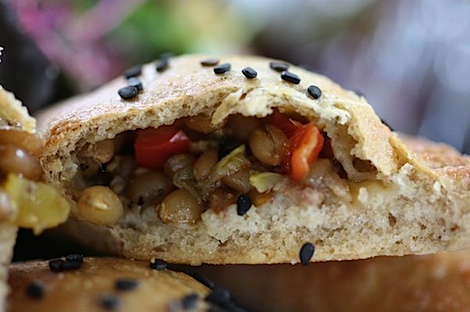 The empanadas were awesome! They were baked (hoorah!) and filled with veggies and I believe wheatberries and were topped with black sesame seeds. They had a nice, simple flavor and I felt so much better eating them than the fried version.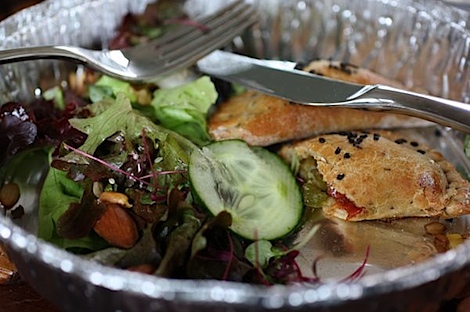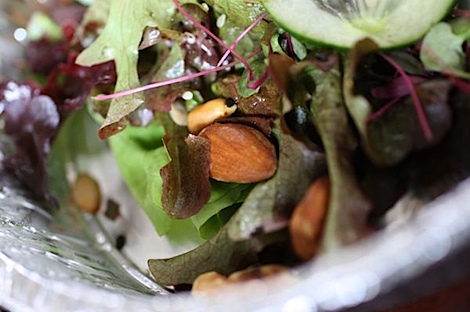 The empanadas were served with some mixed greens and nuts. They had a light vinaigrette-like dressing and made for a great side.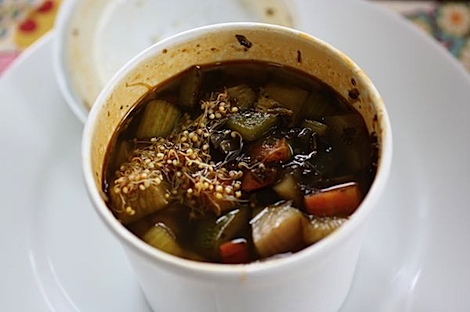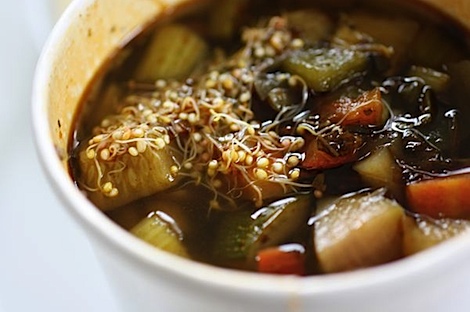 The soup was delicious and had a slightly spicy kick to it. It was also topped with quinoa, which I really enjoyed. Yum!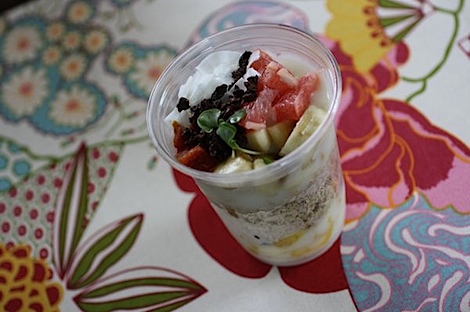 While I was on my vegan kick, I decided to also try their Vegan Granola made with vegan yogurt (coconut milk based). I waited a bit after lunch to enjoy this little snack to tide me over for a late dinner.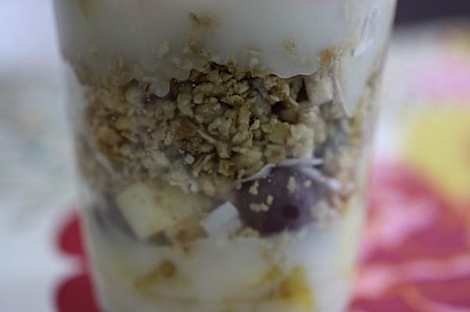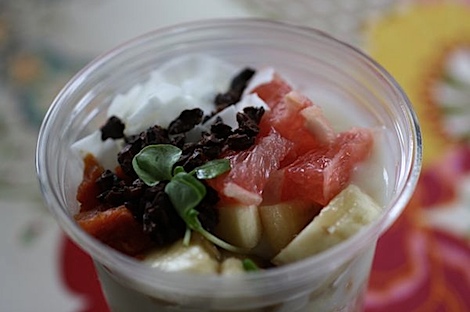 I loved how the lady at Real Food made my granola parfait fresh to order! So much better than the kind that sits in some fridge for who knows how long.
She took her time making my parfait, which I appreciated because I knew it meant she was putting a lot of care into making sure it was awesome and well-layered.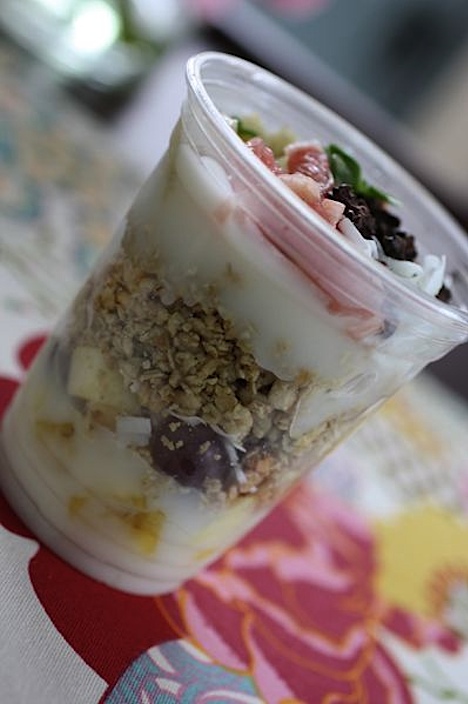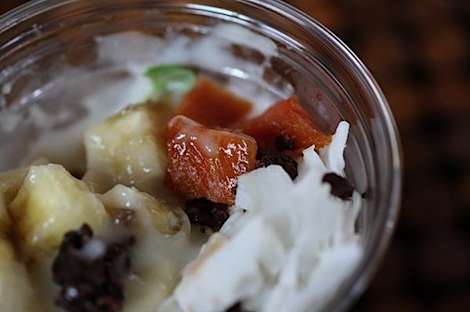 The parfait had all kinds of fruits (banana, grapes, pineapple, grapefruit, apple, coconut and other food stuff) paired with that yummy coconut milk yogurt, crunch granola, and I think even cacao nibs. I don't know what this orange fruit is, but wow – it was my favorite fruit of the mix!
I think it was the BEST yogurt parfait I've ever had!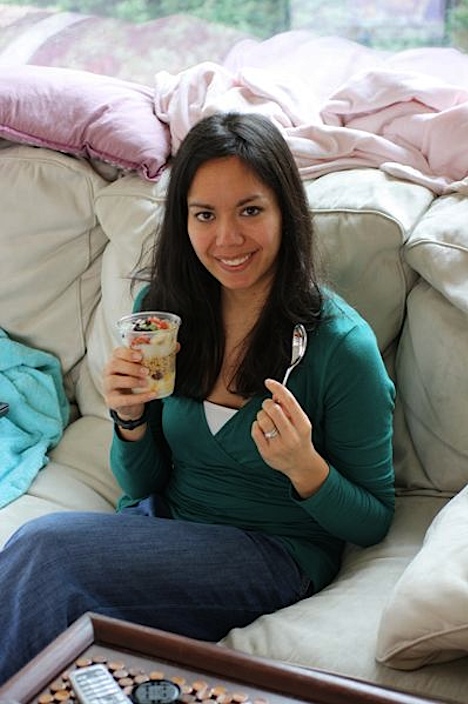 Ahh…happy little vegan here! 🙂 I know some people think they can't fill up if they don't have meat in their meals (I know because I used to be that person), but I was happily full from my vegan lunch and I felt pretty great, too. The food was filling but light on the tummy.
Though I don't think I'll be converting to veganism, I really enjoyed my Vegan for a Day (or meal) challenge. Me from several years ago may have looked at an item on a menu with a "vegan" tag and thought that it wasn't for me since I'm not a "vegan". Me today knows better that, though I eat meat, I can just as easily enjoy a vegetarian or even vegan meal any day of the week. In fact, I think I need to start incorporating more of them into my eating rotation more often.
Thanks to Michelle and Katy for putting this fun challenge on!