I love how the blogosphere brings together so many great people together and how the holidays let's their paths cross.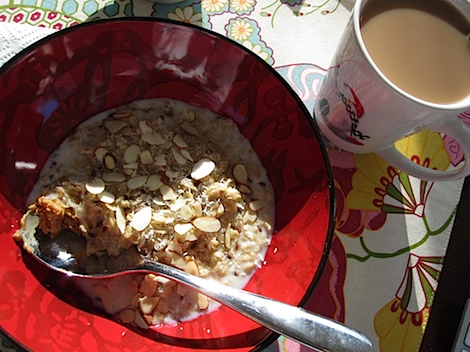 I kept breakfast light today because I had a bloggie get-together planned for lunch.
I made one base batch of oats with 1/2 water, 1/2 2% milk, organic cane sugar, and flaxseeds for me and hubby.
We each got different toppings:
For hubby: a drizzle of maple syrup, almonds, chocolate chips, and fresh ground honey roasted PB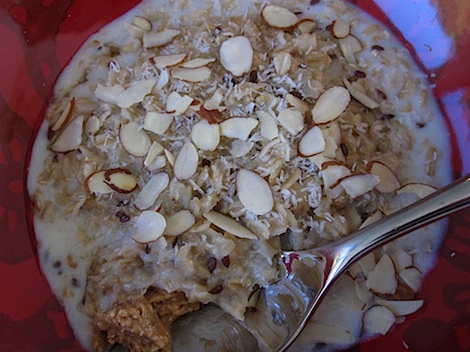 For moi: a drizzle of maple syrup, almonds, unsweetened organic coconut and a tee-niny dabble of that honey-PB.
After some blogging fun and checking emails, I got ready and headed out for my bloggie outing with Kristen of Eating RD who was in town for the holidays.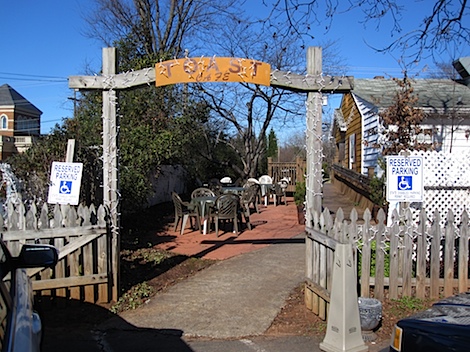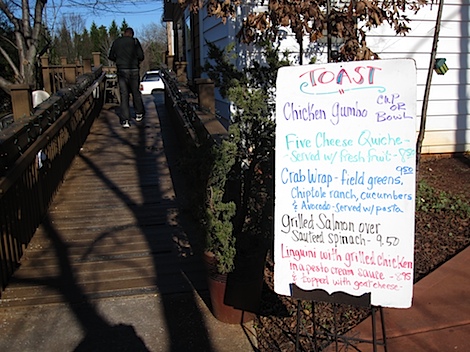 We hit up a local favorite – Toast Cafe where they serve breakfast/brunch all day! I love getting breakfast at other non-breakfast meals.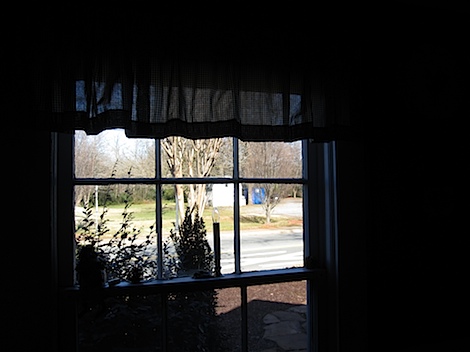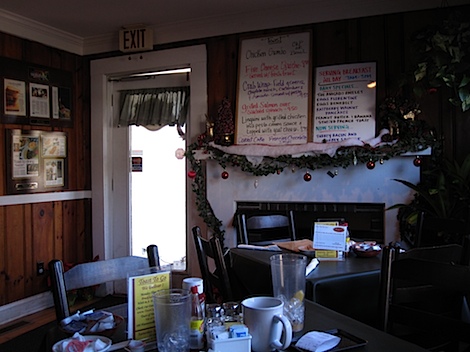 The inside of the restaurant was super cute. I loved the relaxed and casual vibe and friendliness of the staff.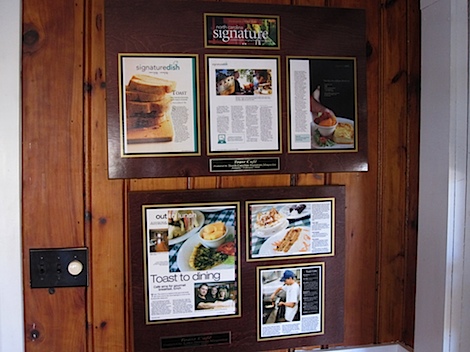 They had snippets from local media where they've been featured next to the door.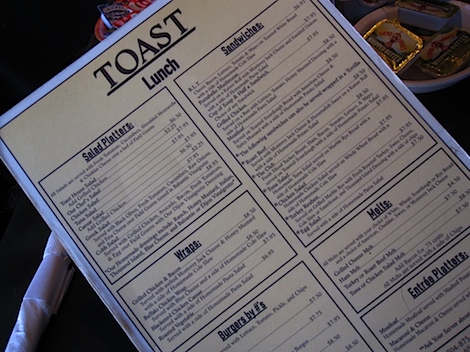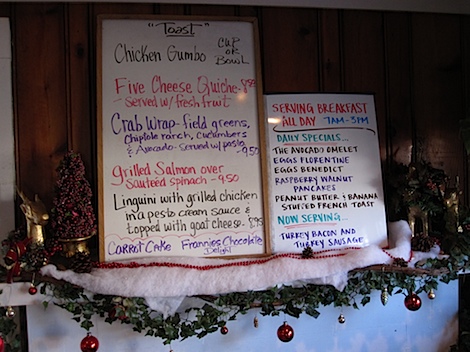 Kristen and I had a tough time choosing between all the delicious items on their menu and their specials.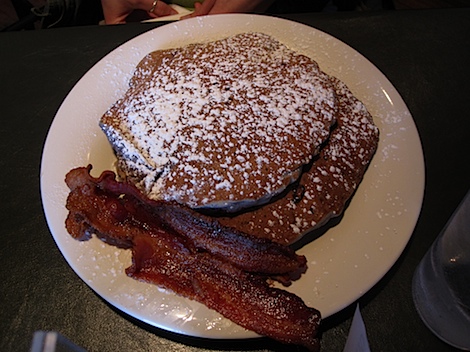 Kristen got the raspberry walnut pancakes with bacon. She graciously shared a bite with me so I can attest that they were veeery tasty!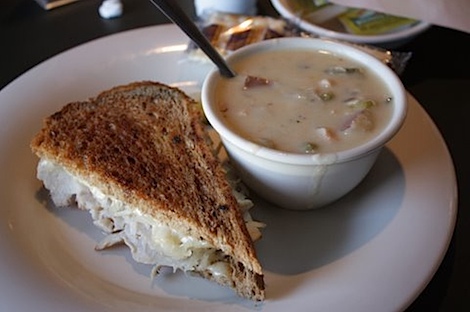 I got the soup and 1/2 sandwich combo with a turkey reuben (sauce on the side) and chicken chowder. The perfect cold-weather combo! They were both very good.
(a photo with Kristen's Rebel since my baby is still in the shop)
I loved that they used roasted turkey instead of just deli meat in their sandwich. I didn't end up using any sauce – the sammie was delish without it!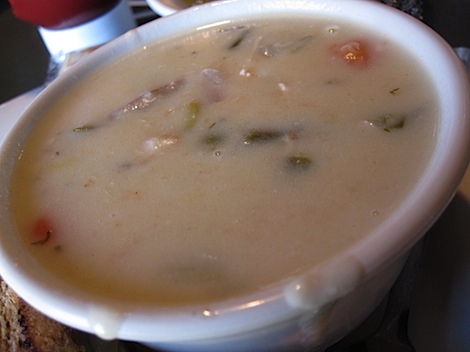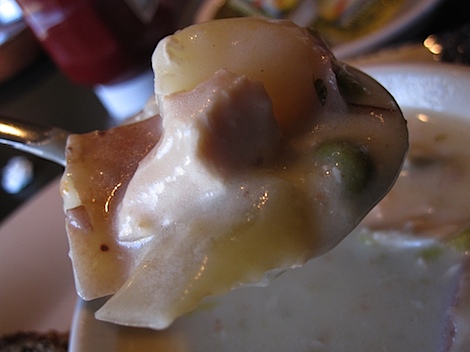 The chicken chowder was nice and comforting and had big pieces of white meat chicken with lotsa yummy veggies.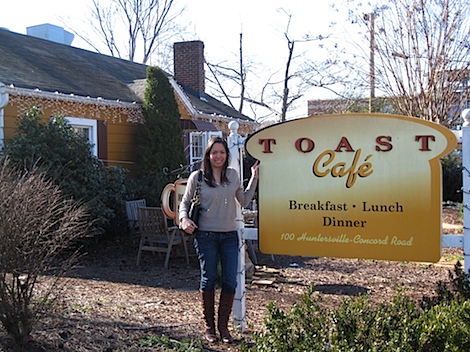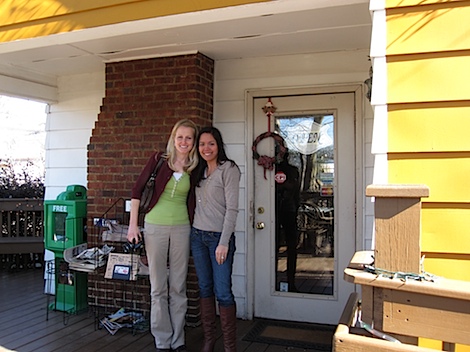 After lunch, we did a quick photo shoot by the sign and front door.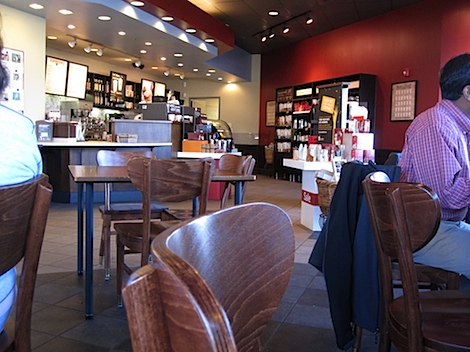 Next up, we took a trip to Starbucks for some afternoon tea.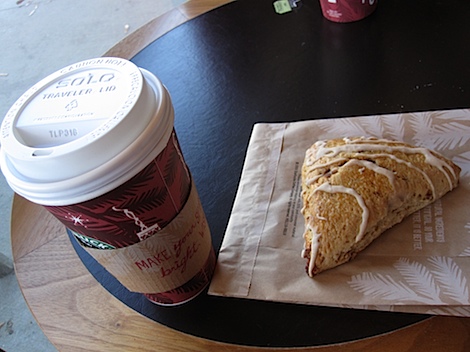 We both got the Zen hot tea (a green/peppermint/lemon mix) and split a cinnamon chip scone.
The tea was the perfect blend of flavors – we both loved it.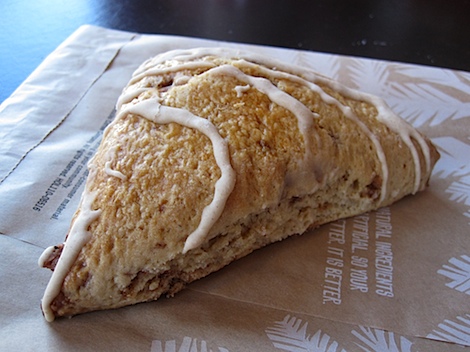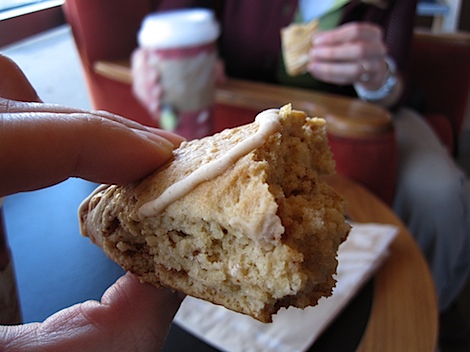 The scone was also quite tasty. I liked that it didn't have too much glaze.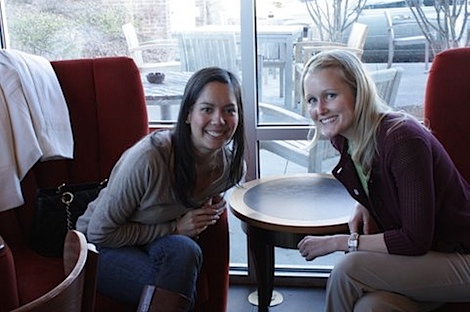 We even found two cozy arm chairs to lounge around in. Perfect!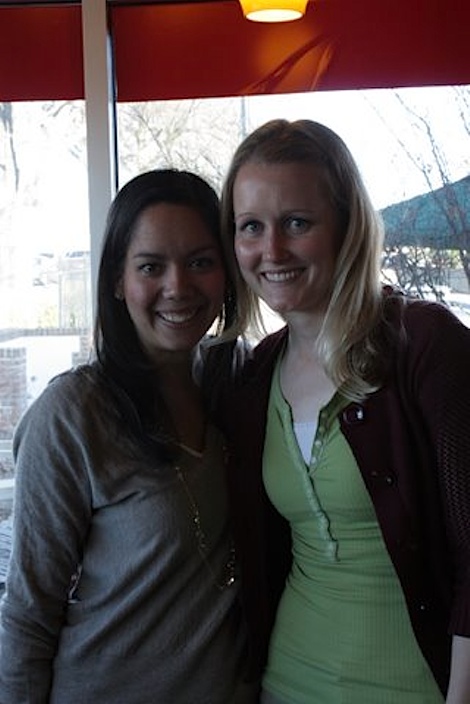 (a couple more Rebel photos thanks to Kristen)
I had a fabulous time meeting and hanging out with Kristen! It was so refreshing and fun to hang out with someone who shares so many similar thoughts and hopes.
Kristen, I hope you can make it to zumba this week and please visit again soon! (and thanks for sharing some of your photos with me!)
You can check out Kristen's recap by clicking here
After my bloggie adventures, I swung by a local fabric store. I thought I'd make it a quick stop to see if I could find some fabric for curtains. Of course me and crafty things are typically not short and I blew the afternoon browsing patterns and materials.
I'm considering making some valances for our formal living room with this beautiful Waverly fabric. It's pretty pricey so I'd much rather make valances than full blown curtains.
I picked up some material that I may attempt to use to make a skirt…we'll see. I have so many projects I'd like to do and not enough free time!
Time to get my dance on!