Hubby woke me up this morning with a lovely surprise: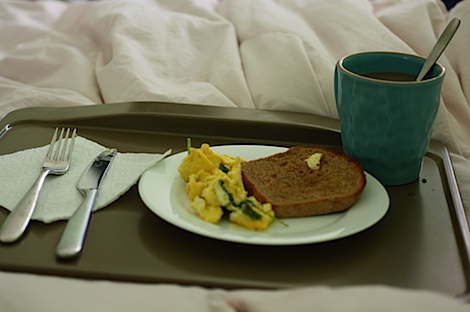 Breakfast in bed!
He put everything on a baking sheet since our tray is packed away somewhere. Very inventive!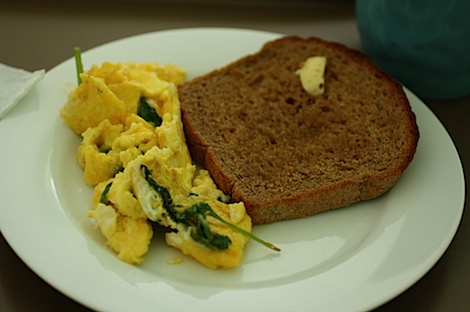 Scrambled eggs with cheese and spinach along with oven-broiled Great Harvest honey whole wheat toast. Yum!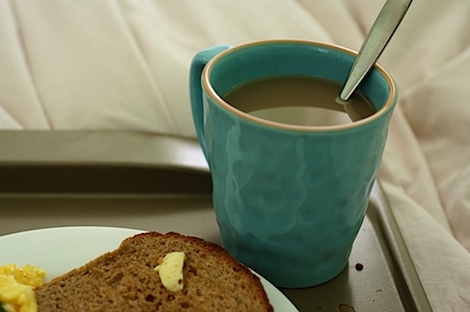 Gingerbread Coffee!
Lots on the agenda today:
Clean house
Organize house
Unpack in house
Get Christmas tree! (think we're gonna make the weekend after Thanksgiving our official tree-getting weekend)
Shop for house
Man…is everything revolving around the HOUSE or what?!
A head's up on a couple challenges I'm going to host in the upcoming weeks:
Holiday Food Challenge (December)
Just like the Thanksgiving Food Challenge but for the December holidays (Christmas, Hanukkah, etc)
Make over a holiday dish for your family dinner, work potluck, etc.
Change one ingredient or make over the whole dish!
Eat In Month Challenge (January)
I'm going to attempt to eat in for every meal for the entire month of January
I'm hoping to have prizes to give out for anyone who wants to join in on the fun
It will be a great way to save money after all the holiday spending
It will be a great way to eat in and healthier after indulging over the holidays
It will be a really tough but awesome challenge!
What are you doing today?